Post by Lookout! Boxing on Jan 30, 2021 1:49:54 GMT -6
CAYLEE COWAN VS NATALIE ALYN LIND

JMD Bout

Results: Lookout Writing: Archer

Caylee: 22 YO, 5'6 (1.68 m) #34E, 2-0-0, 2 KO since 2020, Left Turn Knockouts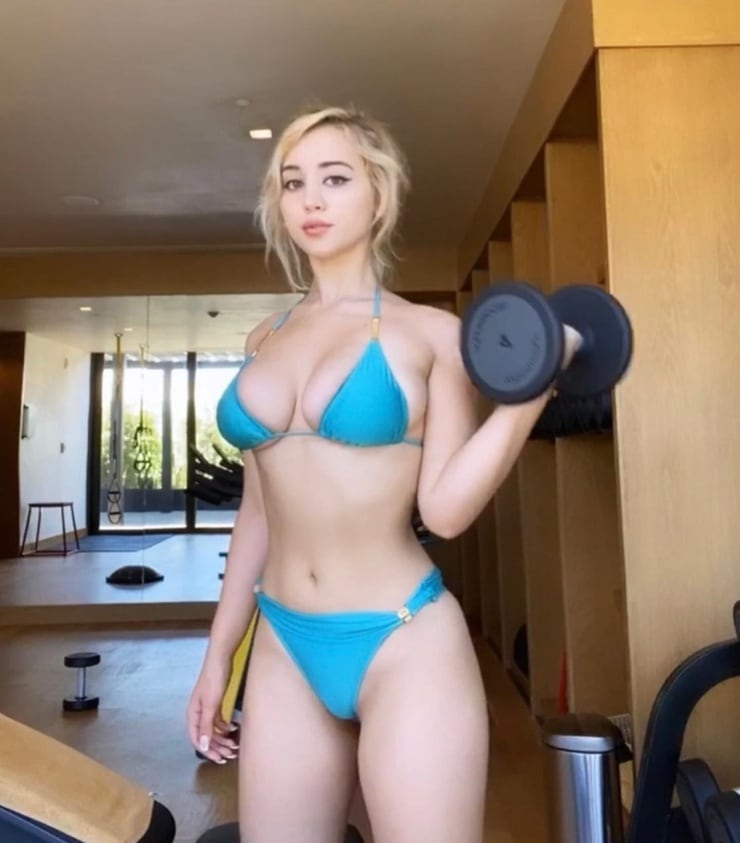 Natalie: 21 YO, 5'5 (1.65 m), #34C, 17-9-0.17 KO since 2017, Foxfire Boxing
Before: Feisty young fighters eager to intimidate one another in the pre-fight press meeting. Cowan appearing in white tight tee with LEFT TURN KNOCKOUTS across her jutting chest in black letters, Black short shorts go with the white tee. Natalie in a tight white tee with FOXFIRE in red letters across the bulging chest. Dark red short shorts complete NALs look. Two waste little time in getting jugg to jugg.With Caylee smirking that her 34E's look just a bit bigger than Natalie's 34C's.
"Guess you lose the 'Biggest Juggs' part of the contest," says Caylee.
"Big boobs won't mean a thing when I punch them down to training bra size," sneers Natalie.
"You aren't scaring me Lind, so you were JMD champ for five minutes, but I saw you lose to Demi Rose. You can be beaten and I'm just the rookie to do it. I beat Bebe Rexha and then Samara Weaving. I smothered them both out and I can't wait to get my boobies on your face!"
"Rexha and Weaving are practically jobbers," Natalie claims, "You should be the one worrying about my 'girls' here putting you to sleep."
Caylee smacked her breasts against Natalie's rack, knocking Natalie back a couple of steps and then smiled triumphantly, Natalie came right back and rammed her juggs into Caylee's, knocking the newcomer back on her heels. Caylee (and Natalie for that matter) is wearing high heels and the heel snaps off her right shoe. Caylee falls backwards. Her hands reach out wildly and grab the front of Natalie's tee shirt, but there is a loud ripping sound as the tee comes apart. Caylee hits the floor and Natalie is left standing revealing a bulging white lace bra was under the tee.
"You tore my shirt you bytch!" Natalie shrieks and rips off the fallen Caylee's tee. Caylee is wearing a pale pink satin bra but she doesn't appreciate having it exposed like this. With a cry, Caylee grabs Natalie's wrists and pulls her down,
Suddenly they are rolling around punching and kicking at each other. Then they rise to their knees hands locked in each other's hair while shrieking insults at each other. They lose their balance and fall over on their sides, hands still holding each other's hair. Natalie gets Caylee down and is seated on her stomach, but then FCBA Security finally appear to drag the furious young women apart.
Social media soon ablaze with excitement about the coming #"JMD GrudgeMatch"as it is being hashtagged. Is streaming clips of the fracas. Interviews with Natalie and Caylee blaming each other and vowing vengeance add to the excitement.
On Fight Night, Caylee marches to the ring and removes her robe to reveal a sky blue bikini whose top can barely control her #34E rack, She wears dark blue gloves and boots (sky blue laces). Blonde hair loose, but wetted down.
Natalie struts to the ring and proudly removes her robe to reveal a forest green triangle bikini with black gloves and boots (green laces). Hair is in a ponytail.
Caylee and Natalie hip and chest bumping throughout the ring instructions until referee puts his foot down. They step away from each other with scowls and vengeful looks in their eyes. Referee wisely foregoes the glove tap and just sends the two to their corners. Then the bell sounds. Out they come…
R1: Natalie slams into Caylee like an express train. Her black gloves are going all-out to make Caylee's puppies howl. Sheer force of the attack knocks Caylee back on her heels and she can't seem to get her defenses organized. Natalie adding quick smacks to the jaw and chin to dae the rookie, but she is directing most of her punching power to Caylee's juggs and belly. Caylee driven back into her own corner. She can only think to cover up and huddle there as Natalie flails away at her vulnerable body. Natalie adding ribs to her leather lashing menu, but still mostly the breasts and belly. Caylee gasping for air as the round ends. Natalie steps back and grins at the shellshocked Caylee.
"Noe you know what a REAL FCBA boxer can do," Natalie hisses and then walks away.
R2: Caylee worked on hard by the LTK corner crew during the break, but she looks cautious coming out for the new round. Natalie wastes no time in attacking, but she strikes at Caylee to the head this time. Caylee looking to protect her juggs now gets pasted to the jaw, side of the head and chin. Caylee gets her gloves up around her head, but then NAL resumes her power hooks into Caylee's belly, ribs and—of course, her big, tempting breasts. Caylee does manage to get a jab going and starts pumping these shots into Natalie's big juggs. Natalie pounds back harder, but Caylee fights back to the bell. However Natalie still wins round wide. Caylee gives Natalie a defiant look as they depart for their corners. Natalie not pleased about this.
R3: Caylee now out of her corner crisply and cleverly feints her opening right at Natalie's bust lie, but actually drives her gloved fist into Nat's right eye. Natalie in shuddering retreat as an angry swelling circle appears around her right eye. Caylee then swats solid right to the jaw and left to the chin. Natalie trying to circle away from Caylee, but Caylee bringing harder shots to Natalie's jaw. Natalie covering up and only now does Caylee unload on Natty's bulging bikini top. Rights and lefts to the sides sends the breasts sloshing in their cups, Then straight rights and lefts crush those knockers against Natalie's own rib cage. Caylee finishes with nasty uppercuts to the undersides of the bikini top cups. Natalie all hunched up and suffering. She tries to counter, but they aren't enough as Caylee romps to win the round wide.
R4: Natalie regroups and counterattacks this round. Like Caylee, she starts with blows to the jaw and chin to shake Caylee up, then she strikes at Caylee to the belly to tip her forward. Caylee trying to fight back, but every time she tries to straighten up, she takes a hook to the belly, Then with those big hooters just hanging down from Caylee's vent over body, Natalie goes after them hooks and uppercuts. Caylee scrambling to get away from this, but Natalie staying with her to maintain pressure. Caylee bobbing and weaving, making Natalie work to stay with her, but only the sound the bell ends the battle. Some sharp words exchanged after the bell and referee has to get in there and keep order. Natalie Alyn Lind wins round wide.
R5: Natalie again moving hard against Caylee as soon as she can get within punching range, Caylee seems better prepared this time. Natalie driven back by hard jabs that tear into Natalie's face. Natalie has to fall back with her nose and lips dripping blood. Caylee then goes after NAL and the two are soon going at it up close and very personal. They are toe to toe, forehead to forehead and breast to breast as they jerk in rights and lefts mainly to the juggs. The pounding of leather against sweat covered flesh can be heard wetly by ringsiders. Caylee digging in, forcing Natalie back step by stubborn step. Bell sounds and Caylee leers into Natalie's face:
"You're going down big mouth!"
"Drop dead!" Natalie mutters woozily as she shoves passed Caylee. Caylee looks ready to tackle Natalie, but referee blocks her path and orders her to her corner. Caylee goes, but she looks back at Natalie with an angry look.
R6: Natalie and Caylee out of their corners promptly and move to the middle of the ring. Natalie attacking first, banging the side of Caylee's head with a strong right. Caylee knocked to one side, but turns back and bangs the pursuing Natalie right back with a head shot of her own, Both fighters circle and then plunge in, This time they are pumping in the jugg shots. JMD fans in the crowd loving the sight of the busty beauties pouring in the hooter hellfire. It stays even for at least a minute, but then Natalie starts gasping for air. She has to fall back and out slashes a right hand uppercut from Caylee. It connects perfectly with Natalie's chin. Natalie's head snaps back and then DOWN NATALIE CRASHES LIKE A RAG DOLL! Caylee pivots on her heel and heads for the neutral corner with a big smile on her face.
Referee starts counting over the fallen Natalie. Natalie pushing herself up, but she has to struggle as the count rise remorselessly.
"SEVEN!...EIGHT!...NINE!..."
Natalie is trying to stand—but NO! Her knees buckle and she is dropped to her knees. She uries her face in her gloves to hide the sobs,
"TEN!...YOU'RE OUT!"
THE WINNER CAYLEE COWAN DEFEATS NATALIE ALYN LIND KO6!
After: While a weeping Natalie is helped back to her stool, Caylee is having her gloves removed and then she waits impatiently for Natty to be checked out. Finally the signal comes and Caylee strides across the ring to where Natalie sits on her stool with a despairing look on her face. Her lower lip is puffy and swollen. There are bruises all over her face and it's clear she'll have a big black eye around her right eye in the morning.
"Time to pay up—loser," Caylee hisses and hauls Natalie to her feet, Caylee pushes Natalie against the turnbuckle, kicks the stool out of her way and then forces her big breasts against Natalie's face. Natalie starts struggling as her air is cut off, wrapping her legs around Caylee's waist and trying to push her back, but Caylee just tightens her grip on the back of Natalie's head.
Caylee rubs Natalie's trapped face to add to her misery. Then Natalie's legs detach from Caylee's waist and her whole body goes limp. Natalie releases the hold and lets Natalie slide down the turnbuckle to end up out cold, chin against her collarbone looking like a discarded doll. Caylee savors the sight for a moment and then scampers back to her corner. She holds up her right hand showing three fingers to indicate this is her third win (and her third smothering out of a defeated opponent).
"The Legend of Caylee Cowan has only just begun!" She calls out to the cheering crowd and then exits the ring.
Meanwhile poor Natalie Alyn Lind has to be carried from the ring as she is awake, but too jugg-shocked to stand. Some catcalls from Caylee fans, but NAL fans are sad and silent as their favorite leaves the ring in such an inglorious fashion.
For JMD fans this was a great fight. Plenty of breast banging and hooter hooking, not to mention post-fight smothering. More traditional fans can observe that the now 3-0 Caylee Cowan is a fast rising rookie star for her stable and the year is young. They eagerly look forward to seeing what Caylee will do in future fights. Meanwhile, Natalie Alyn Lind fans can only hope she will bounce back quickly from this painful loss and perhaps Caylee Cowan hasn't seen the last of the Foxfire boxer.