Post by Lookout! Boxing on Jan 30, 2021 1:19:28 GMT -6
Kendall Jenner versus Georgia Mae Gibbs
Kendall Jenner: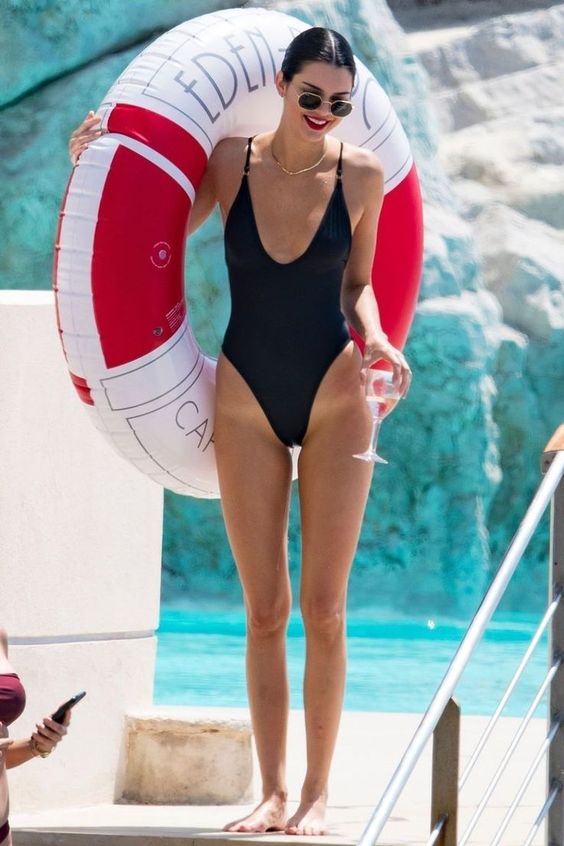 VS
Georgia Mae Gibbs:
Tale of the Tape:Kendall Jenner:
Age: 25
Height: 5'10 ½
48-18 (48KOs)
Former FCBA lightweight champion.
Former New Blood lightweight tournament winner.
Vs
Georgia Mae Gibbs:
Age: 25
Height: 5'10
22-11 (22KOs)
(Girls Friday vs Free Agent)(Written by Girls Friday/Results by Lookout!)Intro:
Another classic brunette vs blonde clash, with Kendall Jenner and Georgia Mae Gibbs facing off for the first time in their careers, both with a point to prove tonight, one to her sister, the other to the stable that cut her.
Heading into this bout, Kendall had a marathon December, the run of fights actually started in November with her beating Rosie Whitely-Huntington, then losing to Emily DiDonato in December, followed by two wins over Taylor Swift and Yvonne Strahovski.
This time around as Kendall sits in the FCBA Network sets seat facing host Lucy Liu, Kendall makes it clear that "I want to come right out and say Georgia wasn't my first pick of opponent, she was selected for me by my management team that sees this as a good way to start the year after my short break they enforced due to all the fights I had last month" Lucy can see that annoys Kendall.
Probing who Kendall had in mind instead, Kendall says "name any of those Lookout bytches and I'd be there with my fists taped up, even my dear little sister Kylie, hell I want Emily DiDonato or a shot at the lightweight title, right now I have so many targets in mind I feel like I am playing a game of whack-a-mole, the prize is me standing over all those who think they can treat me like dirt and get away with it" clenching the arms of the chair as she looks to be holding back.
Lucy tries to get things back on track about this fight by asking if Kendall is underrating Georgia, Kendall scoffs before replying "the only Vixen I have any respect for is Alexis Ren, who last I checked used to mop the floor with Georgia for fun, Georgia doesn't belong in the ring with me, I'm fighting for titles and accolades, Georgia is fighting to save her career going down the drain" Kendall stands up then heads off in an annoyed mood to say the least, Lucy looking a little worried for the youngster, who seems to have a real chip on her shoulder right now.
For Georgia when she sits in the hot seat, well she isn't much more happier, being asked if she can shed light on why she was cut from the Vixens, Georgia rolls her eyes before replying "my guess is Alexis was getting annoyed at me beating her ass in training, I was on my way up and suddenly I find myself on the street" she brushes a few loose hairs behind her ears as she mumbles some curse word under her breath.
Ignoring whatever it was, Lucy changes the subject to this fight, Georgia laughs all of a sudden as she replies "I will give my old boss one thing, the Girls Friday stable is scared of the Vixen's, I have wanted to take a crack at Kendall for a long while, yet the princess hasn't dared challenge me till I am in the dumps, she hated fighting any of my stablemates as the rest of her stable do" proudly grinning at that proclamation.
She adds "it helps that Kendall is looking broken right now, she is wanting to freakin bash up her own sister for God's sake, you know as well as I do Lucy, she takes her eyes off me I will punish her worse then anyone else has, I will make what Alexis, Yvonne (Strahovski) Emily (DiDonato) and so on has done to her look like child's play" she shakes Lucy's hand looking a little less tense, like this was a therapy session for her to get her anger out on all the last month has thrown at her.
Fight night, first out comes Kendall with Gisele Bundchen and cut woman Eva Carneiro, she struts down the aisle in a metallic blue robe, looking like she is on the catwalk more then about to get into a fight.
The robe comes off to reveal a metallic blue sports bra, matching trunks with her surname in red letters on the waistband, blue shoes, red gloves as her hair is tied into a ponytail, stepping through the ropes into the ring as her fans cheer her on.
Standing in her corner now, Kendall fist bumps her corner team before getting into fighting mode, shadow boxing as Gisele reminds her not to take this fight lightly, they see Georgia as firmly capable of causing the upset tonight if Kendall isn't fully focused.
Georgia comes through the curtain now being followed by her new coach, she jogs down to the ring looking like she has a real purpose to her, a win here will put her firmly back on the map in the FCBA.
The Aussie is wearing a white sports bra, black trunks with white stripes down the sides, black shoes, white gloves with black thumbs, as her hair is tied into a ponytail too as she climbs through the ropes into the ring.
Heading to her corner with a quick glare at Kendall, Georgie shuts her eyes for a moment when she reaches her corner, taking a deep breath before exhaling, she goes through punching drills to limber up as the spotlight is on her to make herself a contender.
The fighters come to the center of the ring, eyes are staring holes through their opponent, the tenseness between the fighters is on show as they have hands on their hips, trying to make their opponent blink first it seems in their stare down.
They swipe their gloves into their opponent's when ordered to touch them up, not much respect it seems between them as they jog back to their corners, the bell is rung when they are ready, beginning 10 rounds of lightweight action.
Round 1:
Both lanky models start off up on their toes circling each other, trading stiff jabs in the opening moments of the round, Georgia is the first to land a combo as she rifles in a double jab to the mouth of Kendall, then a right hook to the body.
With a point to prove Georgia seems to want to be the one pressing the action, she takes the ring center with another quick fire one-two combo to the face of her opponent, looking really up for this contest as her eyes are laser focused.
But she pushes the boat out a little much with a left/right hook combo that Kendall dances out the way of, instead a counter double jab/straight lands in her face to give Kendall her first real success of the round.
On comes Kendall now after dipping under a left cross, she buries her right into the chest of the blonde, then lands a left hook to the toned body of her opponent, who gives her a shove to stop her in her tracks.
As they box around the ring, Kendall looks to be getting the better of the exchanges with her head movement, Gibbs becoming a little too tense as the importance of this fight isn't lost on her.
At the bell Kendall may have nicked it by her late rally, Georgia's early work to some is a warning to Kendall not to take the Aussie lightly, with both listening to their coaches but stealing moments to give their opponent a cold stare.
Round 2:
After giving her arms a shake to loosen then up, Georgia comes out quickly again, taking the fight to Kendall as both stunners land some nasty cross punches on to cheeks, cracks can be heard when they land flush to get the crowd excited.
Using her left forearm to nudge Kendall back, the right hook of Gibbs lands to the side of Jenner's head, making the American shut her left eye as she gets driven onto the ropes with two lefts to the body.
Georgia looks to rough up Kendall on the ropes, bodying up to her as she digs away with hooks to the sides, Kendall only landing a few clipping blows around the head, while her best punches come around to dig into the kidneys of the blonde to make her hiss out.
Pulling Georgia into a clinch, Kendall forces the referee to split them up, she gets off the ropes and enjoys the freedom as she can rifle in her straight punches while getting on the move again, keeping Georgia on the outside as they move around the ring.
Heading into the final thirty seconds, Gibbs lands a jab on the chin of Kendall before a right into her abs, forcing Jenner onto the ropes again as Georgia is looking slightly the stronger of the two in these power struggles.
At the bell the fighters give each other a hard stare before heading to their corners, Gibb's coach much more happier with her, rubbing her shoulders as Georgia gets her face washed down.
Round 3:
Coming out more on the move, Kendall trying not to get pinned down as easily, throwing double and triple jabs to ward off Georgia till she wants to throw her big right hands, the Aussie following her around the ring with eyes firmly locked on her.
Throwing a right cross that Georgia easily spots, a right instead buries into the stomach of Kendall, THEN A LEFT HOOK SMACKS HER BEHIND HER RIGHT EAR TO SEND KENDALL DOWN TO HER KNEES TO THE SHOCK OF THE CROWD!
Standing in the neutral corner with a glare locked on Kendall, Georgia relaxes against the turnbuckles, 1...2...3... Kendall shakes her head to clear some cobwebs, 4...5... She taps behind her head to say it was an illegal blow, 6...7.. The referee isn't interested at all in Kendall's complaints, 8.. With the brunette pushing to her feet with fists raised.
They are waved back together with Georgia not looking like she needs an invite to come after Kendall, who is on her bike knowing that the blonde is going straight for her, more punches land through the fighters mitts as they work hard to set up their bigger punches.
When Georgia just misses with a left hook, Kendall pulls her into a clinch, both fighters can be seen hissing insults in the others ear, referee breaking them up as Kendall waves her opponent to bring it, Georgia not needing an invite as she comes after Jenner.
The round comes to a close with Kendall not happy with herself, she can be heard calling herself stupid, Gisele working on calming her down, across the ring Georgia nods to her coach as she is told how they want to end this fight.
Round 4:
As you'd expect Georgia is on the hunt, both fighters slamming in jabs through the others guard, with Kendall letting her opponent come after her, slipping some of the power punches coming from Gibbs to counter with punches mostly aimed at the body.
After the first minute goes by it looks like Kendall has survived the early rushes of Georgia, who steps in when she can to land two to three punches, the big hooks are not as prevalent now from Gibbs as she is trying to get the range right.
A double jab smacks Georgia on her forehead, Kendall moves back out the way of a left hook then strikes like a viper with a right straight into the nose of Georgia, who cries out as she takes a step back, some blood running from the nostrils of the Aussie now.
Now she has a target to go for, Kendall opens up more with punches aimed for that nose, Georgia is trying to match her punch for punch, each time her nose gets hit clean it disrupts her rhythm, allowing Kendall to snap her head backwards.
Knocked onto the ropes, Georgia looks happy when the bell rings, her corner team working on her nose as she looks calm, Kendall getting told off Gisele that was what she wants to see from her, Kendall tapping her feet as she looks anxious to get back at Georgia, waiting for the bell to ring.
Round 5:
At the bell Kendall is planting her feet more when throwing her jabs, trying to find a way to that nose, with Georgia doing well to parry and counter in the opening thirty seconds, showing Kendall she isn't that easy to crack.
Georgia comes on the attack with two body punches, before she gets nudged back by a left on her chest, the right that lands across her nose brings tears to her eyes as she retreats back with blood flowing once more.
Quickly Kendall keeps on her, slamming in punches to the body of Gibbs to open her up to a left hook on the temple, GEORGIA LOOKS IN A WORLD OF TROUBLE AS SHE IS GOING BACKWARDS UNDER TWO MORE CLEAN PUNCHES TO THE FACE, FINALLY A LEFT HOOK TO THE JAW SENDS GIBBS DOWN TO HER BACK!
Banging her gloves together as she heads to the neutral corner, Kendall looks fired up as she scowls, 1...2...3... Georgia turns to her right side with a groan, 4...5....6.. Blood from her nose drips to the canvas as her eyes are shut, 7...8...9... Georgia blinks to clear her vision, 10 that's it for this one!
Winner Kendall Jenner KO Round 5After:
Getting the win doesn't seem to have made Kendall happy surprisingly, she heads over to Georgia, standing over her as she asks "is that all you got?" Then storming back to her corner, ignoring seemingly the fact that she was down on her back herself two rounds earlier.
Gisele even looks a little confused by Kendall's reaction, till it sets in that maybe Kendall had someone else specially on her mind, that makes Gisele shake her head as she can't understand that.
Meanwhile Georgia is helped to stand by her coach and helped to sit on her stool, Georgia tosses her gloves off upset that she didn't punish Kendall after she scored the flash knockdown, her coach telling her that it is OK, this was a learning fight for her about what she needs to work on.
Her mood isn't helped when she watches Kendall get her right hand raised by the referee, she shakes her head as she easily knows that could have been her instead, all she can do is leave the ring once her nose is patched up, heading to the back with a fire that may help her rebuild, it might also burn her out.
In the ring Kendall and Gisele argue about her mindset, telling Kendall "call up Kylie and either make up or fight, this moody bytch act you have going on stops now!" With Kendall shoving Gisele in response, telling her it is none of her business as Eva with the referee has to help calm the situation, rare to see a coach and fighter explode.
Kendall takes a walk as she steps out the ring on her own, brushing past a camera as she doesn't look in the mood to be around anyone, her mood most likely won't be helped by how Kylie and the Lookout! Stable will most likely react to watching this.
In the ring Gisele tells Eva how dumb Kendall is being, with Eva having to be the voice of reason to remind Gisele this is a family matter, Gisele nods as she puts her head down looking a little embarrassed how she acted, is there trouble brewing within the Girls Friday stable?
For now Gisele and Eva walk together without their fighter, to be a fly on the wall in that locker room would be something, when will Kendall and Kylie finally settle their issues as Kendall seems on the edge of self destruction right now.