Post by Lookout! Boxing on Nov 28, 2020 4:33:32 GMT -6
KIRA KOSARIN
(23 y/o, 5 ft 6, W: 27, L: 13) VS
KAT DENNINGS
(34 y/o, 5 ft 3 1/2, W: 42, L: 13)
Results: Lookout!, Writing: Bonzo
Before:
Kat Dennings has been one of Front Street's all-star bantams representing the stable since 2011. She's lost her only shot at the division's title back in 2019 against Lookout's Demi Lovato – but Kat's simply one of the hardest working women in the business, a perennial top ten staple and in possession of one of the best records in the division. Had Liz Olsen beaten Bella Thorne for the title, and had Kira beaten Liz, this could have been a title fight – the stars didn't align that way, but there's no doubt that Kat's always a contender and beating young, loud-mouthed Kosarin would almost certainly set her up for a look at the bantam straps soon.
For Kira "The K.O. Kid" Kosarin, 2020's suddenly offering some *nasty* surprises. She got overwhelmed by Bella Thorne in only her second title defense, then got slugged out cold by Lizzie Olsen – shocking back-to-back losses against some of her fiercest competitors. Kira's also just stepped off a brutal JMD venture against new kid on the block, Samara Weaving. Defying all odds, Samara took a shellshocked, out of sorts Kira behind the JMD woodshed and handed her one of the most brutal, rowdy losses of her young career, leaving her a vulnerable, humiliated loser. So – is crafty, veteran Kat a smart choice now that Kira's hit the doldrums?
"I'm biiiiiigg – she's small", Kira shrugs off all allegations of a confidence crisis. "She's rockin' that jug power, but I can't see her hurting me at the ropes, like: at all! – I'm just packing way too much power for a flyweight bantam. No chick can boss me around, 'cause, you know – I'm the boss in the ring!"
Kat's offering her own analysis of the upcoming fight – she's being calm and professional, yet obviously excited about facing off against a hot, young phenom like Kira:
"I love that Kira's still sassy – it's the kind of attitude that's landed her on her butt twice this year against smart, disciplined chicks. Like me! I mean, everybody's saying Kira's the biggest young talent at bantam, and it's hard to argue with that. But there's just so much she's still got to learn in the ring. About class, for one thing, and also about power. Good thing I'm here to administer that lesson – have fun, guys, because it's going to be a riot! Trust me, when we go toe-to-toe, someone's going to be shocked. That person won't be me. I know how good I am – Kira has no idea!"
Fight night attire:
Kat's clad in short leather pants, a tight leather bra stuffing the goods, white gloves, white boots, her hair tied in a bun – Kira's sporting blue boy-leg panties, a ripped bare-midriff t-shirt on top, red gloves, red boots, her black hair in a multitude of braids.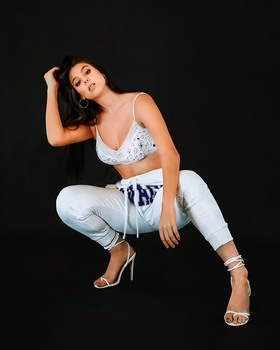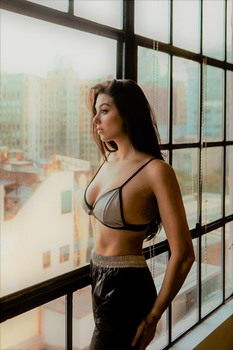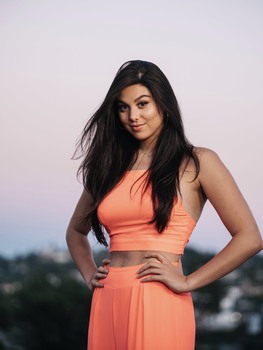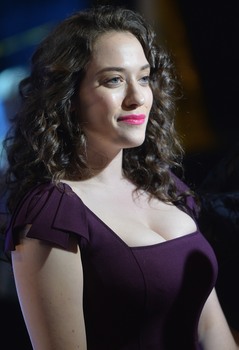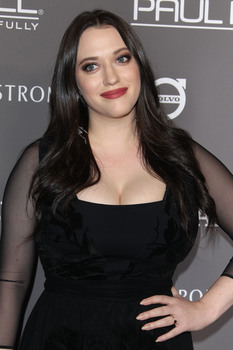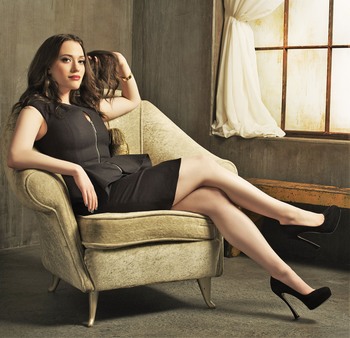 Fight:
R1:
Kira stepping into the action in aggressive, overwhelming fashion – she puts her hard, cruel jab RIGHT into Kat's face from the get-go! Bigger girl setting tempo, rhythm during early pivots, trades, staying broad-legged, tall, racking that explosive left hand to smaller Kat's face/jugs, as Kat's still negotiating the distance, working her way forward, trying to slide in n' out to attack. A few tasty trades in, Dennings suddenly RUSHES herself, pouring forward: a quick spit of hard, tart, stubby jabs gets her close up – she's trying to slam the sidearm righty past Kira's orderly jab, she's hunting for her jaw! Kira a-blinkin', but firming: a short lil' jab chips off Kat's face, a combination straight right hand brushes off Kat's mouth – and she's lit up! A lil' head-rock back, leggy baby-steps…now it's just Kat who's hurt! Kira steps in, a wide smile on her face – she spits a short lefty hook to Kat's famous jugs, guhh-uuuh, then taps a right hand over the top to Kat's forehead, boom!, making Kat feel her power!
Mid-round: girls work from short angles at ropes, going hup-hup, flashing each other up – Kira's constantly bulling her shoulders into Kat's face/rack, wrapping her up ropeside, leaning in, just trying to get big and thick on her girl. Kat's not shying away from going toe-to-toe with the bigger girl – she answers back sturdy lil' shots to Kira's ribs/trunks, earning grunts, grimaces from her confident foe. Final minute – Kat's a-rushin', but she's soaking up shots! Kira mobile, tall, reaching Kat's face with that pumping counter jab again, and again – a short left hand hook/brush right uppercut combo's clipped to Kat's mouth, stunning her on the spot! Kat going to crossed-armed bobs/hops – she's still sturdy, mouth-breathing, as Kira's leaning in, chopping wide shots off Kat's skull/ears.
Girls all chin up, chest out, provocative smiles at the bell – staring each other down with fiery, passionate looks.
R2:
Kira steps out confident, her right hand placed at temple, ready to dictate things via a howitzer jab poke off her majestic left shoulder. Kat shows crossed arms, dipping her shoulders, crouching, staying close just to provoke Kira – Kira lands first, driiiiivving those jabs home the hard way! Kat accepting the wallop, as its puts her into a good position to counter, brush the dust off Kira's pretty cheeks – a short, hard right hook pastes Kosarin's left ear/jowl, and a HEALTHY shove to Kira's broad shoulder's got the bigger girl stumbling off kilter! And again, as girls hop ropeward and back, eyeballing each other behind tight guards: Kira adamant about her hard jab to land first, leaning forward, tapping a shot to Kat's eyes – EATS the tasty counter shot, as Kat's ready for her, clipping the right uppercut on receipt, chop! Kira shakes her head, blushing, as her legs take back-pedals, stutter-steps – she's ROCKED, and Kat storms-to, nudging a left hook upside Kira's trunks, pounding a healthy sidearm oomph! into Kira's own proud jugs, and topping it off with a heavy overhand right hand exploding off Kira's left temple!
Mid-round action – Kira being grim-eyed, determined, MUCH less aggressive.
The shorter, more compact Kat's putting some legs on her girl, moving Kira around, pressuring her, fighting from the middle of the ring. Dennings suddenly going jabber: her sledgehammer lefts start to land – she's stepping into her shots, using push n' shoves to walk Kira back, sock her to cheeks/temple/skull, as Kira's butt's on the cables, staring on in hurt. Tasty right hands torment the Kosarin gutline, as one-shot haymakers blast to proud jugs/bra – rightly earning grunts, protests from an outraged Kira!
Down the stretch – Kira's wrapped up in a tight Dennings clinch, bulling back, struggling, eyes flat, as Kat's in control.
R3:
Girls blast it out early – Kira trying to use her height, reach advantage, scoring well via short, explosive jabs, as Kat's back-pedalling. Once positions are settled, Kira's able to walk Kat down, expend on her jabs, bring the right hand to take some hard, THUDDING body work Kat's way. Dennings still a-stepping out, trying to go hammer n' tongs with Kira, lure her into tasty slug-outs when girls are stationed off each other's chest – Kira's able to defuse these situations via strict, accurate power jabs, placing hard shots right between Kat's pretty eyes, denying her forward momentum. Kat accepts Kira's range diktat, showing back-pedal looks, slide-outs, bobbin', crouchin' on the spot, still neatly trying to find ways to hurt Kira, SNEAK in wide hooks or crosses inside Kira's power jabs. Powerful, offensive walk-downs see Kat hitting the ropes, setting up a sturdy, crouching, crossed-arm look – the smaller girl's frustrating her fellow brunette opponent, often coming up inside her reach, wrapping up muscularly around Kira's hips, waiting for ref's breaks, as Kira's bytching, cussing around.
Down the stretch – it's a sturdy crowd-pleasing toe-to-toe slug-out! Girls trade head or jug shots mid-ring, taking turns, just chopping wood here – Kira's thicker, WILDER jug shots finally have Kat breathless, grimace her into hurt. Kat's getting clobbered, worked over her lats/jugs/ribs late, as Kira's sturdy-pushing her shoulders, pummeling her to the ears/temples, as Kat's just ridin' it out, dippin', stoopin', clinchin' for breaks until the bell.
R4:
Kira – so wide-eyed, pleased with herself, staying fast, aggressive, STEPPING into her choo-choo jabs, hop-stepping in Dennings's pursuit. Kat duly showing a more defensive look, sliding back onto her heels, taking turns or pivots out back. Kat stoops at the ropes, slides out to sides, luring her girl into more risky endeavours – she's all bobs and hops, crouching at the waist, hands at the lap, doing lil' feints, giving up canvas, suddenly CHOPS a hard overhand right cross, just as Kira's kicking into her one-two! Kira's jab sails out past Kat's head, as the awkward, splashing shot connects to her ear/cheekbone – and Kira's a diiiiiiiizzzy beauty!
Her rock-solid thighs start to tremble, legs just stumbling back and forth in back/side-pedals, eyes peeking out blankly behind a rickety guard. Kat hissin', nodding her head, starts the friggin' work: series of hard, pulverizing jabs rip to Kira's jugs, ribs, tummy, as left/right hooks POUND FLAT to Kira's strong biceps, softening her girl up into a hit of a haze. Kira steps out to ropes, hands outstretched to shove her tormentress off – Kat shifts her upper bod out of range, comes back HUGE via the right uppercut, slam!
The dramatic shot picks up Kira's face drowsy, rolling her eyes back, tilts her back against the cables, as thighs tremble, skid and skitter, slipping away from under her – she takes a pirouette down onto her freakin' butt! A shell-shocked, surprised Kira finds herself looking at the arena lights, blinking in confusion, as those strong, now rickety legs won't respond at first! She groans, struggles onto her right forearm, finally crawls onto all fours, as her upper bod's heaving with deep breaths – meanwhile, Kat's opposite the ring, arms placed atop cables, drawing breaths, staring down in fascination at Kira's rickety, helpless frame! Kira beats the count a shabby eight – and she's in for a friggin' pasting! Kat walking her opponent down via jabs, right hands, just bashing, walloping at the sides of her skull/ears, tapping her, trying to pound that girl out of there! Kira dazed, but alert, still defending herself – hasty, rickety step-outs...long, gruesome clinches around Kat's jugs/hips, her eyes closed in exhaustion.
During the break: Kira sighing, grimacing in hurt, her back propped up against the turnbuckle – there's no more confident shine in those pretty starlet eyes!
R5:
Leggy, confident Kira? Gone! She's exhausted off her stool, wheeling the canvas more than she's springing across it – she motors into range, right hand at mouth, left hand at eyes, forming a more compact, tighter stance.
Kat grins, steps into her foe hard, aggressive – and Kira can't read those quick, shifty, EXPLOSIVE jabs, getting pounded to her eyes/mouth/temple. Oh, how Kat's lovin' this – her hands roll, as quick rat-a-tat combos go pik! pak! to Kira's bra or jugs, tap her muscular biceps left/right, and loooooonng right hand uppercuts scroll tastily off Kira's pretty face! The bigger girl's taking a beating here, no doubt – she's still her sturdy, thick-thighed self, but SO passive, absorbing and huuuuurt.. she wanders from ropes to ropes, arms trembling, as Kat ramps up her clubbing, pummeling attacks on Kosarin's guard/skull/ears! Mid-round scenes: Kira's placed in a crouch at the ropes, her arms in earmuff – small, compact Kat's in front of her, constantly shifting her hips, weight. Kat's attacking Kira from all sorts of different and SNEAKY angles – dippin' lil' cuffs to the jugs, sidearm pounds to the lats/flanks or short lil' uppercuts to a drowsy jaw-line...she's leaving Kira in an open-mouthed stupor!
Down the stretch, Kira's starting to hit wide, big, DESPERATE counters off the ropes – wild, swinging LUNGES at her quick, elusive foe, often punished by a short, biting answer hooks twitched right off Kat's rolling shoulders.
R6: 
Girls get more competitive during early trades, as Kat's meeting much more Kira resistance this time out! Kat rushes in, lays a tossing right hand on a mean trajectory to Kira's chin – Kira's ready, shifting just a lil' to the left, chipping back the left hook, and brushing the right cross off Kat's startled face! Kira dippin', clinchin' around Kat's jugs, turning her girl around, as girls wrestle for control – ref's break's time. Kat's trying to keep up the pressure, chopping nice combination hooks off Kira's toned paunch/trunks – earning tasty grimaces, shouts from her opponent.
Around the minute mark, Kira's trusting her lead jabs again, committing more into her shots – hard, rhythmic pokes walk Kat into a stagger! Kat duly chooses to close range – girls step mid-ring, blast out trade in turns. Girls stationed off each other's frames, both crossing arms, bobbin', dippin' on the spot – girls lean all in to bump shoulders, dish out harm, taking turns to slug each other's jugs, faces.
Second minute:
Hard-ass bump n' slug puts both chicks in daaaaaanger: as Kira's right haymaker misses, Kat's answer left cross pastes Kira's right cheek like a pancake, sends her out on wobbly legs – as girls meet back again, Kat's short jug hook's an ounce short, and she eats the combo, left uppercut to the jaw, right hand to the jug! Kira's weight of shot's immense – a nice little body hook fits in behind Kat's right elbow, stutters her steps. A duo of hard left/right straights butters her jugs, sends her out on baby-steps, gasping. Kat suddenly woozy, a little forlorn, drifting further to ropes – Kira's wide-eyed in her pursuit. Kat taking back pedals, sliding out parallel to ropes, hopping on the spot to find her stance and hold – and Kira's tossing it all into a crushing haymaker! Kosarin leans in, her entire upper body laying into the friggin' shot – the shot smacks home upside Kat's forehead, as Dennings's still on the spot trying to lean her head away!
The shot loosens Kat, drapes her helplessly against the cables, arms in her lap – Kira steps in, brushes a quick left/right body uppercut duo to Kat's sternum, jugs! Kat's skewed into a tilt, sagging back, hugging her tummy in hurt – she skids off the ropes, goes down and takes a knee! Ref bulls a yelling Kira off, as young starlet screams down at a tummy-hugging Kat – and Kat goes all rickety, skids onto her tummy, as legs spasm...she lifts her head up off the canvas, trying to prop up to all fours again...it's no go, as the count's passing her by...that's a body-shot KO6 Kira Kosarin!
After:
Bantam beauties light each other up again and again in a tuff, competitive shoot-out – the end's short, brutal for confident Kat. After spending many moments in control, getting into Kira's head, vexing her – she's stopped by a haymaker, body shot combination. Girls pretty lovely, friendly to each other during post-fight scenes – Kira's making sure Kat's all right, as girls hug, pat on each other's back.
"Kira's the real deal," Kat admits. "But I liked what I was doing in there! Change some parameters and that's Kira writhing on the canvas – believe me, I'll get her there next time!" Kira smiles: "Kat was trying to blast toe-to-toe with me – no way, girl! I mean, I know you guys look at the Weaving fight and think I'm not for real. But I am! And I proved that tonight. I'm here to take my mojo back for the Christmas fighting season!"