Post by Lookout! Boxing on Nov 28, 2020 3:15:41 GMT -6
Alessandra Ambrosio: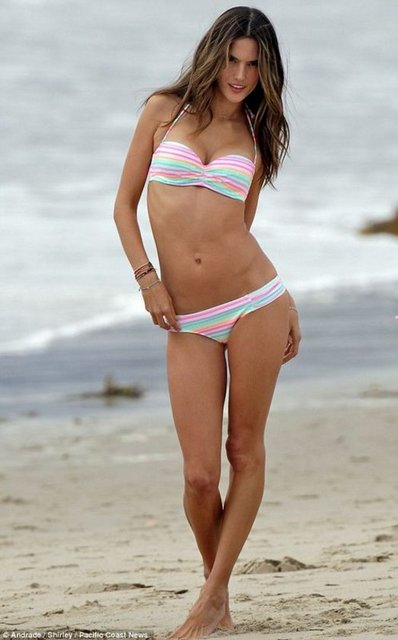 VS
Nina Agdal:
Tale of the Tape:Alessandra Ambrosio:
Age: 39
Height: 5'9 ½
45-17 (45KOs)
Former BBU lightweight champion.
Former FCBA lightweight champion.
Vs
Nina Agdal:
Age: 28
Height: 5'9
29-14 (29KOs)
(Girls Friday vs Vixens)(Written by Girls Friday/Results by Lookout!)Intro:
For the first time ever Alessandra Ambrosio and Nina Agdal do battle in the squared circle, a truly international battle here between the beautiful Brazilian and dangerous Dane as Alessandra looks to add to her legacy, Nina wants to move towards her first title.
The form of both fighters has been a little mixed, Alessandra winning her last fight against Anlella Sagra last month, while Nina after a disappointing time in the European Cup tournament has been like a house on fire the past few months, beating Cara Delevingne and Elsa Hosk to remind people why she is a contender.
Before the fight took place, Alicia Atout interviewed both fighters in different locations, first meeting Alessandra on the Copacabana beach in Rio De Janeiro, where Alessandra had been on a run before sitting down with Alicia in a violet bikini.
Looking cool as she stared out to the sea, Alessandra told Alicia "I was surprised that me and Nina hadn't fought as I looked over names for this PPV, as I head towards my retirement I am deciding my fights, this was a fight I really wanted as Nina is a top fighter, it would have been a shame to not share a ring with her" her respect clear as the water in front of her was a beautiful clear blue.
The Victoria Angel legend added "while I will give Nina all the props in the world, come the PPV I won't give her an inch, I ain't retiring yet and if I have my way I'll be planting my foot on her chest when I am done so history will know which of us is the best" a more stern look on her face as Alicia nods.
While when Nina is interviewed it is at her stable gym, finishing doing pad work with coach Steve Boyd, Nina is given a few minutes to talk to Atout as she wears black yoga pants, a violet sports bra, black trainers with black gloves, taking her right glove off as she grabs a bottle of water to drink, Nina smiles to Alicia as she jokes she won't hug her and ruin her dress with sweat.
Getting down to business, Nina admits "I have thought about fighting Alessandra for awhile, in a short space of time she made herself the woman to beat in all the lightweight divisions, so I know she is still dangerous in that ring, even if she is looking for the exit on her career, I am under no illusions she'll let me by so easily" pouring a little water over her head to cool herself down.
Nina then adds "but I have going to be frank, I am not going to show her respect in that ring, I am not going to bow down to her or give her breathing room, I'm sick of being the forgotten woman in the division, I've gotten big names on my record, Alessandra will simply be the next one on my list" putting her water down as she puts her right glove back on.
Thudding her gloves together, Nina tells Alicia "I hope people take notice what I do to her because I am not going to stay in the shadows forever, I know I am championship worthy, Alexis proved we are a stable of champions at this weight, now it's my turn to work my way up to that title" Alicia pats Nina on her left shoulder as she thanks her for her time, both smiling as Nina gets ready to go spar Alexis in the ring.
Fight night, first out comes Alessandra with coach Gisele Bundchen and cutwoman Eva Carneiro behind her, the proud Brazilian has on a yellow sports bra with green trim, matching trunks and shoes, green gloves, she heads down the aisle with a smile as she looks in her element with the crowd yelling her on.
Stepping into the ring with a wave to the fans, she gives them a little shake of her hips as they whistle for her, the mood changes as she hugs Gisele and Eva, she starts shadow boxing as she awaits her opponent.
Who doesn't make her wait long as Nina heads out with Steve beside her, thudding her gloves together at the top of the aisle, Nina is wearing a maroon sports bra, matching trunks, shoes and gloves, her hair is also in a ponytail as she begins her jog to the ring, her face showing how serious this fight is for her.
Climbing into the ring, Nina pounds her chest with her right glove as she faces the crowd, Steve telling her to make a statement tonight, wanting to use Alessandra as a stepping stone to greater achievements.
The referee waves the fighters together, where they go nose to nose, even with the respect between them, their competitive edges make them wanna simply dominant the other in all aspects, even this face off is part of their competition, wanting the other to show weakness to them.
Now seems to be coming though, instead they have to settle for cracking their gloves into their opponent's set, returning to their corners as they are ready for this, the bell rings to start 10 rounds of lightweight action.
Round 1:
Kicking off trading stiff jabs in the opening thirty seconds, eyes locked behind their gloves as they try to feel each others skills out, Nina looking the faster as she moves in closer to pound in double jabs.
Both land a left hook when they step in, that seems the trigger to get things heated up, more hooks getting thrown as they move in closer, heads soon touching as they bang away to the others bodies, barks and groans being heard from them.
Nina shows her strength off by nudging back Alessandra, landing two crisp crosses, pushing back the Brazilian as she starts to let her hands go, keeping on the front foot as she looks to crowd Ambrosio to the ropes.
Getting into the final minute of the round as Alessandra is being forced around, she catches Agdal out with an uppercut that opens the Dane up to a left hook to her chops, switching momentum around as she comes after Nina with straight punches.
Showing how even they are, Nina manages to push back Alessandra with seconds to go, the fighters nearly clash heads as they work on the inside, fists flying as they desperately try to win the round, the bell rings to end the round with both women nodding their respect before they jog to their corners, too close to call for most at ringside.
Round 2:
Coming out their corners looking pumped for this, they trade stiff punches through gaps in the others guard, not as focused on their defense as maybe they should be, it is getting the crowd going as they stand to roar the fighters on.
Nina dips a straight to bang in two body shots, then clips Alessandra over the top with an overhand left to the cheek, beginning to marshal back the former champion as she sticks in close, outworking Ambrosio on the inside with uppercuts and cross punches.
Using her left forearm in close to the breasts of Nina, Alessandra hammers in two right hooks to the side of her opponent's head, then steps back to create some space as she leans out the way of a left cross to counter with a straight to the mouth.
Relying more on her boxing skills, Alessandra showing some of her adaptability now, digging in more jabs to set up her bigger punches, dodging more from Nina; who seems stuck on one plan at the moment, allowing Ambrosio to jam her to the face to keep her to the outside.
Before long they are heading into the final moments of the round, Nina has a mouse forming under her left eye from hard straight punches, but she shows her speed to parry a jab then step inside to land two left hooks to the body, followed by an uppercut to the chin of Alessandra.
The round comes to an end with most just giving it to Alessandra, but it is hard to really separate these two as Nina certainly isn't sitting back, these two came to fight as they stare across the ring from their stools at each other, determination written across their faces.
Round 3:
Stepping out their corners with jabs flying as Nina realises she won't bulldoze Alessandra so easily, she begins to show off her own boxing skills to match Alessandra's around the ring.
Alessandra steps in with two stinging cross punches to the cheeks of Nina, taking an uppercut in response as they stay at midrange, a little sweat flying off them as cheeks are marked up on their beautiful faces.
Another uppercut catches Ambrosio to knock her back to her heels, Nina presses back the Brazilian to the ropes, slamming in hooks to the body as she is throwing a healthy barrage that has Alessandra grimacing as she groans till she can clinch up.
The clinch itself is hard fought as Nina shoves her right elbow under the chin of Alessandra, trying to break free from her grasp as the referee steps in to split them up, warning Agdal to keep it clean, the Vixens fighter nodding as the fighters touch a glove up.
Fighting around the ring with the ropes mostly behind her, Alessandra is fighting more defensively then she would like, at the bell though it is hard to disagree she has to as Nina looks a real menace on the inside, that confidence she started the year off is well and truly back in the ring it seems.
Round 4:
Nodding to Gisele before she heads out to fight, Alessandra is doubling up her jabs more, each fighter adding another quiver to their bow it seems each round to try to counteract what their opponent shows them the round before.
Moving a little more in closer, Nina tries to slam another uppercut in but is read perfectly, Alessandra leans out the way before landing a right hook to the chin of her opponent, then spikes a jab into her mouth to push her back.
Not rushing in to attack, more focused on slowing the pace down a little, Alessandra is holding the center of the ring with straight punches, punishing Nina when she tries to lunge in more with counter punches straight into her face to back her off.
There's an annoyed look on Adgal's face as she is finding it harder to close the distance compared to before, a left hook smacks across Nina's face to make her tighten her guard up, while Alessandra spots her chance to open up more.
Maybe Nina is playing possum as they enter the final thirty seconds, Nina slips a straight to bang in an overhand left to the cheek, followed by an uppercut to the body as Nina gets right into the face of Ambrosio to work her backwards.
Problem is the bell rings before she can fully gain control of things, Nina nearly stomping back to her corner, Steve telling her not to lose focus as they talk through the fight so far, Alessandra looking less tense as Eva works on reducing the swelling around her cheeks.
Round 5:
Bouncing on their toes before the bell, the crowd are on their feet cheering for both women, they start off trading more combos as they move around the center, sweat goes flying as they exchange a few taunts too, trying to tell the other to hit harder in a game of oneupmanship.
Nina might regret it as she swings a looping right hook that Alessandra just about steps back out the way of, banging in two left hooks to the side of Adgal's head to knock her back several steps, Alessandra is starting to light her up with punches.
Another desperate right misses for Nina, with an uppercut knocking her head back, THE FOLLOW UP RIGHT HOOK CATCHES NINA ON THE JAW TO SEND HER STUMBLING TO HER RIGHT SIDE ON THE CANVAS!
Vintage Alessandra there as she puts her punches together beautifully, 1...2...3... Nina slaps the mat with her right glove as she moves to all fours, 4...5.. Shaking her head to clear a few cobwebs, she moves towards the ropes, 6...7...8.. Using them she gets to her feet, fists up as she walks to the referee to show she is OK.
Back at it they comes as Alessandra is looking for the finish, Nina is making things scruffy though with clinches, which have a little dirty boxing in them, heads under chins, a few digs to kidneys or back of heads as they snarl at the other in this primal battle.
The round comes to an end with Nina sitting on her stool looking furious with herself, Steve kneels down as he works on cleaning her up, telling her to keep her cool, that's what led to the mistakes in this round.
Across the ring Alessandra gets a fist bump from Gisele, of course the Girls Friday crew are excited by the knockdown, till Nina is out though they know not to count their chickens yet.
Round 6:
Not rushing as she was starting to the last round, Nina showing more discipline as she moves her head more while throwing back to the body a little more to go along with her head shots.
Alessandra trying to keep the heat on her opponent, is landing some nice crisp punches to faces as they box around the ring center, neither proud woman wanting to give an inch to the other in these exchanges.
A missed straight though leaves Alessandra open to a hard right to the solar plexus, the wind rushes out of her, AS TWO HOOKS SMACKS HER CHIN, SENDING AMBROSIO DOWN TO HER BACK!
Nina loved those punches as she devilishly grins in the neutral corner, 1...2...3...4.. Her demeanor changes to more serious as Alessandra turns to her left side, 5...6...7.. Pushing up with her right on the canvas, 8... Beating the count with a little wobble to her step, doing as Nina did to show she is OK.
But as they fight on into the second half of the round, Alessandra doesn't seem to have that sting to her punches, Nina coming after her more after deflecting the punches of the Girls Friday fighter, getting in closer to dig in some meaty body shots.
Pushing back Nina to open up space between them, Alessandra is too slow with a right hook as a left handed uppercut knocks her head up, A FOLLOW UP RIGHT UPPERCUT SENDS ALESSANDRA'S GUMSHIELD OUT HER MOUTH! EYES WIDE OPEN AS SHE COLLAPSES STRAIGHT DOWN TO THE CANVAS!
Flexing her right arm for the crowd as she struts to the neutral corner, Nina looks to have a dominant aura around her now, 1...2...3...4.. The referee watches Alessandra stir slightly, 5...6...7.. But she is still laying down on her from, left cheek on the canvas, 8...9...10 that's all for Alessandra tonight!
Winner Nina Agdal KO Round 6After:
Another marquee name to add Nina's record, she mounts the bottom ropes in the neutral corner to blow kisses to her fans, all who are standing chanting "there's only one Nina Agdal!" At the top of their lungs, buzzing off watching their favourite win this truly hard hitting contest.
While Alessandra has to be slowly helped be brought fully around, she is still buzzed as Eva works on her, Gisele has her head down as she always hates seeing her long time friend in this state, especially from a fight she certainly could have won.
Alessandra is helped out the ring once she seems to have returned to reality with a bit of a headache, the medical staff wanting to check her over more in the back as Nina leads the applause to her fallen opponent.
The winner afterwards heads to her corner to give Steve a big hug, both beaming as they know how big this win could be for Nina, a great stepping stone on a way towards that dream first title for the great Dane fighter.
Jogging to the ring center once she has her gloves off and puts on a black T-shirt with the Vixen's logo on the front, Nina proudly taps the logo with her right fist as her left hand is raised by the referee to a loud cheer.
Bowing to the fans as she is beaming, Nina gives them all a wave before she poses for the cameras with her fists raised, that final knockdown that won her the fight will certainly be in the magazines tomorrow.
Stepping out the ring with Steve carrying her gloves, Nina jogs to the back applauding the crowd, her demeanor from just a few months ago was so dark, now she has her smile firmly back, it'll be hard to knock it back off it seems.