Post by Lookout! Boxing on Oct 30, 2020 19:38:12 GMT -6
AMANDA RIGHETTI
(37 y/o, 5 ft 8, W: 104, L: 30) vs
HANNAH FERGUSON
(28 y/o, 5 ft 10, W: 47, L: 11)
Results: Lookout!, Writing: Bonzo
Before:
Amanda Righetti and Hannah Ferguson have been rivals atop the welter division for more than four years, so it's almost a surprise to see they've only faced off against each other in two single fights. Back in 2017, welter was in the midst of a supermodel revolution, led by Hannah, Kate Upton, Hilary Rhoda and Karlie Kloss that upended the old order in the division for good. Hannah's dramatic headline-grabbing knockout of a cocky, yet struggling Amanda cemented her rise to the top and plunged Righetti into a soul-searching crisis. Of course, the redhead subsequently stormed back from that crisis with a record-breaking streak of 24 fights and battered Hannah into defeat during her first title defense in 2019. Four years into their rivalry, and with Righetti stripped off her title by Adrianne Palicki early in the year, it's time for an exciting rubber match between two of the division's biggest stars.
Hannah hasn't seen a lot of competitive fights at regular non-JMD welter this year, but she's taken down giant Robyn Lawley, Charlotte McKinney and the ever-dangerous Paula Patton, and she's gone 2-2 against Tahnee Atkinson in a variety of beach, bare-knuckle and oil-pit settings. Her biggest disappointment this year surely was an out-of-the-blue loss to hungry blonde lightweight Blake Lively in August that had pundits scratching their head in disbelief. So does Hannah feel ready for Big Red now?
"Oh, you've got no idea just how ready I am!", Hannah confirms, nodding seriously during her pre-fight interview. "It's time girls stopped being afraid of Amanda. Did you see the way Tahnee exposed that famous jab during their battle last month? I was impressed – and I don't say that a lot about our favorite Aussie showboat, right? The key's always been this: you can't let Righetti being the biggest girl in the ring. You've gotta put your jab in her face, spank her, fight it tall, make her feel small, vulnerable. She's gotta feel your weight n' power all night long – and I got endless energy, babe! I can her let her power herself out, and pounce on her like a cat late and mean – just watch me!"
Righetti's lost a superfight to lightweight queen Kendall Jenner to open the year, and got the title ripped off her waist in brutal fashion from a hungry Adrianne Palicki – two hard, early losses in the year after going undefeated since March 2018. Her subsequent return to form saw Hilary Rhoda, Karen Gillan, Kelly Brook and Tahnee Atkinson put to sleep at her feet. Hannah's the second rubber match in a row against the supermodels who defied her a couple of years ago and had to take a backseat during Amanda's amazing title run. How dangerous will Ferguson be?
"Hannah's unfinished business," Amanda says during her own interview, matter-of-factly. "I'm certainly not finished with her – and I intend to dominate her! It's not about being the bigger girl in the ring, it's about being the hardest working, the smartest girl in the ring – and that's me, Hannah! When I get my way, it will be a long, frustrating night for Miss Hannah – that lean, pretty body's going to get all ground down, until I put her to sleep!"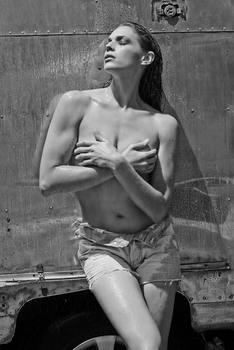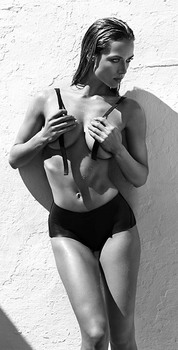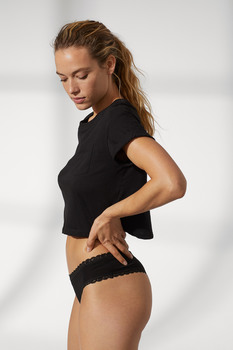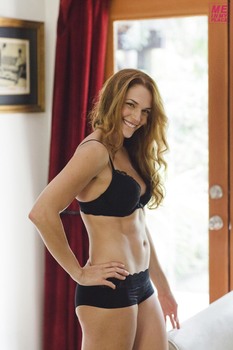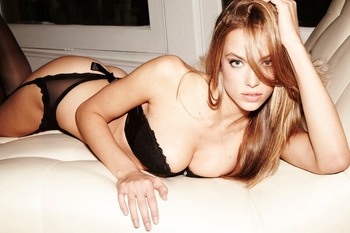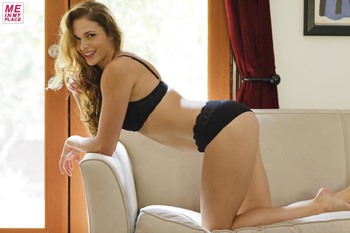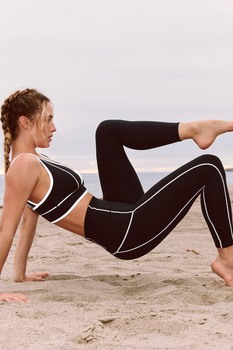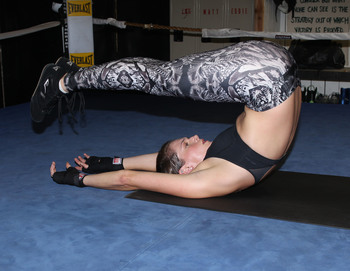 Fight:
R1:
Girls attack! Slap-bang early scenes get adventurous: Righetti pitching a shove-jab to Hannah's tits to open the fight, chup!, immediately going small, taking dips, ripping brawny lefts n' rights across Ferguson's gut/waist, setting her blonde opponent into hasty, shell-shocked back-pedals, immediately punched behind her guard into the defense. Amanda's forming a wide, compact, powerful stance, her legs set widely apart, hips twisting her power into these hard shots, wham-bam!, wham-bam! – quick rat-a-tat smacks to Hannah's gloriously toned tummy, her proud bra-line, socking to her shoulderbones.
Hannah's a-sputtering, baby-stepping, taking moments to firm her legs, stance, finally getting into RESIST mode, just as her back's already on the ropes, elbows in, hands up, peekin' out, a-blinkin' – there's the sledgehammer right hand, Hannah! Righetti workin' low, her head positioned just above blonde's rack, ripping into lefts, rights – Hannah's straight, brutal brawl of a shot corks HARD to upside her temple, sloshes her guard wide open, and splashing her out of her stance! Tall Hannah's fast out of her corner, SPLASHING the lefty haymaker to Righetti's right jawside with plenty of zing, catching Big Rigs with a dose of brawny power herself – girls duly tumble out of range, Hannah right, Amanda left, both stabilizing after early shoot-out.
Action during second, third minute: girls playing ring chess, as early aggression fades. Righetti: tight stance, right glove placed upside her right eye, left hand at mouth, constantly swaying on her hips, always on the hop, trying to bob n' weave her way into Hannah's range, step-to fast, rip her to the waist, flanks hard – Hannah's just being tall, smooth, stepping out via wide-ranging steps, bringing those long, silky legs into motion, grabbing out with her long arms, trying to control her foe, her left arm pulling up behind 'Manda's head, drawing her protesting redhead forward into tall, brawny clinches. Righetti clearly struggling with tall Hannah's weight, squirming, wiggling out of Hannah's arms grabbing out for her – lots of shouts of protest to ref, as girls tumble around, not hitting shots cleanly, clinching messily around each other's heads/shoulders, finally getting bogged down in a tuff big girl's battle for control of each other's body. Ref's constantly forced to shuffle his way inside, separate thse two bit*chy, teeth-grinding beauties as they're stepping around the ring, strong welter limbs and muscles all wrapped up, entwined.
Down the stretch: Hannah fighting tall, placing a high guard, swooshing her head out of Righetti's short, aggressive step-to shots, firming back via tall, precise left straights/jabs off her high stance, stomping counters to redhead shoulders/skull. Double, triple jabs landing thud! to Hannah's guard, as blonde Ferguson's fading ropeward via her long, smooth, pivoting steps. Nice lil' brawl there at the end: Righetti's inside, rising into Hannah's grasp, landing a chup-chup left/right salvo to blonde heart/tits...Hannah chippin' back the short right hook to Amanda's mouth, chup!...Rigs detonates the counter uppercut off Hannah's right ear, bam!...and the girls fall in against each other heavily, Hannah's back pressed against ropes, both girls grunting under heavy, physical effort as round's final seconds tick off.
Inside Hannah's corner during break, cooling their fighter's temper: "Play it a little safer, Han – we don't want no all-out brawls yet! Make her move, dictate things via that tall jab, and you'll get there, girl." Jurors liking Hannah's tall, well-oiled machine of high jabs, smooth pivots a little better than Amanda's agression here – taking the round close.
R2:
Girls hopping to mid-range, upper bodies twitching, throwing feints, trying to drive jabs home, control the middle of the ring – pokin', nudgin' jabs/straights land to opposite guards, as leggy beauties prove mobile, fast, re-setting positions with energetic hops, pivots. Righetti leans in, CRASHING an overhand right hand upside Hannah's pitch-jab, fetching quite a bit of mouth/cheek at the end of her shot – a wide, sweeping left uppercut pulls to Ferguson's right ear as blonde's prepping to counter, sends her out into the sprawl on bendy, queasy legs, her eyes miserable.
Righetti snarlin', workin' her thing – well-oiled double, TRIPLE jabs bashin', cloutin' Hannah's high guard, as blonde's hopping back, sliding to ropes, sliding away to the sides. Dip n' step, Righetti – a nasty left body hook upside Hannah's left tit's got her grimacin', jerkin' up and back down. Ferguson raising her guard, stepping left/right alongside the ropes, rolling the shots, as Righetti's tap-tap lefts, rights clubber at her arms/gloves, snarlin', shoutin' with the shots.
Mid-round action: Hannah being leggy, hectical, STUMBLING away. Righetti's explosive: the jab's just working – shots well-placed, doublin' up, triplin' up punches via the lead hand, crashing hard right hands towards Hannah's skull. Ferguson's tall stance, alert eyes, bendy head save her from more thorough harm – she's falling in against Amanda's body, clinging her around the arms/shoulders, closing her eyes and bulling her way forward for ref's breaks. Righetti dictating things, working strongly from a tight, mid-ring stance, stalking her blonde foe counter-clockwise, keeping her well inside the range of her pokin', powerful jab. Tall Hannah's being defensively athletic: right-at-mouth, left-at-tummy – she's twisting her hips left/right, slippin', dippin' from Righetti's heartless, clockwork poke, pressure, just trying to avoid the right hands. Lil' shoulder-dips get Hannah some room to breathe – nudging her foe back via the left shoulder, sliding out right on trembling stems, re-grouping behind a high, cautious guard again.
Down the stretch: Hannah sliding alongside ropes, turnbuckles, trying to land her TALL orderly jab to Righetti's mouth, eyes, but usually stepping away, instead of leaning in – 'Manda twitches a feint, Hannah does lean in, then steps back in shock as Righetti's counter right hook's coming in huge and hard, grazing her right temple with a sizzlin' woosh! Left hook-to-teeth, as Hannah's wide open, vulnerable – blonde's legs get all see-saw, saw-saw, sagging into the ropes, as eyes go semi-blank, that pretty head PASTED aside. Tall Hannah all crankin', curvin' up small at the ropes, her elbows in to protect her tummy/jugs – her face's contorted, her body skewed by a NASTY Righetti hook upside her trunks/ribs.
Inside Amanda's corner during break – redhead's wide-eyed, fired up, nodding, discussing tactics with her team. "Try to bring the right hand now, 'Manda – keep that mid-ring ground, and RUIN her with the jab, baby!"
R3:
Hannah switching up tactics, SWARMING Righetti with a flurry of soft-ish, rat-a-tat straight hands off her tall, left shoulder, kicking shots off her left heel – and also bringing in right hands, just pepperin', pitchin', TOSSIN' her shots in a crazy whirlwind! Righetti caught hard, flush during her bob n' weave incursions into range, as shots pop up on her guard/mouth, punch her onto heels, bring that rock-solid stance off its kilter. Righetti using lil' slide-backs, back-pedals at first, hoping to stay calm, chip back the aggressive counter to Hannah from her lap, catch her guns-a-blazin' foe via shock n' awe counters! Hannah just swampin', swarmin' her foe, using her tall reach to extend on shots, bring a hard left shoulder into Righetti's rack/skull, nudge her back a step, always driving up tempo, rhythm.
Righetti duly in retreat, caught off guard by Hannah's hurry-scurry activity – the tall blonde's picking up Amanda's counters, falling in hard n' heavy around the redhead's arms/hips, swamping her, reaching under her arms, bull-driving her to ropes, and again. A minute in: Righetti just about to hit the ropes in a tight spot, holed up behind her guard, when – a slap-bang left/right counter off her shoulders! Double whammy of shots catching Hannah FLUSH!, tapping the left, then the right side of her jawline – she's taking rickety baby-steps, as arms flail out, knees bend thru awkwardly! Righetti steps out-right, spears a jab to blonde's tits, oomph!, TOSSING an overhand righty that would have ripped Hannah's head off – the shot's just narrowly popping up by Hannah's left ear, but bounces off! Ferguson on those long, tender baby-stepping stems – mindlessly clinging for her life in a clinch, just falling in atop the smaller Righetti, bearing down hard, closing her eyes, breathing hard, as girls cramp up inside the grasp.
Ref's break's – and a hard, overhand toss from Hannah! Whooshin' surprise shot's grazing Righetti's hairline, startling her into open-mouthed shock, and just leaving her vulnerable for that split second look – short left hook claps to her teeth! 'Manda's head pitches back hard, as strong legs sputter, almost tripping over her feet, as shock waves swirl down her strong buttocks – girls step out in forlorn, rickety fashion, hopping towards opposite ropes, returning gloves back up, wander back into range, eyes hardening with fight lust!
Final minute: girls rifling their jabs during toe-to-toe shoot-outs across the ring – spanking shots rip to opposite mid-riff/tits, mouth/eyes, as girls kick into these shots, try to bring in hard right hands off the jab. Hannah relishing the tall, rangy action, starting to land her shots, using her reach, height well – Righetti pullin' back, steering a right cross past Hannah's outstretched arm, chopping it to blonde's jaw! Girls right there in the pocket at bell, stationed off each other's chest – riflin' in shots, twisting hips/shoulders left n' right, lathering hard, smacking shots to opposite shoulders/guards/racks, answering shot for shot. Girls duly right their stances at bell, shake out arms, put hands on hips – getting tall, staring each other down in defiance, eyes steely hard, no blinks.
Corners calming fiery girls down during break – too much crazy risks, slap-bang shoot-outs, as girls get all hot, fired up, deviate from technical set-ups/textbook plans, and hunger, kickass motivation to dominate take over. "Patience, Amanda – we want you on top of Hannah, but stay compact, take your time!"
R4:
Girls more cautious, subdued in early fourth-round action – tight, orderly stances formed, right hands get clutched at mouth/eyes, left hands working from the shoulder, as girls step n' pivot moothly around each other, testing guards, looking for spots. Hannah's long, pounding jab's a-rollin' – her tall, sweeping reach's always a problem for Righetti. 'Manda using a supple defense, bobbin', bendin' at the waist, rollin', slippin' inside Hannah's wide-arced, pumping shots, trying to smother receipts, crowd her blonde foe up close, bully her back step-a-step. Ferguson's controlled, dangerous via her sweepin' left hands – Amanda's fast step-to attacks slowly get to her, taking short, rugged shots to her mouth/ears/cheeks up close, buzzin' her legs, duly retreating on her athletic, leggy stems. Hannah's only occasionally standing her ground, pounding back on the spot to trade blunt, chop-chop right hands to the mouth, but mostly concerned to build up range/reach again, giving up crucial mid-ring canvas to a snarlin', aggressive Big Red.
Second minute: Righetti's ramping up the pressure – she's getting her shoulder into Hannah's jugs, extending on sidearm lefts/rights, employing some push n' shove to work, hurt her girl. 'Manda reading Hannah's tall, rhythmic jabs pretty well, dippin' under her shots, coming up via short, heavy pounds, whacks to blonde heart/tits. Ferguson's hurt, slowly overwhelmed by Righetti's bursts of aggression up close on the inside: short right hands pop to her jawline, sly left hooks bite her right ear/temple, forcing lil' head-snaps, grimaces from a clubbered, battered blonde.
Final minute – Righetti's extending on her control, driving Hannah around the ring. Ferguson attempting to use her height/reach, trying to cut off the ring, walk Righetti into her explosive, sweeping left jabs/straights – Righetti being leggy, using feints, side-steps, direction changes, stepping her shots into Hannah's jugs, jawline via rippin' aggression, showing a brazen, dominant attitude.
Down the stretch – girls jabbin' to tits, closin' range again and again. Amanda's left BEATS Hannah's right for a clap-hook on her mouth, snapping that pretty face back into a grimace of hurt – Righetti steps in, setting her feet wide, strappin' a salvo of short, bashing lefts, rights, lefts to Hannah's flanks/tummy, chup!, chup! Ferguson back-pedalling, legs abuzz, eyes blinking fast from a ringing shot to her mouth – she's reaching out to clinch, walks her mouth into Righetti's mean lil' shoulder-bump instead, toppling back towards ropes...she's disoriented, dizzy at the bell!
Inside Hannah's corner during break: blonde's wide-eyed, alert now, FURIOUS – "I'm takin' that bit*ch out."
R5:
Righetti upping the tempo, driving Hannah back via force of pumpin', shufflin' one-twos, one-twos, until Hannah's side-stepping, back-pedalling, hitting ropes. Thumpin', throbbin' jabs to Ferguson's jugs/tummy close range, as Amanda's setting her feet wide, ripping wallop across Hannah's flanks, as blonde's out a-slidin' to side-on ropes, trying to reach out for clinches, ease Righetti's pressure. Pretty blonde under siege: redhead's left shoulder edges into Hannah's rack, as torso's taking dips, twists for better punch leverage – chup!, chup!, bam! Hannah resisting, rolling the shots, still stopping Righetti for looooonng, drawn-out clinches, tie-ups – 'Manda's always explosive as girls separate, immediately taking that wide sidearm left hand to Hannah's paunch, splash!, bunching her up hurt on the spot, sputtering away. Hannah gettin' churned, hurt in the pocket: short rights to the chin, bitin' lil' comeback hooks via the left, lil' shoulder bumps into ropes – blonde's leaning her head/torso far out atop the ropes, sputtering off to the sides, as long, lean legs prove their mettle, but they're a-buzzin', a-tremblin'.
Second minute action: similar strategies, as Righetti's long, SPEARING body rights have Hannah spasmin', steppin' out a-woozy to corners, ropes. A wide, slinging right hand to Ferguson's left ear's got blonde's legs jiggered, has her hitting ropes in a fog – Righetti's got her right hand tight to her temple, working over the gutline/flank via choo-choo left straights & hooks, just workin', hurtin' her blonde. Hannah's butt on the ropes, earmuff either side of skull, sadly dipping left/right, left/right under the onslaught – a short left's jolting her tummy, a short right's pancaking her left boob! Righetti a-risin' quickly – RIPS the short, left uppercut to Hannah's jawline, whup! Immediate eye-roll-back, Hannah – AND SHE'S GOING DOWN! Blonde chin-checked, hurt, all loosened up – she takes a woozy-dozy sink to her knees, as legs get all trembly n' rickety, her eyes a pretty grimace, as Righetti's stepping back, her steely eyes heartless, cruel, so pleased with herself!
Pretty, slender Hannah on all fours, panting, sniveling – her hips rock gently, arms on the canvas, taking deep breaths, emitting soft little moans...SHE BEATS THE COUNT! Blonde's a fighter – one step at a time, Hannah's back on her legs, shaking the cobwebs out of her head, hopping, bashing gloves, nodding in confidence. Righetti's pokerface: steely eyes, gritty determination – she's back at work! Hannah's wonderful legs stressed, buzzed – she's stepping out, arms tightly configured at both sides of skull, taking a hard hammerin' left hook to Righetti's right eye, proving she's there! 'Manda doin' her bobs, weaves, bringing that slinging left hook upside Hannah's ribs, tormenting blonde jug-line – sidearm shots go oomph! to Hannah's shoulders/rack, stack her up, as uppercuts just bash n' clobber at her head/gloves.
Down the stretch: hectical, leggy step-outs, Hannah, as Righetti's patient, applying thud-thud pressure via the one-two, one-two. 'Manda only upping the tempo late for a determined step-to attack: a fast, rushing left/right wallop lands to Ferguson's liver/ribs, tip!, tap! Righetti shifts weight to her right, laying a long, straight overhand toss to Hannah's right temple, gobblin' it up – pretty blonde's back goes into a swoon towards the ropes just at the bell, as the ref's quickly rushing between the two girls to prevent further damage to a woozy, hurt Hannah!
Hannah's on her way to corner on rickety legs, stalked by Righetti's hungry, fierce looks, searching for quit in both legs and heart – blonde's puffy lil' wounds, swollen cheeks get tended to during break.
R6:
Girls stepping it up hot n' hard – Righetti immediately bobbing her way into a hard, pounding introduction jab/straight to Hannah's tits, chup! Girls step n' pivot in clockwise rotation, dictated by Righetti's pound-chop jabs: 'Manda scores a short lefty body hook to Ferguson's ribs, as the blonde's stepping away tired, slow – Hannah trades back a looooong, wide right hand, bumpin', bouncin' it hard off Righetti's temple! Swoopin', snatchin' shot not looking dangerous at first – but...delayed reaction, Amanda! Redhead trying to smoothly step back – she's suddenly faltering in confusion, as her legs see-saw, her upper body going entirely off-kilter, off-stance...she's going to earmuff, hurt! Hannah deciding to POUNCE – dippin' low, she's rippin' a left/right combo across redhead's ribs/flanks, tap!, tap!
Amanda's back-pedalling in hurt, extending her jab into long, just-get-off-me-you-bit*ch shots, stepping away right – Hannah darts in, dips a shoulder, chops the tummy hook, dips to the other side...and stiiinnnngs the righty hook to Amanda's mouth/jaw, bam! Righetti overwhelmed, flushed, lighted up by the shot – SHE'S TOSSED TO HER FRIGGIN' BACKSIDE! Redhead tossed, whirled against ropes, losing hold, as her legs slump out beneath her – she's pitched down hard, landing with her back propped up against the cables, staring in utter disbelief, as Hannah lets out a lustful scream, hustled away quickly by ref! Righetti not knocked out, just flabbergasted, takes a quick, blushin', blinkin' five count, shaking her head in denial – she's looking strong, tuff as girls step back into the action!
Second, third minute – girls weary, stunned. Righetti's no longer as belligerent – action's all about long, tall jabs, high, compact guards, as girls step n' pivot, feint, step out, feint, step out. Hannah testing Amanda's legs late: she's stepping right, luring a bobbin', compact Big Rigs into her pursuit, employing a stubby jab – a lil' stoop n' dip gets her jab/straight poppin' to 'Manda's gut, spanking that mid-riff! Righetti taking the shot in big-girl fashion: stomps on the spot, elbows in, compact earmuff at either ear, leaning forward, as blonde's tart, spicy body jabs/hooks pop n' spank off her tummy meat – finally swats back a short, monstrous righty upside Hannah's ducking head to get the blonde off.
Inside Righetti's corner during break – frustration, impatience, grumblin', as Hannah's just stolen her round: "Don't lose focus now, Rigs – more jabs, more power! You'll have blondie helpless again soon – just stay in the zone, girl!"
R7:
Righetti going jab n' grab! Strong welter girls jabbin', jabbin' it hard – thick, swattin' stuff with all hips, all shoulders behind 'em whackin' shots, pivoting clockwise, stepping out, pivoting clockwise again. 'Manda maulin' her way forward in true big-girl fashion: a flat-footed, supple stance – redhead's jabbing herself inside, jabs-to-tits, jabs-to tits – girl fall in, tie up, step n' squirm to see who's got the stronger bod. Lots of gruntin', pushin', shovin', as girls reach under each other's arms, bodying each other off, step-a-step, and back, and back again. Short, ugly scenes of confrontation: girls take messy, tumbling steps to ropes/turnbuckles, searching for sloppy control – always looking to get a fist wriggling its way free, POUND that right hand to sides-of-head/lats/flanks, lean a hard shoulder into opposite jugs/teeth/mouth, whatever's there and ready.
Minute mark: Righetti's slowly taking Hannah firmly towards ropes, prevailing with her power: a short, thumping shot SLAMS just atop the blonde's trunkline, rockin', joltin' her into hurt, foldin' her up into a brawny embrace. Hannah's being muscled, worked over: nasty forearms bash against her biceps/shoulders, sidearm lefts/rights pin her against ropes, as splashy right hands go jug, go tummy! Hannah's desperately grabbing out for clinging grips around 'Manda's shoulders/arms, stumble-bulling her foe backward for slow, tired ref's breaks. Short, explosive combo, Righetti: a short, sly hook to tummy, a rising right uppercut to chin, bam! – and Hannah's wobbly-butt! Ferguson tottered, hurt, back-pedalling out, trying to slug back wide, waving punches left/right, as Righetti's stepping into her compact, tightly stanced, staying inside – as Hannah's get-off-me shots slug and fly wide!
Down the stretch – Hannah's digging in at the apron, legs hurt, eyes tired. Righetti's supple, left foot out, waist bendin', bobbin' – the left hand's pawin', flirtin' with Hannah's jugs/tummy, as Hannah's flinching, stepping back in confusion, suddenly walking into 'Manda's long, tossing overhand right hand attack! Clap-clap shot taking Hannah's left ear with plenty of power, stumbling her steps, draping her against the ropes – bell! 'Manda just preparing to storm in, as Hannah's back's sloshed atop the ropes, her eyes a dizzy blank – ref jostles Big Red away, takes a careful look deep down into pretty Hannah's blinking eyes, as Ferguson takes a tottering walk into her corner!
Slaps to Hannnah's face during break, as thighs/legs get massaged, wounds patched – "You need to prove your heart now, Hannah!"
R8:
Righetti's stiff, pulverizing poke's starting to make an increaing impact on Hannah's legs – both short and rangy licks n' sticks land, as Amanda's stepping close, followed by short, BRAWNY uppercuts via the big right hand. Ferguson's cautious, staying in earmuff defense as the toned blonde's legs prove their resilience, stamina – she's trying to measure back some short jab stick herself, or just pop out short, HARD right hands off her right foot/shoulder/hip, setting up a dangerous counter game off the ropes, where Righetti's besieging her. Hannah's playing it safe, using lil' head-tugs, pull-downs to tie up around Big Red's flanks/hips, bog her down into some gruesome body clinches, frustrate her opponent – to the ref, she's all pretty-eyed innocence, meekly following his orders – late.
Mid-round action: Righetti musclin', bullin' her way forward, stepping in all big n' hard behind the jabs, surging up the tempo dramatically for sudden lil' slap-bang attacks – short whup-whup jabs (rack, tummy) followed by CLUBBING right hand uppercuts, crosses (ears, temple). Hannah's being tall, boarded up, her arms either side of mouth, negotiating the poke, dipping her hips, spending time at the ropes, slily stepping out, jogging away from range – Righetti's in her element, just a-grindin' her girl out, wearing out her legs, controlling the ring.
Final minute – a lil' burst of mayhem!
Righetti a-dippin', a-steppin' in muscularly, her legs a-bobbin', driving a salvo to Hannah's both hips, chup-chup! Girls suddenly trade short, blistering right hands to mouth! Hannah side-stepping from Righetti's jab poke, her left shoulder out, taking a dip, roll, shoot – lands a short, martial right hand uppercut to 'Manda's jaw/mouth! A startled frown on Big Rigs's face, showing a grimace of hurt – a long, tossed right hand, Amanda! Righetti leaning her upper bod in, popping a beaut right off her right shoulder, bam! – catches Hannah's mouth flush, as the blonde's just drawing her head away! Both girls clipped SO hard, SO clean – but they just won't back off now!
Girls slog their way back inside, trading jabs, bumping a shoulder, pushing each other off, then leaning in mightily for the freakin' right hands AGAIN! A matter of nanoseconds – Hannah's longer, wider right hand take a kiss off Righetti's flabbergasted jawline, just as 'Manda's detonating right hand sails past Hannah's pretty face!
Amanda's legs suddenly doing lil' buzzes, trembles, as she's back-pedalling in shock, her torso unhinging out of its stance, her arms up feebly, stepping away, away, away – and Hannah's tossin' the crazy, hail freakin' mary overhand right hand past her! The shot corks to Righetti's unproteced side/back of head, as the redhead's stepping out right, just detonating in hard, clean fashion – and she's felled like friggin' timber! Big Red taking a thunderous thuuuud! on the canvas, her arms flopping up over her head, legs flailing out about, quickly stirring into stillness – she's sprawled out in instant defeat! Hands on hips, sweaty hair, torso loose, legs tottering – pretty Hannah's staring down at Amanda's broad, motionless frame, as her eyes jolt up in triumph – she's just battered Righetti into sleep, KO8 Hannah Ferguson!
After:
Mayhem in Hannah's jubilant vixen corner, as the blonde's the last woman standing in a brutal welter slug-out for the ages – shouts, yells of triumph, as Hannah's jumping into her coach's arms, while Righetti's carefully propped up, helped up, her eyes blank with disbelief, later taking deep breaths of anger, disappointment on her stool. Welter girls got all fired up tonight – so many scenes of all-out hammer n' tongs trade! Big Rigs was starting to run away with the fight during her dominant R4, R5 – until two right hands from nowhere brought Hannah a new lease on life in R6. Fight ends in a flabbergasting, no-holds-barred, no-control trade of right hands in R8 – and Hannah's hammer landed first, subsequently ending Amanda's night in a mild upset for pundits.
Suddenly, there's more mayhem inside Righetti's corner:
Tall, blonde Hannah's suddenly striiiiiiiiiding through the ranks, sneaking past a Bonzo official – and, oh no!, she gets a grip on a nice handful of Amanda's full, damp locks, quickly yanking her face into her rack, as Righetti's only able to offer a sniveling protest just before her face disappears into Hannah's fleshy, triumphant cleavage! Big Red's instincts finally awaken, as her eyes jolt open (resist!, resist!) – she's a rumbling bronco on her stool, while Hannah's seated in the redhead's lap, trying to topple her over against the turnbuckle, her arms clutched behind Big Red's head!
Girls squirm, rumble, slosh back n' forth, as Righetti's trying to lock her own arms around Hannah's middle in a bearhug – suddenly, the two strugglies beauties tumble forward and slide off the stool in awkward, messy fashion! Official arms finally start to grab out to separate the two rumbling, wrapped up girls – to no avail! Amanda's weight, power put Hannah down on her back – and suddenly Righetti's on top! Girls squirm, as Righetti pins down Hannah's arms, securing a seat on her arms, shoulders – and incredibly, she starts to slap her! Amanda gets a solid two, three SMACKS to squirming Hannah's pretty, blushing cheeks, until she's finally pulled off her foe – girls are hauled away to opposite corners, shouting, cussing!
A bit later – tempers are somewhat calmed, as the girls settle down for a hate-filled post-fight interview. Officials separate the two fiery-eyed beauties, their battered and bruised faces pretty with emotion:
"Amanda's stolen my hard-earned right at a proper post-fight humiliation", Hannah shouts, trying to wiggle her finger into the redhead's face. "I battered her into defeat and I had every right going for my victory smother! Righetti will pay for this – after our next fight, I will have to smother her out when she's still unconscious! It will only get more brutal next time, silly – trust me!"
"Hannah's an impertinent little bit*ch," Amanda snaps back, unusually irascible. "I allowed her back into this fight. I'm comin' for her – this knockout will not stand, girl – it won't. I will make her pay. Hell, I'd fight her again tomorrow!"