Post by girlsfriday on Sept 10, 2020 16:42:28 GMT -6
(This press conference is being held in the Girls Friday stables gym, the podium is set inside the ring as the press are all outside behind metal fencing, out comes Holly Willoughby wearing a red dress and heels)
Holly: hello ladies and gentlemen of the press (heading up the ring steps and climbing into the ring) as you will have heard, we are going to announce a new signing to our ranks here at the Girls Friday stable.
(Getting behind the podium)
Holly: I know it must seem like we are making changes to our roster all the time (chuckles from Holly and the press) well we will be losing one of our greatest members in Alessandra Ambrosio next year.
But this is someone we have had our eyes on for a long time, at the time we had a big roster at the time, now as we have trimmed it down to what we feel is manageable, we won't pass this chance over again.
So please put your hands together for our newest signing, Dua Lipa!
(Out comes Dua wearing a white dress, waving to the journalists as she heads to the ring from the locker room, stepping into the ring where she hugs Holly before getting behind the podium)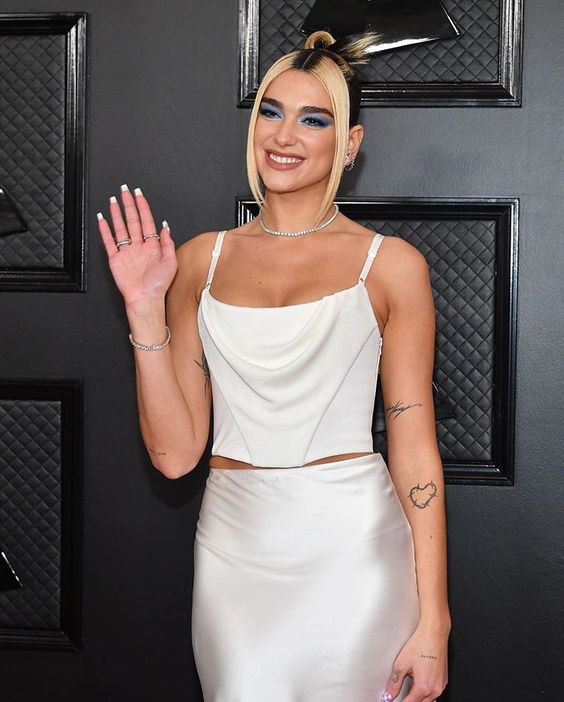 Dua: hey guys, I know you have plenty of questions, I have been told to try to keep this short, I am honoured that this stable has seen fit to bring me in to their ranks, OK so who has any questions?
Alicia Atout (FCBA Network): hey Dua, your old stable Holloway Boxing was shut, can you tell us your feelings on that and were you already in contact with the Girls Friday stable since the speed of this signing?
Dua: first I want to way that the Holloway stable was amazing to be part of, they were the ones who gave me the chance to box in America, I had so much fun alongside Zandaya (Coleman) and learned so much from the great man who run the stable.
Now to my signing here for this stable, well there wasn't any contract tampering if that's what you mean, I have spoken before to Holly and Mel (Sykes) when I was a free agent, so when they came calling it just made sense for me to join them.
Blonde magazine reporter: Hi Dua, you have just fought your now stablemate Kendall (Jenner) while you have had two fights with Alessandra, do you think it will be awkward now training alongside them instead of being rivals with them?
Dua: (chuckles) well me and Alessandra have always had a respectful relationship, when we haven't fought but been on a card together, we have spoken in the back after the fights are over, I look forwards to learning directly under her.
Now me and Kendall, she taught me last month where I stand in the rankings, to get to spar with one of the absolute best in the business right now can only bring me up a level.
You also all forget Kelly Gale, while we haven't fought, Kelly I know from being on cards with her in the BBU is an amazing talent, over all this stable might have potentially the best lightweight group of fighters, though I still have work to do to improve myself.
FCBA Inquirer: do you see yourself long term at this stable? It does have as Holly says a history of chopping and changing.
Dua: simply put I want to be here for the long haul, of course that means I have to prove myself worthy, I think the stable gets a bad reputation for swapping out fighters, the ones I know have been cut have predominantly been older fighters, I am young and hunger for success.
Holly: OK one more question please before we have to finish this, Tess Valmore what is your question?
Tess (Tractorpull magazine): well does Dua honestly think she can move out the shadow of Kendall and even Alessandra or will that always be over her?
Dua: I'll admit I am a work in progress, I have loved boxing all my life, trained for it for years before I actually ever boxed pro in these celebrity ranks, boy is it hard fighting. (Laughing)
My goal is to be a champion myself, this is a place that I feel I can thrive in and hey if my career doesn't quite match up to Alessandra or Kendall's, is that really going to be a bad thing? All I can do is focus on getting results.
Holly: thank you for your time folks, we have one final announcement to make, Dua's Girls Friday debut will be against Odette Yustman on this months PPV.
The next generation of Girls Friday's lightweight corps)