Post by Lookout! Boxing on Aug 29, 2020 3:01:16 GMT -6
Maisie Williams versus Madison Beer

Maisie Williams: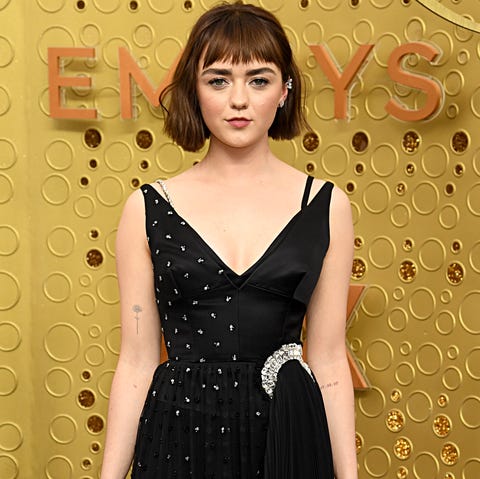 VS
Madison Beer:
Tale of the Tape:Maisie Williams:
Age: 23
Height: 5'1
18-10 (18KOs)
Vs
Madison Beer:
Age: 21
Height: 5'5
7-1 (7KOs)
(Girls Friday vs Lookout! Boxing)(Written by Girls Friday/Results by Lookout!)Intro:
Two young guns duke it out now on Australia's famous Gold Coast, Maisie Williams and Madison Beer have a long career ahead, this could be the beginning of a long rivalry in the division.
Coming into this fight it is Madison on the better form, going undefeated over the year so far with three wins and zero losses, Maisie getting several wins but keeps losing when she has stepped up in class.
Both were interviewed at their gyms by FCBA Network's own Alicia Atout, who first headed to the Girls Friday gym to find Maisie finishing up sparring with her stablemate and BBU contender Ivana Baquero, they fist bump when finished with a big grin before Maisie sits on the ring apron to talk to Alicia.
After wiping her brow of sweat, Maisie smiles as she tells Alicia "I hope we put on a good show" laughing to herself as Alicia nods at her with a grin.
"OK let's get to business, my stable want to test me against someone roughly my age, I'll be honest I thought I was beyond the level of a Madison right now, I guess my stable disagree with that" Maisie says as her demeanor gets a little more serious.
"It's not to say that Madison is a bad fighter, just so far she has stuck to the kiddy pool and I've graduated to fighting the best, her best win is over Becky G who also hasn't done anything yet" Maisie being brutally honest in her opinion.
Finishing by telling Alicia "I guess I have to show Madison why I am a step above, I am not some raw talent that has just come out the woodwork, I've been training for the past few years to get to this stage, it's going to be a rude awakening for her" patting Alicia on the back before she hops off the apron to head off to the showers.
Madison meanwhile gives her statement to Alicia after finishing her session, sitting on a bench beside the locker room after she is changed into her white blouse, blue denim jeans and black boots, Madison is looking in a great mood.
"This is going to be a great fight for me, I know some in my stable here see Maisie as a friend and a good fighter, I don't know Maisie and I am not wanting to be her friend whatever happens in the ring" Madison tells Alicia with a grin.
"Right now I am the fastest rising youngster in this division, hell maybe all the FCBA, after just two years I have flown up the rankings and I am in touching distance of that contendership status already" adds the singer as she is beaming thinking of her progress already.
"I have this fight in the bag if I keep her at range, wear her down and then unload my big hooks, just go ask the people I've beaten how hard I hit" winking at Alicia as she finishes up and heads off out the gym.
Fighting time, the ring posts are set into the sand, bleachers are set on one side of the ring, the judges table the other side, with two cameramen filming the bout.
Out first comes Maisie with Ming-Na Wen beside her, she wears a navy blue bikini, black gloves, while her hair is tied back into a ponytail, she waves to the fans as she gets to the ring with a smile.
Getting into the ring, Maisie bows to each side of the ring before jogging to her corner, where she gets told off Ming-Na to box smartly, knowing that physically this could be a long fight if she tries to bulldoze her taller opponent.
Now out comes Madison with her coach Julie Benz, she is wearing a metallic red bikini with blue trim, red gloves, while her hair is tied back into a braid, she grins as she bangs her gloves together.
Climbing through the ropes into the ring, Madison blows kisses to the fans, getting into her fighting mode as she listens to Julie, who tells her to box at range, give Madison a headache.
The fighters come to the center of the ring with Madison smirking down at Maisie, the height difference clearly on show as Maisie defiantly at the lanky singer.
When they are told to touch gloves, Madison bangs hers down on Maisie's to make a statement to her, Maisie scowling at her in reply, returning to their corners, once everything is ready the bell rings to start 10 rounds of flyweight action.
Round 1:
At the bell Maisie is bobbing and weaving, Madison throwing stabbing jabs to try to get the range where she wants, a cagey opening moments to the fight as they move around the ring.
Feinting with her left, Maisie swings an overhand right to the jaw of Madison, surprising the taller woman as she gets on the inside, throwing piston like punches into the body of Beer.
Who pushes back the smaller woman, Madison's eyes narrow as she comes after Maisie, both women landing straight shots, most of Maisie's to the body compared to the ones coming towards her head.
Another overhead right smacks Madison to her cheek, Maisie keeps landing it through this first round, knocking back Madison to the outside part of the ring, keeps bugging the singer with her movement and speed.
When the round comes to a close, Madison bangs her gloves together as she looks annoyed with herself, Julie sternly telling her not to let Maisie in so easily.
Round 2:
Throwing in more jabs and straights together, Madison is looking to heed her coaches advice, use her natural reach advantage over the petite Maisie as they move around the ring.
She can't stop Maisie completely darting to the inside to work, but Madison is making her harder for her to do so, slamming more punches into the top of Maisie's head.
When Maisie tries dipping down to get in closer, Madison reads it perfectly as she bangs in a double jab/right cross as she takes a step forwards, taking the center of the ring as she forces Williams to the outside.
Making Williams cover up more tightly, Beer is doing much better controlling the pace, throwing in a more variety of punches now she is looking more relaxed.
With less then thirty seconds to go though Maisie slips a jab to move in closer, ramming two short sharp right hooks to the body, then a sneaky left across the boobs of Beer.
Who cries out "bytch" the distraction allows Maisie to smack Beer across her face, with Maisie banging back the singer across the ring, the bell rings not long after.
Both sitting on their stools listening to their coaches, Madison looking much better this round, Julie smiling as they talk, while Ming-Na gives Maisie advice on what she needs to improve.
Round 3:
Coming out trading near the ring center, both women are opening up a little more, Maisie wanting to push the tempo up, give Madison more trouble then the last round.
A nudge though pushes back Maisie so Madison can land a double jab to her head, keeping back the Brit to the outside of the ring while stepping forwards.
Ducking under a straight, Maisie manages to come back at Madison with an overhand left to her cheek, an uppercut to the body of the singer has her hissing out.
Before Maisie can really build off her success again she gets clipped across her cheek by a left cross, back and forth goes the fight as they both find dodge before getting on the front foot.
With a minute to go, Madison lands a right to the nose of Maisie, followed by a left hook that turns the head of the actress, Madison bashing back Williams to a corner.
Where Maisie has to cover up as Madison goes to work, slamming in body shots to the joy of her corner, the bell rings not long after to end with Madison's run in that final minute seeming to swing the round her way.
Round 4:
Trying to close that gap between them more quickly, like the last round Maisie gives Madison some trouble in tight, thudding hooks under the ribs of Beer to make her grunt out.
Using her left forearm to open up space, Madison lands a straight into the nose of Maisie, bashing a left across her cheek to make Williams back off as her head gets turned.
Again the opening minute sees a good back and forth, Maisie giving Madison a good going over to the body as she keeps them trading in close, the American keeps nudging her back to strike back to the face of the actress.
Half the round is gone and Maisie tries to keep the pressure on, missing with a straight though as Madison steps to the left side, A RIGHT HOOK LANDS TO THE TOP OF MAISIE'S HEAD, A LEFT ACROSS HER JAW SENDS WILLIAM'S DOWN!
Jumping for joy Madison grins as she looks at Maisie on her left side in the sand, 1...2...3... Maisie shakes her head as she gets to all fours, 4...5...6.. Pushing to her knees, Maisie tries to clear her head, 7...8.. Getting up to her feet, with the referee wiping down Maisie's gloves.
The fighters are waved back together, Madison keeping the pressure on Maisie, the Brit needing to keep her guard tight as Beer keeps moving her around the ring, struggling to land the bigger punches.
At the bell though it doesn't matter as Madison takes a massive round, a big lead on the scorecards as she sits on her stool, Julie keeping her grounded as they talk about what's next for them.
Compared to the Girls Friday corner, Maisie getting wiped down and smelling salts to fully waked her up, Maisie nodding to Ming-Na as she gets a telling off.
Round 5:
Coming on the attack from the bell, Madison looking to bully back Maisie, who is covering up more tightly as she looks for chances to strike back at the aggressive singer.
A double jab strikes Maisie to the top of her head, soon finding herself onto the ropes Madison steps in with a right to the mouth of Williams to knock her fully onto the ropes.
Pulling Madison into a clinch, Maisie looks upset with herself as she gets pressed to the ropes, Ming-Na yelling at her fighter to find a way back into this, both women separated by the referee so Maisie can get off the ropes into space.
Trying to bully back Maisie, Madison comes after her with a right cross that the actress dips under it, an overhand left smacks Madison across her jaw, an uppercut follows to drive Beer back onto her heels.
On comes Maisie now as she swings hooks to the cheeks of Madison, knocking her onto ropes as they trade, Maisie dipping under a left cross she again comes over with an overhand right to the other jaw of the Lookout! Fighter.
The bell rings with both fighters looking to their corners with a "what next?" Expression, Madison being told by Julie to be patience, she is hurting Maisie, it is only a matter of time in their eyes.
Across the ring Maisie looks a little more relaxed, though she has a mouse under her left eye, Ming-Na working on reducing the swelling around it, telling Maisie "you can do this, head up and use your movement" Maisie nodding at her.
Round 6:
Trading jabs as Madison looks to reestablish the distance where she wants it, she snaps back the head of Williams when she moves back out the way of a left cross.
Back around near the ropes goes Maisie, she is ducking under more punches as she drills to the body of Madison with straight shots, cracking Beer across her cheek with an overhand left to the jaw.
An uppercut lands again to the chin of Madison to open up space, a right lands to the liver of Beer to make his gasp as she bends over, Madison hurting judging by the red flush over her cheeks.
Maisie starts to unload on Madison, bashing back the younger woman to the ropes, WHERE ANOTHER LIVER SHOT SENDS MADISON DOWN TO ALL FOURS!
Breathing a sigh of relief, Maisie heads off to the neutral corner nodding to Ming-Na, 1...2...3... Gasping out as she spits her gumshield out, 4...5...6.. Madison rubs her stomach as she rolls to her right side, 7...8... Eyes shut as she looks in agony, 9...10 Beer is counted out!
Winner Maisie Williams KO Round 6After:
Maisie shows her grit to come back against Madison here, she falls to her knees with her arms in the air as she looks at the heavens, knowing today's result could have easily went the opposite way.
The defeated fighter gets helped to her knees by Julie, an ice pack placed onto her body, Madison apologising for getting caught out, Julie pats her on the back and tells her "just part of learning sweetheart, was one mistake but as you see that can be the difference at this level" Madison nodding to her.
Looking at each other, the fighters nod to their opponent to show them respect, though judging by their expressions they won't be sharing a hug.
Helped to her stool, Madison is looking less sore now as she talks to Julie, both have to watch Maisie get her hand raised by the referee, Madison shaking her head as she believes it should be her getting her hand raised instead.
With the winner jumping for joy, getting a high five from a proud looking Ming-Na, both Girls Friday women chatting away happily as the crowd chant Maisie's name.
Out the ring comes Madison with Julie, she rubs her stomach as she heads to the back, she may have learned a valuable lesson tonight that just because you are bigger doesn't mean you will bully your opponent that easily.
In the ring Maisie poses for the cameras, hands on hips as she winks, she bows to each side of the ring before she leaves it, hoping she can start looking upwards towards the elite group of fighters.