Post by Lookout! Boxing on Nov 29, 2019 22:45:47 GMT -6
KIRA KOSARIN
(22 y/o, 5 ft 6, W: 20, L: 10) vs
DEMI LOVATO
(27 y/o, 5 ft 7, W: 40, L: 18)
Before:
The first-time battle between Demi Lovato and Kira Kosarin's got all the ingredients of a bantam drama: two hot young stars with plenty of ego, snark and a streak of drama queen. Where do the girls stand before the fight? Demi's surely having her best year: her debut title, three solid defenses, a dominant 11-3 record, a convincing bounce-back after her title loss. Kira, meanwhile, has a frustrating habit of messing up her own momentum: a good start to the year (Olsen, Scodelario), an over-confident loss to Priyanka Chopra, sweet revenge against Evangeline Lilly, a third straight title fight loss to a woman (Bella Thorne) she had controlled on Doll Ball territory just a year before. Are the rumoured big-fight jitters for real? Demi thinks they are:
"We all know Kira's proud of her athletics. That's why spending a night butt on ropes, smothered by my bigger, better body's just not going to be much fun for her ego. And we also know Kira can't handle the pressure very well when things don't go according to plan, yeah? I mean, she is a three-time certified title fight WUSS after all! And, of course, any tussle with me pretty much feels like a title fight, girl. So better get ready for some histrionics, folks – there's going to be tears, there's going to be sobs – but more importantly, there's going to be a very sleepy lil' Kira, snoozing on her cute lil' butt, maybe a shocked lil' frown on her cute, knocked out face while big, bad Demi's looking down at her. Oh, I'm pretty much lickin' my fingers just to get a hand on this lil' hottie, as soon as possible! There's girls who talk all big and bad, and when they step on the canvas you can already smell the sissy. Maybe some girls just aren't cut out for the big stage, hm?"
Okay, there's your snark! But can Demi get inside Kira's head? A win over this year's dominant bantam champ would surely ease some of the big-stage fright Kira's supposedly harbouring, a journalist asks:
"Demi's really good at distracting y'all minds. You know what she's diverting attention away? Flab! When she's talkin' smother, she must be talking about some wrassin' tussle on an old flokati rug, where she can just drop all those pounds on me, right? Well, she's going to have to walk those legs tonight, and there's a reason tree trunks can't walk, folks! When she wants to smother me at the ropes, she's also going to have to get past this lil' machine!", Kira smirks, flexin' and pumpin' that muscular lefty jab to the press.
"There's the gym talk, baby", Demi interrupts. "Muscles don't have a brain. I know a lil' deer freezin' in the headlights of a champion when I see one!"
"Not bitin' on your snark," Kira snaps back. "I'm a-just gonna pound that tummy meat until you quit on your stool, girl. They're gonna need a garrison to carry your meat out of the ring, uh-oh."
Girls go toe-to-toe after the weigh-in, wriggling hips back, leaning shoulders forward – Kira nestles her hands around Demi's hips in a surprise move, smiling big and driving her back as Demi blurts out and girls stumble around in a tight embrace. "You goin' down!", Demi's finger wiggles onto Kira's forehead as officials intervene, shove girls back.
Fight night attire:
Girls enter: Demi's not in perfect shape, but rugged-thick, thighs/arms meaty strong as per white-shirt photo ref – for the fight she's wrapped up the goods in a tight leather mini skirt, a black leather bra, black hair loose. Kira's clad in tight red trunks (cut off right at the crotch), a glittering yellow sparkly sports bra one size too small, black hair loose.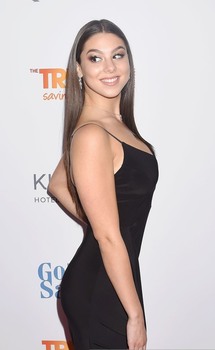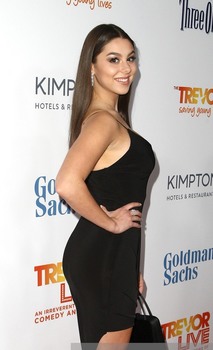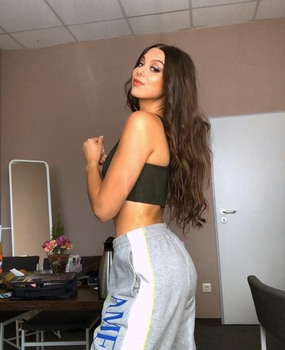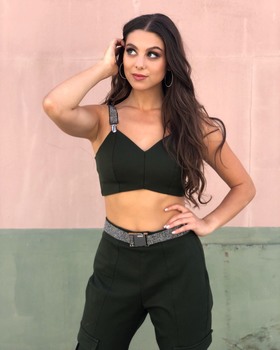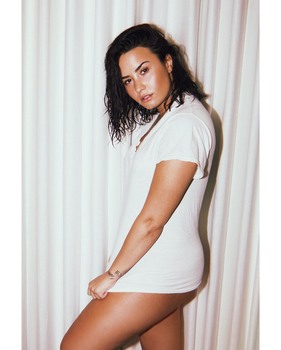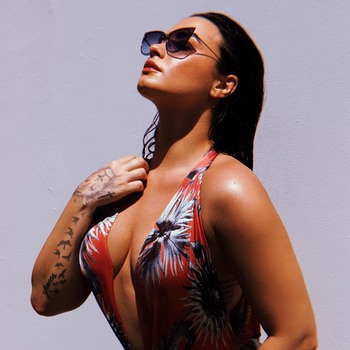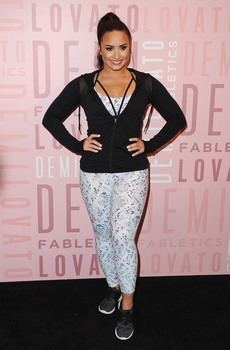 Fight:
R1:
Kira forms a fast-legged hop-hop stance early, staying swirl-y as she's circling around Demi mid-ring, trying to locate her brunette foe via a fog of pinpoint jabs during counter-clockwise pivots around Lovato's rigid, on-the-spot positions. Demi's stance's more heavy-legged, her strong rugged body answering the tik-tok attacks via athletic pendulums (left/right), folding at the waist n' hips, re-positioning more slowly with energetic hops when Kosarin's out of range. During this circling first-minute action, Kira's placing some well-timed shots: she lands a fast-attack shot grazin' upside Demi's eyes, later drops a cute counter jab to Lovato's armpit flank after rolling away from Demi's stiff-arm straight (right)...both shots accompanied by little shouts of bluster. Kira's legs super-fast as she's treadmilling, pivoting, her lefty outstretched, pumpin' it tik-tok, but her tactic of showing leg to Demi's power gets interrupted – just inside first min, Demi suddenly twists those hips and hops into her path, shocking Kosarin's lungs n' legs with a mighty, swingin' haymaker that makes its way deep into Kira's mid-section. Ooomph!, Kira's caught mid-jab, her body folding at the hips, all outta balance, stumbling away in moist-eyed dismay!
Oh, that rugged, physical Demi: she's fast in pursuit, spearing a heavy right hand into Kira's gut, hooks a mighty (lefty) body shot just upside Kira's trunkline, jingling Kira's strong legs into jello, folding her forward into Lovato's greedy, embracing arms! Walk-into-ropes, Demi to Kira, as brunette reaches under her foe's arms, muscle-stacking her up, shoving her butt against the cables – she pushes off Kira's hips in big-girl fashion, burying heavy, hard hooks to Kosarin's jugs/ribs. Crossed-arm stance, Kira, her back against ropes, head clearly a little woozy as Demi's weight-of-shot's introduced to her: Demi's staying atop in grinding fashion, muscling atop Kira again and again, her upper torso leaning down on Kira's frame as stiff, heavy rights hand plow into Kosarin's gut, flanks. Down the stretch: Kira circling out in fast hops after ref's break – Demi digs n' dips low, stepping into Kira with another dramatic haymakin' (righty) body shot that just clutches Kira on the spot, has her ooomph-ing in pain, eyeslashes batting...Demi's back stacking up Kira at ropes at the bell just as ref wedges inside!
Kira at bell: her right hand grabs around the ref's shoulder to stabilize, eyes go clickety-clack – Demi's kept away from her by the ref's frame, but nods her head in self-appraisal, blurts out "Too weak!" before her way to corner. Inside Kira's corner during break: healthy slaps to young brunette cheeks as Bonzo beauty needs a wake-up call to stay competitive after thumping Lovato shut-out in the first!
R2:
Demi asserts herself: she's stepping into Kira in broad-legged fashion, hands loosely rippin' into rising n' sinking uppercuts / haymakers – ooomph of a righty bomb dropping into Kira's tummy thuds like on wet clay, cramps up the young beauty again. Kira's adjustments start to happen: first – the check jab. No more fog of tik-tok activity: harder, STIFFER punches...leggy side-pivots, walking the aggressive Lovato into check jabs to skull/neck, driving a short jerky left jab to Demi's rack...little head-bobs, head-knockbacks as Demi's starting to feel it! Second – accept Demi's body terms. When she's first with the stepped-in, checking jab against an encroaching, encircling Lovato, Kira can body up, too: Demi misses the righty bomb to tummy, a CRUSHING lap hook to side of chin corks her into a fold – Kosarin abruptly reaches in chest-to-chest, moving Demi backwards with hip-based power, bumping shoulders to neck/jaw, dropping a heavy right inside Demi's gut. Lovato covers up, elbows and palms in: Kira wriggles her arms apart, stuffs a short, stiff left to Demi's tummy, pushing her brunette foe ropeward! Textbook pressure: shoulder leans down, presses Lovato low, pumps a right atop Demi's leather trunkline, has Kira smiling at a hearty brunette gasp. Ref warns for danger of low-shots, breaks girls apart – girls step into each other with simultaneous jabs across-the-face, pretty much bump against each other, walk n' stumble for control.
Second minute: Kira's struggling with Demi's weight, meat – she's starting to slump inside these sweaty bumpin' n' punchin' combats, getting reversed from top positions as Lov bulls her way forward, leans down, holds neck/arms down until ref finally reacts for breaks. Leggy circle, Kosarin: thumping step-to, Demi, right hand to tummy – smooth side-step, Kira, sees her swishing the counter uppercut beneath Lov's jawline, hup! Demi's on the spot, reacting late: hard long jab corks to mouth, short right hand crushes to ear – Lovato stumbles away, hands low. Hard long left cross: shot knocks back Demi's mouth/head, shuddering her strong backside as meaty legs save her from a knockdown.
Down the stretch: girls holdin', hittin' – lotsa wriggles, twists as girls hope to stuff righties into low ribs, above the trunklines – Kira's more precise via rising uppercuts from these bump n' slug positions, drawing another rugged shot across Demi's cheek/ear that has Lovato slumping ropeward near bell! "That's my tuff girl", Kira gets a pep talk inside Bonzo corner as young brunette finds the right answers to a determined Lovato whirlwind in the first.
R3:
Girls play plant n' pitch, stand and deliver: young hot beauties roll shoulders, bend at the waist, laying into luuuuuungggin' dramatic, beefy haymakers, bodyshot uppercuts to opposing tummies, necks, hop-hopping in parallel combats across various mid-ring positions, budging no inch towards ropes. Early minute action: pump-pump drills into Kosarin's gut flanks, axing shots as Demi shifts, setting her rump back and really leaning all of her hip-/core-based power into these grueling shots – Kira shows shudders, steps back with beefy forearms across Demi's heaving jugs, leaning her mouth on Lovato's left shoulder while absorbing the shock as girls walk inside clinch. Later, leggy back-pedals, pivots, Kira...lefty outstretched, righty curled across her tummy, eyes wide alert, head in cautious little bobs, torso bendy – thudding one-twos from back position keep Kira dangerous...jab screws to Demi's eyes/forehead, righty cross pitches to neck/ear. Demi heavy-footed, but determined in her approach: active head-bobs have her walking in and out of Kira's screening jabs, step her close via lunging, slumping rights-to-rack.
Aggression, weight-of-shot pays off for Demi: leggy pivots lead Kira more and more to ropes as proud jugs soak up roarin' punches, punch her stiff, hide her behind earmuff gloves! Kosarin strains those legs, buttocks a-tremble, suffering, trying to pull Lov into meaty clinches – at mid-round she's forced atop the cables as Demi shoves healthy body shots to flanks/ribs. Hook scrapes Kira's trunks as Demi pounds low – Kira blurtin', blubberin' in protest, hurt. Kira crosses her wrists at breasts, right shoulder sagging down – Demi pushes off her tummy, rams a palms-down lefty to Kosarin's flank/pecs. Kira leans forward, trying to grab beneath Demi's arms, secure her around the hips for a meaty clinch: Lovato jerks her arms free, slides her butt / hips back, TAPS KIRA A CLEAN SHORT LEFT HAND to the jawline! Kira's folded at the waist as her eyes roll back in chin-check shock...she stumbles forward across Demi's right side as knees sag thru...she's pitching onto her tummy! Knock-the-fk-down, Demi Lovato!
Kira CRAWLS from tummy to knees, her sweaty hair touching canvas, shoulders in tremble – stern finger directs Demi to own corner as ref bends down, counts out Kosarin! Kira makes a shaky 7 count, jogs at ropes, hop-hops as Lovato stares, blurts out a wild "Stay where you belong!" across the ring. Demi's back: long step-step-to for Kira, laying a beefy forearm across the jugs, scrapes a right hand to Kira's left ear – counter!, and there's the sudden right hand pitching to DEMI'S head! Lov stumbles to right, dazed for a bit, not sure where Kira is: Kosarin tummies up in her post-knockdown daze, just firmly wrapping up beneath Demi's arms, leaning her into ropes for long, sweaty ref's break.
Final minute consolidation: Kira's legs still queasy as Demi plays it smart: thud jabs smoke Kira's rack...half-step back, Lov walks Kira into a well-timed stubby left uppercut beating Kira to an overhand lefty. As girls fall in, Demi's being strong, dominant, driving Kira back, shoving her back in relentless fashion as a dull-strong righty to gut JERKS Kira up before the bell, secures a wide 10-8 for Demi!
Inside Demi's corner: "Ropes and clinches, Demi! Girl's no match for ya heft – you'll wear her out inside, just like you told her. Just keep it goin', girl!"
R4:
Demi steps-to fast, eager: she's dipping low, rising, dipping and swinging into haymakers – pounding mayhem socks Kira's face, drives her backward as head knocks back, punches go missing...early swingin' toe-to-toe gets Demi back on top! Snarling aggression, as Demi steps-to in pursuit: Kira's constantly forced to shift positions via fast hops, slide-backs, side-steps. Lovato extends into a huge left-hand cross as she stalks Kira parallel to ropes…shot touchin', but narrowly missin' a good thick impact on Kosarin's mouth / nose as brunette rolls her left shoulder, dips head low, thumps back a short, drifting left cross to Demi's right tit. Lovato falters against ropes, immediately gets wrapped up in Kira's wriggling embrace as arms wrestle down, look for leverage.
Ref's break: Kira's going for hand-speed, explosive off the break – head tik-tokking up n' down, fast torso bobs...she beats Lov to a nasty left jug jab, right hook-to-mouth combo! Sputters, trips in Demi's steps: Kira helps herself to Dem's upper leather trunk-line, slingin' that left hand in a short pump – right arm clutches beneath Demi's left, shoving Lovato's right side ropeward...her left arm paralyzed, Demi's taking nasty, breathtaking pumps to gut as she's walked against the cables.
Lov grimly defends: hard thump jab to Kira's tits – explosive, wide right-hand haymaker...Kira ducks inside as punch only grazes her neck/back-of-head...Kosarin taps a short lefty hook to Demi's right temple! Impact's for real: brunette's stepping on the spot, trying to stabilize, legs giving way as broad back sloshes against fence post, face-in-gloves – Kira reaches in under Dem's arms, chesting up and breathing into Lovato's face, wriggling her against the ropes...beefy forearms land to Demi's rack/tummy. Lov holds...ref's break: nice lil' slide-back, Kira, on smooth legs – Demi steps into the gap, gets shoved the poppin' little shrug-left uppercut to teeth! DEMI'S DOWN! Kira shouts: force-of-shot unseats Demi's mouthpiece, stumbles her back against cables, as knees bend thru, legs tumble – she slides down at cables, butt slumping hard, head dropping dramatically over a cable! Demi's in scrambles, now the one to crawl on the canvas as instincts kick in, eyes clicking alert – she's taking deep heaves on the floor, disheveled! Proud Demi takes a 6 count! Brunette repositions her mouthpiece, nods a "Didn't hurt!" to ref.
Second, third minute action: long strides for control, Kira, tik-tokking a jab...she backs up Demi from mid-ring positions, usually falling into long, heavy clinches when she can't find a good connect punch to the initiating jab – Kosarin grinds her way on top thru these combats, stacking up Dem at ropes again and again, burying shots in brunette breadbasket, tummy! Lovato showing good, leggy stamina: she avoids Kira's shrugging uppercuts inside the clinches/stack-ups, sluggin' back in spots, wrestling down and hanging up round Kosarin's arms when she has to.
Inside Kira's corner: "Crunch time, Kira. Don't think about the knockdown – it's time to put the work in against Demi's tummy, legs….rounds five and six are where you tire this chick out!"
R5:
Girls show first signs of tired frustration: grueling, vitriolic battle between bantan beauties suddenly thrown wide open again after Kira's answer knockdown – girls step into the half-way point with plenty of damage done as legs absorb and store the impact of opposing knockdowns. Leggy / sturdy slow-downs result: Kira's first to muscle up, reaching in beneath Demi's right arm, bumping her shoulder to brunette neck/skull, bull-driving her backward – Lovato hardens, resists, stiffens...girls walk around in tight circles, bumping heads, bumping shoulders, bumping racks...arms break free, pump a heavy shot to inviting rack / tummy, then get wrapped up again. Ref takes time with these looooonng breaks, allows girls to rest n' recover a bit during holdin', clinchin'.
Trunk-lines still a particular target as ref lets girl test out his foul calls: early leverage for Kira's momentum – hard, bumpin' strokes flatten, pound away at Demi's paunch, hunching her girl up hurt. Good shots: Kira clips that shrug lil' uppercut from inside a hold – impact pastes Dem's pretty features into contorted hurt (slo-mo replay really shows the thump flattening Lovato's nose!)...Lov rolls shoulder, shrugs a short straight to Kira's paunch, tucks a lefty cross beneath Kosarin's jawline, finally answering every Kira punch!
Mid-round: girls create a little more range as leg up the tempo – jabs / crosses get traded, as girls stay in tight configuration, lefties placed at right eyes, rights at mouths. Demi's first to read the ranges a little better: half-steps back walk Kira into a shrub of lil' jabs to tits, knock-knock her head back via a cute, rolling right cross, timed just right. Kosarin circles out, hurt, frustrated, pokin' jabs, not looking for confrontations right now: Demi SPOOKS her via the long, snarling overhand right that has Kira tucking left in hectic, baby-stepping away fast. Lov's back at mid-ring...she walks her girl back, reaching around Kosarin's hips, being big, pushing Kira's shoulder down a cable.
Nasty above-the-trunk-line shot opens third minute: Demi slips up Kira's right arm, slides her torso back to feed a monstrous straight to the Kosarin paunch. Strong body in trembles: Kira's eyes betray she's just SICK, a little nauseous after that grueling tummy shot – she's stepping away, ashen-faced! Lovato walks Kira into clinches for remainder of third minute, trying to pound away ropesides – Kira's bull-strong inside these grasps, refusing to get bludgeoned into positions where Dem wants her. Down the stretch: Kira reverses positions, winning the grindin' combats: just before the bell, she's back shrugging a lil' left uppercut to Lov's neck, pumping a righty to upper ribs, ending the round strong. Action's wearing girls out: fifth round's a close draw as Kira and Demi always find an answer to each other.
R6:
Demi rallying her legs, stamina: she's bobbing at the waist, slingin' punches as both hands are stacked up at tummy, hookin' and shootin' her way forward – she's out to prove she's just as fit as in round one! Fast hooks from this stance sling the Kosarin gut, tut-tut at her tits (short, driving shots pound to rack!) – Lov drives the tempo, using nice little shoulder bumps to slug her way forward, springs left/right/left, leaps back into Kira's tummy/rack, pepper her guard via tik-tok jabwork for activity. Kira trying to move forward, gets stopped, hit aplenty – nasty body (tit) shots have her ooh'ing, ahh'ing, hopping away...eyes betray her disgust at Demi's initiative here...triumph dances in Lovato's eyes! Anger's never a good match plan for feisty Bonzo brunette: she's being leggy, trying to lean in jabs past Demi's right shoulder as girls turn, hop, circle. Lovato's prepared for Kira's lil' aggressions: a fast hop to the side, sudden left/right tacks from and to ropes – jabs just don't land for Kira when Demi's in constant side-steps, proving elusive. Chup-chup hook bumps Kira's right hip-bone as Demi sneaks in – greedy hands touchin' Kira's tummy behind her elbows, turning her flank for the shot, nice!
Confusion wells up in Kira's look as eyes flash – fit, leggy approach's a nasty jolt as Demi changes tack! Don't think Kira ain't being hurt: a mobile Demi's dragging the left foot, changes weight a-sudden, PITCHES the pik-pak left hook to Kosarin's ear just as Kira steps-to...head's a-ringin'! Perfectly timed shot motivates Demi: girls just don't pokerface tonight – Lovato's beamin' as Kira steps n' stumbles to right/ropes. Kira bares fangs, bangs back violently from ropes – Lovato stays in mid-range control, picking attacks in spots...and that usually means jabs to the guard, more slingin' hooks to ribs/rack. Wild mid-air haymakers betray how Kira's disheveled – she's missing shots, but prevents more stack-ups, sieges this way.
Down the stretch: Demi's rollin' punches go pik-pak on Kira's pinkened tummy – she's inside but a-bobbin', tacking, leans her head inside Kira's DRAMATIC counters, finally falls into a meaty clinch. Girls still embraced at the bell (mouths on shoulders), refusing to break as torsos (hips) wiggle and shove – and you just KNOW it's comin'...Demi leans down, SLAPS a healthy spank on Kira's well-proportioned butt, smiles big as Kira goes crazy! The ref – duh! – prevents the catfight, stepping in authoritatively as Kosarin's arms already go lashing out for revenge – "You ain't finishin' this fight on your goddamn legs, girl – I'm a-punch you out sleepy!" Lovato stays quiet, grinning: HER momentum.
R7:
Girls steer into sudden bursts of combat, leaning head/shoulders into each punch as emotions run high: Kira makes some leggy adjustments! Hard toe-to-toe open early as girls stand, pitch: Demi twists the thumpin' left body uppercut to Kosarin's stomach, punch recoiling with a thud – Kira shifts weight, dips head to the left while spanking a right hand past Demi's outstretched lefty...shot clunks to Lovato's mouth/cheek oddly, flattening face on burst of impact! Kira side-steps past Lov's right flank, turning, spearing the lefty to guard – she forms a wide, leggy stance, taking sudden bounces to-and-fro, firing quick shots that scoot to Demi's flanks/neck/guard.
Staccato rhythms, flyweight school: Kira peppers Demi's guard/head (jab frenzy), spicing things up via stomping righties (straights to rack/neck, slanted shots into tummy) – leggy slide-outs get Kira the initiative again, as Demi covers up, punched onto heels, back-pedalling, out-tempoed in stretches. Lovato targets the Kosarin waist-line in response, but usually absorbs tik-tok rhythm of punches before there's room to counter: hard dips, shoulder blasts as Demi's tucking in these nasty bangs against Kira's hips, hurting her girl. Fast step-to from an aggressive Lovato: Kira beats her to the punch, feeding the long straight right to Demi's teeth/mouth, timing it nicely thru the gap just as brunette's peek-a-boo stance opens! Nice lil' slide-back on mobile legs, Kira...she directs a pik-pak jab to Dem's rack during back-pedal, then leans inside as Lovato's violent, swooshing counter hook comes huntin' for her head!
Later scenes: Lovato muscles back up, staying rigorous in pursuit of leggy Kira, bringin' it to her – long jabs land to Kosarin's guard, right hands sling to gut again, short shruggin' uppercuts plop to Kira's jawline in up close as girls are head-to-head. Kira's butt on ropes...she bangs back from ropes furiously: nasty toe-to-toe ensues as girls just square away – short tucking lefty uppercuts bombard Kira's face, knock her mouth back on one point...Kira stings a dramatic left hook/right hook combo to side of Lovato's face...girls both reel out, hurt, staggering! Strong Kira scene right at the bell: she dips-right from Demi's flying righty, steps in arms-around-torso, bull-reversing powerful Demi's position, mauling her against ropes (forearm to breasts), taps the tummy right hand to Lovato's trunk-line as former champ blubbers in protest, staggered by the shot.
R8:
Girls bringing them stiff jabs: wide stance, Kira – pawin' lefty's looking for jugs and chin in slappin' fashion while right hands hurl for Demi's tummy via sidearm/palms-down punches, legs bouncing in and out. Demi digs in, setting feet/hips strong, swooshing back hard lil' counters (left, right), trying to match Kira for drumming poke: and the punches fly! Kira's jab SPANKS JUG in series of hacky lil' punches – Lovato's forced into grimacin', groanin'. Demi refuses to give ground: she sloshes back the lefty cross to Kosarin's ear/cheek, tapping the punch to skull – startled brunette slides back as lefty cross kisses of face! Girl follow parallel courses, driving in steady tik-tok fire of jabs, lean in for heavy, angry right hands! Girls walk thru whirlwinds of punching frenzy: punches slosh, sweep – some shots land to temple (Kira), mouth (Demi)...many shots miss.
Kira ducks inside a heavy, spearin' left hand from Demi's shoulder – leans in hard n' strong, spanks a withering roundhouse right atop Lovato's left flank. Grunts from Demi as her tummy cranks, torso folds up hurt, legs cramp up: Kira's eyes harden, widen – duo of a long, swattin' lefty and a short, direct right to paunch sits Demi ropeside! Ropes: Lovato sitting atop cables, hands placed at either temple, strong legs riding out the siege as torso tries to roll, lean from shots – Kira tilts weight, bobs low, leans in to dig shots upside Demi's ribs, shrugs a short, jerky left hook to Lovato's lungs, ooomph! Demi stoops forward – Kira pushin', shovin', sliding her left arm atop Demi's right shoulder to reposition her foe, diggin' another righty to gut!
Mid-round: Lovato's still being strong inside clinches, trying to hang up around Kosarin's arms/shoulder as Kira pushes off tummy...girls just tumble-stumblin' around until ref breaks entwined hotties apart! Kira bending at the waist, bobbing fast: lil' jabs / hooks dig into Demi's tummy, ribs and mostly jug in hup-hup fashion, setting Lovato's tummy on fire, pinking it up. Tempo too much for Demi: she's groaning, setting a left shoulder to Kira, back-pedalling away, lips parting as she's absorbing the body sock...Demi's hurling, desperate counters no longer pin down Kira!
Third minute opens, and girls stay toe-to-toe: Kira in bobs, head/neck duckin' and risin' as she's looking for more of those diggin' body shots – SUDDEN, hard left/right cross combo from DEMI's stance taps both sides of Kira's skull! Sliding back-pedal, Kira, as mouth opens in indignant shock...she's in peek-a-boo stance, narrowly leaning her head out of trajectory of Demi's wild, swingin' right haymaker. Surge outta ropes, Demi: long-leanin' left uppercut lights up Kira's eyebrows in explosive fashion, knocking Kosarin off balance into a stumble – oh, no, but there's the sweeping LEFT CROSS, Kira! Kira pitches the shot wild, her weight on right foot, back leaning away: hard, clipping impact on Demi's mouth! Lovato's caught in mid-bob, just as she was surging into a mean jab: her eyes roll back, going clickety-click: she's helpless, tottering away hands low – Kira steps-to, sucking a dramatic left uppercut across Demi's exposed right cheek! Flattening shot lifts up big Demi off her feet, sloshes her back to the canvas: HARD THUD IMPACT AS DEMI HITS THE FLOOR!
Demi's a-stirrin': her shoulders twitch, her eyes roll back and forth, lips part in shock – but she's finished! Kira pounds her chest hard, yelling down a taunt at fallen vixen: "Who's sleepy now, you slumberin' lil' bit-ch?!", as ref pulls her away, waves off the fight. Good night, Demi, as bantam hotties light each other up, build a hate-filled rivalry from scratch – that's the KO8 Kira Kosarin!
After:
Just a little mayhem in the ring – Bonzo officials direct Kira to corner as Lookout team props up Demi, secures her from a screaming Kira! Not much of a surprise after snarky pre-fight press dates: girls just brought the hate! "I shut her up,", Kira boasts in the ring post-fight. "There was just no way Demi's tummy was going ten rounds with me, ya know. But can I see that knockout again? Damn, I was wielding an AXE in there – that means slumber time for all bantams!"