Post by Fates on Jun 23, 2019 18:04:57 GMT -6
Rachel Hilbert vs. Lindsay Ellingson
Rachel Hilbert: 24 years old, 5'10", 4-1 with 4 KO since 2017. Free agent.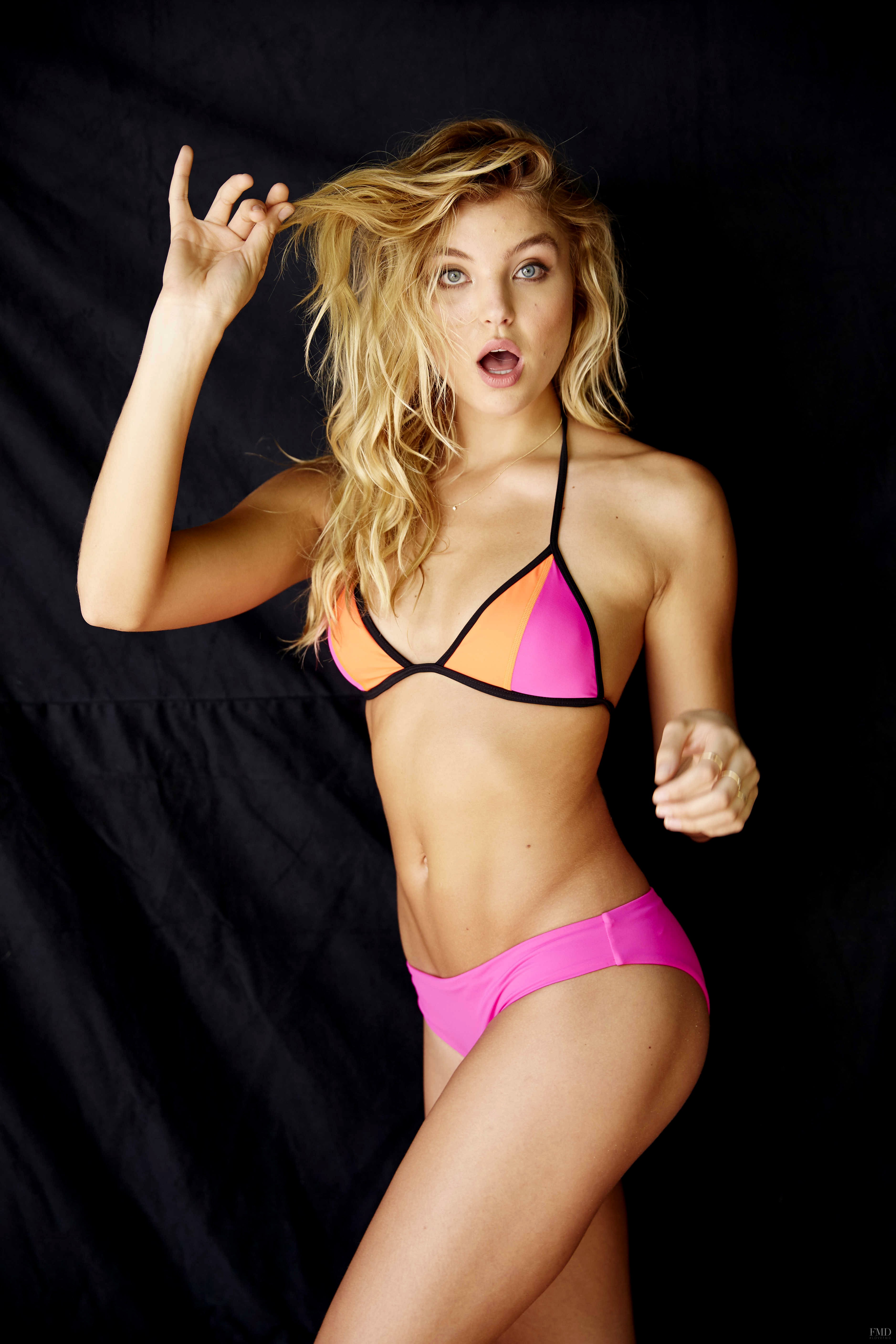 Lindsay Ellingson: 34 years old, 5'11", 1-1 with 0 KO since 2016. Free agent.
Before:
Tonight's fight features two blonde free agents trying to prove their worth to potential stables. Ellingson has an explicit offer from Fates if she wins tonight against her opponent, Rachel Hibert.
Hilbert the first to speak at the press conference, "So what? She beat Ming Xi – someone with no FCBA wins. She is 34 and has fought twice in her career from 2016 to now. Just like her modeling career – her fighting career is effectively over, and I am going to beat her so badly she does not want to return."
Ellingson scoffs at Rachel's comments, "With all due respect, Rachel is part of the new era of models that feels entitled to criticize those who came before her while living an easy life. Well I have news for Rachel – I am not going anywhere, and I am going to make her suffer so she knows."
Rachel wears a yellow sports bra with matching trunks and green gloves, her blonde hair up in a bun. Lindsay comes to the ring wearing a blue sports bra and matching spandex with white gloves, her hair in a ponytail.
Round 1:
Lindsay begins by jabbing at Rachel, trying to use her extra height and reach advantage to get out to an early lead. Hilbert stays just out of Ellingson's range and the older blonde closes the gap and Rachel pounces. Hilbert fires a nasty right straight to Ellingson's mouth, staggering Ellingson and then Rachel follows up into Lindsay's body as the older blonde gets her guard up, taking punches to the breasts and belly as she gets driven back into the ropes. Hilbert unloads on Ellingson as the older woman tries to punch her way out before clinching on to Rachel, forcing the ref to break the two apart. Once the two women are separated, Lindsay immediately starts circling and gets off a few punches from a safe distance, although most of them are returned with greater force. The bell rings and the first round comes to a close with Rachel taking it on points, wide.
Round 2:
Hilbert and Ellingson emerge from their respective corners and immediately start trading blows. Rachel lands a nice right early on but Lindsay holds her ground and smacks Rachel right back. Hilbert adjusts and goes for another right but Lindsay dodges out of the way and plunges a right into Rachel's belly before sending a left hook screaming across Rachel's chin. Hilbert staggers and on comes Ellingson! The tall blonde quickly closes the gap with her long legs and starts hammering away at Rachel's guard, sneaking in some body blows that send shivers through Hilbert. Lindsay snaps Rachel's head with a nasty right cross and sends Hilbert into the ropes. Ellingson continues to punish her younger opponent as Hilbert struggles to clinch, but she eventually does and the two women are separated. Rachel circles and tags Lindsay with a few punches before the bell rings, but it's not enough to prevent Ellingson from winning the round on points, wide.
Round 3:
The third round begins with Ellingson taking the initiative early using her jab again, driving her punches right into Hilbert's mouth. Rachel steps back slightly to get some breathing room and punches back at Lindsay, landing a blow to her mouth in kind. Hilbert follows up into Ellingson's body, pounding away at Lindsay's belly and breasts, but Ellingson keeps her guard up and smashes a left across Hilbert's chin. Now it's Lindsay's turn to follow up into Rachel's body, and she pounds away at Hilbert, occasionally throwing in a swipe at Rachel's chin to keep her honest with her guard. Rachel's an adept fighter though and escapes from Lindsay and the two women trade jabs for the remainder of the round. Lindsay takes it on points, close.
Round 4:
Ellingson found her groove the previous two rounds and she comes out to start the fourth like this is more than her third fight in the FCBA. Ellingson uses her height advantage over Hilbert to get in plenty of early jabs, but Hilbert lands a couple of clear counterpunches on Ellingson. Lindsay starts to feint and lands a few crosses, but never connects fully with them. Rachel taking the punishment quite well and connects with a jab right to Lindsay's nose as the older model tries to close the distance between the two models. Hilbert then tries to punish Ellingson, but Lindsay keeps her guard up and the two blondes start trading blows with seemingly reckless abandon until the bell. Lindsay walks away with the round thanks to her early offense, but it was a close one.
Round 5:
Hilbert the one who takes the initiative to begin the fifth, keeping close to Ellingson and focusing on the older blonde's body. Lindsay breathing heavily, not as conditioned for boxing as her younger opponent, and she backs off, trying to jab away any further offense from Rachel. Hilbert's not deterred though, and she keeps up the pressure, landing punches to Ellingson's body. Lindsay stays in it though, punching Rachel back and forcing the younger woman to not commit all the way. At the start of the third minute, Ellingson gets a burst of offense, whacking Hilbert's chest with rights and lefts, but Rachel returns the favor and nearly corrals Lindsay into the ropes, but the bell rings to end the round. Rachel wins the round on points, close.
Round 6:
Ellingson and Hilbert begin the round by circling each other, trading jabs. Hilbert lands a right squarely onto Ellingson's nose and Lindsay stumbles backwards, wildly punching out at Rachel to prevent her from getting too close. Hilbert simply dodges Ellingson's blows and smacks a right into Lindsay's jaw and the blonde's legs shudder! Lindsay clearly hurting and trying to keep her guard up, but Rachel hammers a left into Ellingson's belly and Lindsay's lowers her guard only for Rachel to connect with a right uppercut THAT JUST DROPS ELLINGSON! Lindsay's legs just give out and the older blonde is lying facedown on the canvas. Hilbert slowly steps over the prone Ellingson as the ref begins to count. Lindsay moans weakly from the floor, and while she's stirring, she isn't moving more than her hands. The ref reaches ten and calls for the bell and your winner by KO6, Rachel Hilbert!
After:
Hilbert beams to the crowd, waving and smiling for a solid minute after her victory. Once she gets her gloves removed, she turns her attention to the still-prone Ellingson. Rachel pushes away Lindsay's staff and slams her knee into Lindsay's toned midriff as she's turning the older blonde onto her back.
"UGHHHHHHHH…" Ellingson moans out.
Hilbert swings her right leg over to the other side of her fallen opponent's body and straddles Ellingson, bending over to whisper into her ear.
"Honey, you look good for 34, you really do, but you just can't compete with us younger models. Now, I'm not going to force you to carry me around the ring, but take some advice: you'll be hurt worse in your next fight because you just don't make the cut."
Ellingson just moans as Hilbert gets up and walks out of the ring. The blonde model lies flat on her back without a contract from Fates, and it's just another day for these women to look for a stable that will take them.