Post by Lookout! Boxing on Mar 30, 2019 9:57:41 GMT -6
TAHNEE ATKINSON
(27 y/o, 5 ft 8, W: 19, L: 7) vs
CAMILLE KOSTEK
(27 y/o, 5 ft 8, W: 7, L: 4)
Results: Lookout!, Writing: Bonzo
Before:
Tahnee and Cam are both two strong-bodied welters, representing more of the "brawling" side of a new welter guard as opposed to more technical, slicker boxers. Tahnee's career was derailed throughout the last months of 2018 after she had lost her sixth title defense fight against long-time model rival Kate Upton in August, but despite an early-year loss to Hannah Ferguson to open 2019, she's now slowly jostling to get back into the title fray. Kostek's coming into this fight with plenty of Super Bowl-by-proxy swagger from her boyfriend Rob Gronkowski's popularity, but although she's still firmly behind Amanda Righetti in her stable's pecking order, she's also started to beat pretty dangerous fighters herself (Lawrence, Rohrbach, Moore). If her stablemate wasn't the champion, people would surely mention Cam as a title fight contender by now, although she had to cede that position to Hilary Rhoda after a February loss to the model's comeback.
Interview:
Last summer's bout between them was a slugfest of the finest sort – tactics laid aside, technical execution plans ignored, fists exploding in bar-room brawl intensity. Why expect anything less now?
"The problem with Cam is that she wants a place at a table that's already occupied. A place on my turf. A popular boyfried, thick, luscious hips – but that just ain't enough to be a welterweight champion these days", Tahnee elaborates pre-fight. "Our last fight showed that she packs a punch, but has no clue about the actual physics of a boxing match. Duck the haymakers, take her out, that's my plan. Cam's obviously fancying herself as a gatekeeper for Righetti. Well, that worked plenty fine with Hilary, right? I'm pretty confident that Hil's taking the title this PPV, and I KNOW Cam's not in my class. I'm not hiding it, folks. I'm a champ, and I want my title back. This is my entry ticket."
"I'm not taking lessons about the physics of boxing from a down under swimsuit model," Camille responds. "I've learned the hard lessons from my fights with Hannah and Tahnee last year, yeah, and I'm SO much more sophisticated now that Tahnee won't even know hit her. Working with Amanda in our gym all these months has put me in a new dimension. I'm not looking for a new seat at the table, by the way. I just want this chick out of the room. Byebye, girl."
Fight night attire:
It's happening: both girls fighting in skimpy, one-piece swimsuits, monokini style – Camille's in a bright, glittery green swimsuit, those thick instagram hips swaggering, wearing matching boots, her blonde hair in a ponytail, while Tahnee's all-black (loose hair, tight one-piece, boots).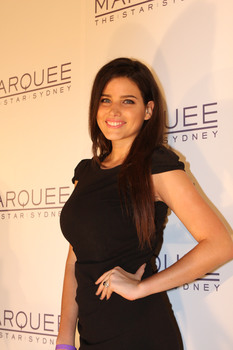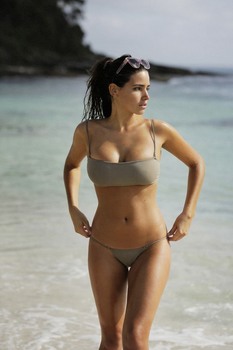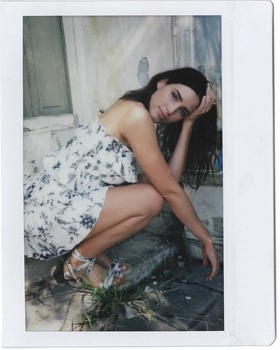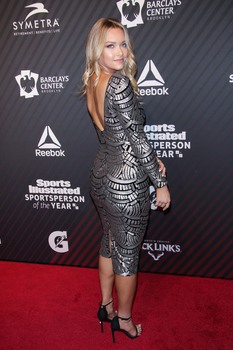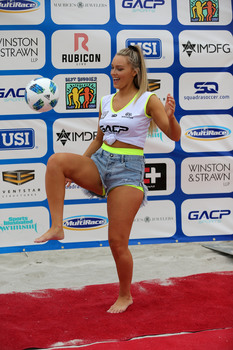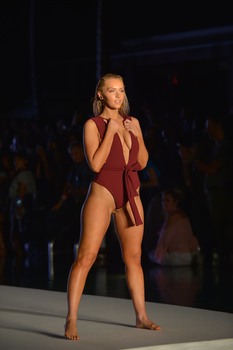 Fight:
R1:
Camille charges wild, explosive: jerky, jolting jabs...swinging hooks...fast, hunting right hands. Blonde swishes across the canvas to meet Tahnee, ponytail flip-flopping across her shoulders, setting up stance to stand and slug, all brazen punching attitude. Tahnee's ready for her, a standard jab PIERCING Cam on arrival – short, timed lefts striking blonde beauty to nose/temple, leggy steps pivoting Aussie out. Kostek not discouraged, skidding uppercuts out of the crouch against a compact, well-defending Aussie – Tahnee does a good job of rolling shots, answering immediately via tidy, shelling one-twos.
Jabs often halt Cam's marches, but she keeps a-steady-punchin' – right at minute mark, Tahnee slides back a half-step, waits for Cam to pounce into the opening space, stiiinngs a timed righty to chin! Tahnee smiles big, bodies her woozy girl up against turnbuckles – Cam grimly wrapping up around Tahnee's hips, struggling to free herself as Atkinson defends her top position, engulfing thick, lusty right hands inside the blonde's proud tummy/rack. Later: Kostek's legs still recovering, her thick hips a little stiff, torso wobbling from left to right, a little sluggish – she's no match for a precise, rangy Atkinson jab with such a stance. Drifting jabs knock back blonde head repeatedly: Tahnee goes inside, bodying up again at ropes/turnbuckles – Cam's digging in, slugging back at opposing neck/skull/tummy meat just to ease the pressure.
Classy former Aussie champ's up after one!
R2:
Kostek's big-bodied swagger rushing into unexpected inside battles – she's not interested in jabby, leggy pivots, just hoping to trade whacks shoulder-to-shoulder. Tahnee spending most of first minute in slick, technical and counter-aggressive retreats, stepping out wide from Cam's lungin' haymakers, dropping sweet hooks, counter jabs to Kostek's ribs/skull around the ring. Minute mark: Cam's finally closing range, landing a thick right inside Tahnee's tummy that bunches up the brunette hurt, slumps her into a stoop, immediately rushing Atkinson to apron. Girls crouching from there, trading spank and leather across tummy and flanks – Cam's relishing inside these thick-legged, haymaking exchanges, letting her fists rip! Punches rapidly bounce off Tahnee's toned tummy meat, forcing groans of breathlessness...Cam's stiff-armed power shoulders Aussie back step-a-step, making her give ground.
No slick hooks, angles, just beefy power: wide, steam-hauled punches – Tahnee taking the worst of these exchanges, slugging back but unable to match Cam's hip-based power punches during these scenes. Cam bumping shoulders with plenty of attitude, propping up her girl at ropes – down the stretch, Tahnee's formed a tuff earmuff stance, mitts at either side of skull, her back a-slumping, stooping off ropes behind her mitts, lips parted in shock at Cam's muscular, jug-busting right hands.
R3:
Girls stepping into jabs again, circling prey – same configuration: Tahnee trying to fight smart, calm, left outstretched, struggling with Camille's free-for-all swings, wild range-closing attacks. Kostek kicks a long left hook, Tahnee slips it, ROCKS a short right to Cam's jaw – there's the buckling knees, strong hips whip-sawing. Tahnee detonates hooks off blonde's right shoulder, then bodies her back – she's really leaning into rippin', lashin' work to Cam's swimsuit flanks/jugs. Kostek back-pedals, taking more brawny body shots – Tahnee picks her up with a left uppercut to hips/elbows, follows it with another short, strong uppercut to jugs. Grunts and groans – Kostek's eyes wild, aggressive, she's feinting, rocking back bombs, left/right...Tahnee slides back to slip her shots, tik-tokking long, lean hooks either side of Cam's flanks/tummy.
Kostek stoops forward, then lunges into a right hand: walks into a sudden jug right, Tahnee, instead – crippling shot sees Cam's hands slosh to wounded parts, of course she EATS the short, whizzing right to jaw! Camille hits ropes in a woozy-eyed fog – Tahnee's ready for payback, pushing Cam's shoulders, palms aggressive bam/bam, dipping side-to-side to drop thick, hateful shots behind blonde's elbows, parting her lips in shock. And Tahnee resets, pops hips, torques beauts into Cam's bulging swimsuit rack, quivering jug meat, eliciting soft shouts of protest at the harm done. Aussie being big, bossy right until down the stretch...at the bell, she's stepping off her quivering foe, blows her a kiss before she turns back to corner.
R4:
Early trades for momentum: Camille's drifting a short jab/hard right combo to Tahnee's mouth, staggers a startled brunette onto her heels, dazzling her foe. Atkinson dips left/right on square hips, left at eye, right at mouth, trying to find her legs – girls feint, lean into blasts on the spot, then sluggishly circle each other. Cam wide-eyed, finally steps into effective jabs, moving Tahnee's legs, walking her back. Kostek extends on her aggressive lefts, palming with her left around Atkinson's torso, carrying straight right hands thick inside pit of Tahnee's tummy. Tahnee's a strong-bodied fighter in defense, not easily led to ropes – Cam's imposing her will thru hold-and-hit tactics, swamping her strong Aussie opponent via fast jabs, rushes, sweaty wrap-ups, pinning her against the cables, one moment at a time. Atkinson acid, grim throughout these exchanges, but pushes back – girls stumble alongside ropes, arms all wrapped up around each other, until the ref steps in to separate the two messy beauties. Cam's trying to tire out Tahnee's legs – blonde motivated, eyes flashing as she's muscling a groaning Tahnee into cables, propping her up via the left shoulder, working Atkinson's waistline in thorough, sluggin' fashion.
Down the stretch: girls stacking each other up...short, vicious moments at ropes/turnbuckles, right uppercuts blasting to jugs or pretty faces, lefts pumping, outstretched into rack/shoulders for fiercely disputed top position. Cam's got the last moment on top: Tahnee's jaw slackens from overhand right, as the brunette tumbles from ropes into Kostek's tight, sweaty grasp...girls stagger into sound of bell!
R5:
Vicious early trade: Camille chops the long right hand to Tahnee's bulging swimsuit rack – Tahnee receipts via own rocking right hand, turning Kostek's head. Back and forth, no holds barred: girls step in and out, lean in and out, slingin' huge right hands, pulling them from a flat-footed, mitts-at-hips crouch. Tahnee's head movements more alert, faster – chop shot blast upside Camille's skull has blonde's legs sputtering. Right-to-mouth: bendy vicious swipe to Cam's face knocks back head, slings Kostek's torso into ropes. Cam staggers alongside the ropes, eyelashing blinking fast, lips in a pout – she's huuuuurrt!
Atkinson paralleling her steps...she's getting into Kostek's left shoulder from rangy, bendy angle, tucking them sweet, whippy hooks under her elbows, quivering Camille's tight swimsuit. Left hook slaps Cam's breasts with plenty of attitude – wobbly-butt blonde's back slumps into ropes, face in gloves, elbows in. Left jab slaps Cam's right mitt away – right hand picks up that pretty, drowsy face HUGE! And Camille takes a stumbling tumble-drive DOWN! Big blonde just a-sloshes onto her tummy from ropes, lands her with one hand trapped beneath her tummy...she's picking up her face from the canvas in swooning confusion!
Tahnee steps aback from the rubble, SHIMMYING those hips all over the place in a little dance move, her sights firmly set on hurt blonde prey who can't get off her tummy. Huge Aussie smiles flash into the crowd, a cute little biceps pose...but Cam's beating the count! "Don't be silly, giiiiirl", Tahnee blurts out, watching Cam stagger onto her legs, holding ropes. Tahnee wades back in, slinging jabs into Camille's quivering rack, double jab, double jab, herding her girl to ropes again – good God, Cam BELTS back a right to Tahnee's ear! Atkinson huuuurrrt when extending on jab, her stance a little rickety on the shot – her eyes roll back, lips a startled pout of protest...and suddenly SHE'S tumbling down onto all fours!
Tahnee scrambles, a loosed-legged beauty– she's all rickety in her first attempt to rise, sliding back onto all fours, then makes it back up! Camille breathes hard, eyes staring – she forms a sluggish pursuit stance of Tahnee, driven on by adrenaline, sudden shock. Tahnee's legs are jelly: Cam drops a thick right into pit of Aussie's tummy, folds a rickety Tahnee onto the ropes. Kostek's exhausted, but starts workin' and diggin' on autopilot, arms quivering from punch lust – swinging right hands belt about Atkinson's jugs or biceps, socks vicious uppercuts upside Aussie's left eye. Tahnee groans under the bombardment, face-in-gloves...she's a swooning, confused beauty, her torso rocking back and forth from ropes – AND THE REF STEPS IN! Camille stomping away, just giddy with excitement – she just came back from the brink, stopping Tahnee Atkinson via an upset TKO5!
After:
War-torn beauties are both good to go after five rounds of prime welterweight boxing! Tahnee's mumbling words of protest towards the ref, refusing to believe the outcome – once the adrenaline washes off, Cam's exhaustion shows, too. "I'm so thrilled," Camille says. "Tahnee humiliated me last time out, and I finally proved I belong into a league with her! This is absolutely my best, proudest moment in the ring yet."