Post by Lookout! Boxing on Feb 22, 2019 23:57:47 GMT -6
KIRA KOSARIN
(21 y/o, 5 ft 6, W: 17, L: 7) vs
KAYA SCODELARIO
(26 y/o, 5 ft 6, FCBA: W: 24, L: 6)
(Written by Girls Friday & Bonzo/Results by Lookout!)
(Bonzo's Gym vs Girls Friday)
Before:
Two of the best bantamweights in the world now clash in a rematch: Kira Kosarin and Kaya Scodelario have a history between them, and it's one Kira would love to recreate tonight.
Kira is 21 years old, she stands 5'6'' and holds a record of 17 wins, all by way of knockout with 7 defeats. She's never held a title, coming up short during two title shots in 2018.
Kaya is 26 years old, she stands 5'6'' and holds a record of 30 wins, all by way of knockout with 6 defeats. She is a former FCBA bantamweight champion.
As stated, these two have duked it out before. In fact it was last year in January and Kira came out on top in a great fight with a sixth round knockout of her British foe. In the build-up to the fight, after public workouts with both fighters, there's a weigh-in on the FCBA Network where the two exchange a few words at the face-off. Both are now on a set facing off across a table with Lucy Liu as a moderator for a discussion of the upcoming fight. Kira's asked to give her opinion on Kaya, and she admits: "Kaya is a top quality fighter. It's why I was the one to make her the offer of a rematch. We might be the best bantamweight rivalry outside the title picture right now."
Kaya corrects her with a smile: "I'd say we are the best bantamweights today due to the fact we are both young and hungry. While I respect you Kira, I don't want to go for a drink for you after we fight. I'd prefer we just kept on fighting." Kira's nodding at that bit. Lucy brings the subject to their first fight, and Kira interrupts her: "That might have been my best performance yet, I believe, although that knockout I just gave to Elizabeth Olsen felt pretty sweet too."
Kaya sits back and smirks as she wants to see where Kosarin goes with this. "When I fought Kaya the first time, I knew we'd be going to war, so I brought my A game which, of course, proved to be quite enough to knock out Kaya," a chirpy Kira announces, nodding her head.
"That's true," Kaya smiles. "You did knock me out and you showed me why you are a top fighter, but let's remember the full story of what happened afterwards, right? So tell us what happened when you fought Emily VanCamp for the title?" Kira grits her teeth as she answers: "Well, I lost the fight." Kaya nods approvingly, asking Kira about the title fight with Nina Dobrev only a few months ago and it's the same answer coming from the youngster. "See?", Kaya smirks. "After our fight I just went about my business and became a friggin' champion. I'm real. I don't just talk the talk. I'm no big-mouthed under-achiever. And I certainly didn't choke on the biggest stage like you did." (...
Kaya makes a dramatic little pause
...) "Twice."
Ouch. Kaya points to Lucy as she says: "She won't tell you the truth. Her fan girls and the media who think she's the second coming of Theron or whatever bull they see in her won't tell her the hard truth, either. And the hard truth's Kira's just not good enough to be the best because she lacks the heart of a true champion. Always chokin' like a deer in the headlights when the title's on the line, poor thing."
Kira stands up from her seat, yelling: "I'll f*cking show you my true heart when I knock your silly butt out again! And then I will become the champion!" Kaya's getting up from her seat, too: "Why don't you show me now, b*tch!"
"Calm down, girls. Plenty of time to show who's boss in the ring," Lucy Liu inexplicably tries to calm down the situation. "So Kaya's got a point there, right, Kira? What about that title, huh?" "It's humiliating to see this arrogant little Brit riding on and on about this title," Kira admits. "Yeah, so she's one step ahead. Big deal. But for one thing, that title's not going to help her escape the butt-kicking she's going to get from me in the ring. Matter of fact, it's going to make it even more exciting to take her to the woodshed and give her some good buttslaps, American style. And second of all: I'm SO winning the title in 2019. Of course I am. I'm Kira Kosarin. The best young bantam in the world."
"She's only talking the talk, baby", Kaya says, leaning towards Lucy, smiling that classy smile.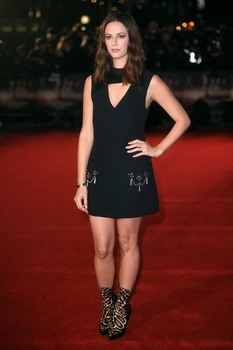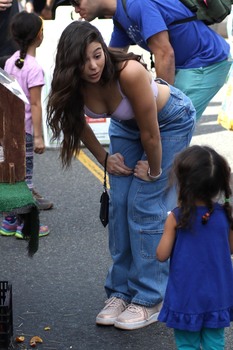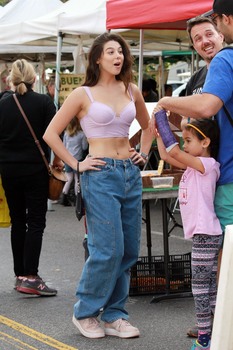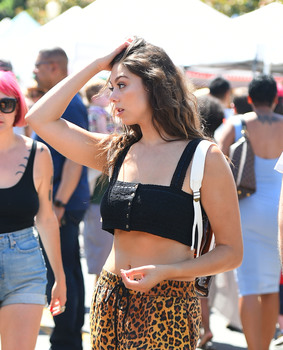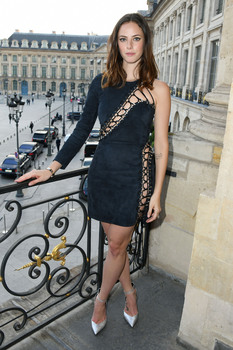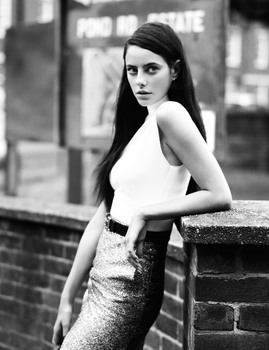 Fight night:
Kira is out first with Nadia Bjorlin beside her and she's all smiles as she jogs down to the ring, nodding to her fans as they chant her name. She's wearing a blue sports bra and blue trunks with a yellow thunder bolt down each side, blue gloves, blue shoes, while her dark brunette hair's braided. After she gets into the ring, Kira pumps her right fist into the air as she jogs over to her corner, bumping fists with her coach before she begins to warm up.
Now Kaya comes out with Taryn Terrell and Eva Carneiro by her side. She looks more serious as she heads down to the ring, bumping fists with a few fans in the crowd. She's wearing a black sports bra, black and white chequered trunks, black gloves with white thumbs, black shoes, while her hair's up in a ponytail. Climbing into the ring, Kaya nods to the crowd as she steps into her corner, before she begins to warm up with Taryn telling her to show Kira who runs the division. When both fighters come to the center of the ring, the intensity of their stares is fully on show, neither girl backing down as they get right into the other's face. They bump gloves when prompted, though, and both are keen to return to their corner so they can start ten exciting rounds of bantamweight action.
Fight:
Round 1:
Fighters start off trading stiff jabs as they circle, their eyes locked in angry, focussed stares as they want to prove themselves the superior woman over a hated girl rival. Kira uses her reach to start stepping forward behind her straight, steady punches, forcing Kaya clockwise to the outside of the ring as the older fighter covers up. Her back just off the ropes, pedalling, strong upper body feinting, Kaya dips the straight jab to land a right to the tummy, followed by an overhand left to Kira's temple as she starts working in closer range, trading with Kira's jabs viciously. Scodelario moves onto front foot – three slack, loose-limbed lefty hooks, rat-a-tat off the bat, slammin' to Kosarin's mouth/cheek – brunette head knocking back on impact, pinning a frustrated Kosarin behind her guard!
Kaya steps on the gas, a-firin': punches thuuuud off Kira's gloves, whup, whup – proud American brunette forced to give up canvas ground, circling out to relax the pressure. Kaya under control, enjoying rangy work: a missed right, Kira – Kaya counters from arched back, poppin' a gorgeous hook/blast to American nose! Kira's strong knees buckling...she's circling out again to own chagrin and a perky smile from Kaya. Girls standing inside late – Kaya snarls, nudging Kira via her left shoulder, pinning her girl back...and there's the thick right across the face, catching Kosarin tuff!
Bell: girls lingering for a little face-off, shoulder bumping shoulder, huffin' and puffin' their taunts from flyweight 101 school until ref bosses inside, shoves both hotties cornerbound. Lots to like for Kaya fans across the first round: Brit made her power felt, countering out a hungry, ambitious American girl.
Round 2:
Both girls come out a-blazin', fully fired up – fiery, hate-filled exchanges happen mid-ring, rat-a-tat punches rotating. Fists a-rollin', gloves a-poundin', lithe torsos leaning into harm's way, moments after the bell: Kira rolls a big Kaya right, snaps back Brit's head via two lefty crosses – slam-bang impact to right ear/temple has Scodelario stepping away delirously, her legs pancaking, torso flopping back and forth on loose stance. American youngster pushes Kaya off, sticking out the long jab as she walks forward: Kira unleashes her power! Short ropeside moments all about seething body hate: pak-pak hooks smack Kaya's breasts, left/right, left/right, making that meat wiggle – Kira making herself all compact, small as she's digging into the action, those sturdy hips exploding into hup-hup uppercuts flashing up Kaya's face/gloves.
Scodelario staying as classy and calm a defender as she can, trying to hit back in orderly fashion, trying to read Kira's mayhem punching – still, this slugfest's all about pants, grunts and screams. Good back-and-forth action because Kaya's ripping them back at Kira: chins toggling, torsos swaying in lusty exchanges. Second minute: Kaya's a little windswept, waist bending, rolling shots, arms reaching out to hold, clinch for breaks against whirlwind attacks – Kira going paunch, tummy, then switching back to straight, sprucin' jabs up top.
More and more holdings/breaks...just a bit later: Kaya slips a left cross to tuck a short counter right in Kira's ribs, slamming a hard left upside Kira's head – now suddenly Kira's stepping back woozy! Down the stretch, before the bell: Kaya strong-legged, her head under Kira's chin, drilling her body hooks, body hooks as Kira squirms, grunts in protest. Bell: a NASTY shove from Kaya to Kira's jugs gets ref inside tussling beauties hot – Brit lets that classiness rest a bit, shouting: "You ain't going to stop me this time, bytch!", while ref's struggling to send these chicks to their corners.
Round 3:
Again they start off near the center of the ring, exchanging a flurry of punches to the delight of the fans around them, neither wanting to take a backwards step as heads get knocked back, bodies tested by stiff, tuff shots, blasting toe-to-toe. Mayhem breaks out: opposing right hands roaring, thudding home, missing...Kira lands a right to the top of Kaya's head.. she's starting to shove Kaya back a-pumping punches left and right that just keep SLAMMIN' off the gloves of her older foe, Kaya's mitts shuddering.
Her mouth wide open, all greedy, Kira steps in with an uppercut – counter...a swift right sidestep, Kaya, leaves Kosarin open to the counter right, and she's dropping it smack on the American's nose! Kira turns-with, staring, mitts loose – Kaya arches her back, tucking that tight little left uppercut through, and snug-fits it past those mitts again, and AGAIN! Kira punched on her face, a-soaking those shots up...she's all glassy-eyed, staring blanky...she's stumbling to the side, spasm-y, rickety all of a sudden...and she WILTS TO ALL FOURS, the crowd a-roaring!
Kaya struts to corner, hands held high, eyes brimming with punch lust, eyes all saying "I did that!" as she watches Kira punching the canvas, wiping her nose for nonexistent blood, struggling up for a swaying 8 count! Referee lets the fight continue: Kira covers up as Kaya comes forwards, getting in close to throw hooks to the body to drive her opponent backwards. Kira moves alongside the ropes, trying to keep herself from being pinned on them as she slings out jabs to stop Kaya from getting back in tight, a wide-eyed Scodelario in her pursuit. The round comes to a close with Kaya taunting Kira who can only stand there and stare angrily as Kaya looks to be trying to get the youngster out of her focus.
Inside corner: Nadia reminds Kira to keep her head on the task ahead: "Don't let Kaya rile you up, girl! Stay focussed, punch back!"...Kira nods in reply, punching her gloves together to get rid of her frustration.
Round 4:
Kaya understandably looks to build off last round: she dances around Kira, flicking out her jab, looking for an opening to strike from. Scodelario with those pouncing, aggressive attacks…she's pretending to walk back, luring her brunette opponent forward, then pre-empts Kira via flurries of punches to high guard, kick-jumping into her shots, keeping a steady jab, jab, jab pressure on her younger foe, always movin', always touchin' her. Kosarin taking, absorbing, getting pummeled as she's pre-empted, shut out across first minute – Kaya moves across sturdy brunette fronts, picking her shots, fast sprints, wide strides...irritating jab/hook combos from sinewy, bendy torso cover up youngster, sharp right hands penetrate Kira's guard in spots. Lefty hook to body, a swirling overhand right upside head have Kira pushed onto heels, pressing that proud American butt onto ropes: Kaya barrages Kira's gloves via steady left hand pressure.
Emotional, intense tie-ups throughout second, third minute – girls dragging close, whispering insults into each other's ears, until the ref's splitting them up. Mid-round momentum change: Kosarin side-steps Kaya's steady jabs, brushing a gorgeous right hand counter to Brit's shocked face! Kira turns on the jets – a short, brutal left-hand jab/ right hook duo lights up Kaya's face, snapping her head back, backing her girl up across the ring towards ropes. Kaya's pinned behind her guard for remainder of round – Kira stationed in front of her girl, chop-choppin' into Kaya's rack like a fury as Scodelario covers up, slumping under the bombardment.
Bell: girls lingering mid-ring again – some taunts, grimaces, a HEALTHY shove Kira to Kaya – "So going to enjoy knocking you out bytch!" Shots of fighters on respective stools: puffy cheeks, eyes locked across the ring as their corner teams work to clean them up.
Round 5:
Start of the round sees both having success: Kira knocks Kaya to the outside of the ring with steady jabs, blasting explosive headhuntin' rights from her hips – Kaya dipping many shots, hooking back comeback counters. Girls a-blastin' from wide stances: both girls dart in, dart out, spitting short, stubby jabs, battering opposing tummy/breasts with wide roundhouse rights.
Bitter toe-to-toe trade at the minute mark: Kira strong, smacking vicious lefts/rights to Scodelario's temples, just a-bashing away, pummeling her girl into passivity. Kaya groaning, setting her left shoulder towards youngster, back-pedalling – Kira eyes her wilting foe, POUNCES inside with a wild hop, dropping a brutal, jerking right hand deep into Kaya's gut/solarplexus – a sudden hook, Scodelario! Brit rights her torso, just nicely timing Kira's pounce – her short inside hook sneaks up on an unsuspecting, greedy Kosarin, scrubbing every bit of that strong jawline! A strong-legged Kira stumbles forward, tumbling ropeside in a fog – Kaya sets up a gruesome pursuit, pivoting in and out of range, touching her girl up, pik-pakking Kira's chassis as strong American's recovering, her steps still uneasy.
Down the stretch: girls getting on top of each other, top positions alternating as girls twist and shove into ropes. A short inside straight right knocks back Kaya's head, blood starting to run from a cut on the bridge of her nose – a counter right cross from Scodelario also splits Kira's upper lip, blood running down!
Dying moments: both fighters rubbing heads, pounding bodies, still leaning into right hands post-bell before the ref's jumping in – girls nudging, shoving the other away back across ref's arms, their eyes full of hatred for the other as they pass by to get to their corners. Both corners need to patch up their fighters who continue to stare at each other across the ring… these two certainly don't look like they'll ever like each other!
Round 6:
Jabs the main weapon of choice for both as they start this round: Kaya's looking for a way to get at Kira on the inside so she can bully the youngster back. On stepping inside, Kaya's met with a left cross on the side of her head – Kira's following up on that shot, revving into steady, stubby jabs, twisting into sweet hooks out of the bob, swerving Scodelario more and more out of her stances.
Late in the first minute: Kira's spitting another left uppercut that staggers Kaya as the Brit's own right goes sailing. Kaya not taking Kira's weight of shot well – she's setting up more defensive stances throughout second, third minutes: rotating leftward, right hand extended out...Kira rushes alongside her path, swishing a thick palms-down right across Kaya's mouth/face...oh, Kaya's staggered, hunching wobbly-butt! There's that predator mode look in Kira's narrowing eyes – she's drilling straight punches between the older fighter's mitts against a retreating, rattled looking Scodelario. Kaya's back touches ropes, her head knocking back from a stubby jab to mouth, sweat and blood flying into the air. Kaya latches on to clinch – Kira taunting her ("Can feel you weakenin', bytch!") as girls struggle, locked in a tight grasp rocking back and forth, budging no inches until the ref's stepping in to pry them apart.
Down the stretch: Kaya on the move, throwing defensice jabs to keep Kira off of her...American brunette patiently stalking her, keeping that left always a-touchin' Kaya, stepping into full-bodied right hands that have Kaya staggering, leaning out of harm's way. Kira piling it on until the end: a nasty left/right cross combo wobbles Kaya legs just moments before bell, pitchforking Scodelario's torso into ropes, where she's secured by a jumpy ref wrestling inside girls to stop Kira from lashing onto Kaya after bell!
Nods from Nadia for Kira on return to her corner, as team cleans her up: "Kaya's hurt...finish the job, girl!" – Across the ring Kaya's got water poured over her head, blinking back tears...Taryn telling Kaya to get back at Kira: "Bytch's arrogant – punish her for it, girl!"
Round 7:
Kaya comes out still looking on defence as Kira stalks her around the ring, the taller fighter able to pin Kaya's guard up top with straight shots. Kira quickly steps in a-pouncin' when she sees an opening: she's diggin' and chuggin' at Kaya's head/body from strong top position at ropes – a wide, driving right cutting Scodelario upside her left eyebrow, shivering punches landing thud-thud-thud on Brit's jugs, sternum as proud Kaya wilts, blocks, leaning back more and more...she's getting outgunned!
Suddenly, Scodelario SHOOTS hooks from the ropes: short, vicious swipes, expertly timed – Kira's forced to take steps back, almost getting caught by a whizzing hook, twists her head away just in time! Kaya steps off the ropes, hopes to clinch, tugging a big right cross, MISSES her shot, leaves her bod wide open: Kosarin's left uppercut to jugs loosens the brunette's legs, sends her stomping away wobbly-butt, hands low. Kira drags her feet forward, and suddenly LEAPS into a SHATTERING palms-down right hand to Kaya's jawline! Kaya's legs lock up from shot, tumbling into ropes: her eyes roll back – she's going into snooze mode and TOPPLES onto her tummy. Kira's all smiles as she jogs over to her corner to a loud cheer from the crowd, as the ref's starting to count:...1...2...3...4! The only other voice that can be heard is that of Taryn YELLING at a still flat Kaya: "Get the f-ck up, girl!", Taryn's arm angrily slapping the canvas. Count:..5...6...7 – Kaya's eyes start to flicker, her legs, knees doing sad little jerks...she picks her head up from the ring in confusion, her jaw slumping back onto canvas again – she's counted out! Screaming, pounding her chest and throwing taunts at her prone opponent, Kira Kosarin takes the win via KO7!
After:
Kaya Scodelario seems to have found her bogey woman in the ring: Kira Kosarin now holds two victories against her in what is becoming a personal feud for the two women.
Shots from the ring: Kira shouting at a dozy, drowsy Kaya: "I told you I'd knock you out bytch! You'll never beat me", she says, flexing her arms. Taryn yells at Kira, shoving her away to get back to her corner as she passes her with the smelling salts, which she duly passes it under Kaya's nose until Kays stirs, waking entirely. After spitting her gumshield out, Kaya blinks trying to clear her head, but asking Taryn what just happened isn't a sign Taryn wants to see from her girl. While Kaya is helped to stand, she needs the ropes to keep her standing, with Taryn helping to take her gloves off until with Eva's help they all leave the ring. Kira doesn't care a bit as Nadia and her embrace across the ring in their corner, Nadia telling her girl: "That's why they all love you!"
Kaya will surely need to find a way of beating Kira as someday she might need to try to take the bantamweight title off Kosarin. In the ring Kira gets her hand raised by the referee to a loud cheer and she shouts "I love you, guys!" to her fans as she jumps in joy, a miserable Kaya looking scuffed up, hugely disappointed. As she leaves the ring with Nadia beside her, youngster Kira looks like she could become one of the faces of FCBA bantamweight boxing for the next twenty years.