Post by Lookout! Boxing on Jan 25, 2019 22:57:09 GMT -6
KIRA KOSARIN (21 y/o, 5 ft 6, W: 16, L: 7) vs ELIZABETH OLSEN (29 y/o, 5 ft 8, W: 20, L: 16)
Before:
Young Kira Kosarin's upward career – two title shots at age 21, ranked at No. 5 by Boxing World, one of the division's young sensations – not without pushbacks, grudges: full-blown movie actress Elizabeth Olsen – no title shots at 29, now getting full-blown attention as one of three fighters in a stable and Fates Boxing's only bantam – voices her concerns about the Kosarin media hype. "This chick is on Nickelodeon, am I right? Well, it's not Marvel. What I've seen from her is a stocky, compact fighter who loves to get strong at the ropes. Thing is: that's not where I'm going to be. I'm going to be wide out there, showing class and legs WAY past the kid TV level she's bringing to the ring." - Kira won't respond to Olsen's fame game, or does she? "You know, it's pretty weird. I thought why in hell am I fighting Mary Kate and Ashley Olsen, right? They're so small! Then I realized there was another sister I never heard of before. Wow! I get that she's, like, the bad, tuff Olsen, but she's so cute! Cute won't help you in the ring with me."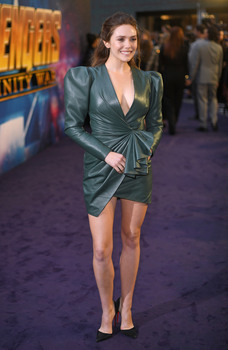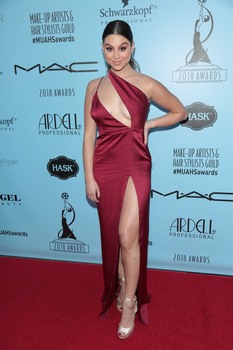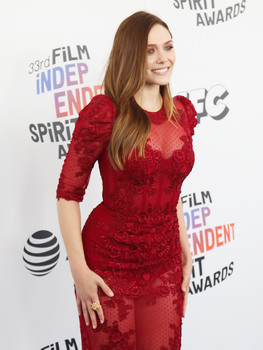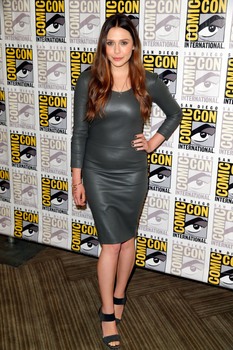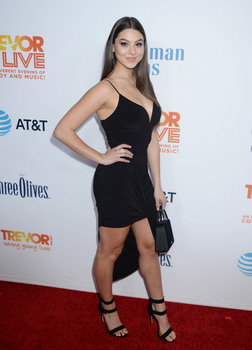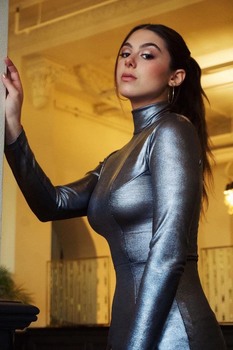 Fight:
R1:
Olsen's jab flickering...she controls the action via lithe, leggy movements, her arms low, loose in whiplash stance, hips pivoting left/right, back/forth, whipping it to Kira on her regular way in. Kosarin forms a compact, tight and covered up posture, trying to walk Lizzie down behind a thumping jab, strong clockwise pressure – Olsen's steady rightward shifts, sudden forward pounces, sneaky feints alternating with rubbery, rangy delivery overwhelm young Kira's planned repertoire throughout first round. Liz – a sly smile on her lips, all slick veteran – controlling the ring on all legs...weight planted left foot, she's swiveling her hips to get into Kira's flanks/tummy in rat-a-tat, whoosh-whoosh style. Kosarin jolting, stumbling around from vicious body shots – she's always forced to correct her faltering stance, just not sticking her power to Lizzie. A loose-limbed Olsen dropping jabs, whipping righties, step-bouncing out – leggy masterclass, Elizabeth Olsen in a shutout first!
Break: corners being sober – Fates Boxing trying to calm down Lizzie's punch lust enthusiasm, Bonzo's Gym trying to get a plan B into Kira's mind.
R2:
Kira emerging more prepared for Lizzie's whirlwind whiplashes...she's bringing her mitts together, sticking a strong jab past Olsen's right shoulder to blonde face, seizing her for the first time, covering up better, her legs bouncing much looser, more proactive this time. Elizabeth still able to turn Kira's flanks, fade most of her aggressive hooks, uppercuts – blonde keeps a lickin' jab on Kosarin's mouth, jawline to set up the whiplash right to flank/tummy/lats. Kira battering inside after a minute despite taking tuff hits to her bod – she's pounce-jumping into Olsen's range from the crouch, erupting into a vicious left-hand swipe across Olsen's mouth. Lizzie's lips part in shock, guard loose, rickety – Kira dips shoulders, digging in uppercuts to solarplexus/hips, sets up a grueling ropeside minute for Olsen. Left hand on Olsen's right shoulder rights the blonde, opens up tummy for a cripplin', rippin' blast – blonde pancaked into ropes! Kira SO dominant from that position, her short vicious jabs repeatedly crushing Olsen flight attempts...only later in the third minute, Elizabeth's finally able to pull Kira's head down, tying up messy, taking more time off clock.
R3:
Girls getting a little bitchy, tossin' punches hot and wild, not budging an INCH of canvas ground – bendy waists and popping hips, lots of jab volumes, feeding punches back and forth, bodies rocking to-and-fro from hot, angry leather. Her weight on lead left foot, Olsen's limber hooks harass Kira's ribs with whipping power, really torquing them home in beautiful, bendy fashion – Kosarin grunting on receipt, startled by abrupt oomph behind these shots. Kira leaning body away, backpedalling to regroup – Liz a-pouncin' at these signs of wilt, digging right back into the same spot, snarling as she stalks a back-steppin' Kira. Sliding her feet, Kosarin slugs back a curvy strong right uppercut – she EATS Liz's earlier right hook-to-chin instead! Olsen stepping into whiplash jabs – thumping impact to Kira's face brings the totter to strong brunette legs! Elizabeth pivots to-and-away from a hurt Kira at will, stalking her ropeside, controlling her rangy via the torquing left, right hands into ribcage – a proud, disbelieving Kira's mostly safe behind her brawny peek-a-boo, eyes showing how she's fuming with frustration...she's marching back all angry buttocks at bell.
R4:
Kira and Lizzie squaring off with left shoulders pointed forward, bobbing and dipping from supple waists, exchanging mostly on the spot – left hands grip, grease jug/tummy past opposing arms, rugged uppercut rights shooting towards head. Lizzie's defense counter-based: gorgeous spinning hooks landing supply inside Kira's waist, rack from any angle...Olsen being leggy, elusive when she wants to. Kira walks forward, establishing her will: she's starting to time Liz's pivots better, landing steady high-volume jabs to do damage via the right: sidearm rights into lats, powerful palms-down right dropping into tummy, clobbering hook to ear. Liz bobbing, sliding in, out...harm done either way across fourth round...just down the stretch, Kira's weight, power finally get traction against sleek Olsen. Double jab leap to Lizzie's face, a thick hook landed across her jugs, a short, numbing uppercut to solarplexus freezing blonde legs – Kira powers late! Spreading feet wide, she's hoisting rights into Olsen's slimmer frame, buns shuddering with effort. Bell: Hook to tummy behind Lizzie's right elbow – Olsen cringing, slumping butt onto a rope cable, face in gloves.
R5:
Bell…Kira hooks a firm lefty into ribs, shoves Olsen back via side-arm – Lizzie slides alongside ropes, hopping out from Kira's aggressive, pawing left – Olsen staying bouncy, right folded at tummy, dropping jabs to Kosarin's guard/neck from above. Short, crisp jab off Liz's shoulder snaps to Kira's right cheek...girls walking into ropes inside clinch, Olsen struggling hard to stay on top, dropping forearms on brunette shoulder, getting physical for the first time. Liz separates, then walks Kosarin into a loose-limbed hook from her bendy hip! Kira's eyes widen, walks forward in earmuff, torso swaying a little – Lizzie bobs at Kira's front, snapping limber hooks to Kira's right flank, left boob, bounces out cute. 
Mid-round mark: Kira tempted into wild rushes, alternating weight on both feet, bobbing forward, wild lefts and rights flickering around a parrying, crouching Elizabeth's head – Lizzie calm, dukes up, blocking on guard, sliding feet backward. Left counter cross TWITCHES off the guard, Liz Olsen...Kira's head getting toggled, torso tilting a little sheepishly on weak stand...hasty backpedalling...Olsen stalks-with, leaning into wide, shattering left-hand blasts upside Kira's temple. Kosarin's butt hits ropes in a fog! Liz in control, finally working on Kira's power: spiteful cuffs to tits, arms pulled down, shoved away, kneejerk rights battering Kira's lats/strong flanks/biceps – nasty stuff. Moments before bell: heads almost touching, girls teetering back and forth inside clinch – Kira sticks butt out, leans her head away, clips Olsen a brutal, swiping uppercut out of odd angle, and it's mugging every bit of Liz Olsen's jaw! Glassy blonde eyes...short, jolt-kicking pirouette...that's a friggin' KNOCKDOWN, Kira Kosarin! Lizzie sat down violently – she's a rickety, confused beauty on her buns, takes a scrambling, floppy six count...she's pretty much saved by the bell as Kira pounds her chest, roaring wild on her way to corner.
R6:
Olsen rallies her legs and bouncy energy, slipping away from Kira's left, still trying to use that snappy wide right hook into Kosarin's tummy flanks from outside. Kira breezy after her knockdown, suddenly carrying swagger...she's bobbing, stalking Lizzie, feet bouncing, fists constantly feinting, opening fire. Lizzie attempts to fade pressure, generally forming defensive stances at this point. Kira in disciplined pursuit, stooping jabs into ribs/tummy, cutting off the ring more and more...Kira's willpower, activity taking action towards ropeside pressure throughout second minute: Olsen's legs paralyzed, punching rhythm battering her onto heels – Kira's chopping hooks to Liz's rack, mid-section. Drum-drum cadences shut down Olsen's defenses: there's the steady, jerking jab-jab into Lizzie's face/guard...Kosarin resets her stance, hooking abruptly, deep into blonde's gut! Liz fights back tears, hides her face in gloves, torso wilting – Kira steps back, then leans back in with a short, vicious overhand right to Olsen's temple/ear that loosens the blonde! Liz collapses ropeside: upper body whiplashing on hips, she stumbles a step left, a step right, losing her balance, then crashes down in another little pirouette! Olsen sits on all fours, grabbing at Kira's legs for support in confusion – ref wrassles inside, ripping the brunette away. Lizzie beats the count! Kira snarling, baring teeth on return: she almost immediately sends Olsen reeling into ropes with a powerful straight-right into gut!
Third minute: Liz's butt on ropes, stooping, eyes glazed, eyelashes fluttering: a short, drifting hook KICKS back her head, toggling it, breaking her down. Kira stationed in front of Olsen with a baseball bat, pulling her devastating hooks across blonde bod left, right, left, right– her short, rhythmic poke unleashes hell on Liz's guard/face. Blonde's guard shabby, loose, no longer protecting her...AND THE REF'S STEPPING IN! Kira shouting in triumph as Lizzie's cradled to safety...that's a TKO6 Kira Kosarin!
After:
Such an explosive, tense battle between blonde and brunette fighters – Olsen proved her leggy, classy credentials, tormenting Kira for long stretches of tonight's bout. Who knows what would have happened in this bout if Kira's offbeat knockdown at the end of round five didn't happen? Only that power shot finally allowed Kosarin to take Liz's legs out of the fight. "Overpowering these other bantam chicks is always so much fun," Kira smirks post-fight. "My uppercut in round 5? That could have knocked out a welter, so kudos to Lizzie, yeah. I just knew she was toast after that, though!"