Post by Lookout! Boxing on Jan 25, 2019 22:28:51 GMT -6
AMANDA RIGHETTI
(Welterweight Champion) (35 y/o, 5 ft 8, W: 87, L: 28) vs
MARY ELIZABETH WINSTEAD
(Lightweight Champion) (34 y/o, 5 ft 8, W: 51, L: 41)
(Light/Welter Superfight)
Results: Lookout!, Writing: Bonzo & Archer
Before:
Face-offs between reigning division champions are not a tradition in the FCBA, but they do have a history: February 2015 saw champions Katy Perry and Bridget Regan squaring off at light and welter for example, with Bridgy Regs coming out on top. In recent times barriers between light and welter have seemed more fluid – both divisions are filled with girls with winning potential at either weight, depending on preferences and luck – there's been tasty confrontations between Kate Upton and Kendall Jenner, there's been Righetti meeting Strahovski, there have been girls like Taylor Hill, Katy Perry and Jennifer Lawrence who've stepped in and out of their divisions.
There's never been doubt about Mary Elizabeth Winstead being championship material (fulfilling the promise in 2009 and 2015), but for a couple of years, Mary's often had to battle the notion of "just" being a sweet chick making life miserable for Yvonne Strahovski. Despite being well-respected for her fearlessness and competitiveness, few would have expected her to outlast youngster models like Lima, Jenner and Sagra during the run of a lightweight tourney, but Mary defied the odds and crowned herself lightweight champion in October 2018 and already has two tuff defenses under her belt versus young, explosive Alexis Ren and former champ Katy Perry.
No doubt it's MEW's natural underdog mentality – well-established once she beat Strahovski three times in a row despite being the supposed dark horse against a supreme Aussie blonde early in their career – that's made her step up to catchweight against Big Red Righetti, although by now any bettor or pundit treating Mary Winstead lightly surely doesn't deserve to stay in business. At six winning fights in a row, she's already broken her previous record and although pundits would be hard pressed to say what's changed about her fighting, there's certainly been a new tuff-as-nails attitude in her recent performances that leaves no doubt that we're currently seeing the
best
MEW she's ever been.
Righetti on the other hand was a pound-for-pound staple for years until a crop of models defied and challenged her status. With her victory over Kate Upton in the December 2018 PPV, she's won her first title in two years again. Like Mary, she's got no shortage of competitive rivals at her weight gearing up to take that title right away from her again. The "superfight" happening now leaves both girls as champions for another month, but there's an endless supply of braggin' rights up for grabs tonight. The action will take place at an agreed catchweight range of 128 to 132 pounds – Mary's not far from her natural lanky strength, while Righetti's coming in lighter than usual.
Interview:
Righetti's now on her sixth run as the FCBA Welterweight Champion, while Mary Elizabeth Winstead's on her third time as the FCBA Lightweight Champion. No need for hype—this truly is a "superfight"—and the excitement level is high for Mary and Amanda as well their huge army of fans.
"Lets face it," Mary says at the pre-fight press podium, "I AM the underdog here. She's the bigger woman and she dominates the welters like I only wish I could the lightweights. Still, I just love a challenge and Amanda is the biggest one I've faced since maybe Charlize Theron back in 2010. I didn't win that fight, but I am lot more experienced than I was back then. If I can do my thing: hang in long enough and take down my opponent, I can pull off the upset. I just want to be able to say I gave it everything I had and gave Amanda here all the fight she could handle."
Amanda smiles: "Actually, I think the pressure's on me. If Mary pulls off the upset—she's get all the cheers and applause as the one who 'Brought Down Big Red'. What do I get? The shame of losing to a lightweight. No offense Mary, but tell me you wouldn't be embarrassed losing to bantam."
"No, but, hey, look at it this way: you'll have been beaten by the Toughest Lightweight Out There. Except maybe my friend Yvonne Strahovski. You really ought to try fighting her some day. Vonnie loves a challenge as much as I do," Mary informed her cheerfully.
"I have met her! But it's one superfight at a time, Mary," Amanda said. "And I am a little surprised you didn't want to might me in a French Maid's costume or something."
"Oh no," Mary says earnestly, "I like a gimmick fight. Okay, I LOVE a gimmick fight, but you're the kind of fighter who is really serious at what she does. Besides the French Maid thing wasn't something I fight in, more something like a Santa-Kini. You ever want to try a Santa-Kini you just let me know. It's really special with me. You ought to try Body Saddle bouts, too. Wouldn't you just love to ride that Kate Upton person? I sure would! Not that fighting you vanilla plain isn't special, too."
"I have to admit the thought of strapping a saddle on Kate is tempting," Amanda said, "but I think I'll just stick to boxing on the beach when I want something different."
Mary sighed: "It's body saddle's loss, but it's up to you." Then she brightened. "I just know we're going to have a classic fight."
"I will certainly do my best to see that it is," Amanda said and offered Mary her hand. Mary shook the offered hand and then hugged the redhead.
"See you there!" Mary said with a smile.
"See you there!" Amanda echoed amiably.
Fight night attire:
Mary's clad in a sunny yellow bikini with black gloves and boots (yellow laces), her bobbed hair loose, but wetted down – Amanda wearing a smoke-black bikini, red boots, hair braided.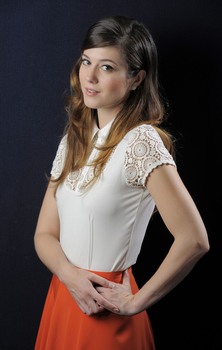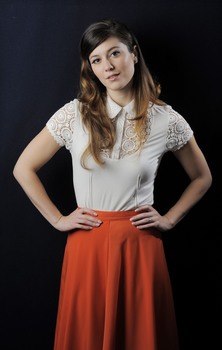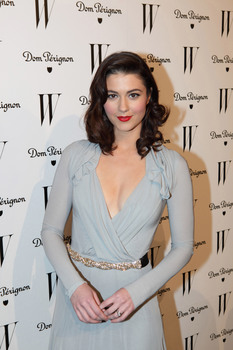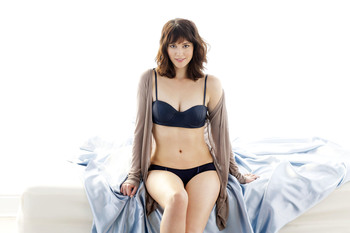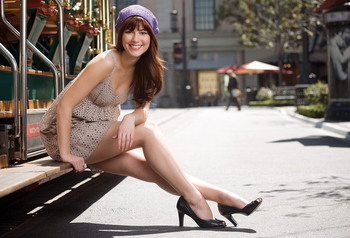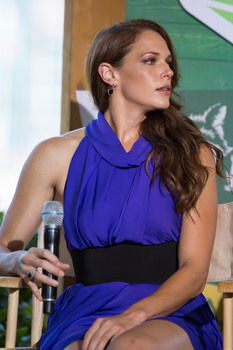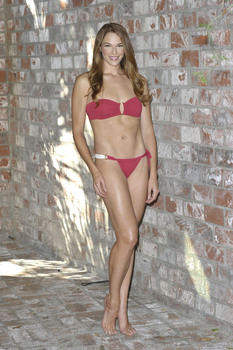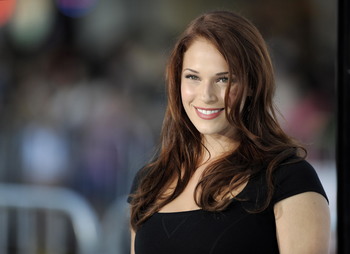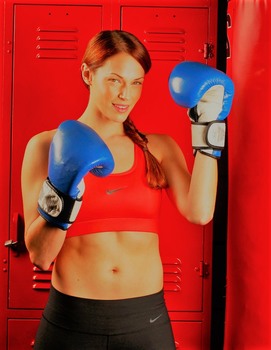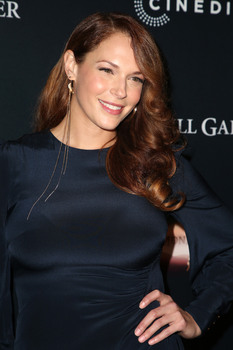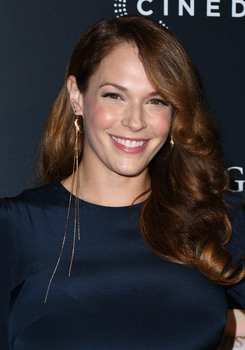 Fight:
R1:
Strong, mobile girls confront each other with similar stances/styles throughout early exchanges – girls circle each other, right hand plugged at mouth, left outstretched and a-pawin'. Righetti trying to get traction behind her jabs/straight-lefts, levelling them right at Mary's rack/shoulders, driving Winstead away from strong mid-ring positions, trying to get her to cover up/stay defensive. Mary duly slides right past the end of Amanda's poking left, assuming a loose-legged, loose-handed stance while changing her positions via fast hops, little sprints. Amanda's feet moving pretty well in pursuit of Winnie up to this point, keeping the pressure up: just shy off the minute-mark, a short rightward tack from Mary – and she penetrates via a clean right gotcha hook over Amanda's left shoulder as Righetti's legs stutter-step, redhead jab misses. Such a spunky shot to Righetti's left ear: snaps her head, covers Rigs up behind mitts back-pedalling to Mary's delighted smirk.
Righetti assumes control throughout most of second and third minute: STRONG-jabbing to MEW's rack preempts more brunette counter-aggression when Amanda moves her feet better, ups the lefty's rhythms, cutting off the ring for mobile, bendy Winstead. No fancy action: when she's anticipating Mary, Amanda's able to dictate range/rhythm via elastic, fast-tempo jabs – powerful bashes poke Winstead's upper torso, rock her guard, digging little hooks catch her tuff to sternum/flanks until Righetti hops out. Brunette at the end of redhead poke, following where Amanda leads her...little half-slides back exploit Mary's counter attacks, walk her into short, brushing left hooks to ear/cheeks.
At bell: girls wiggling inside back and forth near Righetti's turnbuckle, pulling arms down, jostling for top position irregardless of a helpless ref – Mary looking lanky strong here, holding own against her welter opponent, although she's coughing up the first points to Amanda's jab prowess.
R2:
Mary going sassy for second round: staccato speed, variety against Righetti's tidy law-and-order stances. Amanda trying to arrange, control Winstead from tall, mid-ring positions...dukes at chin, she steps into hooks/crosses off her jab, locating brunette to face or chest in textbook pivots. MEW scoot-steps across all of Righetti's right/left flanks, legs darting, cutting in hot-foot fashion: brunette stays safe, but pesky...she's irritating Rigs via taut speed-jabs off her tall palms-out stance, pumping them hot, brush-swipin' them across Righetti's guard/face, whup/whup – depending on her success, she's bunking off the scene of the shot (tacking fast to left, right) or scrounges off with a hort, stiff right hand towards Amanda's jaw. Righetti appearing flat-footed, not pulling in Mary via jabs – highlights: Amanda's face kicking back when Winnie's mitts pound double thru her tightly-grouped gloves to right cheek/ear (late first minute)...her legs sputtering from a dancing jab below her left jawline, flip-flop stumbling in wobbly-butt fashion and momentarily confused where Mary's located, she EATS a tasteful right body cross pancaking her boobs (middle second minute). Round ends to a much more defensive Righetti, moving butt into ropes/turnbuckles, coaxing Mary into clinches/ties-ups to take tempo down.
R3:
Righetti adjusts to Mary's tempo by staying fixed at ropeside positions, waiting for her girl, luring the effervescent MEW into confrontations – a feisty Mary pounces with a walking barrage of speed jabs, short left crosses, right hooks, trying to pound Rigs all the way into ropes. Amanda calm in face of the assault, blocks on her arms/gloves, fitting Winnie cute, bendy-torso uppercuts off-the-ropes.. on connect to jaw, she ties up around MEW's arms/shoulders, walking Winnie back strong-willed to mid-ring. On catch-and-release, Amanda slides back from her positions, smacking Mary upside the head/temple/ear with wide sidearm left crosses, right uppercuts when Mary's hopping into range...she's able to get Winnie's stances shaky this way, won't get brunette to back down from aggressive front, though. Signature scene: Amanda – brawny guard, butt touching cable, torso in pendulum – rides it out in trust of strong legs, stamina: Mary lays it on thiiiicck at ropes! Righetti pinning left shoulder into MEW...brunette angles off her punches viciously, digging in hooks to tummy/back/hips. Mary sharp...pitching right hands to paralyze strong redhead body, hooking the odd left up top to Amanda's face. Late: Righetti uses stubby crosses from earmuff to ease the pressure – a firmly positioned Winstead defends ground...she steps into right hands to Manda's rack, landing a counter jab flush to mouth to a Righetti right before bell...she's got her swaying, foot skidding off canvas!
R4:
Girls slow down, sliding alongside ropes in rotating pursuits of each other – they trade tridy, proper punches. Righetti gets into Mary's midriff/ribcage tuff, clean jabs clipped downward off her left shoulder in counter-clockwise pivots, then steps out fast to the right…Winstead grunting on receipt, answers back short, gritty body hooks to Amanda's flanks, tummy. Girls rotate along textbook lines, leaning into exchanging hooks shot by shot. Righetti's jab establishes power, rhythm: heavy, professional shelling against Mary's guard/face – rangy power thwacks starting to wilt Winnie's stance, put her wobbly-butt, hopping away. Walkdown pressure mounts throughout second minute – Amanda steps-with parellely as MEW's sliding at ropes...short, heavy left uppercuts shove Winstead into ropes, kick head/neck back on impact as Mary's guard's crumbling a bit. Down the stretch: Amanda embedding at Mary's front...she's landing thudding right hands over Mary's lowered left arm into solarplexus/rack, waiting to prevent Winnie's clinching attempts by sliding feet back, coax Mary out of ropes, then pops home the odd, stabilizing jab. Just at sound of bell, Righetti's clubbing Mary's ears at either side with brutal, bashing uppercuts, loosening brunette up for a stumbling walk back into corner.
R5:
Mary ordered to up-tempo again by her corner during break...she forms springy stance, peek-a-boo guard, lock-stepping fast across Amanda's fronts just outside range, shelling elastic, stubby jabs against redhead forward progress. Righetti responds to leggy aspect: she short-jerks a hook behind the right elbow as she's closing, jolting Mary's torso into wince, stopping her legs...she DIGS an extra left hook to brunette bra ledge, shruuugggss the right uppercut into liver region – Winnie's all wobbly-butt, baby-stepping into more harm! Righetti bobbing in retreat, hands loose, leaning her full hips/core into shattering blasts upside head, a left/right uppercut wallop! Mary's legs sputter as she's caught on her way inside: she's finally closing guard, backpedalling. Amanda snarls: elbows inside tight in ultra-athletic stance, she's bending into short, vicious swipes across Winnie's flanks/lower back, then shoves her girl backward by feeding her jabs to the mouth in straight lines. Mary turns on Amanda's side-stepping left, dukes up, retreats, absorbs all round long. Down the stretch: Amanda more or less stabilizes things via supreme footwork, elastic jabs pumping to Mary's guard, plenty of spanks off the brunette's toned bod, in rangy control.
R6:
Girls step out via alternating jabs, pik-pak Amanda, pik-pak Mary...and Amanda BLITZES early! Hopping forward while keeping her left at cheek, she's trying to pin Winstead into ropeside lockups, pounding a thick-ish right hand into Mary's gut as she's closing, bobs on the spot to read Winnie's counters, hooks lanky-wide from the crouch, hoping to land clean to Mary's chin. Amanda imposing will at ropes when weight of shot has Winstead slugged onto heels: girls working in the pocket...Righetti bounces punches off brunette tummy/flanks/elbows, blazing short, jolting uppercuts while MEW leans back in earmuff, sponging up leather to bod to protect her face.
Past mid-round mark: Mary fits back prudent, formidable uppercuts out of the ropes and from her wide-legged crouch...these are solid counters flitting, WHOOOSSSHING across Righetti's face while girls stay in pocket motion. Mary extends her elegant strides, stepping away from Manda's left, intuitively putting her own jab onto Righetti – Winstead steps-right to move redhead feet, then chops a devastating right cross beaut over Amanda's left shoulder as Righetti steps forward to close range...RIIIINNNGIN' shot puts Big Red wobbly-butt! Mary's formidable jab takes over – she's sprucing some nice, precise shots to Righetti's face, her legs cleverly fading Amanda's aggression. Scenes just shy of the bell: MEW positioned off Rigs, MAULING her upside the head, club-clubbing at ears to bash guard open as Amanda wilts, totters, her lips parting in shock.
Rachel Nichols to MEW during break after impressive comeback round (ultimately ruled a draw because Mary's good shots came too late to erase her foe's lead on the cards): "Drop the lightweight attitude, Mary. You're here to cut a big girl down to size."
R7:
Righetti wants Winstead inside the pocket, wants her at the ropes, and she's trading strongly throughout opening exchanges to impose and execute her will – of course, Mary's heart too big not to stay put and slug it out for position! Girls standing with weight on left foot, left shoulder front, pumping jabs, dropping sudden, jolting, hip-powered rights – what a blastin', toe-to-toe exchange! Amanda aggressive, hungry: muscular jabs get her inside, short, powerful hooks/crosses on either side have Winnie back-pedalling in groan, frowning.
Pretty alert defensive work from lightweight champion: Mary slugging-with inside pocket, her torso rolling with punches – Amanda generelly more active, hungrier throughout these scenes, especially across Mary's flanks/ribs...Mary's effortless short right-hand swipes clobbering Amanda's ears/guard/skull as girls lean back-and-forth...brunette a dangerous counter-puncher. Winstead not shying away from the odd fast getaway, too, bobbing away from ropes in lockstep right out from under Righetti's nose, so girls must reset stances. Some of Righetti's ropeside pressure compensated by Winstead's leggy, sneaky range work...Mary takes time to adjust to Amanda's aggression, dancing on her feet, pulling away from pounding rights to ribcage, these swift, angled hooks in pursuit of her. Legs, heart carrying Mary throughout seventh round – Amanda seals her points late, using stubby jabs to time a jerking hook upside Winnie's head, then drops a pulverizing left uppercut into her rack, backing Mary off her stance.
R8:
Girls both a little drained, slowing down after seven rounds of grueling superfight action between two strong division champions – stances, styles staying mostly the same for three long, bone-grinding minutes of attrition warfare. Lots of interchanging jab/hook, jab/jab, jab/right hand combinations to break will..one girl walking forward, the other blocking poke on guard in circling retreats...exhausting turnaround...turnaround. Girls spend time in clinches...just a-grindin' their weight forward in these scenes, bodies rubbing hot against each other, fists jolting, sweat flying, eyes closing in pain from body shots...action pretty much stopping when girls are all locked up, heads leaning past opposing shoulders, strong bodies stumbling around in a hot huddle of flesh. Winstead chasing a presumed deficit on the cards, frustrated – she's matching Righetti for poke across the round, but can't get past redhead's hopping, jerking jabs...Amanda pretty aggressive in her clinch attempts, pulling Mary's arms down, embracing shoulders, mid-section, quenching MEW's fire. Late mayhem not ripping momentum one way in decisive fashion: a right feint from Righetti allows her to step in via a guard-splitting lefty hook that has Winstead blinking eyes, backpedalling – Mary rolls a wide Righetti jab for a chop-chop cross answer on the jawline, parting Manda's lips in shock!
Sweet Winstead angry throughout break, frustrated, scowling with her team – she hasn't won a full round since the third tonight. Nichols: "Stay alert, Mary, stay hungry. The ninth and tenth will be yours. You're fresh, girl. Sock it to her!" - Righetti's corner: "Routine this chick now with your power."
R9:
Amanda trying to control things via rangy jabs, hoppin', steppin' out...Mary intrudes space, encroaching ever closer on bobbin', bouncin' legs throughout early pursuits during first minute, her feint-punching activity's got Righetti covering up, pedalling, circling out counter-clockwise. Shy of a ropeside stretch, girls almost simultaneously lean into blunt right hands early second minute: Mary's right foot skids off canvas under impact of blast...crashing connect upon Amanda's head – while Amanda's blink-of-an-eye-late right hand sails past Winstead's neck! Righetti's suddenly all whiplash-y, vulnerable – Mary effervescent, eyes darting across her prey, stabilizing Rigs via ripping tummy hooks either flank, then striking out a powerful right uppercut between redhead mitts. Winstead digging in hard, brutal, working from the crouch: an overhand right bounces off Amanda's forehead, a lefty cross chops the pretty redhead's right eye! Righetti groans, hands loosely placed, trying to walk out...she's punched all wobbly-butt, falling into a confused clinch. A feisty Mary takes over – fast, bottom-up jabs get her into close range after break, penetrating.
Righetti's legs save her...but for the first time tonight, she's a busted up beauty, right eye swelling, not recovered from Mary's bombs. Winstead bullies, dominating off Amanda's chest pretty much all round long from there – pushin' and a-shovin', she's stacking her girl up, landing another fierce, drifting left uppercut between Amanda's gloves before the bell that sends a glassy-eyed, tottering Righetti on her way to corner. What a comeback, Mary Elizabeth Winstead!
R10:
Mary tasting blood – sleek bobs, a rolling torso past Amanda's setpiece jabs gets her close almost immediately. Once there: her right hand placed near eye level across her face, she's sinking a brutal straight left inside Righetti's gut – draining belly shot has Big Rigs gasping, dropping left hand to tummy, lips parted. Winstead shifts torso to bring her left shoulder forward, leans into a wide, strapping right, blasting Amanda's left ear, really torquing Righetti's skull into unhinge! Big Righetti sits her butt in ropes, staring into harm, her peek-a-boo guard leaving open gaps. Mary combining slinky elegance with relentless brutality now...she steps in and out of the zone like a cat timing pounces on her prey and regularly finds Amanda's jawline with good, THUMPING uppercut power. Righetti's strong legs slide out to the right alongside ropes, her upper body teetering back and forth on increasingly paralyzed hips – Winstead lock-steps her path, eyes wide open, hungry: she shrugs a short jug uppercut to falter Amanda, torques a sudden LEFT HOOK TO THE TEETH and SHOVELS a right hand to the jaw, double impact!
Nasty head snap, Amanda – she folds up off ropes, nose-diving onto her tummy almost immediately...loud thud, mouth on canvas, arms trapped! Ref ruuuuusssshhheees in, stumbles Mary off Amanda's prone bod – Winstead blinks back tears of triumph, raising her arms in victory on her way to corner. But Righetti's not done! Amanda groans, rolls from belly onto back, staring up in confusion, false-starting attempts to heave her upper body (3…4...)...she makes it on her third try, struggles onto haunches, her lashes fluttering (5…6...). She's up a knee now at the ropes and BEATS THE COUNT! Ref checking to see if redhead's alert, eyes attentive – he rules her good to go. Mary not realizing this at first, still convinced Amanda's out until Rachel Nichols yells her to turn around – girls stumble back into the fray, almost one and a half minutes to go.
Righetti: her stance static, legs jammed, but she's defending herself, matching back straight-jabs to Winnie's poke...some strong, solid blocks against brunette rushes. Fight still happening on Winstead's terms/tempo until now: Mary misses a lefty hook, eats a jab to mouth, takes a pedal backward to regroup. Girls circle close: right hands, RIGHT HANDS! Both land 'em, but MARY steps out of it in swoon, step-sputtering to the right. Righetti slow to follow, still sets up pursuit – she lands a strong jab to eyebrow, a left hook to teeth. MARY SITS DOWN! Swooshing power of Amanda's hook folds Winstead's face into gloves, trip-tumbling her onto all fours in delay. Mary panting in shock, tummy sucking air in and out, hair sweaty and obscuring her face...counter knockdown takes that just hard-earned advantage away from her again...heartbreaking!
Winstead beats the count a frustrated beauty, wades back in grim, sullen-faced fashion: first scenes between Mary and Amanda all about canvas ground, momentum – strong torsos shifting, pushin', pushin' against each other, straights bashing inside opposing tummy/rack meat. Third minute, after separation: a monster uppercut from Mary's hips/core – Righetti's head quip-whips away from the incoming punch, clipping Winstead a short, straight counter jab to eyebrows while leaning back. Mary see-sawing, faltering, her face slumping into gloves – she's sliding out to back right, her left arm outstretched. Amanda: long jab soaks thru mitts, a smooth right detonates – Mary's head kicking back from that shot again! Mary's glassy-eyed, dazed, right across her face, left dangling uselessly at tummy – Amanda shrugs left uppercuts to brunette jugs, then drifts another straight right to Mary's face.
Winstead slumps into ropes from the shot, eyelashes fluttering dramatically, her upper body cowering from punches, both fists now drowsily curled across her face...she's helpless! A Righetti right hand chomps Mary's left ear, boom – and the ref's stepping in fast! Mary sinks into his arms as Amanda screams out "yes" before turning around in triumph. A gripping battle of champions all night long, but that tenth round was just pure drama – in the end, girls trade knockdowns and welterweight champion Amanda Righetti takes the TKO10!
After:
No bad blood between classy, veteran fighters – the moment the fight's been stopped, Righetti's ready to check whether Mary's all right, helping her into Rachel Nichols' arms – girls spend most of post-fight action in the ring chatting and hugging. Ten-round battle evidence of each fighter's respective strengths: Mary's lanky power held up well against a welter big girl, her mobility establishing advantages – Amanda featured great, jab-based grinding power, many awesome ropeside scenes.
"Wow, those were some two final rounds," Amanda admits with a sheepish smile. "I've never underestimated Mary's power, but I was really able to evade it pretty well and establish my own fight, especially up to the ninth, and then she kinda got me for a nasty surprise. I'm glad I found an answer, though, and I'm extremely proud to come out on top in this battle of champions, because I really have the greatest respect for Mary as a person and as a fighter." - "Thanks, Manda," Mary grins. "I live for challenges like this, but I'm still glad Amanda's not fighting in my division! I almost had her ready to go, though."
Asked about their plans for the upcoming anniversary event, Mary says: "Well, I've pretty much got a date set up with Adrianne Palicki. I knocked her out in the first round when we first met, and since she's such a chin checker herself, I hope I can achieve it again." - "Well," Amanda says. "We're still in discussions about my first defense, but yeah, it's probably going to be a supermodel, right?"