Post by Lookout! Boxing on Dec 28, 2018 22:23:25 GMT -6
AMANDA RIGHETTI (35 y/o, 5 ft 8, W: 86, L: 28) vs KATE UPTON (Welterweight Champion, 3 Defenses) (26 y/o, 5 ft 10, W: 54, L: 17)
(Welterweight Title)
(Words: Bonzo / Results: Lookout!)
Before:
Righetti vs Upton has become a signature rivalry of the current welterweight division: although Kate's just nine years younger, she's the posterchild of a new generation revolting against the old guard. Arguaby, Righetti's become the only representative of the group of fighters that used to dominate the welter division just half a decade ago that's still a constant title threat – Bridget Regan's suffered a series of devastating defeats including against Righetti herself while others like Cassidy Freeman have struggled to find success, let alone seen regular action against the supermodel craze that's been hitting the league for the last couple of years.
Upton's rise from a JMD slugger has been well-documented – she's no longer dependant on shock-blaze right hands, or, God beware, lucky punches...no, the Kate Upton of 2018 is a fighter looking tp
dominate
: rivalries, opponents, complete fights, all rounds long. Needless to say, some of Upton's breakthrough has certainly come at the expense of five-time champion Righetti, including two flashing knockouts in 2016 and 2017 title fights. Kate's 2018 has been a grand success: marred only by losses to Jenner and Righetti (taking the BBU aside), then crowned by claiming the title against a very dominant Tahnee Atkinson.
Nevertheless, Kate and Amanda's latest May 2018 bout has seen perhaps a slight change in the dynamic between these two welter flagship fighters. After losses to Upton and other models like Hannah Ferguson and Tahnee Atkinson, Righetti needed a statement win against the new guard's elite (that seems to have stayed limited to Kate, Tahnee and Hannah across the year as Karlie Kloss, Hilary Rhoda and Bo Krsmanovic struggled, even though Brooklyn Decker's now knocking at these doors mightily). After her KO5 win over Upton in May, the rest of Righetti's 2018 was stunning – it saw her beat Yvonne Strahovski in a division-spanning pound-for-pound battle, deny youngsters like Taylor Hill and Bo Krsmanovic and even get some late vindication against long-term thorn Bridget Regan. At this point, the welter super fight of Upton/Righetti V has arguably become a slightly more "normal" big-girl battle – for the title and temporary supremacy – instead of the "Doomsday" battle that happened in May.
Needless to say, that hasn't stopped our competitors from pulling out all the stops in their pre-fight taunt talks that has seen mentions of T-Rex, jug-outs and total destruction. Here's what they have to say on the evening of the battle:
"After my two losses, Kate's ego's gotten pretty big",
Amanda
says. "That's why last time I had to prove that I'm not a legend easily toppled. And I did that in pretty dominant fashion. Of course, now's real crunch time. I came up short in my last two title shots, and to me, that's just an unacceptable performance. Of all the models, Kate's already the most experienced and probably the most complete fighter of them. All that makes every new fight with her more dangerous than the last one, but, yeah, I think there are lot of holes to exploit in Kate's game. And I'm gonna throw a fist through every single one of them, until I'm the champ again. Order will be restored."
– Defending champion
Kate Upton
, now in her fourth defense after denying Kloss, McKinney and Lawrence, thinks she's got all the answers, though:
"I'm willing to accept that dismantling Amanda Righetti's myth is not a short-term project. But I'm getting close and I'm being patient. I'm 26. I'm punching a harder punch than she's ever done. I'm taller and leggier. I can be sly, mean and sneaky in the ring. I'm not saying she'll just disappear, but after tonight, headline days might already be over for Little Miss Red. She'll be one of this crop of old fighters trying to fetch back former glory. At that point she can only watch what the Goddess and all these wannabee models who came in my wake are achieving at the top. She can reminisce about her past and watch me build up a legend that's going to make her career look like the best girl on Amateur Hour."
As an extra, tonight's bout will see legendary fighters and co-commentators
Ali Landry and Rebecca Romijn
sharing their analysis of the action in between rounds.
Prediction time
– Rebecca: "I think Kate's just too young, strong and confident at this point. She's a like a young Charlize Theron, with big thighs and jugs. She's also a wonder of confidence and she's in possession of the necessary stamina at this point. Her right hand will surely keep rocking Righetti's world all night long. I just don't see Amanda making it into the second half with all that firepower, to be honest. For me, it's Upton via a splashing right-hand knockout, pretty early actually, that'll leave Amanda all stunned and helpless. I'm getting all giggly excited to see that."
– Ali responds: "Amanda's jab is still the most educated, most dangerous weapon in the game. I see some scares for her tonight, because Kate's a committed puncher, but it won't be more than just scares. Once Righetti sets up her grinding, devastating body work on Kate, we'll slowly see Upton's stamina and confidence disintegrating bit by bit. For me, it's definitely Righetti with a late TKO, maybe a decision win."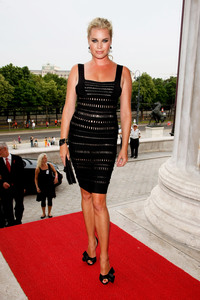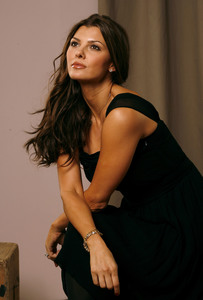 Fight night attire:
Righetti's clad in an athletic red sports bra, with black hot pants, her reddish hair woven into two, long braids at either side – Kate's wearing ultra-tight white boxing trunks, cut off just past her crotch (it says "Look out for the QUEEN" on the back), plus an ultra-small white sports bra with A LOT of cleavage bulging out.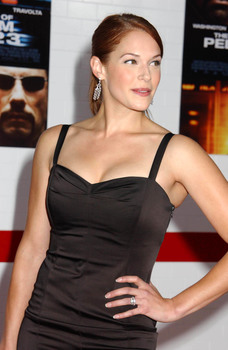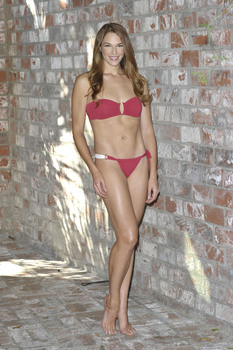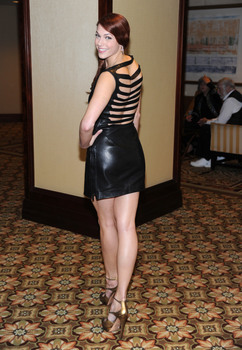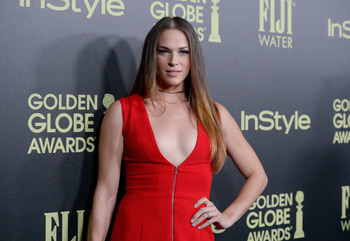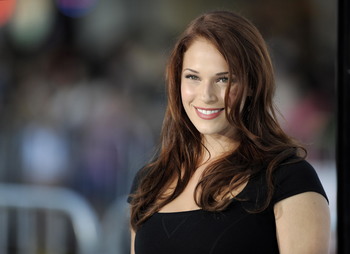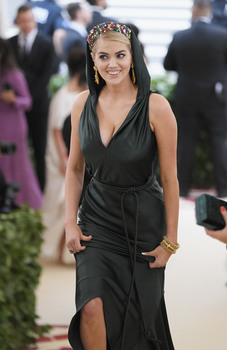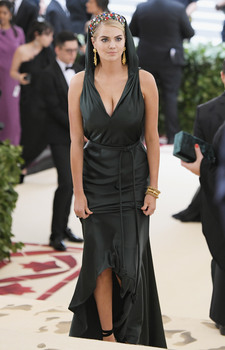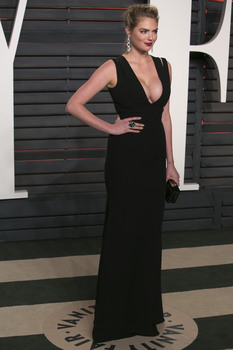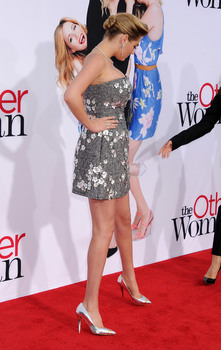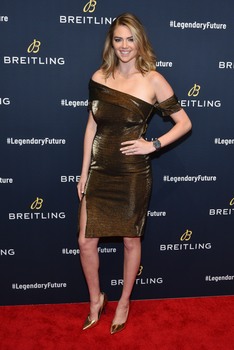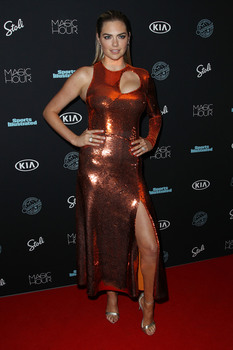 Fight:
R1:
Wild aggression meeting calm, precise composure in early exchanges that open this battle...Amanda's orderly set-ups – hop, hop, double straight jabs, leftside pivots across Upton's flank in clockwise fashion to apply walking pressure, use mid-tempo leggy control over the ring – get confronted from the get-go with Kate's pulsating, overwhelming punchwork. Kate committing with obvious FAT confidence in spots: the left's constantly paw-pawing at Manda's guard/head/right flank, keeping her busy, alert, the right hands pouring in wild-ish, swingin' free in moments. Good shots, looks for Kate throughout these stand-offs: the righty (faster, busier than Righetti's jabs) keeps coming in wide, strong, clearly and uncompromisingly aimed at redhead jawline when blonde's leaning forward, stepping into her punches. Buffetting work hits Righetti's guard, and later her body, too – Amanda's forced to step out of harm's way to absorb or avoid, keeping her dukes tightly up while her elbows stay tucked in.
During these leggy stalk-outs across the ring, Righetti will lean in via her strong lefts, too, jabbing Kate to her proud rack with plenty of authority, but we mostly see many shots of 'Manda's head hurtling away from Kate's right-hand wallop. Those righties drive Righetti into retreats: gorgeous thumbside-up straights really THUD Amanda's strong lats, flanks. Down the stretch: Kate finding her combinations now – left, left, right battering into Righetti's guard, the short lefty hook up top/straight righty into ribs driving Rigs back with blonde ooomph – Manda looking brawny in receipt all round long as she takes 'em and absorbs, but that double hook gets to her, sees her stumbling ropeside, strong torso wobbled off her stance for the first time as a snarling Kate steps-with, tucking in another thumpin' short palms-down straight in Amanda's ribs while staying alert via the left for Righetti's short, straight-left counters.
Becky Romijn at bell: "I think a lot of the reasons why Kate's dominated welterweight the last couple of years have been on display here. She's wilder than Righetti, but she ain't reckless. She's explosive, but there's clearly a plan here. If Righetti keeps allowing Kate to bring her right hand in at her own will, she'll kiss canvas very soon." - Ali: "I'm not concerned here at all. Everybody expected Kate to go out with her jugs and hands a-blazin'. She won't back up Rigs like this for long once Amanda find her jab range."
R2:
Righetti adjusts to Kate's aggression early in the second round: pivoting leftward around center ring-canvas, she's taking little steps or just feints backwards, alternating her weight left and right, bringing more motion into her torso while creating angles for her jabwork. Upton's still backing her up early, swinging mighty via wide overhand hooks, sloppy right hands – Amanda's stop-and-go motions, those stubby jabs she's working, catch the champ off-rhythm instead, shift blonde's rack into more and more solid, thumping contact with Righetti's sturdy lefts, chup-chup into Upton's bra ledge, baiting Kate into harm.
Kate lock-steps to her right while keeping Righetti outta range via long-armed lefts, trying to walk her foe into one of her swattin' right hands pulled from the hip. Righetti not reckless, but belligerent with the double jab, pick-pokin' these punches from a high guard/palms-out stance, mobile on her feet, chugging some nice punch combinations across Upton's solar-plexus/chest along the way as girls dart, pivot around the ring in mid-range confrontations, with Righetti much more mobile, leggy than in round one. Kate's strong, aggressive stances get progressively disorganized by Amanda's rhythm, power in spots across the round – the fierce poke towards her eyes/cheeks is clearly scrubbin' some of Kate's right-hand zest here.
Round proceeding: late second minute – Righetti's debuting the right hand now, extending it straight, fully committed for its first instances tonight. Slashin' right straight thru the middle finally couples on Upton's jawline...Kate's a little startled on impact, stumbling backward against her will, fists curled in high, safe-ish guard stance, eyes wide. More initiative from 'Manda down the stretch: short, stiff jabs-to-mouth split Kate's mitts, open up Kate's bod for a shovel-pit righty into blonde's gut/tummy...Rigs using her forearm to prop-shove a shuddering Upton into the ropes just before bell, all bossy, show-off-y.
Ali's happy about round two: "Lovin' Amanda's spunk here. She's willing to go straight to Kate's rack tonight, pound out those famed jugs." - "I'm waiting for Kate's response to this behaviour", Becky announces with a confident smile.
R3:
Opposing styles, game plans materializing after opening rounds split one-one...Righetti's set-up still more orderly, professional, mostly based on leggy pivots across Kate's right flank, making blonde her feet move via darting, rising jabs to the bod and righties in between Kate's mitts, the occasional hook across the blonde's arms/biceps, or a thick, swooping body uppercut in behind her lats – Upton's trying to interrupt this rhythm via power and aggression, and her success boils down to how well she can do this at any point of the action. Early exchanges go Righetti's way: hard jabs into chest cut off Kate's advances, force blonde into peek-a-boo stances, her elbows clasped to protect those proud jugs, hop-lock-steppin' away from Amanda's left flank/jabs.
Righetti's head, torso keep bobbing/rolling against the incoming, wildly PLOWIN' right hands from Kate's lap, extending out of their trajectory in time while dictating action to ropeside swathes behind the jab. Highlight: Amanda SITTING Kate into ropes via curling left-hook pressure, one-two-three bashes against right side of Kate's head, making her skull all a-shuddering...blonde champion relaxes back into ropes in hurt! Some good, bruisin' shots from Amanda diggin' into Kate's paunch/waistline follow...she's always bringing her mitts back together at the cheeks, stabilizing Kate via left shoulder bumps/shoves, then keeps digging back inside Kate's body.
Mid-round, things don't stay fun for Righetti: there's the SNUG, tight-ish little uppercut (left hand) from Kate! Upton finally finds her power again, jerking the uppercut upward, nicely splittin' it between `Manda's mitts, canting redhead skull back. Oh, Righetti's wobbly-butt on the spot!
Amanda's curvy, strong legs carry her out of ropeside siege, but she's legging it – Kate snarls, staying aggressive, stepping into Rigs mid-ring fast via a hard-right cross, bouncing thick off Amanda's left cheek, loosening her head. Kate stalks a totter-tottering Righetti now...Big Rigs hits ropes in a haze, stabilizing her buttocks/back against cables while Upton's digging in in payback mode now. Late stretch of round: Righetti's back's off-ropes, she's rolling in the pocket, her hands curled around the face, but she's getting pinned down all big-girl by Kate's commanding weight/jugs, with the blonde using her left shoulder/elbow to keep her foe tacked down in the cables. Bruising, chup-chup-CHOP body work across the hips, mid-section, lats...Amanda's face-in-her-gloves, stoopin' and shudderin', staring into the harm, trying to ride things out.
"That's friggin' more like it, folks!", Rebecca yells loud. "Let's not forget that Kate's a couple inches taller, maybe a little bit all around t-h-i-c-k-e-r than Mandy. She's one of the few girls who can really move Righetti's body around, get a bod on her. Lovin' it, Ali." - "They aren't carpet-wrestling in a hotel room, though" Ali huffs. "And this round was a draw, Becks."
R4:
Good moments for Righetti open the fourth round in some flat-footed exchanges (mid-ring) of left-hand hooks/jab poke from sturdy right-high-at-cheek stances – it's the accuracy of Amanda's curled lefty hook across Kate's hips/flanks, plus the devastation of some temple jab-jabs that sees Rigs stabilize her own center position, get Kate movin' reluctantly. Thick, walloping right BASHES Upton's left shoulder...short, drifting hook-to-cheek, the odd bump (shoulder leaning forward) – it's Kate's time in the ropes, shuttling with her back in the cables, momentarily earmuffed in defense. Blastin' right haymakers (Kate!) move the action away from ropes eventually...girls resettle late in the first min, stalking each other step-a-step in clockwise, counter-clockwise fashions.
Righetti hoppin', bobbin' on the spot...Kate's long arms getting into in play now, batting (bashing) away nicely across Amanda's waist/flanklines with quick-twitching, got-ya attacks (hooks, short body crosses) when girls move in circles. Upton gambling a little on these quick wide-attacks shots, but it works out for her...she's stepping on the gas, out-tempoing Righetti throughout some pivoting exchanges, staying alert outside receiving counterwork while Righetti's usually a step or turn late.
Upton's poke particularly effective about Amanda's lower back/hips...she's getting in there snug-ish via short, choppin' rights, hoping Righetti re-stacks her hands so she can ring `er the odd uppercut up top – Amanda's clearly having difficulty anticipating, let alone doing something about Kate's range management during these shots, just not handling her blonde via own jabs as dynamically any more – she's getting punished as girls step, pivot around, hands getting tucked in earmuff more and more. Upton so PLEASED with the result of her body work, being strong, assertive now – she's edging her shoulder forward as she moves, bumping `Manda back, leaning forward into long, fully extended left uppercuts, bashing Righetti's skull/guard with oomph.
Kate's confident enough to bring in her jabs now, alternating it for nice, ringin' poke up top, and plenty of rights (hooks, crosses, uppercuts) into challenger's bod (hips, flanks her favourite target across second minute). Physicality, power of Kate's work's getting Big Rigs puffing, grimacing, legs slowing in retreat...she ain't used to not being able to hold her ground throughout these regular exchanges.
Third minute's all about Kate's pay-off: a rare Righetti jug-counter gets hooked-with, PICKS up Amanda's chin in majestic fashion...she's a-staggering away, unable to right her body immediately, now stooping forward off her mitts. Kate closes in, then reaches under Amanda's arms, bodying up, walking her girl around – just before/after separation, Upton's making redhead take solid cuffs/shoves/bumps into a grimacing Righetti's ribcage, rack, as `Manda blubbers protest. And there's the gorgeous right hook, Kate Upton!, landing upside Amanda's left jawline...Righetti's mitts split on impact, her head lolling for a moment before she's able to close her gloves again, stumbling into more harm, her face yet again in gloves.
Down the stretch, Amanda's stooped butt-on-rope, her torso sadly dipping from side to side...there's Kate in front of her DIGGIN' in from side to side, thumping them shruggin' uppercuts to challenger's strong biceps/arms, plowing in righties into Amanda's tummy/solar-plexus as she's stabilizing her girl up top by wrapping up her right arm tight, leaning her head across her foe's right shoulder.
Slow-motion shots on the big screen during break: Righetti closing eyes, mouth opening into little shouts of hurt, shock after Kate's right gets into her rack tuff, her body literally sagging back on impact – Romijn wants it replayed twice. "This is exactly what needs to happen in this fight", Rebecca announces, all giggly and pleased. "See that shot of 'Manda – you're seeing a proud woman meeting her physical match. Don't leave to order any drinks now, Ali, things could get explosive very soon."
R5:
Girls circle into mid-ring, pawing out lefts to find range, then step 'n extend arms into shelling...Kate's jabbing so hard to Amanda's chest that she's getting Righetti's respect immediately – Amanda's actually faltering off her sturdy stance, sashaying away from Kate's explosive, twitching left, skipping leftward, holing up in ropeside sieges with her elbows tight at ribs, in earmuff guard. Kate goes bump-and-slug: she's being robust, vicious when using her forearms/shoulders to prop up her redhead challenger at the cables, then socking Righetti's waistline/arms/ribs either side/either hand, getting into a stunning, pummeling rhythm. Righetti: eyes wide, mouth open, absorbing shellack – she's still rolling with the punches in the pocket, feinting out the left to counter, but no doubt she's getting outrun, overpowered by a lustful, powerful Kate Upton offense.
Second minute: siege in different corners, different ropes, same image. Good God, the images: Kate's jugs bouncing up and down from punching impacts, her strong buttocks trembling with effort...blonde's punch lust seething as she's processing her foe. One minute and a half in: Kate's starting to tear apart and split open Righetti's guard – Amanda's dukes-up, but dangerously loose! Blonde leaning into devastating uppercuts at ropes now...she's sucking a left hand beaut between Righetti's mitts to the JAW, then snakes another one past her mitt to redhead's right ear, chop! Kate leans back, then works the straight right uppercut beneath Righetti's jaw, jerking it past loosely held gloves AGAIN...`Manda's head kicks back across the top rope, then her body's bouncing back from ropes all lightly, unhinged, DROPPING her to all fours!
Kate taking steps away from the rubble when ref's moving in between her and a devastated Amanda – while Righetti's struggling, her torso swaying, braided hair all sweaty and moist, trying to prop up on her forearms, Kate's arrived in her own corner, arms cheering out wide, screaming into the audience while violently nodding her head in told-ya style...blonde's pumped up and on fire! When Kate's jogging back, RIGHETTI ALREADY TAKES THE 8! Redhead's a stricken sight after beating the count...she duly forms her earmuff guard, props up her butt/back on respective ropes and ties up whenever she friggin' can.
Kate's getting back into Big Rigs viciously via straight lefts to tits, straight rights to guard, but always reverts into a standard stance and guard (this ain't JMD Kate 2014!)...while a swooning Righetti slides alongside the ropes in spluttering fashion. `Manda's getting stacked up again and again, processed, her eyes showing moist shock at this kind of treatment – mostly she's there hanging all loose-limbed around Kate's brawny neck/shoulders during her tie-ups, her body jerking from those ricocheting rights-into-tummy. Amanda mindlessly forcing more tie-ups, pawing her hands forward, leaning weight into Kate just to stall advance...oh, she's a sniveling beauty, hugging her ribs on her staggering way to corner at bell, one eye brutally swelling.
"I'm surprised Righetti's corner ain't throwing in the towel right here and now," a triumphant Becky announces as the camera team with Becks and Ali moves up towards Righetti's corner, footage below from first row showing Amanda swooning back into turnbuckle, eyes closed as team works on her. "Kate's taking Righetti's jab out of this fight! Wow, I haven't seen her this helpless since Bridget Regan in 2011. Get the champagne ready for a title defense party, Ali!", Becky smiles. – "I agree this is critical territory," Ali says, her face solemn. "Amanda's physical and psychological stamina is legendary, though. If anybody could get back from the brink here, it's her. If I was Kate, I'd be very concerned if Amanda won't stay down next round...then all bets are off."
R6:
Siege in Righetti's corner! Kate out of the gates at bell a-blazin' with long, wide, confident strides, setting up clockwise jabs across Amanda's rack/guard, trying to drive redhead backward with authority. `Manda negotiating, back-pedalling into ropeside locations, stabilizing, luring Upton into a strong siege position – with her right hand almost positioned at the temple, she's finally using a short, stubby jab left to do something about Kate's pocket aggression. Upton's body work grueling, but she's staying pro: there's Kate bobbin' on the spot, bringin' her mitts together after punchin', still bruising across Righetti's lower back/hips/flanks. Kate's too close in spots, though, suddenly catching thumping jab-counters straight from Amanda's left shoulder – first minute sees some good shots from a besieged Righetti, mostly angled lefty hooks, strong crosses (to skullside), straight jabs (to Kate's jugs) or straight palms-down rights (to Kate's mouth/cheeks).
Righetti's mostly staying butt-in-ropes, sliding across various ropeside stances, her legs still wobbly-butt, but that effective counter work deters Kate from stacking up or processing her body. Upton's taking too many hits for such an offensive set-up, so she's forced to lean back, shuffle her torso side-to-side, yet keeps the pressure up with wide, extending into bashing left/right crosses, forcing Righetti to parry, slip, block via forearms/gloves to prevent another siege. A flat-footed Rigs rope-a-dopes the impact of punches, then finally proving those curvy legs as the action moves from turnbuckles/cables to mid-ring scenes after early siege exchanges – now Amanda Righetti's suddenly putting together two and a half solid minutes of jab/range boxing!
Backpedalling and working from retreat, she's spreading out Kate via the jab, calmly stepping around her blonde foe in leftside pivots, jolting her poke at Kate's heaving jugs, catching her on the mouth repeatedly. Upton – eyes aghast, HATING this – takes long to adjust...she's mostly out of range, trying to get close again via sprawling left haymakers, wild-ish right uppercuts, yet ends up walking into jabs/poke, unable to get a bod or a good punching angle on Amanda again.
Back at ringside, Rebecca Romijn's getting angry: "Kate's being a wuss here. Righetti's obviously damaged goods. One blazing right hand should do the trick – that jaw is all glass now." - "It's called class, Becks", Ali chirps in. "I don't know how Amanda's doing this but it's friggin' amazing. It's like she has just dished out this glass of water over Kate's blazing fire. This is a battle again."
R7:
Girls in flat-footed aspect, yet taking leggy turns/pivots when necessary, big-girls strong/sturdy, but mobile – Righetti's not yet her former self, with those curvy legs still coming across a little sluggish during her bobbin', weavin', but she's backing Kate up here via the double jab, the one-two combinations, walking forward again past Upton's flanks. Kate defiant of the fight changing momentum, but she's unfit to find a prescription to the problem right now, keeping a dangerously loosely-placed guard, hands staying in motion a couple inches off her face, looking to get off big, get a thick punch on Righetti...Amanda's concise double-jab followed by a rappin' right hand kissing smoothly off blonde chin – whup, whup – falters Kate, staggers her ropeside!
Big girls in the pocket, shoulder to shoulder: Righetti now positioned atop, her head lowered, elbows inside, bobbin' up/down and left/right to rip them short, drubbing body hooks across Kate's toned flanks/tits, tagging that strong bod – we see Kate draping her long arms around Amanda's shoulders, step out to paw around with her arms, but Righetti's tight, mobile stances apply solid clinch-prevent management. Body-punish payback from Big Rigs – Kate cooped up nicely here, her right arm crossed above the left cheek, left arm dangling low to protect upper ribs/proud rack (because that's where Rigs wants in), her knees/legs floating, shoulders rolling with the incoming punches. Jabs to Kate's guarded front keep her busy, spooked – blunt-ish right hands batter her about the biceps, rack, waistline in hefty, trademark rhythm and intensity.
Righetti relentless in defense of that top position, consolidating it across the round in various confrontations, neatly throbbing/moving big Kate around via jabs-to-stabilize, paralyzing Upton's arms via thump-thump to her biceps. Some right-hand MAYHEM late not ripping momentum away: Kate's wide rib-right gets countered to the jaw as Rigs leans inside the arc…a short, drifting straight right's blocked, then stolen by Amanda's slippy left counter uppercut to neck/jaw. Bell nearing: slantin' inside right takes all of Kate's breadbasket, reels a gasping blonde into ropes...she's sob-shouting in pain, stabilizing weight with her right arm on top cable, leaning head back while blocking jabs with left forearm until the bell.
"You're being awfully quiet this round, Becks," Ali teases. "You didn't put all your money on Kate, right, girl?"
R8:
After seven rounds there's some reasonable sway and stagger in these competitive legs...both paw their way forward via the left, then nestle inside shoulder-to-shoulder, head-to-head, hoping to clip the other that one bruising right hand to do the job before falling together into holds/clinches. Early scuffles on the spot: Righetti's chopping her! Her hands rolling smooth/relaxed, she's dipping to either side, swatting Kate's tummy, her left shoulder stacked in Kate's chest. AMANDA POUNDING BLONDE JUGS: her forearm swiped across Kate's bulging bra, a devastating single-shot uppercut pancaking those proud puppies – bruising punchwork has Upton all staggering, wilting on impact, passive, giving inches.
Righetti relentless, grinding in her approach – at one point, she's reaching under her arms, shockingly shouldering an overwhelmed Kate into a turnbuckle after pounding away, smiles at Kate stumbling around to stabilize. Near the minute mark, girls finally trade punches – thick roundhouse right from the champ into Amanda's ribs/waist gets answered via a healthy socking uppercut to solarplexus, slumping Kate back against ropes, a-swaying!
Right cross through stacked arms to blonde rack BUZZES Kate's knees and drops her hands to chest – Righetti's suddenly drubbing jaw! Kate swooning, extending arms to push off...Amanda leans inside, dropping combination of a short, bouncy left uppercut on Kate's right jawline with a mighty right hook on her left jawline! Kate wilts forward on shock double impact: first flopping against Amanda's rack, she nose-dives onto CANVAS when redhead steps back. Blonde stretches out sexy on tummy, relaxing at first – but Kate JOLTS awake again! Big blonde gets a knee up, her eyes staring up in confusion, then she's grimly rising like on autopilot, all floppy, jerking motions! Kate Upton milks the count all the way, but she's a-standing at the 9!
Ref declares her good to go: Amanda – her hands-on-hips, shaking out arms, mouthbreathing during count, blankly watching Kate's struggles – introduces Kate back to a tummy-bustin' right body hook, pushes blonde off, leans into Kate with jabs.
Mop-up time, Big Rigs, but in reduced fashion: she's no longer bobbing, just dimly turning her torso up/down, left/right as she stalks Kate Upton around the ring, pumping a slowed-down left...comeback from knockdown, jab legginess, own KO effort now taking its visible toll on Righetti, too, especially now that Kate ain't done. Upton an even grimmer, grittier sight – she's all flat-footed, swaying some, shouting in pain when she's extending into punches, trying to match Righetti's jab poke in spots. No great deal of clinches – just two strong, exhausted vixens slogging through mid-ring positions, waiting for punch spots to open, battering on.
Bell: Righetti stabilizing with an arm on top rope before walking back to corner – across the ring, Kate's leaning back swooning against her turnbuckle...wow, she might have actually just passed out there for a sec, but gets jolted back via a healthy cheek-slap by her trainer that kicks her eyes back open.
Ali and Rebecca are in total awe, completely forgetting their respective bias for a moment. "This is a ruining fight," Ali shakes her head. "Amanda's really fought herself to the brink of total exhaustion in her attempt to punch Kate out, and Kate's STILL there! Not sure how much Rigs has left." – "I knew Kate had stamina, but this is mindblowing," Becky responds. "Just surviving that onslaught creates momentum for her. If she's still awake when this break's over. Wow."
R9:
Girls both stepping out grim-faced and sullen into another round of a combat that has turned into an exhaustive battle of attrition at this point: action during first minute a result of reduced legs, the punishment suffered tonight and legendary stamina going to its respective limits, as girls slowly track each other around the ring in clockwise aspects, lefts sticking out in poke, both visibly and understandably wary of taking a potentially devastating power shot during any ruthless trade now as battle moves into climax territory. Arms only get raised just as girls enter into range...Kate and Amanda sometimes taking long seconds off the clock as they wander out, regroup, build confronting stances again, with the ref letting 'em. Stances remain flat-footed, punches not extending throughout first minute: just a lot of feints, stalks, turns happening here.
Kate's first to step up her effort during the course of the round, slowly establishing a HARDER, heavier and more committed punch here – Righetti forms peek-a-boo, permanently struggling to hold ground from the first minute mark. Big blonde Kate's proving a lustful, thiiiick puncher in these trades, extending her arm into devastating right-hand shots against Amanda's open left flanks, cutting the ring off in counter-clockwise fashion, stopping redhead legs entirely. Big Rigs appearing brawny, strong-shouldered, feeling safe in her guard/stance, but forced to absorb...her countering short, cuffing hooks (either side) to Upton's skullside only thing that makes staying inside pocket too dangerous for blonde, preventing an even more overwhelming stance, but make no mistake, Kate's being the aggressor here!
Images repeat: Kate's looming large, those heavy shoulders glistening in sweat as she rotates into the punch, throwing right-hand bombs to challenger body/skull – Amanda punched onto heels, leaning her body into the ropes/turnbuckles, head jolting to-and-fro away from that poke, face grimacing, shuddering on impact of these SICKENING rib/flank crosses/body uppercuts...these shots take place in various ring locations, but it's always Amanda's butt that's hitting ropes, always her sliding ropeside, her face/body slumping forward into gloves. Kate's not being particularly mobile, fast-legged here – short breaks as girls regroup see her mouthbreathing, wiping sweat off face – but her thick-ish body rights are punching Righetti into a passive state.
Down the stretch, Kate makes it past Manda's guard on occasion, splitting mitts for a gruesome shot upside eyes via long overhand right cross that kicks Amanda's head over top rope, staggers her wobbly-butt. Nasty cut over Righetti's left eye (see: round five) swelling it to slit! And Kate's dominating the clinches now, too...round ends to staggering toe-to-toe hold, sees Kate hugging/carrying Righetti into ropes with plenty of big-girl confidence, stacking her girl up via a short, drifting jab to face, then shoving elbows away for a ripping tummy/tit hook, gu-uh. Amanda still laying in the ropes a long two, three seconds after the bell, stumbling on her way to corner, but the way Kate's slump-dropping onto her stool ain't hiding that she's not in much better shape at all.
"Your girl's tired," Becky snarks, sparkling. "She's old, of course, so it was kinda expected that Katie would outlast her at some point." – "I'll only say that Kate's evened up on the cards. Anything can happen now. I don't see these girls making it into overtime, though" Ali states assuredly.
R10:
Fight STAGGERING around the ring early – girls get all grabby 'n grubby like workers shoveling for iron ore in a mine...hands mindlessly a-pawin', shoving each other out the way to get a look at jawline uppercuts rising from strong hips/torso. No reckless slugout, but an exchange of wide, withering left/right bashwork, shoulder/hip-powered blasts against flanks/biceps/lats/skull – girls always fall in after trade, teetering back and forth as they both squirm, struggle for ground, try to body her foe off stance while pushing forward...punches tend to be a little sloppy (no jaw-shots connecting, mostly chest or tummy) but powerful, dangerous stuff. Kate's more hot-blooded, but Righetti's holding her own in these body combats, also walking Kate back, looking a bit fresher, stronger than anticipated after last round.
Later, just shy of the minute mark, DRAMA: Kate suddenly steps on the gas, freezing Amanda at the ropes, finally outstripping redhead delivery – chuggin' rights dent Righetti's rack, two consecutive lefty uppercuts JAM to her jawline, spasm her strong legs into logjam! Amanda's bod tilts off ropes, trying a wide clinch...Kate slides her feet back, letting Rigs fall into another devastating, shrugging lefty uppercut, and Righetti's all punch-sleepy! Eyes going blank….oh, Amanda sprawls forward on the delayed impact of that punch, flop-sliding down Kate's tanned thighs as blonde champion's wrestled a step away by ref and Kate raises her tired arms, her lips quivering "I'm the best."
Amanda takes a thump down onto all fours, snivelling in pain, body trembling – another redhead title challenge ending in dramatic, heartbreaking fashion...no, she's CRAWLING TO ROPES, pulling herself up! Across the ring, Kate moans in shock, arms stretched out on turnbuckle for support, protesting, but Righetti beats the count, lifting her arms, moving head for ref's 8! Gut shot, as Kate Upton storms back in – blonde detonates a huge, right-hand blast inside Righetti's tummy/ribs, nudging left arm around Amanda's shoulder, pushing a faltering redhead backward, clipping a short right upside Amanda's chin...strong core/legs save Big Rigs: she's not ready to go.
Girls positioned ropeside, snugged up tightly, shovin' back and forth, Kate leaning forward to defend top position...lots of sloppy, messy body-rights, forearms-to-tits, arms-bearing-down-on-shoulders, both hoping to find the quit switch. Ref breaks wrasslin' girls late – Righetti, lips parted, back-pedalling, on her heels, but keeping a peek-a-boo...Kate follows, mouthbreathing, weary arms slowly feint-rotating chin-high...and Kate eats a looping right from Amanda's lap! Upton extending, leaning into straight-jab to rack, getting fed the monstrous right uppercut...her head's lolling on the spot, dropping arms...Righetti moves to Kate's right, coax-shoves blonde right-hand down via jab-to-belly, then shrugs her the short-jolt right uppercut, catching ear/cheek. Kate a-tottering, jugs heaving, lips parting in shock...SHE SITS DOWN ONTO BUTT!
Kate props up on her elbows, head canting back, eyes glassy, struggling to orientate herself as the ref starts countin'! Camera cuts to Righetti...she's leaning into ropes across position of Kate's wreckage, oscillating as she watches blonde supermodel roll onto hip in huge effort...Amanda's face distorting into disappointment as Upton gets a knee up and watches the ref (count:...5...6…). A heroic Upton stumbles onto her feet, her limbs flopping/pancaking, grabbing ropes for support, finally steadying and turning around to face him as the ref gets to 10! He's ruling her good to go! Tenth round, third minute, one knockdown apiece in this round, draw or a possible overtime looming...this is a heartbreaking finishing round!
Girls marching back into gritty, bitter trade: a glassy-eyed Kate stumbles jugs-first into Amanda, pulling her left arm down while jostling for control of the right, clasping beauties tusslin' to ropeside...Righetti righting herself, holding ground, leaning head over blonde shoulder to avoid uppercuts, urging ref to break faster. Break: tappin' upside-the-head double jab, Righetti – Kate's head jerks back despite the peek-a-boo...she can't clinch! Girls stalk, stagger throughout range – Kate's looser, her eyes dimmed, trying some hail mary right hands sailing past Amanda's bobbing neck – Righetti aching under the effort, but she's walking the champ backwards with relentless, powerful jabs, lefty crosses, hooks.
Thirty seconds off: Kate SOBS from a short lefty hook to her right ear, now having trouble tilting back up, torso swaying, hands in front of her face, her butt hitting ropes. Righetti attacks brutally via the left, keeping the right tucked in tightly – short, pounding rack shot, a healthy forearm into the goods, a drifting left uppercut to Kate's mouth/jawline. Faltering blonde positions her shoulder towards Manda, sagging into ropes...Righetti shifts her weight/stance, drives in a thick righty shot below Kate's jugs...shot sees Upton's hands jolting from their position, her mouth opening in shout, lips quivering.
And Amanda's pasting jaw! Kate's arms protecting jugs, giving up face: short, hammering jackhammer lefts pump into blonde champion chin again and again from Righetti's broad-legged stance in front of her – her head's lolling back-and-forth, eyes only dimly awake, weight sagging helplessly into cables. AND THE REF'S STEPPING IN – he's cradling a helpless Kate Upton into his arms, securing her from more harm! Amanda staggers off, raising her arms in delayed realization of triumph: she's just stopped the champ for a TKO10 – making her the NEW and now SIX-TIME welterweight champion of the world, Amanda Righetti!
After:
The crowd's on its feet in salute of the combatants of this epic battle – it's the second time a title fight between Kate and Amanda was literally decided right on the finishing stretch, and this time Amanda's stopped Kate to win her first title since 2016, her sixth overall, going 3-2 in their overall head-to-head.
Fighters almost equally battle-torn: Kate forwarded from ref's arms into Lookout's corner team...groggy blonde beauty helped onto stool, head/back slumping into turnbuckle, her eyes empty as bitter disappointment floods her, still a little rickety as she congratulates Amanda with an earnest hug before the official results are announced – Righetti's showing that nasty swollen eye, her ribs bandaged...despite her banged-up appearance, the redhead's all giggly, smily, posing to fans across the four corners, flexing in brawny fashion...finally the welterweight belts are presented around her waist:
"Wow, this feels good," Amanda smirks. "I mean, I remember how it feels, but it's been way too long. If you know me, I absolutely thrive on threats and competition, so maybe this model revolution was the best thing that could have happened to me at this point of my career. Sure, it's taken me to a low, but it's also taking me to new highs now, right? Always makes you question yourself, get better every friggin' time. I'm hungry for more, folks."
"Yes, yes, she did it!" Ali shouts out after the fight. "I know everyone uses fight of the year as a buzz word these days, but there's no way this isn't a close contender. Those last three rounds were some of the most exciting big-girl boxing I've seen in a while. I mean, I gotta admit it was a closer fight than I thought it would be. Amanda couldn't grind her out this time, but when she found that big punch - that wasn't really part of her arsenal some years ago – she was even more dangerous. She's taken Kate out twice in a year now – wow."
– "I've got to agree with you, but a bit reluctantly," Rebecca tells us. "Let's give it up for Kate first! Going out like this in the tenth must be heartbreaking. Amanda proved a ton of heart tonight, and she deserves to be back on the throne. I don't think anybody ever counted her out, but these supermodels really came knocking at her doors, so I'm sure this is her most important title in a while. Seeing Righetti back in pound-for-pound mode makes this division as exciting as it's ever been."