Post by Lookout! Boxing on Mar 3, 2018 0:41:37 GMT -6
KIRA KOSARIN (20 y/o, 5 ft 6, W: 8, L: 2) vs PRIYANKA CHOPRA (35 y/o, 5 ft 6, W: 5, L: 6)(Words: Bonzo / Results: Lookout!)


Before: Kosarin suddenly one of the hottest things in town – spunky, ambitious Bonzo brunette's barely been in the division for a year, now finds herself in swirling title fight rumours after securing a stunning seven-fight winning streak against quality bantams and lights all across the year. She's beaten Lively, Benoist, Kelly, Mitchell and Scodelario among others, hasn't lost since back-to-back knockouts against Greene and Bennet in early 2017 and is now widely considered a proper future bantam star. Chopra's road to this fight has been more struggling: she's lost to Dobrev and Lovato in her past two bouts, and is currently struggling to hold a positive record. It's also a fight of generations, with fifteen years of experience standing between 'em, though both have had a similar number of actual fCBA fights. Kosarin's her usual self pre-fight, cocky and a little brash: "Chopra's gonna get chopped down to size. Chick's sturdy but a little flab…my Bonzo jab's going to pound her gut all night along right until she quits." – Chopra responds with all the seasoned calm of a veteran…"Bantam's seen countless hot young things. Some of them were there to stay, others were not. Kira's got a big mouth and a lucky streak. Good thing I'm here to pop the bubble like a true heartbreaker…no more title fight dreams after I'm done with her."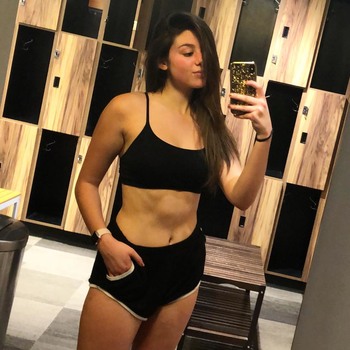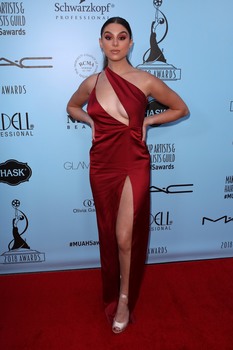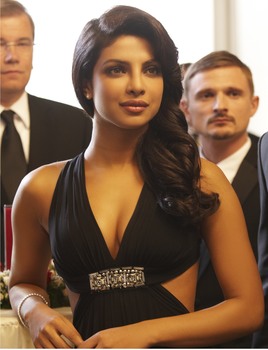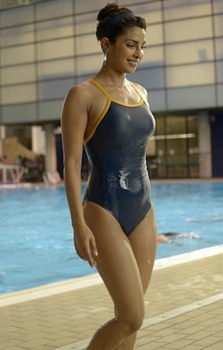 Fight: R1: Kosarin with her trademark aggression, pumping a hard jab to Priyanka's chest, ribs in circles, getting off, pausing, stalking brunette in springy stance, a-bobbin' and a-bouncin', every ounce of her body oozing confidence…Chopra slides back, spinning, ducking, rising nervously left and right from Kira's heaving jabwork behind her tight mitts, staying defensive with her own punches. After first minute's over, Priyanka adjusts her stance, style, beginning to time Kosarin nicely to her mouth, nose, chest in veteran fashion…arched back position from Chopra in retreat, tucking 'em short, sweet counters onto zipping whirlwind Kosarin in pursuit of her, very bendy, very precise. Kira refuses alternatives: she keeps pummeling the jabs in that fast rhythm, always looking to push her girl off into them ropes, where she wants to let it rip. Mid-ring turf's Kira territory, but Priyanka's adjusted ease clearly gets the better of spunky rookie this round: late in the third, she tucks a stunning left hook across Kira's jaw line that has the brunette all a-baby-steppin', a-reelin' on the spot only to walk head-first into Chopra's chopping right to mouth…Kira's in trouble! Young brunette staggered by Priyanka's double counter, tottering to ropes with eyes wide, palms at temple…Chopra's finally stopped Kira from walking forward. Twenty, thirty seconds of butt-in-ropes for proud Kira, and she's hating every second of it…Chopra lingering, being big, keeping pressure high via fast, short-range jabs to Kira's guard, punching Kosarin too busy to counter. At bell, Kira's recovered from the hits, hoppin' to her corner, but her mouth's pinched…thick off-guard counters from Chopra no part of Kira's own pre-fight concept tonight.
R2: Kira SO right back at it…she's there in her bobbin', bouncin' stance, leanin' in aggressively via lunging left hands as girls start to trade furiously. Both girls taking hits early in battle for momentum: Priyanka raising straight rights into Kira's tummy, countering Kira's lefts via own lefts to mouth…Kosarin leaning back in via lefty hooks to Chopra's neck/ears, then tucking in a sneaky, strong right cross to Indian's right cheek…Chopra's first to wince, her eyes blinking, punched onto her heels…she's backing off! Kira snarls in pursuit, forming a robust stance and getting off – jab, jab, right, jab, jab, right – Chopra slides back, trying to tuck in her counters to Kira's hips, ribs but young brunette more solid now, moving head/torso better, denying Chopra the easy counters from their first round. Kosarin's jab work pretty precise from the outside, loosening up Priyanka for patient stretches of second round – Kira's not shying away from bruising body work, the occasional shovin', pushin', drummin' her lefts to Priyanka's neck, arms, upper torso. Some rope-side payback for Kosarin late: head tucked low, right at temple, lefts slinging away nicely to Chopra's inviting chest…Priyanka's taking punches, stooping forward off ropes at one point, feeling the heat as Kira aims for her jugs. Bell: Kira stays the extra second, not punching late but being there in Priyanka's face, stare-down…tempers flare as Chopra tries to shove her girl away…ref quickly in between 'em to separate, pointing wild-eyed brunette beauties to respective corners.
R3: Kosarin turns into a snug jabbing machine, right back at it, no holds barred…all rat-a-tat, as she's moving forward right-at-temple, tossin' the lefts to Priyanka's guard. Chopra's a big, robust bantam, but she ain't really standing her ground here as she slides, hops, wanders back from Kira's stiff, greedy poke, always on alert, tearing her head aside, trying to walk, turn, twist out of Kira's punching range. Kosarin spices things up via rising hooks past Chopra's jab arm, tucking 'em in thick 'n brawny behind brunette elbow or landing 'em to Chopra's bra ledge, or via drilling left uppercuts to Priyanka's temple, cheeks. Brunette getting grilled inside clinch, too…her buttocks shuddering, torso struggling to hold ground as she's trying to walk Kira backwards, hands snuck around shoulders, breathing hard with exhaustion before ref separates 'em clean. Down the stretch, Kira going jugs…mean cross-arm push shoves brunette into ropes a-wobblin', as Kira extends via the pounding hard, straight left, chop, chop, chop…all to Priyanka's tits! Chopra's eyes close in instant of hurt pride, pain, stooping/falling into Kira to clinch, just taking time off the clock as Kira's already wriggling free, shoving her right shoulder into Chopra's chest all violent, lunging out via the long-range straight left to tits the second they're separated! Thorough shut-out, Kira Kosarin, across third round…she wants to be a bully in the ring and Chopra ain't finding the right answers yet.
R4: Kosarin hops-to, one step to the left, one step to the right, hands at nose, sucking the straight left to Chopra's left cheek as she leans in to introduce her to more Kira power…Priyanka spins her head back so that Kosarin's punch juuussst whizzes by, allowing Chopra to lean forward herself, cleaning up on Kira's unprotected left jaw line with all her shoulder-powered blast and anger behind a shock and awe left uppercut…guuuh-uuuh, oh, Kira's hurt! Shocked brunette punched onto heels, shiftlessly bobbing to ropes to relax: Chopra immediately setting up pursuit, her pumping lefts spreading shocks into Kira's own tits, ribs as Kosarin shudders, wilts, closes her eyes in pain, trying to turn her shoulders, torso away from the harm…boastful, confident brunette youngster suddenly a flat-footed, stricken beauty! Payback from Priyanka as she rips 'em short, rangy hooks to Kira tummy, jugs, boarding up on guard/skull via rat-a-tat uppercuts, left and right, left and right, left and right, just a-bashin' into youngster's skull proper. Mid-round: Kira stabilizes to Priyanka's consternation, her jaw proving resilient, legs strong, though now her face is a mess, her eyes swelling almost into slits from various haymakers from Chopra's belligerent rights! Kira's still on the back foot, stooping off from thickly distributed harm into body clinches, taking seconds off clock to Priyanka's chagrin…gym stamina saves Kira's butt as she slides, tacks away, floating away from more pressure, her eyes all grim but hands-up, spirited. Chopra frustrated as she stalks, trying to hold Kira in place, while Kosarin hops away, brawls or tussles inside, suddenly a messy beauty struggling to stay in combat.
R5: Kosarin responds to setback via bull rush aggression, navigating close and scoring short, dry left hooks, straight rights to Chopra's face, always be touchin'…but Priyanka stays in the zone and trades back! Furious punches exchanged early from robustly-planted, broad-legged, shoulder-rolling, twisted body stances mid-ring, as girls step, lean into each other, one step forward, one step back, one step left, one step right: Kira's nasty left hook cracking to opponent's nose, her right folding Chopra's head into violent backward snap…Chopra lands a siiiick chopper underneath Kira's chin via the swingin' right uppercut, and annnoooother one, oh God! Kira's mouth punched open, staring in shock, hands falling on impact, almost toppling over, paralyzed on the spot: Chopra leans in all-back, all-shoulder, blasting a powerful right haymaker, BASHING into Kira's right cheek…young brunette's in trouble here as Priyanka counters, hitting Kira thick!
Kosarin tripping back some steps, getting her arms back up, but looking queasy, slackening…noooo, it's PRIYANKA DOWN! Seasoned brunette snarling as she preps to lunge into Kira via upside-the-head jabs just as Kosarin twirls her torso jusssstt this bit to the left to drive a straight right past Chopra's left arm onto teeth/mouth – immense power LIfTS Chopra off her feet, blowing the brunette onto her back in flabbergasting fashion! Poor Chopra's upper body not responding for two, three, looooong seconds, THEN suddenly: she's back, rolling onto side in confusion, making it to her knees, getting a leg up, then the other…Priyanka beats the count at a freakishly resilient eight! "No!", Kira shouts as she's forced to get back in…no instant beat-down, just exhaustion on both sides as girls recover in grim clinches, buttocks shuddering, no clean punching here. A few seconds into the third minute, both girls wedged into a semi-clinch, Kira twists her upper body to the right out of Priyanka's embrace…and she CLIPS Chopra a short, left uppercut to the temple inside and Chopra's stooping forward, frozen from impact immediately, her face a blank – AND SHE SPRAWLS to her tummy as Kira steps back, her hands trapped, cheek on mat, lips pursed…youngster survives scary moments but crawls back for a KO5 Kira Kosarin!
After: Bantam slug-out turning exciting after three rounds…seasoned Priyanka Chopra coming back, scoring big, almost interrupting Kosarin's dominant months-long ascent with fierce uppercut power, but Kira digs deep, deviating from game plan to end night via counter power, resilience. Even sassy Kira can acknowledge Chopra's performance tonight…"Yeah, she rocked me a couple times, made this a harder fight for me, so yeah, nothing but respect for her. I would have loved to have ended this earlier, Bonzo's Gym-style, via a beat-down at the ropes, but it feels good to get past these chin tests, too, you know. Those were prime rockets she threw at me there, but my jaw and legs just don't know quit," she smiles. Kosarin wins her eighth straight fight…after six (small and big) upsets, she's now able to slug out a win from a frontrunner's position…something she'll probably need to get used to. First, she'll have to battle it out with retiring Evangeline Lilly, though…what are Kira's thoughts about the decision? "I'm all mixed up there. I absolutely love Evangeline…and I've learned a ton of things from her in the gym. Still, the fact that I'll actually be her designated replacement, wow, that still gives me goose bumps. It'll probably be my toughest test yet…I need to show my mettle there. I can't allow any doubts about who's the best bantam at Bonzo's now and despite all my love and respect for her, I need to punch 'Vangie out like a true future champion."