Post by Archer on Sept 22, 2021 9:57:34 GMT -6
DANIELLE ROSE RUSSELL VS SKYE SWEETNAM
Results: Lookout Writing Archer
CELEBRITY BOXING AFTER DARK
Danielle: 21 YO, 5'3 (1.60 m) 7-7-0, 7 KO since 2019. Foxfire Boxing
Skye: 33 YO, 5'3 3.4 (1.62 m), FCBA Debut, Left Turn Knockouts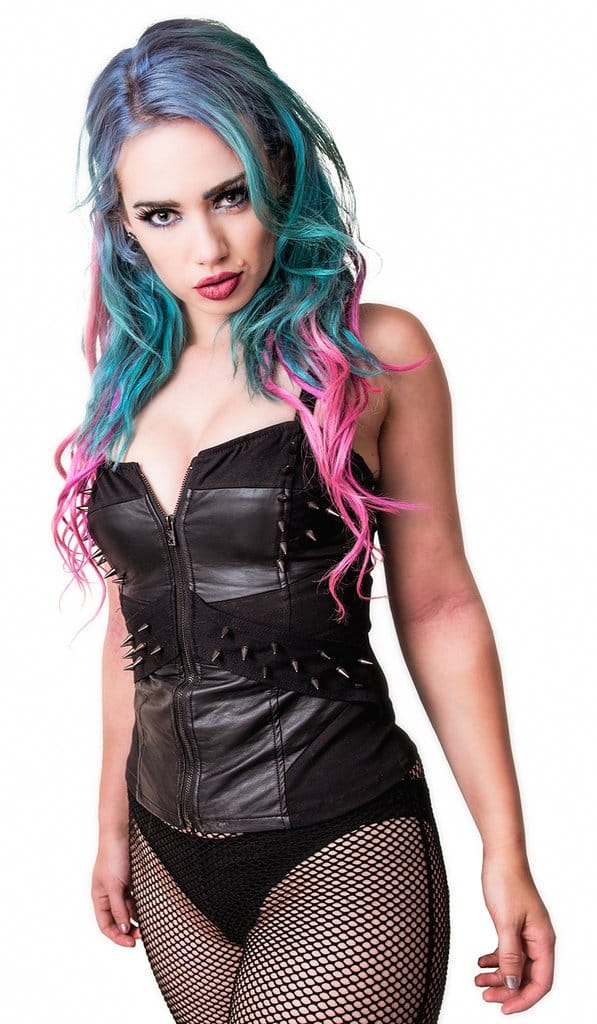 Before: Canadian singer Skye Sweetnam makes her FCBA debut in thi edition of Celebrity Boxing After Dark.
"It had taken longer than I would have liked for me to make my debut," admits Skye in the prefight interview. "but now it's here and I am ready to show what I've got. I think I have a maturity that this Danielle Russell can't match. One thing I do know about succeeding in the FCBA is that you have to be cool under pressure and that's me. Everyone will soon realize that."
"It's my job to test Skye," explains Danielle, "if she's good enough to be in the FCBA, I'll find it out. She doesn't even have to actually win, but she does have to show she's got talent that can be developed. If she doesn't—she might consider apartment house lingerie wrestling." (She adds with a smile.)
Moving on to the actual fight, we find DRR climbing into the ring in black one piece swimsuit with curious dark red ornaments on it. Dark red boots and gloves with black laces. Auburn hair in a battle braid down her back. Skye with a black leotard and blackfish net pantyhose. Blue hair with pink streaks gathered back in loose ponytail. Blue gloves and boots with blue laces.
"Quite an outfit," says Dani as they meet in the ring.
"I like to make an impact," Skye says. "I have a vinyl leotard with spikes but I was told it was illegal."
"The Front Office can be narrow minded that way, but your punching better be what make an impact too or this is going to be a short debut," Dani informs the newbie.
"Oh, I am hoping it will—but for not, not me," Skye quips back.
"Ladies, if we could get to the fight," the impatient referee says and the ring instructions do produce quickly. Quick tap of the gloves and the fighters go to their corners.
The bell rings and out they come…
R1: Big punching flurry as Dani and Skye reach each other in the middle of the ring. Skye bobbing up and down as she pumps shots into DRR's face and impressive breasts. Dani testing Skye with straight rights and lefts into her face. Skye getting marked up, but she's not backing down and continues to keep her mitts striking at the redhead. Danielle now clipping Skye to the chin and jaw. Skye only momentarily slowed by these shots, she does duck down and starts working DRR to the belly and ribs. Dani striking at the sides of Skye's head, but the singer only slowed not stopped. Then Dani lands a smacking right to Skye's jaw that causes her knees to buckle and she backs off just as the bell sounds. It was a close round, but Dani Russell able to pull off the win.
R2: DRR seems to be getting down to business this round. She starts banging Sky hard to the belly to tip her forward and then brings rising rights and lefts into her hanging upper body. Skye now forced to give ground and try to counter. Dani pressing the rookie hard, she's lumping up her face with the straight rights and lefts, then going after the chin and shoulder before returning to the body. Skye taking quite a shelling, but she's not really being shaken again. Counters are mainly jabs, but they aren't slowing Dani down. Skye does avoid being driven into the ropes and though lumped up at the bell, she walks firmly in returning to her corner. Danielle Rose Russell wins round wide.
R3: Two fighters are circling at mid ring as the round commences. Then Skye Sweetnam suddenly rams a big hook into DRR's gut. Dani doubles up with a surprised gasp and then Skye is pounding Dani's face with rights and lefts. Suddenly it is Danielle face that is all lumped up and she seems dazed by the suddenness of the attack. Skye takes advantage of Dani's s response to smite her to the jaw with rights and lefts and then adds some sweeping uppercuts to the chin. DRR is reeling back, she manages to get her face covered, but Skye washboarding her abs with hooks. Dani all hunched up does manage to get some counter punches to the body in, but Skye now feasting on those big Russell juggs to the bell. Dani looking stunned as the action stops and wobbles back to her corner. Skye smiles happily in the aftermath of this round which she has won wide.
R4: Danielle worked on by the Foxfire corner crew, but she comes out slowly for R4. Skye moving in quickly and hammering away. DRR covering up to protect her head, but Skye finding plenty to punch as she works Dani's flanks, roasting those side ribs and then plenty of deep digging hooks to the Russell torso, Dani hunching up, stabbing out jabs to try to keep Skye back, but Skye seems determined to inflict all the damage she can. DRR just gritting her teeth and taking it for the most part. Rounds ends with Dani's body ringing with hurt and sweat dripping off her body while Skye gets to enjoy seeing the results of her punching power. Round wide to Skye Sweetnam.
R5: Dani revives as the 5th round opens. She is out briskly and starts pumping the hooks into Skye's stomach. Skye trying to circle away from this while lunging in to get at Dani' head. Dani smacked once to the jaw with a Sweetnam right, but then swings back with a right uppercut that crushes hard into Skye's chin. Shock of the blow seems to go though the singer's body like an electric shock. Skye lurches and Dani adds a blasting right/left combo. SKYE CORKSCREWS TO THE CANVAS. Skye in heap as DRR trots to the neutral corner and the referee moves in. Skye struggling to rise, but she can't get her body to cooperate. She on all fours as the referee is calling:
"EIGHT!...NINE!...TEN…YOU'RE OUT!"
THE WINNER: DANIELLE ROSE RUSSELL DEFEATS SKYE SWEETNAM KO5!
After: "I admit it, the girl's got punch and she can some punching back. Unfortunately for her, she is careless and I saw my chance in the 5th. BOOM! That was pretty much it.," Danielle Rose Russell concludes after the fight and adds. "I will curious how well she does after this. Did she learn anything or not?"
Skye Sweetnam is understandably not doing much talking after the fight, but she does say: "Did I learn any lessons in the fight? Yeah: losing sucks! I don't want to do that again!"
Interesting while it lasted. Skye Sweetnam did show some toughness in the opening two rounds and then struck back hard in R3 and R4 hurting Danielle Russell. However Skye did seem to get too anxious in the 5th and left herself open to blockbuster uppercut from Russell that pretty much ended her night. Hopefully Ms. Sweetnam get more chances in the future to show improvement. As for Danielle Russell a good win for her and hopefully this will lead to better things in her FCBA future.