Post by Fates on Sept 19, 2021 10:15:55 GMT -6
CBAD: Sui He vs. Liu Wen
Sui He: 31 years old, 5' 9 ½", 1-2 FCBA and BBU combined since 2016, Free Agent
Liu Wen: 32 years old, 5'10", 0-4 FCBA since 2016, Free Agent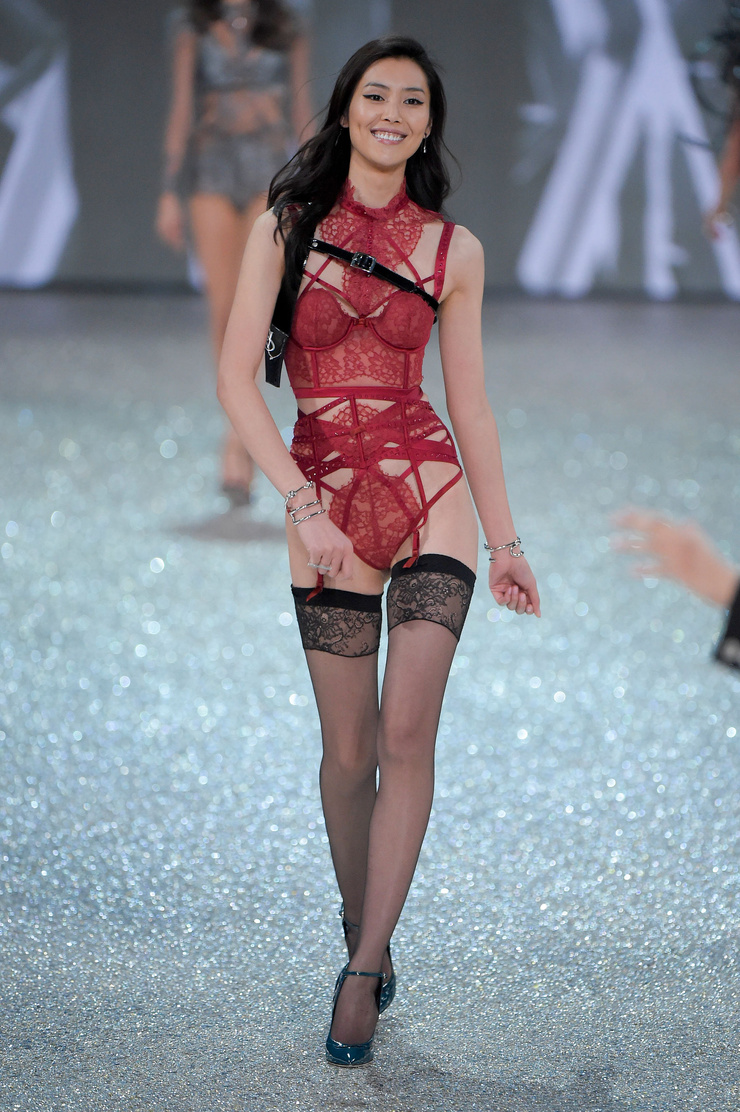 Results: Lookout
Words: Fates
Before:
Boxing action once again comes to China for a showdown between two Victoria's Secret models hailing from the home nation. Liu Wen was the first Chinese model to work for the brand while Sui He was the second, and now a decade later, the two finally meet in the ring. Despite their modeling fame, neither was invited back to the Victoria's Secret tournament due to lackluster career stats, and only Ming Xi represented China in the tournament but crashed out in the first round of fights. Liu Wen is still winless after four fights, while Sui He just got her first victory, and He looks to build on her momentum and challenge Ming Xi for the title of top Chinese celebrity boxer as Xi looks vulnerable.
Both models enter the press room and the two waste little time before going after each other.
"Sui hasn't fought the girls I have," Liu starts, "If she faced girls like Upton and Hill, she'd still be winless."
"Liu, you'd be lucky to win a fight." Sui fires back. "Besides, you wish you were the face of Victoria's Secret in China."
"Sui, all you are doing is following in the footsteps I made. When I'm done with you, I will take on Ming and prove I am the top Chinese celebrity boxer. Ming can't win the big fights – I can."
"You haven't even won one fight." Sui fires back, "I'll take you down and then I'll take on Ming."
Come fight night, the crowd is excited for the lone event, and to add to the tension, Ming Xi is sitting in the front row, watching to see which girl wins and who her opponent will be. Liu Wen is the first fighter to make her way to the ring, the original Chinese runway model removing her robe to reveal a white sports bra and matching trunks with black gloves. Sui He makes her way to the ring shortly thereafter, foregoing the robe to reveal a pink bra and panties set with matching gloves for the fight. The referee gives the two final instructions, and they smash their gloves together before the bell rings.
Round 1:
Neither girl wastes any time to start the fight and the two start slinging lefts and rights. Sui lands the first blow, catching Liu under her ribs, but the more experienced fighter lands a strike back into Sui's face. He swings at Wen's head but she misses and Liu buries leather into Sui's torso before crashing a right just under Sui's eye. He retreats, gloves up as on comes Wen, the free agent mercilessly looking for legal flesh to hit. Liu buries a right into Sui's ribs and the smaller model clinches, forcing a break from the ref. Sui keeps her distance out of the break, baiting in Liu and counterpunching to get momentum back, but Wen starts taking advantage of her extra reach to keep He on her heels at the bell. First round goes to Liu on points, wide.
Round 2:
Liu quickly gets out of her corner and starts back up with her jabs, using her slightly longer reach to her advantage. Wen lands a right into He's chest, but the smaller girl stands firm and responds in kind. The two models scrap at close range before they get tangled up and the ref pulls the two Chinese girls apart. Sui feints left out of the break only to smack Liu with a right, and the smaller fighter now has her foe retreating, driving rights and lefts into her body. Wen plants her feet and fights back, tagging Sui in her body and driving the fight back to the center of the ring. Wen swings for He's head, but the smaller girl ducks out of the way and connects with a quick jab to Wen's face before the bell. Sui He takes the second round on points, close.
Round 3:
The third starts with the two girls slowly circling each other, both waiting for the other to make the first strike. Sui eventually takes the first strike, lunging after Liu, but she misses and Wen punishes the younger model with a big right to her torso. He groans as Wen plows leather into her midriff and she quickly clinches with the taller model. The referee separates the two girls and the fight resumes, this time with Liu pushing the tempo. The older model throws left and right jabs, but she's not able to find Sui's head and only tags her foe's body twice. He plants her feet and clips Wen in her jaw, forcing the taller girl to retreat. Sui steps up and hits two blows into Liu's ribs, but Wen crushes a right into He's chest to knock her backwards. The bell rings to end the round, and Wen takes in on points as she shows off her power advantage.
Round 4:
Wen charges out of her corner and starts slinging lefts and rights as He keeps her guard up and blocks the strikes at her head. Sui fires off a lightning quick right to Liu's chin and stops Wen's advance. He connects with a right hook that knocks Wen backwards. Sui advances as Liu plants her feet, and Sui shoots out a left that skims off of the older model's cheek before taking a left straight to the face. He quick on the retreat and she baits out Wen to lunging after her. The fight is really starting to open up as Sui drives another lightning quick right into Liu's chin and this time the taller model's legs give a shimmy! Liu quickly clinches before Sui can take advantage of her wobbly state, and the bell rings before Sui can land another strike. Sui takes the fourth round on points, close.
Round 5:
Sui has more energy heading into the midway point in the fight as she charges out of her corner and starts drilling Liu's body with rights and lefts. Wen protects her head but He knocks her into the ropes early and Liu has to bounce back and clinch to force a break. Wen goes for a left feint followed up by a big right, but He sees it coming and ducks the blow and drills an uppercut into Liu's chin and Wen's legs nearly give out! Sui pounces and she plows leather into Liu's toned model midriff, drawing a grunt out of the taller girl. Wen keeps her guard up to protect her head, but He goes to her body and Wen's guard starts to weaken. Sui lines up two rights straight through her foe's guard to her face and down goes Liu! He to a neutral corner as the referee starts to count. Wen is moving around on the canvas, but she doesn't even get to all fours before the ref hits ten. Your winner by KO5, Sui He!
After:
Sui He gets her second straight win and gets her record to an even 500 and guarantees herself a fight against Ming Xi for the title of top Chinese celebrity boxer. Sui quickly mounts the ringpost and poses for the crowd while Liu Wen is quietly ushered out of the ring, a fifth straight loss for the original Chinese supermodel still looking for her first win. The crowd roars for Sui as she beams for the camera, and then the crowd suddenly roars even louder as Ming Xi appears out of the crowd and stares down Sui He! The two Chinese models keep their eyes locked as the crowd cheers even louder in anticipation of the two stunning models meeting in the ring. Xi backs off, never letting her eyes off of He, and leaves all the fighting for another day.
"Tonight I showed that Liu isn't the top Chinese celebrity boxer," Sui tells the press after she leaves the ring, "I'm going to do the same to Ming." With that, He gets up and leaves the press conference to leave everyone to ponder what will happen when she faces off against her fellow model. Ming Xi must have been listening because the model posts a picture of herself in the gym, captioned with "Bring it on."