Post by Archer on Aug 25, 2021 16:01:57 GMT -6
LINDSEY PELAS VS VANESSA RAY
Celebrity Boxing After Dark
Results: Lookout Writing: Archer
Lindsey: 30 YO, 5'3 (1.60 m), 3-7-0, 3 KO since 2016, Unmanaged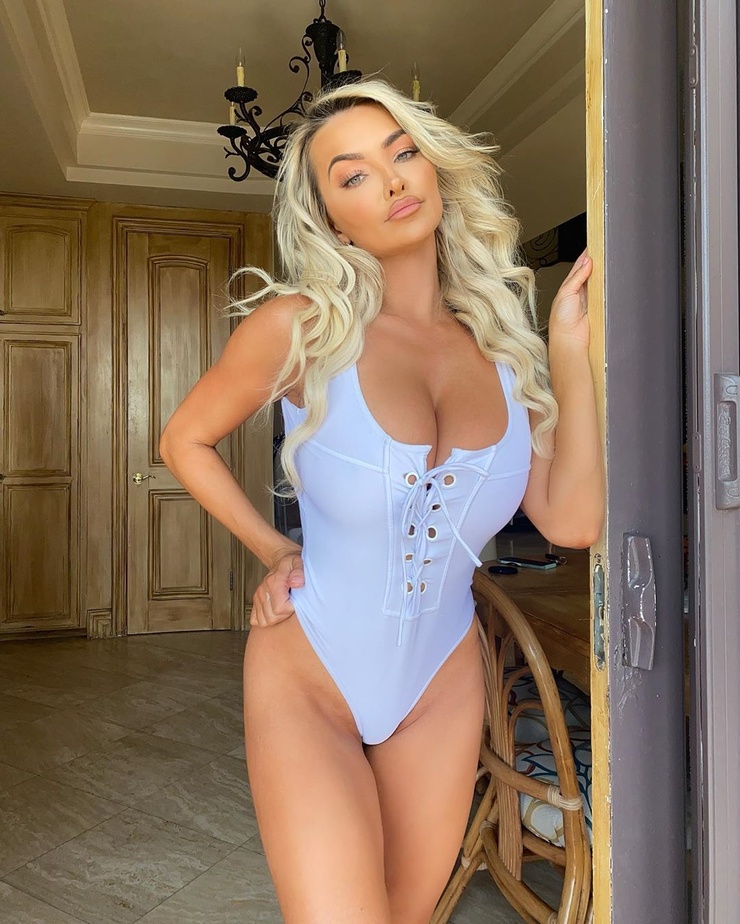 Vanessa: 40 YO, 5'4 (1.63 m), 0-1-0 since 2017, Unmanaged.
Before: CBAD brings out former Ginny's Academy member: Instagram model Lindsey Pelas and match her against "Blue Bloods" and "Pretty Little Liars" actress Vanessa Ray. Though Vanessa had a FCBA fight back in 2017 when she lost a KO5 to Kira Kosarin in the "PLP vs The World" special., she has been a stalwart of in several independent fight promotions. Rumor has it, Vanessa got the better of Lindsey in a recent private lingerie apartment house boxing match and the brunette has been eager for another crack at the veteran blonde.
"I think I was always overlooked in the FCBA," says Vanessa in the pre-fight, "but, if fans know where to look, I've won plenty of fights, and I am no stranger to beating the snot out of the likes of Lindsey Pelas. She's got lots of jugg and not much else."
"Vanessa always talks big," seethes Lindsey, "but she just knows a lot of dirty tricks. I am hoping for a better class of referee in this fight so I can pay her back."
"Are you suggesting I use dirty tricks? Why, I am offended," Vanessa says with a smirk. "I don't need dirty tricks to beat a washed up social media model."
Lindsey's eyes are blazing: "You are the one who's washed up you over-the-hill jobber!"
Now Vanessa is getting steamed: "I'm not so over-the-hill that I can't smack you around and bounce your big boobs off the canvas!"
Tempers starting to flare. CBAD Security obliged to get between the two as announcer implores: "Ladies, save it for the ring!" Order maintained (just barely), but crowd is now jazzed up as the fighters head for the ring. Vanessa is in an elegant black one piece with mesh top. White gloves and boots with black laces. Blonde hair in a battle braid. Lindsey in a light blue one piece with bright blue gloves and boots (light blue laces). Long blonde hair in braid down her back.
Tense ring instructions as the two busty fighters exchange jugg and hip bumps. Referee has to sternly warn them to behave (eye rolls and smirks in response from both ladies). Finally, the instructions are done, gloves are tapped and two go to their corners. The bell rings…
R1: Lindsey showing she knows how to box. Quick jabs light up Vanessa Ray to the face and then she clips Vanessa hard to the chin. Vanessa back on her heels, swinging counters into Lindsey's massive rack, but Lindsey hitting Vanessa's own large breasts with hooks to the underside. Vanessa trying to get at Lindsey's head, but gets socked hard on the jaw and then takes successive hooks to the belly. Lindsey again has Vanessa falling back and she keeping up the pressure to the bell, Opening round goes to Lindsey Pelas wide.
R2: Vanessa trying to be more aggressive, bringing quick rights and lefts against Lindsey's head and jaw. Lindsey replying with jabs hard into Vanessa's chest. Vanessa responds in kind and suddenly the two are slugging jugg with straight rights and lefts to hooks to sweeping rights and lefts. Hooters getting worked over and Vanessa seems to pushing Lindsey back by adding some deep hooks to the Pelas belly and ribs. Hard slugging to the bell, but Vanessa emerges with a narrow win.
R3: Vanessa goes after Lindsey's head early and connects with smashing rights and lefts to the jaw that send shock waves through Lindsey's body. Lindsey retreats, gloves up around her head, but Vanessa now free to pound those big Pelas puppies as well as ravage her rib cage and bang her hard in the belly. Lindsey trying to slow down Vanessa with the jab, but Vanessa ignoring these to keep the pressure on Pelas' shuddering body. Lindsey is showing skill in keeping herself off the ropes, but it's a small point as Vanessa wins this round wide.
R4: Lindsey attacking at the opening bell and she pulling Vanessa into a fierce body punching war at close range. Two are at toe to toe as she bring short, rapid-fire rights and lefts up into each other's bodies, Breasts are a prime target, but ribs and stomachs are getting plenty of leather as well. Lindsey leveraging her feet to get more power into her punches and she begins to force Vanessa back step by step. It's a stubborn retreat, but Vanessa is giving ground and at the bell, it is enough to give Lindsey Pelas a winning, though close, round.
R5: Vanessa trying to regain momentum by charging out quickly at the bell, but Lindsey moving fast herself, Big smacking punches to the head and body follow as the two clash at mid ring. Vanessa going for Lindsey's head, but Lindsey bobbing and weaving proves to be a hard target to hit squarely. Vanessa keeps trying, lunging in and swinging for Lindsey's jaw, Then Lindsey able to duck under a Vanessa Ray head shot and pop up putting extra energy into a right uppercut that EXPLODES under Vanessa's chin. Vanessa sent reeling back, her arms flailing and eyes suddenly blank. Lindsey pounces in pursuit, driving Vanessa towards the ropes with hooks to the belly that bend Vanessa over at the waist. As they near the ropes, Lindsey unloads another explosive uppercut to the chin and Vanessa is HURLED against the ropes. Lindsey leaps in to hammer Vanessa's juggs until Vanessa's legs give out and she slums forward onto Lindsey. Lindsey steps back and Vanessa crashes onto the canvas at her blue boot tops. Lindsey goes happily to the neutral corner and looks back.
Vanessa struggling to rise as the referee counts, but she can do more than reach her knees and so she is kneeling there as the official cries:
"NINE!...TEN!...YOU'RE! OUT!"
THE WINNER LINSSEY PELAS DEFEATS VANESSA RAY KO5!
After: Vanessa still on her knees when the victorious Lindsey comes over kneels down in front of her AND PULLS VANESSA'S FACE INTO HER BIG, SWEATY JUGGS! Crowd is stunned as they watch Lindsey has her arms around the back of the squirming Vanessa's head. Lindsey keeps going until Vanessa's arms hag=ng limply at her sides. Then Lindsey releases the smother and lets the sleeping Vanessa fall on her face. Lindsey then poses with her foot on Vanessa's butt before sauntering from the ring. Vanessa revived and has to be helped from the ring. She is reported to be livid at the loss and Lindsey's later gloating to the press.
"I really, really wanted to do that and I did. It felt great," is a typical Lindsey quote. "I may have them make a poster or two of the smother and my pose. They'll look great on my gym wall."
No comments from Vanessa Ray, but it is rumored she later vowed vengeance on Lindsey Pelas, though his is unconfirmed.
As for the fight itself. That there was a lot of jugg mugging in this fight (and a smother after!) was probably not a surprise. However both Lindsey Pelas and Vanessa Ray did show they can box and punch well. Lindsey able to land enough KO punches to put Vanessa on the canvas. No doubt a bitter loss for Vanessa (who seems headed for Cougar territory), but should give Lindsey some hope of getting more FCBA attention in the future.