Post by celebff on Aug 9, 2021 8:22:41 GMT -6
Gillian Jacobs
(38 / 5'4" / 0-1 / Free Agent)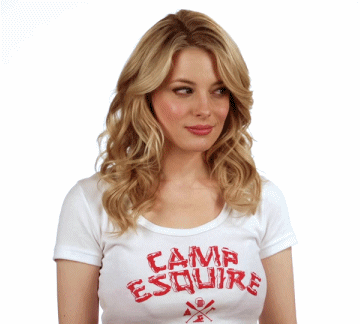 Elyse Willems
(35 / 5'3" / 7-7 / Free Agent)
Results: Lookout! / Story: Celebff
Pre-Fight:
"Yeah, a disappointing result for my first ever fight," says Gillian to a few reporters. "Still, progress, right? I had never gotten in the ring before meanwhile Alison has been around the FCBA for a while… even if she also had never been in the ring. This fight though, I know she's kind of up and down. Hopefully I can exploit some of her tendencies and get my first win."
"Poor Gillian," says Elyse. "First fight and a knockout for her now she has to take me on. I have 14 fights under my belt, and I plan on getting above .500 with this one. She lasted 7 rounds with Alison, right? Don't expect this fight to go that long…"
R1:
The two blondes come out of their corner, each one aggressive. Gillian shows some good pop to her jabs, finding Elyse's face early. Elyse has to tighten up, which opens the downstairs well. Gillian makes some progress, pounding away at Elyse's body a bit. Enough to brush the younger blonde back a bit.
Gillian telegraphs a right hook though, and Elyse uses her experience to recognize it and slip under it, following it up with a nice right uppercut. Gillian looks a little stunned, and Elyse begins to work that tried and true jab of hers. She's doing some nice damage now, really making her mark on the newbie early. The bell rings and it seems despite a slow start, Elyse has taken the first round
10-9 Willems
R2:
Elyse tries to build on her strong finish to round 1 and gets in close again with Gillian. She's able to get a few nice rights to the body in before Jacobs decides she's had enough. Gillian brings her right fist back and buries it into Elyse's ribs.
Willems looks hurt as she doubles over! Gillian is all over her now, smacking rights and lefts across Elyse's jaw. Willems stumbling back and forth across the ring, Jacbos catching her with blows to the face. Eventually Elyse finds a corner and burrows herself in, eating body shots for the rest of the round.
It's enough to stave off a KO this round, but it gives Jacobs the clear advantage.
19-19
R3:
Now it's Jacobs who comes out the aggressor. She sees Elyse is hurting and wants to put an end to her slightly smaller foe.
Elyse is a bit too savvy for that though, and shows off some impressive counter-punching. Jacbos lands a few blows, but Elyse quickly begins to rack up points on those jabs. Gillian has no real answer for them and starts to look a little stunned, if not worn out by just eating too many jabs.
Jacobs backs off, which seems more like a retreat than a re-group. Elyse is wise not to get in too close again, now a bit wary of Jacob's body-busting power. Willems keeps her distance, dances and ducks a bit, and continues to counter-punch at an impressive rate. A particularly potent right cross sends Jacbos sprawling back as the bell rings, making this a pretty one-sided round for Elyse.
29-28 Willems
R4:
Both boxers are starting to get a feel for each other's style. Jacobs knows that Elyse is content to just hang back and pick her apart with jabs for the time being. Elyse knows that Jacobs will work her body if she gets in close.
This leads to a lot of half-hearted attempts by both girls. Not much doing this round, as Elyse doesn't want to get close and keeps skirting by and throwing countering jabs. Meanwhile, Jacobs can't do her damage and keeps eating jabs from Elyse.
With about a minute left in the round though, Jacobs finds and opening and lands a nice right uppercut to the body that makes Elyse bend over. She's able to skirt away before any real damage is done, but Jacobs follows her down, ducks a left, and lands a nice one-two combo to the face.
It's enough to give Jacobs the close round.
38-38
R5:
Both blondes come out of their corners wanting to make a mark this round. Elyse begins by landing a few more of those jabs, but Gillian is determined to brush them off and charge forward. She eats a few, but slips under a right cross attempt by Willems.
This lets Gillian get in close and continue to do damage to that body. Elyse gets battered around the ring a bit, unable to find space. Her posture compromised as her ribs and abs ache. She can't help but let her gloves droop a bit. That's when Jacobs hits her with a left uppercut and then a sweeping right cross that sends Elyse to the canvas.
She tries to push herself up, but she's so far from the ropes that it's all on her to stand. She looks close around seven, but then collapses. Exhausted and beaten, Elyse can only let the ref finish the count.
WINNER VIA KO5: GILLIAN JACOBSPost-Fight:
"I guess Elyse was right," says a smirking Gillian. "It didn't go 7 rounds. Look, I know the questions will be about where I go next. But I'm 38, right? It's nice to have a win under my belt, but whether I stay in the ring or stay around the league in another capacity… I'm not sure yet. I've been weighing both options. But tonight, I'm just going to celebrate kicking some ass!"
"She has every right to celebrate," says Elyse. "Because it's true. She kicked my ass. I didn't think she'd have the power to put me down, but I learned early on she did. I'm disappointed in myself. This isn't really a loss I can afford as a 35-year-old free agent."