Post by Lookout! Boxing on Jan 30, 2021 2:07:27 GMT -6
Maisie Wiliams versus Madison Pettis

Maisie Williams: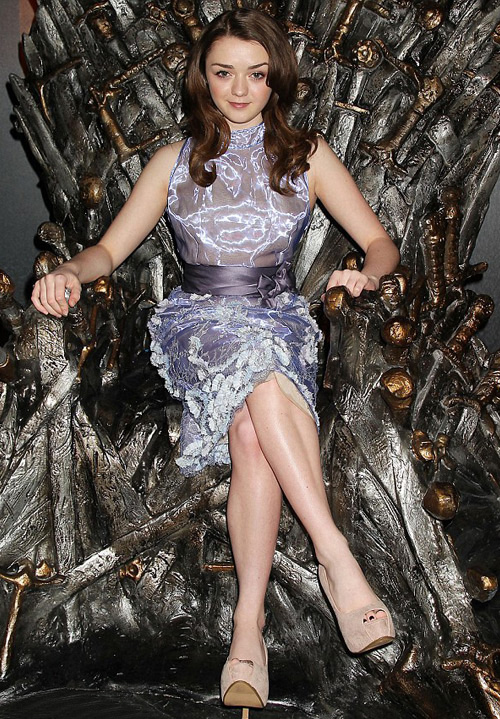 VS
Madison Pettis:
Tale of the Tape:Maisie Williams:
Age: 23
Height: 5'1
17-13 (17KOs)
Vs
Madison Pettis:
Age: 22
Height: 5'2
4-5 (4KOs)
(Girls Friday vs The Wannabes)(Written by Girls Friday/Results by Lookout!)Intro:
These two youngsters are both trying to find their feet, Maisie Williams and Madison Pettis have been trying to get onto the top table of the division, a win is needed to try to jump start their career back towards the top.
To think their careers in acting have been polar opposites, Maisie becoming famous through the adult fantasy show "Game of Thrones" compared to Madison coming through Disney shows to become a star, now their path is divulge tonight.
Form wise Maisie only won three of her last eight fights, she got a chance to speak to the FCBA network's interviewer Alicia Atout as she walked into the arena with her bag, waving with a cheerful look.
"Hey Alicia, thank god 2020 is done, now it's time to get back on the right track, I'm aiming to prove I'm the best of the new school group, Madison is the first in my hit list" says the English lass as she means against the wall next to Alicia.
Asked why things haven't went exactly smoothly in the ring for her the past year, Maisie admits "I wasn't ready for the top level, I know I have the skills, it's trying to find that little something that will make me reach the top, hopefully you see a little of the changes we worked on over the new year" nodding with a grin as she heads past Alicia to go to the locker rooms.
Madison on the other hand has won two of her last three, she seems to be finding her spark, beating Dove Cameron and Ashley Tisdale, with a more aggressive personality as shown by her attacking Ashley after she defeated her.
Alicia stops outside the Wannabes locker room, with Catherine Bell opening the door to tell the interviewer "Madison isn't doing interviews, we have her focused on this fight and don't need any disruptions from the likes of you" making Alicia blush red looking embarrassed.
Risking an out burst from Catherine, Alicia timidly asks if Madison is close to being seen as the Wannabes number one fighter, Catherine stares hard at Alicia, replying "we'll see how she does tonight first" then slams the door in front of the interviewer.
Fighting time, out through the curtain comes Maisie with her coach Ming-Na Wen and cut woman Eva Carneiro, Maisie is wearing a fake wolf fur jacket as she heads to the ring, eyes locked on the ring as she seems to be channeling a little of her most famous character Arya Stark.
The jacket comes off before she enters the ring to reveal she is wearing a red sports bra with a white "House Stark" motif on the right bra cup, red trunks and gloves, going barefoot tonight, with her hair tied back into a bun.
Maisie gives the fans a quick wave before settling into her punching drills, Ming-Na giving her a rallying speech as they see tonight as somewhat a rebirth of Williams after her losing what made her so wanted as a prospect it seems.
Madison now heads out to the ring, Catherine leading her out to battle in front of her, Madison taps her cheeks with her gloves to get herself in the zone for this bout, her fans whistling and cheering her on.
She steps into the ring wearing a black sports bra, black short trunks, black gloves, barefoot like Maisie, while her hair is in a ponytail as she stares across the ring at Maisie, the two pint sized warriors already glaring at each other.
Standing in her corner now, Madison nods to Catherine as she is told to cut down Maisie, no mercy the clear message as Madison goes through her own punching drills to limber up to the task.
At the urging of the referee they step to the center of the ring, Madison gets right into the face of Maisie, who pushes right back with her body, the referee needing to push them apart as they are warned to keep this clean, listen to the official or this will be thrown out.
Asked to bump gloves, they both hammer their gloves into their opponent's set with a crack of leather, jogging to their corners as the crowd looks excited, the referee signals for the bell to ring to start 10 rounds of flyweight action.
Round 1:
Out the gate Madison is looking to get on the front foot early, banging in a three punch combo right away into the face of her opponent, Maisie looking a little stunned by how Pettis is coming straight at her, she covers up as Madison bounces on her toes towards her with two to three punches being thrown at a time.
After the opening stanza sees Madison have Maisie along the ropes, finally Maisie lands her first real punch of the round with a left cross catching the American on her cheek, the crowd cheer as the two pint sized dynamos are going at each other hard with punches knocking heads back.
Maisie though can't find her way off the ropes, she is getting knocked back when Madison lands a crisp set of punches flush to her face, making the English lass cover up to shield her cute face.
Ripping away to the body of Williams now, Madison really is on her game, making her opponent groan out and need to clinch up, that beating she gave Ashley Tisdale after their fight seems to have ignited a fury in the youngster that hasn't abated in months.
When the round comes to a close it is clear who won that round, Madison gives a cold stare over at Maisie when she sits on her stool, with Maisie glaring right back, these two clearly are not going to be hugging after this one.
Round 2:
Smartly Maisie is more proactive out the gates, drilling in a double jab as she moves more side to side, keeping out the firing line of Madison, who relies more on her own jab when she realises she won't catch her opponent so easily
Seeing an opening to strike, Madison deflects a jab to rifle in her own left hand into the chest of Williams, then follows with a right across her cheek as she crowds the Game of Thrones alumni into a corner, where she again goes to the body when she can't land up top, even digging some uppercuts under the breasts of Maisie to show she will do anything to hurt her.
Causing Maisie to give Madison a shove to her face, emotions getting the better of her as Ming-Na is yelling at her to clinch, instead Maisie tries to fight back, with the lack of room to load up her punches she is getting beaten back by the nasty looking Pettis, who draws blood with a right across the lips of Williams.
Who finally clinches, Madison uses her left forearm to try to break free, shoving it under the chin of Maisie, the referee steps in to break them up, telling Madison to keep it clean or points will be taken off her, all hell nearly breaks loose when Maisie gives Madison a shove to her chest with the referee calling a time out to warn both women, the youngsters nod before touching a glove with their opponent to say sorry.
Judging by the hits they are landing after they are certainly not that sorry, there's more shoving with shoulders and left forearms in the home stretch of the round, at the bell the referee gets between them to stop it kicking off again.
Sitting on their stools continuing to glare at the other, Ming-Na breaks Maisie out her focus to yell at her, reminding her she is the experienced one in the ring, she needs to act like a grown up and stop falling for Madison's games, Maisie nods looking sorry for losing her temper.
Round 3:
Coming back out looking refocused now, Maisie is keeping on the move, using Madison's aggression against her early on by slipping punches before banging in her own counter shots across the stunning face of Pettis.
Who does get inside to work the body of Maisie after ducking under a jab, this time though Maisie is quick to clinch up to stop Madison getting a head of steam, the referee has to break them apart when heads start grinding.
Moving more around Pettis as she switches targets quickly in combos, Maisie is looking to now be getting a foothold in the fight, her lips get busted open again by a few clean shots, mostly though she is the one landing the flush punches on a too open opponent.
Ducking a right hook, Maisie lands a right to the solar plexus then an overhand left lands on the jaw of Madison to turn her head, back goes the Disney star to the ropes as Maisie now begins to drill away at her body, pressing Pettis onto them where she switches up from downstairs to up top when Madison opens herself up trying to fight her way off them.
At the bell Maisie jogs back to her corner for the first time in the fight looking somewhat relaxed, Catherine berates Madison for letting herself get caught out like that, now it's Madison nodding as she looks at the canvas before her cold gaze returns to her rival.
Round 4:
Stepping out to meet each other at the center, Maisie is continuing to out box Madison now, Pettis looks too focused on taking the head off of Williams, not setting her punches up as well as she can is leading to her head getting knocked back by straights.
After missing with a straight, Madison gets punished by an uppercut to her body that looks to wind her somewhat, a left hook crashes against her chin, followed by an uppercut, AS MADISON STUMBLES BACK THE BARRAGE ENDS WITH ANOTHER LEFT HOOK ON THE CHIN THAT SENDS HER TO HER BACK!
The Williams fans go wild as she jogs to the neutral corner, fists raised ready for Madison if she gets up, 1...2...3... Madison holds her jaw as she looks to the ceiling, 4...5...6.. Slowly rolling to her front, 7...8.. She is blinking as she tries to clear her head, 9...10 that's all she wrote for this fight!
Winner Maisie Williams KO Round 4After:
After such an awful start, Maisie gets the important win to hopeful begin to rejuvenate her career, she is smiling as she turns to the crowd with her arms in the air, enjoying the love her fans are giving her with their chants.
Catherine meanwhile helps pick up Madison, leading her to her stool where she sits her on, but barely says a word as she looks to be fuming with her fighter, even as Madison was amazing over the first two rounds, the win is all that seemed to matter for the coach.
Putting her head down looking ashamed of herself, Madison doesn't look like she has a friend in the world right now, the sting of defeat hurting so much that she is fighting back tears, tossing her gloves to the canvas.
Across the ring Maisie gets a nod from Ming-Na who ruefully smiles, not pleased by how Maisie fought to start, she did adapt and get the win, so Ming-Na might not be so hard on her in training the next day as Eva washes down the winner.
Once the fighters are both ready they head to the center of the ring, Maisie gets her left hand raised with a big smile, that disappears when she hears "you lucky bytch!" Being yelled at her by Madison, the two youngsters having a war of words as Maisie doesn't take too kindly to the inside.
As the referee tries to calm things down, Madison gives Maisie a hefty crack across her cheek with her right hand, Maisie's head turned around as her hair flew around, Maisie repays Madison in kind before both women grab hair.
Yanking each other around as they hiss out, the referee with Ming-Na tries to separate them as knees start flying in, Catherine smiles for really the first time tonight, looking proud that Madison is still wanting a fight it seems.
Finally they are pulled apart with hair on the canvas, some in their fingers as they both get one last kick in to the others shins, Maisie screaming "any time you want more! You f***ing got it!" Wanting to get back at Pettis as her coach tries to calm her down.
Catherine telling her fighter it's time to go, smiling as she leads Madison out the ring, the Wannabe tells Maisie "this isn't over" with her right index finger pointed at Williams, she heads up the ramp as her fans now cheer, these two are far from finished with each other it seems, both are young so this could be a long term rivalry forming in front of our eyes.
In the ring Maisie has cooled off, rubbing her reddened cheek where she got slapped, pulling her hair back into a ponytail as Ming-Na reminds her not to lose her temper so easily, now she will need to fight Madison again someday to not lose face.
They leave the ring together with Eva getting an ice pack to put on Maisie's cheek, she got the win but the war may have only begun for these two petite warriors as their careers have only really begun.