Post by Lookout! Boxing on Jan 30, 2021 1:37:35 GMT -6
KIRA KOSARIN
(23 y/o, 5 ft 6, W: 30, L: 13) VS
DEMI ROSE MAWBY
(33 y/o, 5 ft 2, W: 17, L: 6)
Results: Lookout!, Writing: Bonzo
Before:
Demi Rose's a JMD specialist, and her short, curvy frame's just perfectly built for the sort of physical shoot-outs seen in the genre – after a triumphant 2020 ended with the loss of her JMD title to Sydney Sweeney, Demi's looking to make a splash at regular fights this year, where she's already excelled in the past, beating Naomi Scott and Demi Lovato last year. Her upcoming match-up with Bonzo's Kira Kosarin will carry extra drama after Demi's stablemate Samara Weaving whupped Kira's butt on the beach a while ago.
As the fight's coming up, Demi Rose's not afraid to pull out all the stops, HIJACKING the pre-fight interview for a stunning publicity stunt – video walls behind the fighters show *endless* replay loops of Samara Weaving's upset destruction of Kira back on the JMD beach in November 2020. Lavish highlight scenes of Samara's work, plus elaborate slow motion edits of Kira pooling down to the canvas right off Samara's dominant frame, her mouth pouted open in abject surrender, the straddling smother, the humiliating kiss on smothered out Kira's moist lips – Demi and the O & E team milk Samara Weaving's shock upset for *all* it's worth, just trying to get into Kira's head, no stranger herself to pre-fight taunts, show-off moments.
It's a freakin' publicity disaster for badass Kira – the fumin', shoutin' brunette's putting her foot down in telegenic fits of rage, until FCBA officials *finally* remove the video walls sneaked in by Demi's team just before the show. Hectical officials also reseat the interview tables, placing girls far apart for obvious safety concerns:
"I'm a little envious of Samara," Demi purrs, as tempers have calmed, starting her interview.
"There's somethin' sweet about being *first* to let the world know that a supposedly bad, tuff chick is in fact, well – just hot air wrapped in a pretty balloon, I'd say! Well, I might not have been the first, but I sure as hell won't be the last to exploit the many chinks n' holes in Miss Kira's pretty armour! Any girl can look hot n' intimidating when she's winning – but once girls have figured out your quit switch? That's just too bad", Demi says, perfecting a mischievous smile towards her opponent.
"Anyway, you really gotta appreciate how picturesque Kira's looked in defeat – some girls just *look* the part, you know?", she grins, turning back to the video walls, feigning surprise. "Oh, the pictures are gone? That's so sad! Don't worry, guys: I'm pretty sure Kira's already tried out a couple of new poses she's ready to show you when she's out from under my smother – I'll make sure she's ready to showcase them for you soon!"
Kira Kosarin's 2020 was a feature of odd streaks – a seven fight winning streak (started the year before) that saw her storming to the title, until three losses put her in a bad slump of sorts (Thorne, Olsen, Weaving), before she bounced back late in the year again (Lovato, Dennings, Lotz). So just how emotional will this fight be?
"I'm sure you've all read about Tractorpull's being concerned about Demi's safety in the ring because of my size and power, guys? Well – he's damn right!," Kira Kosarin rustles in her response, fuming:
"If I were Demi I'd be shaking in my little boots, hopin' my proud rack's gonna make it through the night! Demi's pretty much made of jug – once I take those out? Not a lot of Demi left in the ring, guys! You can expect my retribution to be swift and brutal – there's no way I let these O & E girls trample over me and build their reputation at my expense – NO friggin' way!"
Fight night attire:
Demi's sporting a buxom, loose black satin cami top, black lace panties/shorts, black boots, her hair's loose, curvy – Kira's clad in sturdy red fighting briefs, a red sports bra, white boots, her hair's in a top knot bun.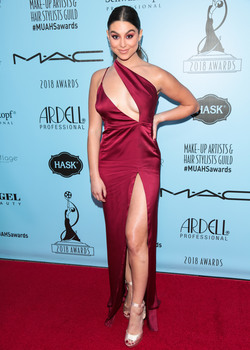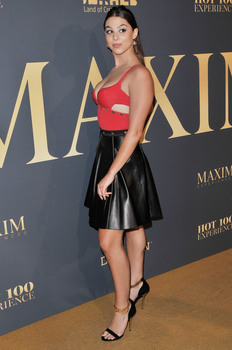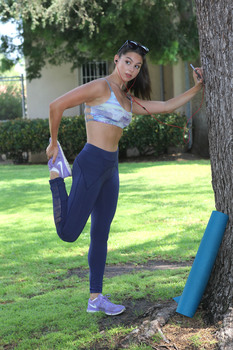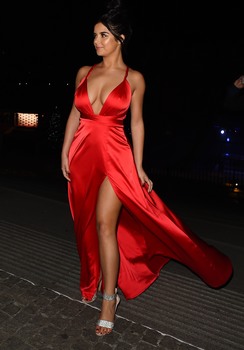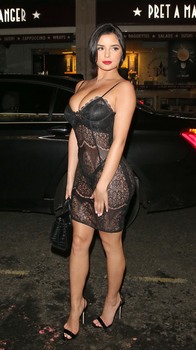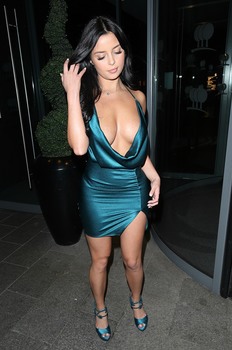 Fight:
R1:
Girls enter surprisingly composed, showing professional smarts after plenty of pre-fight bluster n' rage – lots of wide, rangy jogs, circles, as girls test out their respective jabs, looking to find right range, timing early. Around thirty, forty seconds in, Kira's slowly finding much of her rhythm, starting to shell at her smaller foe's blocks, defenses – she's at mid-ring, stepping forward froma tall gun platform stance, settling behind her jab, trying to hammer away behind it. Demi's tight, compact, staying very bendy, alert n' slick – cautious crouches, step-outs behind her gloves, trying to track, read Kosarin's jab tempo/rhythm, hoping to weave in right between 'em.
Kira's sober, relaxed, suitably arrogant – her right (back) leg's heel's high up off canvas, as she's taking smooth, crisp pivots to the left, slamming the tall, heavy jab upon Rose's head n' shoulders, trying to slug the girl off her stance, set her up for more thorough attacks on bod, jugs.
Mid-round: heavy, shelling rhythms force cover-ups, defensive guards from Demi – lots of blocks, bendy head-tacks, quick torso rolls, shoulder dips from small, mobile Brit. Kosarin's tall, rhythmic jab's neat n' in control – but Demi's quick, bendy style's foiling Kira's right hands pretty well! In spots, Kira's able to track the jab to Rose's head, neck fast – then TWITCHES into short, slammin' right hands to jugs/solar plexus. Mostly though, Kira's attacks stop with just the jab – and Demi's already back at a rangy position left or right of Kira, spoiling her hungry, powerful right hands, turning her flanks vulnerable. Demi's eyes wide n' hungry, as she's trying to secure her spots to counter – chippin' lil' jabs/hooks to Kira's flanks/ribs as girls pivot, slide, step out.
Down the stretch – Kira's pulsing jabs doing some damage at last.
Rose's forced to get all leggy, rangy – she's spending her time circling Kira, as strong, shelling jabs back her off, graze ears/hairline from Kira's smooth, tall reach. Attack step in, Kira – short, surprising shovel hook to Demi's jugline...right hook to trunks...left hook to tummy! Rose hurt, stumbling off – Kira's late, surging power's felt all right!
Bell: Kira's upbeat, grinning – tall bantam beauty just doesn't feel she's in any danger by Demi here.
R2:
Girls set up close, almost inside at ropes n' corners, as Kira's on top, placed more mid-ring – guards stay tight, compact, exchanging short, thudding blasts for leverage, momentum!
A high, tall jab off Kira's left shoulder – quick dip, Demi, ducking a shot to graze her forehead, hairline. Right leg planted, Rose – a short right uppercut jolts to Kira's solarplexus, as Demi creates lots of hard power from sturdy shoulder, hips. Reaction's lagging, but it's there: Kira steps out, losing her balance a bit, her eyes betraying a startled look as legs, hips won't respond right – legs start a shimmy, and she's moving to baby-steps, crossing arms against body! Demi slides to back and right, but staying controlled, cautious – leans into a short hammer drop shot chop across Kira's right ear/hairline! Kosarin startled yet again, eyes all hurt, shiny – her butt wanders to ropes, setting up dips, rolls in rope-a-dope. Demi a-rushin' in – short, quick hooks (left, right) upside Kira's eyebrows, just using these short, high-powered shots with plenty of hips n' glutes behind 'em! Kira's wobbly-butt – forcing clinches for ref's breaks.
Mid-round action – Kira's passive, just trying to find her legs, swagger.
Demi's aggressive, stepping into Kosarin with those short, stubby, STABBING shots right through the middle – fast-powered rhythms overtake Kira's tall, orderly textbook jabs, beating her to the punches, turning her flanks, backing taller girl off! Kira's guard high, closed, leaving spots between her elbows – and that's right where Demi wants in! Quick dip n' weave – hammer-drop chop slanted to rib, tummy!
Kira driven back, as Rose's edging her left shoulder in on Kosarin's rack – quick left cross to Kira's right ear, smack! Just a little bit of head swivel, Kira – she's crossing her arms at the ropes, bobbin' on the spot! Demi's attacks goin' chup-chup – small brunette's pushy, greedy, moving her fists across Kira's flesh (tummy, jug, flank) in pik!, pak! spank. A groaning, skewed Kira's reaching out to clinch again n' again, clearly hurt – it's all she can do, taking her height/mass down Rose's small, sturdy frame for tired ref's breaks.
Down the stretch – Kira's back and butt leaned ropeward in sheepish, hurt motions, her upper torso dippin' to left, right, left, right, trying to keep her earmuff guard tight, intact. Demi's working low, fast, hard – stoopin', slantin' shots trying to find precious spots in Kira's tummy, jugs. There's a pleased, beaming smile's on Demi's face at bell – she gives her taller foe a healthy lil' backhand shove right on her bottom trunks to send her on her way to corner, *immediately* scooting off to her own in time just before a tired, fuming Kira can turn around and react properly!
R3:
Demi's ferocious, surprising pundits, opponent with her stiff, hard jabs – she's fast, mobile, sprinting to n' fro, pestering Kira via fast, stubby jabs to the jaw n' jugs. Kosarin's taller, slower, trying to hammer back her long, tracking jabs to Rose's neck/shoulders, but wild, quick Demi's proving pretty elusive n' slick! Demi advancing in spots, setting up better positions, starting to cut off the ring – her stiff, extended rat-a-tat left hand's always scrapin', twitchin' at Kira's face, cheeks. Lots of step-outs, circles, back-pedals, Kosarin – she's just not finding the right range, or set up her feet, hips strongly to trigger her big shots here at all. Demi's a small, wild bully: peppy jabs find range, dictate tempo, annoy Kira endlessly – she's also able to step in with blunt hands to Kira's breadbasket, breaking her strong, tall foe out of preferred, set-up stances again n' again!
Mid-round action: Demi's dictating things outta the crouch, leaping into mean, hard shots off Kira's flanks/jugs – Kosarin's mostly stepping away, eyes hardening, frustrated – Rose's just workin' non-stop, bruising her foe all right Demi's so mobile, quick – she's bobbing at the waist, her hands stacked on top of each other at ribs, spittin', bitin' shots at taller girl all round long, until Kira's got enough, back-pedalling, hopping off, off, off from her tormentress.
Late second minute – Demi's seemingly exhausted a little, just taking her foot off the gas in spots...or not?!
Kira risin' up, ready to take over the action, trying to set up pursuit of her bendy, fast foe – long, extended shots (jab, uppercut) attempt to locate Rose's jugline, freeze her for punishment. Demi draggin' those feet, slidin' back, right – it's a fade, counter, left hook! Demi neatly timing her girl, shifting weight just when she's feeling Kira's extended a bit too much, reaching out to hunt – triggers the short, tasty left hook behind Kira's right ear! Just a scrumptious, NASTY little beast of a shot – a short reel n' totter left, Kira! A delayed reaction's shutting down her knees, thighs in lag – KIRA SPILLS ONTO ALL FOURS!
Kira in a bit of shock – her hair's coming apart sweaty, as tummy pants, jugs slosh prettily up n' down. A few grim, stubborn crawls forward, groans – she beats the count at "6"!
Final minute – ropes!
Kira's legs, energy all right, still workin' it – Demi's pasting her! Spittin' shots out of crouches, stoops, dips – Kosarin's covered up, trying to roll via ropes, dip a shot here n' there, trying to slug back a wild, angry swing shots from time to time. Rose's now going to body instead of face – spankin' shots to ribcage, biceps, jugs, liver.
Break – Kira's wobbly-butt, reeling left, right on way to corner, slumping down, closing eyes in frustration.
R4:
Kira's trying to regroup – but Demi's whirlwind power just won't relent!
Kosarin's still not setting tempo, rhythm at all, not creating power based on her reach, tall jab this time yet – Demi's able to penetrate, constantly crouchin', weavin' inside Kira's back-pedalling jabs, counter hooks. Once inside, Rose's setting up toe-to-toe with the taller girl, switching side to side on those sturdy hips – slamming 'em left, right across Kira's stiffening torso! Kosarin's ruffled, frustrated, spending another round reacting to Demi's styles, attacks instead of dictating the action herself as planned – no panic, just grim, sullen defense, Kira. Kosarin reaching down to Demi's neck or shoulder, giving her a healthy shove here n' there to ease the freakin' pressure – some smart shoulder nudges, using forward slouches, lil' side-steps not to get overwhelmed by Demi's furious, pounding attacks!
Round's still all about tactical retreats for tall, shut out Kira – proud brunette's just trying to stay clear off ropes, won't allow Demi to get a good power position, leverage on her rack! Her left shoulder's out, as bodies bump n' rub, hair all tousled, as girls jostle, shove – girls fight on Demi's terms, but Kira's imposing some of her will, putting some clubbing shots to Rose's trunk-line, jugs in these shoot-outs. Rose accepting the terms late – she's outworking Kira, moving her attacks to Kira's arms/biceps/flanks, as jugs prove elusive, well-defended this time out.
At bell – Kira's pretty looks are all ruffled feathers now, as pretty brunette feels scrubbed, clearly frustrated at playing second fiddle to Demi's rat-a-tat attacks. "Got to get bantam big on Demi now, girl," her corner says. "Girls's outworking ya plenty – only power will stop her, it's that simple."
R5:
Demi overreaches – early attempts at more, more wild pressure lead to sluggin', shootin'!
Same stance, set-up early: Rose strong, mobile, trying to drive Kira back courtesy of wild, splashing series of jabs, hooks from mid-ring crouches, dips – only this time, Kira's finding leverage, triggering power shots! Her feet planted strongly, she's twisting into licks from her hips, really popping 'em left, right – wide, rising uppercuts, haymakers belt to Demi's jaw, mouth, as girls roll away! Demi's weaves, dips just a tad late throughout a couple of these moments – HER HEAD WHIPLASHES BACK FROM A ROLLING RIGHT COUNTER! Hard, thumping impact unhinges Demi's powerful, mobile stance, bringing a dangerous see-saw to strong legs, knees – Kira takes over, grinning at last! Kosarin's so desperate to hurt Demi, leaning all in over her left (front) foot – short, snappy hook to chin, right hand tap to jugs before Demi can counter! Rose tossed out of form and stance, pedalling away, arms outstretched, as her legs won't behave right – Kira a-snarlin', driving her foe back via long, rangy body uppercuts (jugs, jugs, jugs!).
Second, third minute – sieges, pursuits, as Kira's just trying to ramp it up wildly, make up for lost minutes in Demi's rack all night so far. Demi's stamina slowly comin' back all right – her legs get put together again, as knees hold, buttocks stop the quiver! All the aggression, punch lust's there in Kira's wide, wild eyes – her lefts, rights bombard Demi's front, flyin', tossin' at and past head at ropes, as Rose's dipping, rolling, trying to side-step it.
Down the stretch – Demi's sturdy hips, thighs to the rescue! Smaller Brit's really diggin' in at the ropes, turnin', twistin' those hips, shoulder – she's banging 'em back again! Kira on top, but hurt's dished out to both gals all right – short, ripping uppercuts, bully forearms to Demi's jugline/ribs, as sly driving hooks drift to Kira's mouth/ear in return!
R6:
Kira fearless, ambitious, finally feeling her height, reach advantages working in her favour – but Demi's still
furious, hungry, pitching shots back to prove she ain't outmatched against Kira's trademark bantam big!
Kira UNLEASHES the jab early, hard, smooth – supple, hunting shots for Demi's head, chin, as Rose's taking lil' creep-steps back, turning around, crouching, switching from left to right, right to left shoulder pointed at taller girl. Kosarin's ready to commit now: hard, belting roundhouse shots to Demi's flanks, left n' right, clearly trying to overwhelm, finish her girl – Rose's well aware of the plan, trying to read these wild attack shots, rolling with 'em, ducking 'em, attempting to keep a distance. Just past the first minute mark – bait n' switch, Demi! British speedster rolls right, LICKS THE RIGHT UPPY OFF HER BACK FOOT!
A nice, walloping chin-check, as Kira's startled, pedalling back with hands outstretched – mean lil' torso-twists bring Demi's fists into Kira's jugs! Swipe 'em right, swipe 'em left, swipe 'em right again – Kira's momentarily overwhelmed, as Demi's eyes go into a haze of jug-lust! Kira getting tossed left n' right, her torso reeling in stagger across the ring, her pretty eyes fluttering – Rose's clipping body shots, her elbows placed in tight, all power coming from the hips/shoulders. Kira hits the ropes, sagging back in alarm, as the knockout hungry crowd squeals in excitement – taller girl's grim, sullen, set upright, loosened, then stiffened back up by Demi's greedy, jug-busting fists!
Kira groaning, setting hips to slide alongside the ropes, her tall frame's all hunched, crouched, her mitts placed at either ear, elbows trying to protect precious jugs – Demi hoppin' in, out, applying FEROCIOUS spank!
Break: Kira being mad, furious, slapping ropes in her corner, bytchin', cussin' around – she's disgusted! Demi? She's up 4-2, a knockdown ahead – the girl's highly motivated, scheming with her coaches to trigger more Kira rage!
R7:
Kira's a fumin', ragin' fighter – moves to fearless mode, trying to bull n' rush Demi into compliance!
Kosarin's banging away in confident, aggressive fashion at last – short, driving jabs to locate Rose's rack/shoulders, freezing her juuuuust enough for thumping right-hand shellack! Demi's speedster attacks put her in sudden danger: smaller fighter's still trying to stay on the spot, using the bait n' switch counter off her back foot, rolling 'em back quickly to Kira's jaw/mouth – Kira's setting up with her legs wide apart, driving short, hammering uppercuts across Demi's forehead, ears. Demi tryin' everything to roll, dip, time a counter – hard, CRUNCHING right hand dropped to Demi's hairline, gettin' those knees a-quakin'! Kira grinning all over her face – short, crisp combo of a left, right uppercut, scraping Demi's temple, forehead again!
Mid-round scenes – Demi's legging it!
British speedster's scooting away alongside the ropes, turning her way quickly through corners, changing directions, staying all bendy n' bouncy, still optimistic – just not a lot of good looks for her against Kira's rollin', thumpin' jab hunts, those right hand blasts! Kosarin's encroaching in spots – leaned-in left uppercuts splash to Demi's body/jugs, as Rose's trying her best to duck the wild, crushing right hands that follow! Demi's slippin' shots, trying to curl back short, cute counters, but she's forced to move out of the pocket – just too much raw n' brute power, lusty hatred behind Kira's fists throughout 7!
Break: Demi's panting hard, breathing sweaty on stool – first time gutsy speedster's been getting shellacked tonight!
R8:
Kira's in her element – driving, tracking jabs, and massive, freezing right hands! Demi still so leggy, fast – she's still taking spurts out to the sides, hands low – but Kosarin's always trying to draw her into more frequent, more dangerous toe-to-toe shoot-outs! Lil' shifts, shoulder edges create leverage, power for Kira, get her on top at mid-ring – jabs, hooks to time, locate, followed by quick, smooth, BASHING right hands to jugs/belly to wick away the last of Rose's endless, leggy reserves. Demi a-gruntin', always re-grouping – there's crossed-arm stances, lil' bobs, rolls on the spot, as she's trying to spoil Kira's hungry, right hand haymakers, uppercuts going her body! Rose vicious, furious in her relentless counter defense – big-time dips n' stoops able to deflect lots of hard, wild shots from Kira's stance! Pocket: Demi stoopin', risin' – she's trying to swat back short, rising hooks to Kira's jawline/mouth, hoping to time her foe's attacks and make her guzzle a heavy, hip-powered counter!
Just past the minute mark: Kira edges forward, her left leg/shoulder out, tik-tokking those firm jabs to Demi's neck, collar, upping the offensive tempo again – she's starting to trap and sit Demi in the ropes, corners!
Demi tight, compact, rolling aggressively with the incoming shots – short belt of a right hand off the ropes, Rose! Slip, Kira – right hand to jaw! Demi EATS it right to her chin, staggers onto her heels, tilts to the ropes, tilts back to the ring – and steps out right on wobbly-butt legs! Kira a-rushin' in, pancakes a tottering Demi against the ropes, and pushes/stiffens her upright – lil' step-back, Kira, and...short, curt lefty to jugs, righty to jugs! Demi cringin', crampin' up, folding at the waist, eyes disoriented – Kira using a lil' cup at Demi's right ear/head with her left mitt, nudging her forward into position! Right uppercut to jaw! Right hook to ear!
Head swivel back, Demi – her legs lock up stiff, topple her forward loose, helpless! Kosarin shimmying back a step, and another step, as Rose's sliding down opposite jugs, tummy, hitting to canvas – Demi's crashed to the mats, face first, hands trapped beneath her amble body, as Kira grins, yelps, turns, SHOUTS! That's a KO8, Kira Kosarin!
After:
Demi fighting like a lioness way past the finished count – she's crawlin, strugglin' onto haunches, her eyes still determined, as the ref's already reached ten!
"I want her, I want her – she's all mine!", Kira shrieks, impatiently whizzing around the ref, medic, officials, as Demi's slowly helped up, her mouthpiece removed. Rose's just been set up against a rope, as Kira breaks through, getting a good, yanking grip in Demi's ample hair, and pulling a whimpering Demi further to mid-ring, as Demi's hips, tummy shake, pant – it's a walk of shame, Kira! Demi's only dimly awake when it happens, still trying to stagger away from Kira's iron grip – but she's a blubbering beauty, protesting in vain! A healthy two-handed jug-shove sends Demi back down to the canvas, as her legs fail her, now trying to crawl away from Kosarin! Such a mean-spirited grin on Kira's pretty face – she takes a straddling seat on Demi's ample buttocks, making herself comfortable, as Demi's trying to wiggle, dislodge her! And there it is – SPANK!, and SPANK!, and SPANK! Kira fidgets around, shifting her position, riding on top of a poor, crawling Demi – slapping the famed buttocks of her beaten foe with healthy, clapping smacks! Officials, cornermen finally march in determinedly – freeing Demi's back off her tormentress's firm seat. "I wasn't even done, jerks", Kira complains.
"She sure is a mean lil' slugger!," Kira grins heartily during a short post-fight chat, as tempers have calmed. "I had a lot of trouble making my power stick on her – she was so fast and leggy, you know! But I'm confident, guys – I never stopped believing that once I actually got my power on her, she'd start to wilt, and that's *exactly* what happened! Nothin' greater than seeing her pool to the canvas – and that's where Samara's headed, too, when I'm ready for my revenge on her!"