Post by Lookout! Boxing on Jan 30, 2021 1:24:48 GMT -6
Jenny McCarthy vs. Anllela Sagra
(Holloway / Results: Lookout!)
Jenny McCarthy
Age: 48, Height: 5'7''
Wins: 69 / Losses: 67 / Draws: 1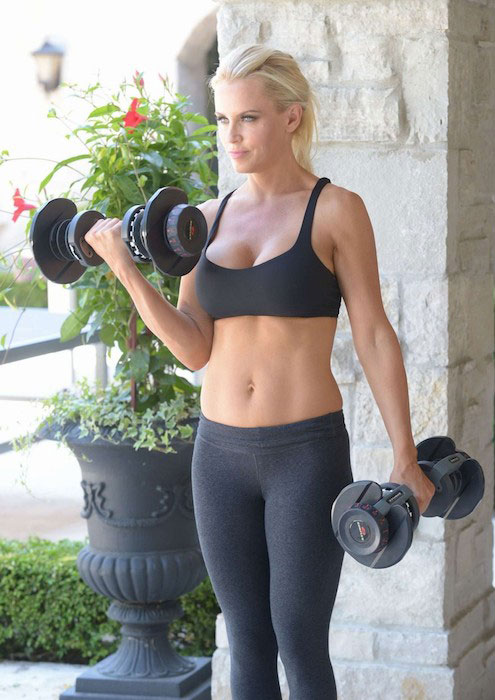 Anllela Sagra
Age: 27 / Height: 5'9''
Wins: 17 / Losses: 10 / Draws: 0
Pre-Fight:
Jenny and Anllela are both coming off of pretty satisfactory wins. Jen just took down her long-time rival Kate Beckinsale in the second match of their Coronation Series and Sagra just got her first win in over a year. It's also worth mentioning she just got her stable back as well.
"So her stable is back. Wow. Whatever. Everyone who's anyone has a stable. And a lot of nobodies too. It's not like it's a big deal", says Jenny as she talks about tonight's match. "Briana what's-her-name also had her stable when we fought not long ago, and I left that b*tch's teeth on the ground".
"You got lucky!" shouts Sagra as she approaches her opponent. "And tonight I'm proving that to you".
"Oh, really? You and what army?" jokes McCarthy as she looks up at her taller opponent with confidence in her eyes.
Sagra removes her robe. "This and this are all the army I need" she says as she flexes her biceps at her opponent. "Oh, and we can't forget about these", adds Sagra as she caresses her six pack. "Best abs on the league, darling".
"Oh, yeah?" McCarthy drops her own robe. "Seen this?" she says as she showcases her own impressive set of abs.
"I said abs. Not whatever you call that abomination. Give me a reason and I'll take care of them for you" she says as she leaves to her corner.
"I'll give you two reasons tonight, Angie", says Jen as she raises her two fists. "You just won't be able to do anything about it".
Fight:
Round 1:
Both women go pretty much straight for each other at the sound of the bell. Defenses are low, emotions are high, jabs are flying across the ring. Both fighters look confident on their bodies and their skills for this match. Their cocky smiles say everything there is to say.
Though it's clear they're not going all out just yet, it's clear there's some damage being done on both sides. A pretty even round until McCarthy manages to land an uppercut that snaps Sagra's head back and makes her stumble back a little bit. She may not be as fast as Sagra, but her years of experience are no joke and it's clear she's still training hard at the gym. Sagra had been slacking off during her time without management.
With the blonde now starting to push her foe with every punch around the ring, Sagra goes into a more defensive mode. You can see the frustration growing in her eyes. However, she still manages to put up a pretty good fight for the rest of the round. You can't argue it wasn't close, but "Mac The Knife" takes the first round on points, 10-9.
She sits down in her stool, with a big smile on her face, sending kisses to her opponent.
Sagra sits down in hers, her eyes locked on Jen. "I"m killing that b*tch", she says.
Round 2:
Another round, another quick start. The two ferocious women get ready to go at each other once again, jabs start flying around, but Anllela seems to have another target this time. A strong hook hits Jenny's ribs hard and is quickly followed up with a two-punch combo to the midsection.
Jenny quickly realizes what's going on and accepts the challenge. Hooks and jabs to the abs are exchanged between these two fit women. Sagra's punches seem to carry more power as the fight goes on, quickly turning McCarthy's toned abs soft. McCarthy tries her best as well, but Sagra's abs of steel really do feel like steel.
The round ends with Jenny significantly wore down and two sore red tummies. That big smile has gone from Jen's face to Anllela's. They're now tied, 19-19. "That b*tch. Who does she think she is? I'll tear her jelly abs apart next round" says McCarthy to the people in her corner.
Round 3:
McCarthy's determined to prove her abs are still better than anyone else's on the league. She comes in hungry for tummy shots and she gets them. "Mac The Knife" looked just about ready to throw in the towel last round, but she seems to have gotten a second breath out of nowhere. She puts on quite an impressive display of athleticism as she dances around the ring, hitting Sagra hard with all kinds of punches to the midsection. Sagra looks hurt, but she's no slouch either. The Colombian model fights hard. After an intense first minute, it looks like it could be anyone's round, but Jen gets sloppy. She throws a left hook that gets easily dodged by Sagra and leaves her open for a powerful hook to the core that doubles her over. McCarthy's hands instinctively go to cover her stomach and Anllela sends her down into the mat with a right to the temple.
1... 2... 3...
"You're a tough old b*tch, McCarthy..." Anllela whispers to her opponent.
4... 5... 6... 7...
"But an old b*tch nonetheless".
8... 9... 10...
Official Result: Anllela Sagra defeats Jenny McCarthy KO3!
Post-Fight:
Sagra knees down next to her fallen opponent and puts her hand on her tummy.
"Pretty solid. Not surprised you lasted almost three whole rounds" says Anllela about her foe's abs, right before knocking the air out of her with one punch. "But not solid enough".
"You wanna see what real abs feel like, Jenny?"
"f*ck you" replies McCarthy.
"Let me show you", says Sagra, as she jumps on top of McCarthy and rubs her abs of steel all over her face. Jenny's tired and can't do anything about it.
After a few seconds, Sagra finally stands up.
"That should be enough. I hope you learned your lesson. Otherwise, give me a call. Just be careful, next time I won't be so gentle". And so, the Colombian Amazon walks away, leaving McCarthy on the ground.