Post by Lookout! Boxing on Jan 30, 2021 1:11:26 GMT -6
KARLIE KLOSS VS BOJANA KRSMANOVIC

Results: Lookout Writing: Archer

Karlie: 28 YO, 5'11 (1.80 m) 19-17-0, 19 KO since 2016, Fighting Academy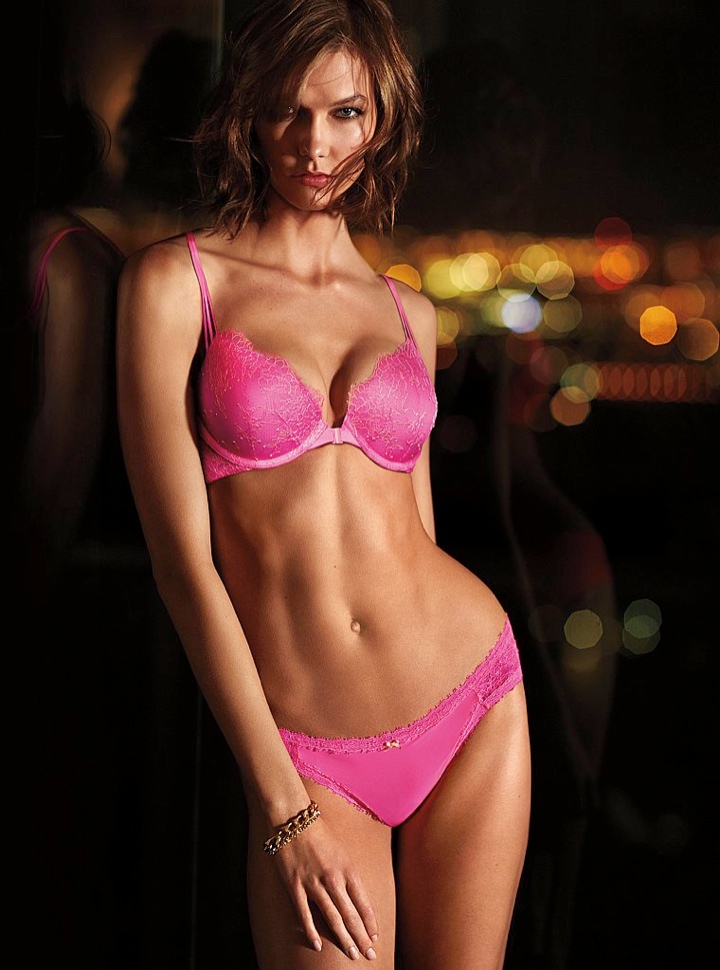 Bo: 28 YO, 5'11 (1.80 m), 16-18-0, 16 KO since 2016, Pretty Little Punchers
Before: Two models face off in an interesting battle of tall (5'11) lanky boxers. Bo was 2-1 lastr year in the FCBA, but she got off her 2021 by losing to Karen Gillan. Karlie went 1-4 last year and hopes to get off to a better start in this, her 2021 debut. No nonsense before the fight or as they enter the ring. Both taking this fight very seriously and are focused on that. Karlie in pink bra and panties with black boots and gloves (pink laces). Hair loose and wetted down. Bo in black bra and panties with gartered sheer black stockings. White gloves and boots with black laces. Hair in a battle braid down her back. Ring instructions are smooth and professional. Gloves tapped. Fighters to their corners. DING! DING! The bell rings…
R1: Long-stemmed beauties lope out to mid-ring and start shooting long-distance punches as they circle around each other. Bo and Karlie exchanging blows to the side of the head, then the jaws and finally they clip each other to the chin. Bo getting the better of these exchanges as she snaps Karlie's head around and sends shivers down Karlie's legs. Bo then moves in closer and gets in some stronger uppercuts to the chin that sends Karlie in rubbery legged retreat. Bo pressing in closer now smacks Karlie in her lean midsection and sends Karlie skittering back, bent forward and trying strike back with head shots, though Bo able to duck most of these. Rounds ends and the Serbian Slugger books her first round by a wide margin,
R2: Karlie galloping out quicker at the start of this round and catches Bo with big right hand to the jaw, Blow hands with power and Bojana's legs suddenly get all tangled up. Karlie pressing forward with rights and lefts to Bo's chin and jaw. Bo clearly fighting the fog that has closed in around her brain and the best she can manage is to protect her head. Karlie smoothly starts firing right and left hooks deep into Bo's belly. Bo bending forward at the waist, she's trying to counter with the jab, but every time she uses it, Karlie attacks to the head. Bo just trying to get away without falling down. Karlie pounding her to the flanks and straight up the body down to the bell. Karlie Kloss wins round wide.
R3: Bo comes out faster this round, but Karlie moving fast as well. They get to mid ring and start firing in shots from long range. Karlie smiting Bo to the breasts and face to get things started. Bo gives it right back to Karlie's face and rack. Faces starting o get shiny from the blows, but neither fighter backing away. Then Karlie bends Bo forward with a hard strike to the belly and then brings a crunching left into Bo's chin. Bo knocked back on her heels. Karlie pumping in more shots to Bo's ribs, belly and then hooks to the undersides of Bo's bra cups. Bo lashing back to Karlie's rack with the jab, but she is losing ground as Karlie pushes her back. Bell ends the round. Karlie Kloss wins it, but it was a lot closer this time.
R4: Bo and Karlie again move out of their corners quickly, but this time it is Bo who is able to strike first. Bo lunges in and puts a hard right into Karlie's face, striking her between the eyes. Blow sends Karlie stumbling back and Bo catches her to the jaw with a powerful right/left combo. Karlie reeling from the blows and Bo now strikes to the belly Karlie's tall body jackknifes forward. Bo fires away with more belly hooks until she's plated Karlie's buns against the ropes. Karlie covers her face with her gloves and has to surrender her body to a thorough washboarding beat down from Bo K. Karlie gasping and gurgling under this bombardment. Legs are quivering, but they don't give way. Karlie standing at the bell though she has a grayish, hollow-eyed look on her face as she peels her throbbing body off the strands. Bo Krsmanovic has won the round wide.
R5: Karlie Kloss looking stiff and sore as she comes out for the new round. Unfortunately for Karlie, Bo Krsmanovic is coming out full of eager energy. Bo sets to work hammering away at Karlie to the head and Karlie promptly covers up. Bo instantly moves her attack to Karlie's already battered midsection and she unleashes fast and furious barrage of hooks. Karlie doubled up and retreating. Bo mercilessly dries Karlie into the ropes and goes at that midsection with her lbows moving in and out like pistons. Karlie shuddering, writhing, and gurgling as one hook after another after another crashes into her abs and ribs. SUDDENLY KARLIE'S LEGS CRUMBLE! SHE PITCHES FORWARD TO HER KNEES AND THEN CRASHES FORWARD ONTO HER FACE! Bojana looks down at Karlie curling up at her feet and then trots to the neutral corner. Referee counts. Karlie trying to rise, but her legs just won't obey her brain. She tries to stand, but topples back against the ropes. She is seated there legs spread out, arms at her side with a hopeless look on her face. The referee's words are a formality…
"NINE!...TEN!...YOU'RE OUT!"
THE WINNER BO KRSMANOVIC DEFEATS KARLIE KLOSS KO5!
After: Bo congratulated in her corner by Lucy Hale, Janel Parrish Sash Pieterse and Danielle Campbell. A cute sight to see these much smaller PLP boxers happily crowding around the 5'11 Bo. They help her get her gloves off so she can get across the ring for that Model Tradition: the Walk of Shame. Bo gets her right arm around the waist of the understandably unhappy Karlie and they are off for a triumphant (well, triumphant for "The Serbian Slugger") circuit of the ring.
"Beating her felt SO good. My first win in 2021, I could not be happier," Bo tells Archer News reporter Skip Tracey later.
Skip also calls on Karlie Kloss who says sadly: "Not what I was hoping for at all! I am NOT giving up, though. That 'Bytch from the Balkans' is going to get it from me one of these days!"
Fun battle of long-legged models who were both eager to get the win tonight. Alas,only one of them could win and it turned out to be Bo Krsmanovic of the PLP. Both fighters showed some punching power, but Bo seemed to have more of it. That 5th Round beating against the ropes that took that legs out from under Karlie Kloss will look good on a future Bo K. highlight reel. A hopeful sign for Bo in 2021, but Karlie now looking to get back on track in the new year. Her fans hope she can get there soon.