Post by Lookout! Boxing on Jan 30, 2021 1:06:25 GMT -6
AMANDA RIGHETTI
(37 y/o, 5 ft 8, W: 107, L: 32) vs
DANIELLE HERRINGTON
(27 y/o, 5 ft 10, W: 3, L: 1)
Results: Lookout!, Writing: Bonzo
Before:
Danielle Herrington's one of a crop of a second wave of tall, lean, toned supermodels at welterweight: Kate, Hannah, Tahnee and Hilary have blazed the trail – now every Sports Illustrated girl wants in! Danielle's just as tall and maybe a tad more physical, athletic (muscular) than many of her peers – it's not a guarantee for success, but Herrington will see extra coverage as a member of the eight woman welter contender's tourney in 2021, and pundits agree she's a dangerous prospect. She's debuted last year and battled out two impressive triumphs over Fates's rookie Hannah Davis and sturdy ole' Kat McPhee.
Facing Amanda "Big Rigs" Righetti early this year will be a major leap in competition and threat for Danielle:
"I know people are surprised why I'm fighting Righetti in the same month I'm entering the welter contenders tourney, right? Well, the answer's simple – I want these girls to fear me! I want to put pressure on them. Yeah, Righetti might be the most dominant ever, so maybe she'll smoke me. But I'm here to compete! Most of these girls in the tourney wouldn't even *dare* to match up with Big Rigs at this point – but I'm fearless, baby! I want to emulate what Hannah, Tahnee, Kate have done – keep knockin' at Righetti's chin until she goes up in flames and down for the count!"
Does Danielle perhaps want to send a message to Righetti's stablemate and fellow welter tourney contender, Camille Kostek by taking on this fight?
"Yeah, the amazing thing's than I can actually leapfrog Cam Kostek this way!", Danielle smiles. "Can you imagine the freaking shock on their faces? *First* I'm gonna pound out her rusty mentor, and *then* I take out Kostek herself. Just watch me, because I got plans, baby, plans."
Righetti's amused, nonchalant about Danielle's claims, plans – she's heard of a lot of it before:
"Well, it's simple mathematics for me. As you know, I'm always ready to neutralize a threat early and hard – and I've already beaten *every single one* of the supposed contenders in this little welter tourney. Except for Danielle! So there you go – I just thought I should go in and show all these girls that they can have their little tourney and fight for scraps, you know? I'm *still* out there, being bigger and badder than everyone else. I know it's tough for them!" she shrugs. "And Cam's going to slap them hard anyway, as she should."
Fight night attire:
Danielle's sporting her black-and-white striped bikini top and panties (as per photo ref), black boots, white gloves, her pitch-black hair loose, curvy – Righetti's clad in a mauve flower-print skirt, a black sports bra, black boots, mauve gloves, her auburn hair tied in a ponytail.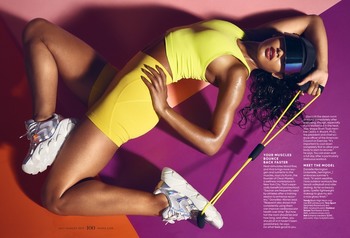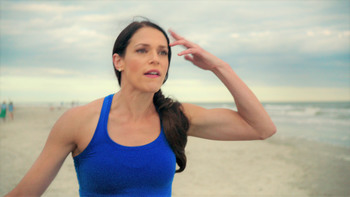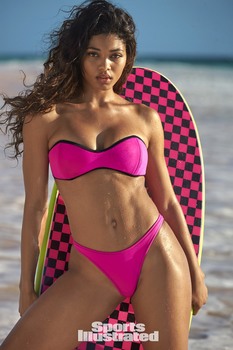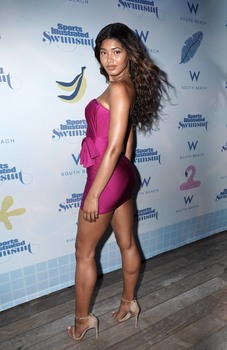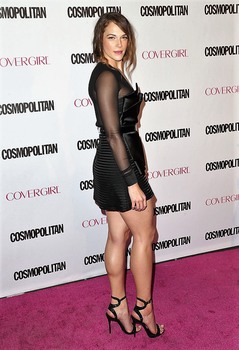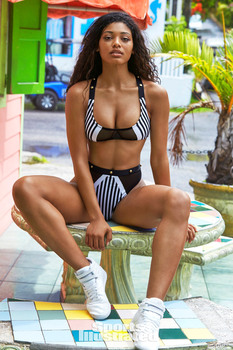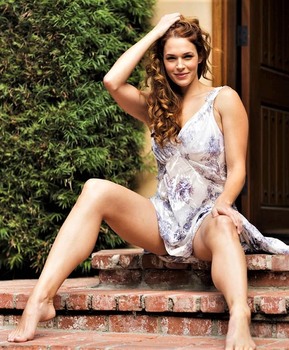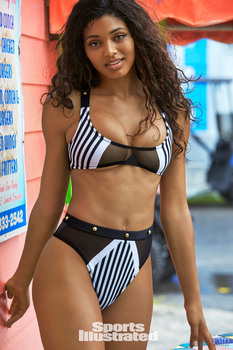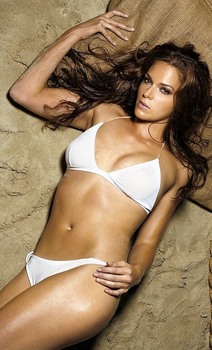 Fight:
R1:
Welter big girls moving well, immediately hopping close, trying to slam each other off stance via stiff, flat jabs, short right body hooks – it's ferocious, hard trade right from the bell!
Righetti setting tempo, pace early – quick, hard double, triple jabs brace Herrington mid-ring on guard/arms, as Danielle's weaving side-to-side in tic-toc fashion, trying to block shots firmly, not backing up at all. Girls take slower pivots, staying in range, proximity, as eyes are alert, bodies tense, mobile – Amanda's taking dips, step-outs, coming back inside via the SLAMMING left and right hooks to Danny's ribs/paunch/breasts, forcing grunts, backward hops from her brunette foe. Redhead snarls: short left jabs drip n' drop off the guard, bouncing smoothly off Herrington's defenses – followed by dippin', strappin' work upside Danielle's toned, tender flanks/ribs.
Herrington firming up sturdy around minute mark, as strong thighs, firm torso fight back, resist redhead – her stance's pretty smooth, relaxed, taking long easy gaits to left, right, placing her arms loosely, punch ready. And Danny's here to compete – she spits out a short double jab upside Righetti's right arm to brace her neatly to the jaw/cheek, and she's swingin' a wide right to Amanda's gut/paunch, just as redhead's stepping forward!
Mid-round scenes: Herrington's not shy, stepping-with, shelling her stuff nicely just as drawn up for her – short, choppy right hand to ear's got Righetti's tumbling around a bit, stepping forward wobbly-butt! Danielle smiles, scooping redhead up, as Amanda falls in – she's pretty intense, determined, immediately rushing Big Rigs ropeward, as buttocks tense up, shoulder muscles strain hard! Amanda's jabs tall, strong – Herrington's taking weaves, side-dips, attemping to crouch the shots low and step back in with plenty of rockin' power to jugs/ribs! Big Rigs not holding an aggressive, hungry Danny off – short spit right hands graze redhead chin, as Herrington swirls, shoots from the crouch!
Final minute – Righetti sets up big-girl at the apron!
Herrington's trying to dicate the action – there's steady, drilling lefts to Manda's biceps/shoulders, as she's wading in, pushing on top in intense fashion. The startled, raised eyebrows betray Righetti's surprise, but she's brawny in her defense – she leans back, trying to push off Danny hands-on-shoulders, getting off short, sneaky hooks to ribs/flanks, too. Herrington's a-workin' it – her head's under Amanda's chin, as the tall models's maulin', clubbin', constantly trying to shuffle, push Rigs around at the ropes.
Down the stretch – Righetti's tying up, stumbling around with her taller foe on the spot, as sturdy redhead's driving the lean supermodel back mid-ring for ref's break, slowing things down until the bell. Herrington's upbeat, smiling at bell – her no-fear, no-nonsense approach's got her the points in a slam-bang first round!
R2:
Righetti's a master at sudden surges, abrupt shifts – she's fading Herrington's pressure early, creating adjustments.
Heavy jabs shell off a gun platform stance, hitting Herrington's guard, defenses steady, ready – set up heavy, diving right hands to breadbasket, tummy, oomph. Punch n' clutch off the jab, right hand – Manda's muscling up, embracing lean, tall Danny, wrap-rushing her to ropes! Righetti using leverage, weight of shot – steady, heavy fire's breaking down Herrington's fronts, stances, backing her up! Tall model in struggles, gaiting out to left, right, back – nice torso or head lean-aways, arms draped around redhead shoulders/head, pulling her closely to stop the punch n' clutch.
Mid-round: Righetti's physical, muscular, grinding her foe – lots of forearms on jugs, lil' shoulder-bumps for position, palms on jugs/shoulders to steer her girl off an inch or two, set up a right hand slant to tummy, jug. Herrington's constantly jostled, pushed off her position to punch or get off – tall, textbook jabs, high reach not in play for model here.
Final minute – Herrington's giving up canvas, ground.
The long, gaiting steps, the loping pivots, as Danny's trying to get rangy, tall – Righetti's short, weaving left jab to guard, right hand to tits/breadbasket freezes brunette girl, sets her up for gruesome, tapping slant shots to biceps/tummy. Tall, lean Herrington hitting ropes more n' more, taking Amanda's weight, trying to drape her, embracing close, but she's held down – short, strappin' leather across her jugs, tummy leaves her mouth-breathing, pouting, sweaty at bell!
Herrington's corner cooking up a recipe – "You gotta pre-empt, girl, pre-empt – your jab's taller, longer, and so it gotta hit her first, right?"
R3:
Herrington still pretty subdued, reluctant early despite pep talk– stepping away, backing off from Righetti's driving poke, taking gaits, pivots to ropes/corners, steadily shifting her position via hops, side-steps, showing cautious V or earmuff guards. Amanda sets up a steady, pressuring pursuit of tall, mobile beauty – her right hand's at chest, as left hand's placed low, ready to sling, using it to track or time shots to Danielle's head/chest, before sliding out right. Steady pressure on Danny's lanky, athletic frame, as the lean, toned model's clearly struggling to trigger a good counter shot, or use her height/reach advantage to track Righetti's jab, pre-empt it, interrupt her pressure right now!
Around the minute mark, Righetti's wading close, upping tempo of weave n' jab attacks to Danny's ribs/jugs.
Herrington's under pressure – right cross intercept! Danny stumbles off to ropes, her torso askew, panicking a little, somehow gets those knees bended, slinging a right cross beaut with plenty of hip n' thigh behind – bam! Righetti caught hard, stiff, folding into earmuff at temple left, right – wide, tall stance, Herrington. Her arched back gets a long, sling overhand left uppercut to 'Manda's mouth – catching her stiff, hard AGAIN! Weight shift, right uppercut off the left foot – another chop to redhead mouth/teeth! Danny's in there hard and aggressively, putting her hips behind shots – RIGHETTI'S GROGGY! 'Manda trying to stiffen, rise from the crouch – hands outstretched, she backs off to ropes, earmuffed. Herrington so quick n' ready – short left, right combo straps Righetti's jugs/breadbasket, emitting groans. Amanda stumbles away left – TAKES A KNEE!
Redhead's strong torso just a little loose, vulnerable – she steps out, loses balance on her feet, totters onto her right knee, a-swayin'! Danielle's eyes widen in shock – she lets out a scream, pounding her chest! Righetti grunts, sighs, stabilizes – she's up quick for a blushing "5" right in front of the ref, trying to grin slily, shrug things off! The fire in Danielle's eyes dimmin', dullin' a bit – she was ready for triumph and now she's disappointed!
Late second, third minute: Righetti firms up, immediately pushing in on Danielle's bod, nestling up inside of her rack, right under her head/chin – constantly shuffling, pushing, crowding her backward. Herrington's strong, but caught off-guard – she struggles to find leverage, clip Rigs the hard righty haymaker. Messy clinches, ref's breaks – Righetti's pretty physical, driving Danielle back step by step, denying her any attempts to finish or get a new look at her chin.
R4:
Danielle's tall, rhythmic jabs appear, finally making more good use of her height and reach, driving Righetti back, keeping her well out of range, distance to dominate that crucial mid-ring canvas, set the pace, and work the power. Righetti's strong-legged, trying to crouch behind her mitts, erupt into leaping, aggressive spit-hooks to Danielle's face, chin up tall – Herrington's pretty poised, taking lean, gaiting side-steps to side/back, answering back slingshots from arched back, popping hips, using alert head rolls, side-steps, lean-outs.
Mid-round scenes – Righetti's trying to crouch, crowd, and erupt, hoping to weave in, step her jabs n' hooks to Herrington's breadbasket, make her feel the power again.
Danny's pretty alert, smart: she's flicking a long, tall double jab to screen Amanda's eyes, feinting, then suddenly stepping in righty! Hard, busting shot to the chops's got Righetti staggered, trying to shift weight across her legs – she's stumbling around on the spot in a bit of earmuffed confusion! Nice scenes for Herrington in control along the ropes, turnbuckles – a smooth, wide stance, as left hands bash to face/mouth, and right hands to paunch/flank/lats set up little sieges, as Righetti grunts, shifts, covers up, sliding hurt alongside the apron.
Final minute: Herrington's being tall, mobile, bendy, always trying to keep her fists ready to sling, holding them low n' prepared – shots spit at will, sling, slap up from lap, thigh region!
Righetti's in full, tight earmuff/guard at ropes, trying to track, time the incoming shots, step back short hook counters towards Danielle's jugs/shoulders in between series of wild, slapping attacks on her – but her head tacks, torso dips/rolls get a little late, as Herrington's pace, rhythm's got Big Red covered up, hurting from shellack to pretty face/guard! Righetti frustrated, wobbly-butt at bell – Danny's lanky, hungry power's got her puzzled a bit!
R5:
Herrington's pretty hungry, as she's stepping close with a motivated snarl, her eyes so wide – but Righetti's ripping her momentum away in aggressive, heartless fashion! Girls just step, lean into each other hard, as torsos crouch a bit forward – 'Manda rises and erupts first, spits out the looping overhand right hand upside Danielle's temple/eyebrow. Herrington's still trying to lean out of blasting shot – BUT SHE'S CAUGHT STIFF, FLUSH! That hard, concussive impact's sending immediate tremors of shock down Danielle's firm, athletic torso right into her thighs, buttocks, too – she's all knock-kneed, staggering away in a panic! Amanda's a-surgin' right in: a healty two-handed shove to Herrington's shoulder/jugs sets her girl upright, clobbers her sternum/jugs with a series of short, belting shots, left/right, left/right. Hard, jolting impacts unhinge Herrington's toned stance, loosen up legs – she's wobbly-butt!
Past minute mark, Herrington's stabilizing in spots – meaty tie-ups, more grunts n' groans as she absorbs power shots.
Righetti's all physical, brutal again – lil' shoulder bumps, mitts palming at neck to pull down Danielle's head. Righetti sets up a strong, broad-legged stance at ropes – feet apart, staying mobile with her torso/upper bod, as hips, shoulders roll n' rotate to generate power, better leverage, as she's getting into Danny's flanks/lats/jugs via snug power, applying pressure by spanking shots pik, pak, pik, pak off firm, toned, pinking flesh! Mid-round scenes – Herrington's hurt n' groaning, as she's now attempting to roll, shift or slide out to sides at the turnbuckles, ropes. Righetti puts in just the right kind of trademark power work – opposite biceps/jugs get relentlessly attacked, as redhead's mitts paw away in stern, muscular fashion, taking out Danielle's energy/power one shot at a time.
Down the stretch – Herrington's leggy, but tired, trying to take long, loping trips around the ring, her hands outstretched, her pretty eyes miserable, her lips a frustrated pout, all mouth-breathing. Righetti's fast, aggressive, nestling right up under Danielle's chin, RIPPING short left/right shots across the jugs n' ribs, forcing retreats from her leggy opponent all across canvas. Bell n' break – Herrington's slumped across her stool inside corner, taking deep heaves, pants, as her coach's trying to talk about "tall jabs", "reach" and "counters", while Danny's just tired, frustrated.
R6:
It's there betrayed in Danielle's pretty eyes – no quit, but she's no longer hopeful, persuaded or confident of herself, just grimly stepping away from Amanda, forming grumpy, sullen earmuff to absorb, or tying up hurt, weak.
Righetti's calm, controlled, exacting a thorough beatdown on her tall, lean opponent– she's erupting from the crouch, as aggressive bob n' weave n' jab attacks get right under Herrington's tall, extending jabs, while Danielle's taking backward or side pivots, just trying to ping Righetti the defensive one-two combinations from a leaned-back torso. Short, quick dips and side-steps, Righetti – her mitts placed all loose n' easy, as she's grazing Herrington's chin/mouth via smooth, erupting right hand hooks, crosses! Danny's legs give way, as stance, frame wilt – she's hurt dizzy!
Mid-round scenes feature Herrington backing away, as her defensive, pinging jabs can no longer stop Righetti from intruding on her in hard, aggressive fashion – she's hectical, tired, as fit, leggy stamina's all spent on defensive, fleeing pivots. There's maulin', pushin', as Righetti's getting on top of Danielle at ropes, corners – short, abrupt, ripping combos (left body uppercuts, right crosses to chin).
Final minute: Righetti bares her teeth, suddenly going all in – a short jab combo up top's keeping Danny busy, setting up that slant right hand wide to the model's body, as flat, thudding impact's sending Herrington's firm tummy into a quiver, as legs go see-saw, thighs break apart. Danielle steps out right/back, trying to toss the tall, overhand left uppercut to Amanda's temple during her back-pedal – short dip's got Righetti avoiding that shot, rising to her full height, detonating a short, jerking left uppercut off her opponent's mouth!
Danielle's startled, and SO HURT, as her legs, torso go into a shimmy, unable to keep her seesawing feet together. Herrington's mitts drop a smidge to chest, as pretty eyes just stare on in glassy confusion, pretty much posing stiffly for the next shot – big right hand up top, Righetti! Picture-perfect shot up top Danielle's forehead, eyebrows – immediately stiffens Herrington into a freeze, rolling her eyes back shut! Lean, tall model pitches backward on a straight leash, DASHING her onto broad back via hard, rude thuuuudd – she's out cold on impact, hands folding up over her head, one leg up, her pretty eyes rolling open/shut, open/shut, a frown edged onto her right (raised) eyebrow, as lips murmur unintelligibly – Amanda nods in approval, as model goes to sleep at her feet, KO6 Amanda Righetti!
After:
Lots of high-fives, shoulder pats, happy shouts in Righetti's corner: redhead's known for grinding out girls in shot-by-shot, minute-by-minute, round-by-round fashion – the sort of thunderclap one-shot power punch putting girls to sleep in the blink of an eye's not a shot she's got up her sleeve each and every time, and everyone's impressed how it ended tuff, toned Danielle Herrington's night. Except for Miss Harrington, of course – the strong, athletic beauty's carefully rolled onto her side, propped up, her mouthpiece taken out, as rickety back's stabilized, then taken to her corner slowly on hurt legs, as eyes betray she's flabbergasted, still dizzy. Righetti's visit to Danielle's corner's formal, matter-of-factly: just a quick pat on the back, a word or two exchanged to make sure Herrington's all right – Amanda's just not looking to make friends in the supermodel camp:
"You know, I'm still a little embarrassed about the knockdown," Amanda says with sheepish, sly grin.
"You tend to forget these lean girls carry a punch, right? Anyway – wasn't a problem for me. Once you grind these girls out, get just a little rough on their jugs, biceps, you know – that punch's just no longer there, and you can go in and stop them. We've been working hard on my chin-checking power for 2021 – and it's perfect to see how all the pieces are comin' together. You know, I'm just going to be in full attack mode this year – just lots of nasty surprises I'll cook up for girls like Kate, Hannah, Kendall!"