Post by Lookout! Boxing on Oct 30, 2020 20:49:57 GMT -6
LUCY HALE VS OLIVIA HOLT
Results: Lookout Writing: Archer
Lucy: 31 YO, 5'2 (1.57 m), 33-33-0, 32 KO since 2010, Pretty Little Punchers
Olivia: 23 YO, 5'2 (1.57 m), 18-7-0, 18 KO since 2017, Odds n' Ends Fight Studio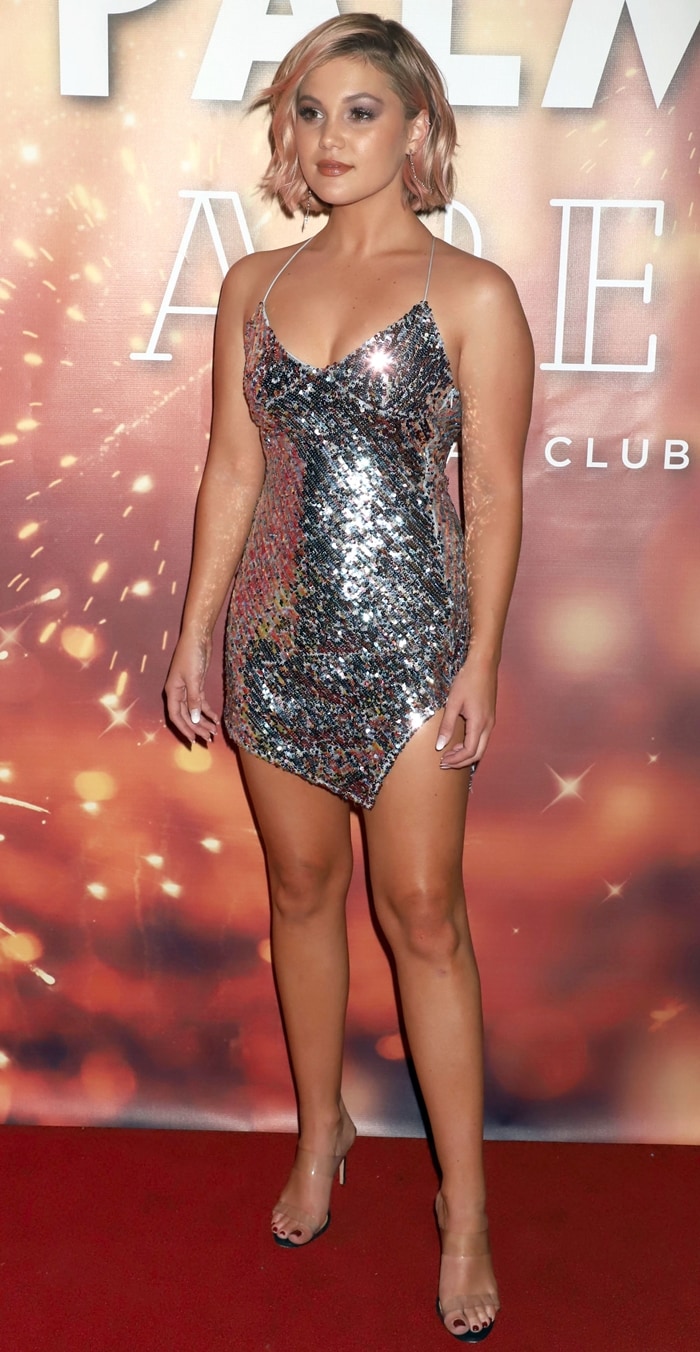 Before: Rising star Olivia Holt looking to bounce back after losing to Isabela Moner now takes on veteran Lucy Hale. Lucy could use a bounce back herself after losing to Katherine McNamara.
"McNamara is a tough cookie," admits Lucy in the prefight, "I found that out the hard way, but I am not about to shy away from younger opponents. Olivia is not invincible—Moner showed everyone that. If Isabela can beat her, then so can I!"
Olivia Holt looks annoyed: "Moner was lucky and if you think that proved I am beatable, you will discover I am an even tougher cookie than Kat McNamara. One us is going to bounce back in this fight—and it won't be Lucy Hale."
Now it's Lucy's time to look annoyed: "The only bouncing you'll be doing is when your butt hits the canvas for the KO."
"Brag all you want now, kid, this veteran Is taking you down!" snapped Lucy.
"It's no brag when you make it happen and I promise to do just that. The bouncy butt hitting the canvas will be yours Hale. That's a promise!" Olivia said heatedly.
"One you won't be keeping!" Lucy retorts.
Hot words between the two feisty petite flyweight, but they don't actually come to blows at the presser. However they have excited the interest of fans and the cheers are especially loud as they come to the ring on Fight Night.
Lucy is in a red one piece swimsuit with black boots and gloves (red laces). Her bobbed hair is loose but wetted down. Olivia in sparkling silver and black piece with silver boots and gloves (black laces). Olivia also has her bobbed hair wetted down.
The ring instructions are tense as Olivia and Lucy keep crowding each other. Stern word from the referee needed to keep order. The instructions covered. The two slam gloves together in a loud "tap" then head for their corners. More tense waiting, then the bell rings….
R1: Olivia and Lucy are both out at good speed and start punching as soon as they get within range at mid-ring. Both going to the head in the early going. Liv showing a lot of mobility making herself an elusive target while repeatedly scoring against the side of Lucy's head and jaw. Lucy trying to get in closer to land better, but gets smacked hard to the chin by a Olivia Hale right/left combo. Lucy dropping back, trying to circle, but Olivia darts in a launches a flurry of hooks to the belly, then pulls back. Lucy tries to pursue, but gets clouted in the belly by a second set of Olivia hooks. Lucy sent back doubled up and looking shaken. Round ends before Olivia can follow up, but she winds the round easily.
R2: Lucy Hale taking no chances this time: she is out of her corner fast and scores with a ringing right to Olivia Holt's jaw and then a clipping left to the chin. Olivia knocked back, gets her gloves up around her face, so Lucy digs in hard with hooks to blonde belly and ribs. Olivia trying to get away from these attacks which have her bent forward and now taking Lucy Hale shots off the sides of her head. Lucy pressing forward with rising punches into Olivia's overhanging breasts and abs, Olivia finally counters with jabs into Lucy's breasts and then into her ribs to slow up the brunette's attack. Lucy starts working Olivia back to the ropes, but runs out of time before she can get Olivia on the strands. Lucy wins round wide.
R3: Lucy presses her attack as the new round begins, She works Olivia to the body with a very thorough scrubbing attack. Olivia worked over to the breasts, down to the ribs and then pounded to the belly. Olivia again using jab to try to slow Lucy up, but they don't seem to be doing much good. Lucy fierce as she slugs away making Olivia shudder with every blow to her tenderized torso. Lucy again starts working Olivia towards the ropes, but once again she runs out of time. However Lucy does get another wide victory in the round.
R4: Olivia under pressure the last two rounds now responds with a fast charge out of corner and a quick strike at Lucy's jaw. Lucy hit flush and goes spinning away from the blow. Olivia moves with the hurting Lucy and hammers away at the brunette to the head. Lucy finally scrambles clear, but she's taken a number of head shots and seems to be trying to clear her head. Olivia moves at her, striking at Lucy to the body, but then Lucy fights back. Crunching right uppercut jerks Liv's head back and then she takes a swatting left to the jaw. Lucy now attacking with straight rights and lefts into Olivia's face as big red marks suddenly sprout on Olivia's face. Lucy seems about to take control when Olivia counters with a hook deep into Lucy's gut. Lucy jackknifes forward and now Olivia smashes blows into Lucy's face! Lucy fights back with jabs to Olivia's face, but gets smashed to the chin with a clipping Holt right. Lucy' knees quiver, but now it's Olivia who runs out of time. However Olivia was able to squelch Lucy's counterattack and win the round narrowly. Both fighters have bruised and slightly cut faces as they move back towards their corners. Lucy looks a bit wobbly as she slowly moves back to her stool.
R5: Repair work by the PLP and O & E corners get their respective fighters out for the new round but Lucy is looking sluggish compared to Olivia. Olivia quick to take advantage as she starts showing some fancy footwork and feints that Lucy keeps falling for. Olivia working Lucy steadily to the head early on, but then shifts body work in the middle minute. Deep, steady, punishing hooks tip a Lucy forward. Then Olivia sees the dazed Lucy's high guard getting weak and she strikes with a terrific right uppercut that blows between Lucy's mitts and into her chin. Lucy goes stumbling back, arms flailing wildly and then her back hits the ropes. Lucy has only a split second to realize what' happened, then it is too late as Olivia is on her with crashing rights and lefts to the head. Then two more uppercuts to the chin brings Lucy up onto her toes. Olivia ready to bring a finishing right in against Lucy's jaw, but Lucy is already crashing down onto her left side to lie in a heap next to the bottom rope. Olivia hastens to the neutral corner and watches as referee begins to count. Lucy stirs, tries to use ropes to pull herself up, but she can only get to her knees before she has to lean, defeated, against the ropes. The referee's coun is only a formality:
"NINE!...TEN!...YOU'RE OUT!"
THE WINNER: OLIVIA HOLT DEFEATS LUCY HALE KO5!
After: Olivia Holt unkind after her win saying dismissively: "She didn't even last 5 rounds against me. Oh sure, she got lucky a couple of rounds there, but, in the end, I beat her down and left her on her knees in defeat. Lovely image. I will have to save some photos of that for my scrapbook or maybe even a poster. Now I am back on the winning tracks and Lucy can go back to her usual just-above-jobber status."
"She said that?" Lucy Hale fumes when later informed of Olivia's remarks. "She's the one who got lucky. I worked over good in the 2nd and 3rd, but she rocked me at the end of the 4th. I hadn't really recovered in the 5th and she took advantage to win. I am not saying that was unfair. I'm saying I still don't think she's as hot as she thinks. Fight her again? Who knows? I doubt she would want to risk it though. The chances of her being lucky twice are a lot longer."
Quit a battle while it lasted. Olivia Holt took the first round, but Lucy Hal was strong in the next two rounds. The 4th was close on the cards, but it seems apparent Lucy was hurt by that late uppercut and Olivia did what a good fighter should: take advantage to get the win. Good comeback win for Olivia that should put the Moner fight behind her. A disappointment for Lucy, but she's seldom down for long. We wouldn't be surprise to see her at .500 by the end of the year.