Post by Lookout! Boxing on Aug 1, 2020 17:32:38 GMT -6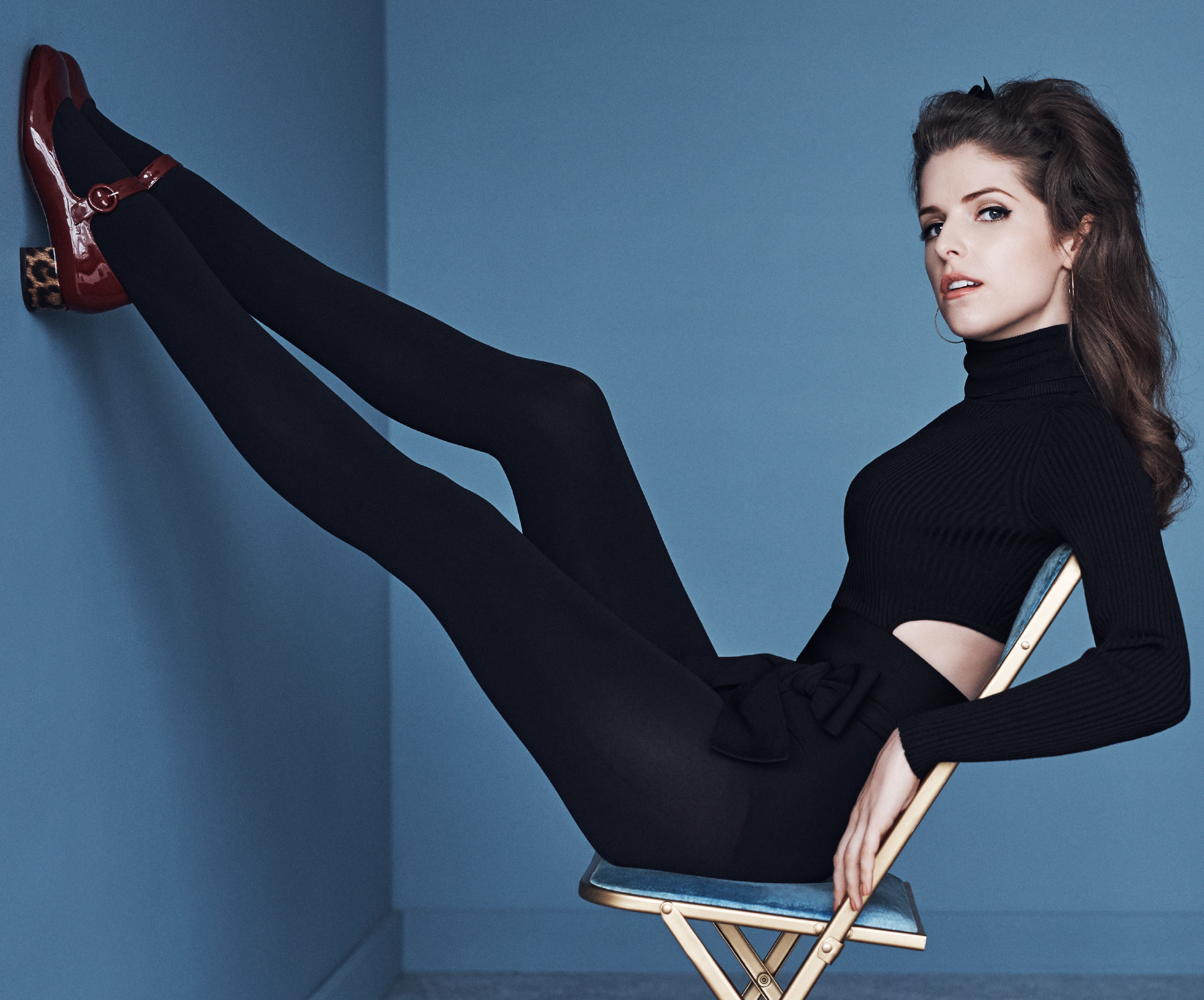 Anna Kendrick
(34 / 5'2" / 18:21 FCBA / Free Agent)
Elyse Willems
(34 / 5'3" / 2:0 FCBA / The Comediennes)
Results: Lookout! / Story: The Comediennes
Pre-fight:
It's been the battle of the two adorkable wits of Anna and Elyse during the press conference.
Neither girl is giving much away. Anna praised Elyse's taking down of Jenette McCurdy and Kristen Bell (while reminding everyone Kristen just turned 40) and Elyse is calling Anna her awkward long-lost sister.
What's on everyone's mind though is whether Elyse can put down another former flyweight champ.
Elyse downplays this, "Who knows? I know my stable has been working hard to get me quality fights that aren't too out of my range. Now if they can figure out who gets us lunch I'll be more interested in that…"
Anna meanwhile has no stable and hasn't fought in a bit.
"You just gotta go with it, you know," she says. "I have an opportunity here against an up and coming fighter who beat a pretty well-known name in Bell and an okay fighter in McCurdy. I'm either going to keep my momentum going or become a stepping stone for up and coming fighters. And I don't plan on being the latter."
R1: The buzz around Elyse is her stalwart jab, and she throws it early and often in round one. She does a good job landing it, but it doesn't seem to be enough to get Anna on her heels. Elyse tries to throw some bigger stuff, attempting a hook. But Anna is too quick for that. She ducks and pops Elyse with a jab of her own. The two women circle each other for the first minute, throwing jabs back and forth. Elyse landing a few more than Anna.
As the round drifts past a minute it seems as if Anna has figured something out. She feigns a jab and side-steps, following with a beauty of a right cross. Elyse takes it well, but raises her defenses. Anna almost nods, as if she anticipated that. Anna steps in, blocks that textbook jab, and rails a combo to Elyse's gut.
Elyse gives out a soft moan of pain and Anna comes in for more. Another blocked jab and some more body work by Anna. She's working Elyse well. Anna doesn't have enough bite to get Elyse to the ropes, but she hurts Elyse enough to open up an opportunity for a hook. And boy does she land it. Elyse's head snaps to the side as her mouthpiece flies from her mouth. The bell rings as Elyse stumbles towards her corner where her trainer catches her.
Anna made that round look easy as she takes the first. 10-9 Kendrick.
R2: Elyse looks rattled. She looks wide-eyed as she talks over ideas with her trainer, because it's obvious Elyse doesn't have any.
The two stand up as the round begins and Anna continues her strategy. Elyse's jab only lands cleanly every once in a while, while Anna's jab snakes past Elyse's defenses with ease. The crowd can see it in Elyse's body language. She's scared. She's more scared than when she had to survive being knocked down by Kristen Bell. Anna has figured something out on Elyse and she's working her.
This time she gets Elyse to the ropes, but it doesn't come without difficulty. Despite Anna controlling the flow of the round, Elyse keeps landing that pesky jab of hers. It snaps with precision and explosive speed. When Anna isn't focused on it it lands. So Anna keeps her focus on it. Blocking the jabs and moving out of range of the bigger swings, Anna has now successfully moved in close on Elyse and begins to pound her midsection. Two hard uppercuts leave Elyse doubled-over and just as Anna is about to crush her with a left-hook the bell rings. Elyse's mouthpiece drops from her mouth again as she gets close to her corner and drops to her knees into her trainer's arms.
Luckily the ref didn't quite catch that and her trainer is able to pull her up on the stool.
Despite a few more jabs landing that round from Elyse, Anna takes round two with ease. 20-18 Kendrick.
R3: Anna has that patented side-smirk on her face. Her trainer can't even give her advice. She's been as close to flawless as possible these first two rounds. She doesn't want to get greedy though, just keep working the game plan and see how much damage this newbie can soak up.
Elyse comes out haggard. Anna is as swift as ever. She keeps dancing around Elyse, blocking that jab when she can and landing crosses of her own. One particular combo gets Elyse brushed back again and Anna comes in, looking to pound that body. But Elyse has dropped her guard! She expects the body blows and counters with a stiff jab. Elyse pops off another two jabs before Anna can get her guard back up. Anna doesn't realize just how much ground she's given up until her butt hits the ropes. She's shocked, but in her shock she eats a hard right hook to the ribs.
Elyse now has Anna in a real bad spot. The Comedienne boxer marks Anna's arms up and down. Slowly she starts to break down her defense. Anna's arms drop slightly and Elyse lands another jab. When her arms raise Elyse starts sneaking hooks to the ribs. A left then a right. Anna tries to cover up and weather the storm, which she does as the bell rings. Anna walks back to her ring in confusion as she asks her trainer how the Hell that just happened.
Elyse wins her first round of the fight handily. 29-28 Kendrick.
R4: Neither girl is sure of what to expect this round. Anna locked down the first two rounds before getting lazy and letting Elyse back in the fight. The two meet in the middle of the ring again and instantly start to trade shots.
Anna's jab starts to work even better than Elyse's now. She's marking up her opponent's face and raising her guard with every shot. Meanwhile, Elyse's jab is still doing its thing. Brushing Anna back when she gets too close and stalling any sort of offensive combos being thrown at her.
Anna does some dancing in the middle of the ring, moving better than Elyse and that ends up making the difference in the round. Anna is dodging shots; Elyse is soaking them up. Both girls are landing most of what they want to land, but Anna does a slightly better job of it as she ends the round with another beauty of a cross to Elyse's jaw.
Anna wins round four close. 39-37 Kendrick.
R5: Elyse is getting out boxed and her corner knows it. Her trainer whispers something in her ear. She looks at him and asks him if he's sure. He nods. Elyse shrugs and stands as round five begins.
Anna moves well, as she expects to continue her strategy. When all of a sudden Elyse comes in with something brand new. She's standing Southpaw! All of a sudden whatever limited playbook Anna had on Elyse is completely useless. Nobody except for Elyse and her training staff knew she was ambidextrous and plays most of her sports left-handed. And now the trick has been played for the entire FCBA to see.
The following round is an absolute pounding. Anna is surprised so much that Elyse just bullies her around the ring. Anna can't even land a jab on Elyse. The Canadian brushes Anna back, back, back, until finally they're in a corner. It's open season. Elyse's right-left combo snaking and landing on Anna's chin. A huge left-handed uppercut completely breaks Anna's defenses. Her arms go flopping down as Elyse hammers the girl with right and left hooks to the cheek. Anna's smirk is long gone as the bell rings.
Elyse with a dominant performance as she pulls a rabbit out of the hat. Very likely Elyse takes that round 10-8. 47-47 all.
R6: Elyse rushes out of her corner, looking to put Anna on the canvas. Anna still has trouble countering Elyse's punches, but she does a good job of keeping her distance. Anna is simply a shade too quick for Elyse.
Anna stays away from her the majority of the round, not even throwing punches in return. Elyse can't seem to get close enough. She looks over in her corner as her trainer gives her the sign to flip around. So she does. Going away from southpaw now, she tilts her shoulders to their orthodox position and now can fire that left jab to stop Anna in her tracks.
She pops one off and it's absolutely beautiful. Anna stopped in her tracks as Elyse comes barreling forward. She pounds away at the midsection and then starts throwing haymakers to the temple as Anna's guard falls. Anna's drifting to her right. Elyse follows suit. It's getting close to the end of the round. Anna needs to survive only twenty more seconds! Elyse stops her cold with a left jab! Fifteen more seconds! Elyse fires a right cross and Anna collapses backwards into the corner.
The ref rushes over… only twelve seconds left in the round. He starts his count. Anna's eyes flutter as she puts her gloves on the bottom rope. Pushing herself up. The ref is at six. The clock is at six.
Anna's legs give out from under her as her ass drops down, costing her valuable time. The ref is at 8. Anna makes a mad scramble to get to her feet but the ref counts her out before she can stand.
Winner: Elyse Willems KO Round 6
Post-fight:
"Well, guess the cat is out of the bag now," says Elyse with a shrug. "This fight was different from Kristen in that I couldn't really find a groove. Round 3 was okay, but I only got it because I countered. My trainer told me we have to reveal that I can switch to southpaw or else Anna would keep chipping away at me and I wouldn't be able to come back. So, guess now I can't surprise anyone with that one anymore."
"Yeah it really does suck," says Anna. "I had her, you know? Like I really had her. But how could I know she's ambidextrous? She just showed her cards to the entire FCBA now, so be careful Elyse. You aren't fooling anyone going forward."