Post by Lookout! Boxing on Aug 1, 2020 17:06:10 GMT -6
ALEXANDRA DADDARIO VS KAIA GERBER

Results: Lookout Writing: Archer

Alexandra: 34 YO, 5'7 (1.70 m) 16-16-1, 15 KO since 2014, Foxfire Boxing
Kaia: 18 YO, 5'9 ½ (1.76 m), 7-1-0, 7 KO since 2019, Global Boxing Syndicate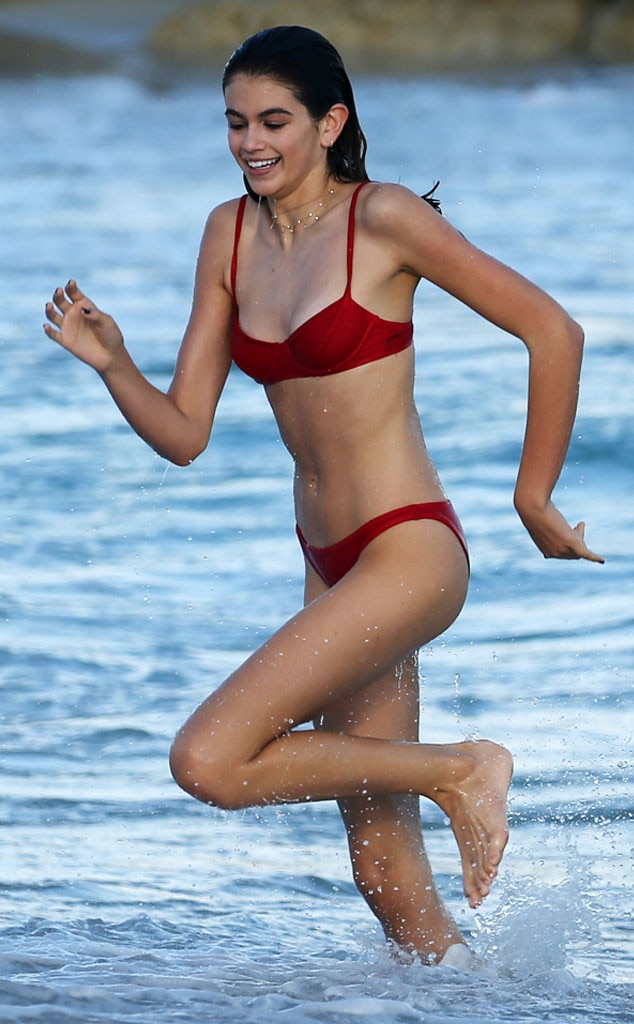 Before: "I just working my way up the Lightweight ladder," says young Kaia, "I feel I have to prove myself more than the average rookie because my mom was such a great champion. I want that too, but I know it won't be just handed to me. I have won 7 of my first 8 fights, but that's just a start. I need to beat lightweights of quality. That's why I am taking on Alexandra. I looking forward to this fight and feel I am ready for her."
"I appreciate Kaia wanting to go her own way and I have to say her current record is impressive for a rookie. However now she's fighting Alex Daddario and I expect she will be getting a rude awakening. She's good, but not as good as I am, but she will probably learn some valuable lessons in fighting me."
Kaia looks irritated at Alexandra's remarks: "Maybe you're the one who isn't good as she thinks she is. After all, you're just 50/50 fighter after 6 years,"
Now Alex is frowning: "You will learn that being a 50/50 fighter after 33 fights isn't a bad thing at all in this federation."
"Sounds like an excuse for being mediocre fighter," Kaia sniffs.
"Look, kid, you watch your mouth," Alex snaps.
"I'm not afraid of you!" Kaia declares defiantly.
"You will be, you will be," Alexandra retorts, "see you in the ring, Ms. Gerber. Remember I warned you."
"I am SO scared," Kaia fires back. Alexandra looks ready to slap the rookie's face, but things better of it and heads for the stage exit. Kaia looks vexed and stares angrily after the departing Alex.
Kaia's mood has not improved by the time she meets Alexandra in the ring for their fight. Kaia is in a simple black one piece swimsuit with white gloves and boots with black laces. Hair in a battle braid. She looks defiantly at Alexandra Daddario who is in a blue one piece suit (which shows off her chest) with black gloves and boots with blue laces. Alex gives her a superior look that irks the rookie and Kaia bodies forward. Referee quickly intervenes and sternly waved finger restores order. Instructions are given. Sharp slamming together of their gloves then Kaia and Alex go back to their corners. The bell rings.
R1: Kaia advances quickly and starts pumping punches at Alexandra's head. Couple of good rights bounce off Alex's head and she hunches up with her gloves up around her head. Now Kaia goes to the body, hard smacking rights and lefts to Alex's breasts, then Alex shaken by deep hooks into her ribs and then the belly. Alexandra nearly doubled up shuffling back trying to slow Kaia up with the jab. Kaia moving from left to right, trying to find openings and generally keeping Alex bottled up. Round ends with Kaia smiling with "Guess-I-Showed-You" satisfaction. Alex looks more annoyed than hurt and stomps back to her corner. Kaia wins the round wide.
R2: Alexandra makes a point of being fastest out of her corner as the new round begins. Ale immediately starts firing heavy hooks into Kaia's lanky body. Kaia bent forward at the waist, trying to scoot out of range while using her jab to hold Alex off. Alex slapping rights and lefts off the sides of Kaia's head. Kaia struggling to escape, but Alex cutting off the ring and now launches a fresh wave of hooks to Kaia's body to drive her butt into the ropes. Kaia huddles there, shielding her face and head with her gloves as Alex works over Kaia's ribs and stomach down to the bell. Kaia moving slowly back to her corner with a shell shocked expression on her face. Alexandra looking pleasing with herself as she wins this one wide.
R3: Kaia and Alexandra both fast from their corners. First blows are at long range as both fighters go for the head. However they both then bore in closer and suddenly the two of them are eye to eye and toe to toe as they fire in punch after punch into each other's torsos. The sounds of whacking leather against sweat soaked fabric a fascinating sound for those near the ring can hear. Alex and Kaia giving those punches all they can muster and soon produces grunts and groans as each impact slams off. Exchange is very even, but then Kaia slips to the side and bangs a hard right into Alexandra's temple. Alex shudders and staggers away. Kaia swarms her with more head shots trying for the knockdown, but Alex jabs desperately, striking Kaia in the mouth and nose hard enough to draw trickles of blood and stall Kaia's advance. Two are circling, planning their next moves when the bell sounds. Judges give the round to Kaia, but it's a close one.
R4: Out Kaia and Alex come for the new round. Kaia going in quickly, trying to land against Alexandra's chin, but Alex stops her with a crackling right hand between the eyes. Kaia rocked back on her heels and her legs have suddenly turned to quivery jello. Alexandra smacks home right/left to the jaw before Kaia can get her mitts up around her head. Alex smoothly guides the beleaguered rookie towards the ropes. Kaia sliding along the ropes, trying to keep from being pinned on the strands. Alex having to work to corner the newcomer and finally goes. Kaia again getting worked over to the body as she huddles there, protecting her face and head as best she can. Round ends and Alex wins it wide. Kaia again looking wobbly after a trip to the ropes makes her way back to her corner as Alexandra smiles as she walks to her stool.
R5: Kaia comes out with surprising energy after the thrashing she took last round. This time she moving faster than a complacent looking Alexandra and pops the veteran with a hard right uppercut that sends Alex reeling. With a determined snarl, Kaia leaps at the dazed Alexandra and backs her up with punches to the head and body. Alex finds herself the one driven onto the ropes and she can only go face in gloves. Kaia's arms moving like piston rods as they pound away at Alex's rack, ribs and belly. Alex gasping and groaning under the barrage, but she sits in the ropes to keep from sinking to the canvas. Bell sounds and Kaia has to step back. Kaia wipes her forehead across her sweaty brow and smiles as she sees a woozy Alex leave the ropes and makes her way slowly towards her corner. Kaia finds revenge is sweet as wins this round wide and got to beat up Alexandra in the process.
R6: Alexandra now the one who shakes off a beating and comes out strongly in the following round. Kaia is moving in hard and clearly want Alex back on the ropes, but Alex fights back. Rapid-fire punching to the head soon as both fighters falling back to regroup, but then they quickly head back at each other. This time the punching goes to the belly and Alex is landing with extra power as she sets her feet to give her leather more impact. Kaia shuddering, gasping and finally falling back. Kaia rallies with her jab as she hammers at Alex's juggs, but Alex catches Kaia to the jaw to send her falling back again. Kaia trying to get back at Alex, but has barely started this when bell sounds. Judges declare this was a close round, but they give their nod to Alex D,
R7: Kaia, apparently not happy about losing the last round, is quick from her corner and storming at Alexandra at the bell. Alex letting her get in close through a barrage of quick jabs to the face. By the time Kaia is close, her face is red and puffy with Alex's punishment and her offense sputters out. Then Alex strikes back with strikes to the midsection until she's got Kaia tipped forward and now Alex unleashes full power uppercuts into Kaia's face. Alex driving her blows between Kaia's weakly held gloves and very quickly, Kaia falls back, her face all busted up and bleeding. Then Alex blasts home left/right uppercuts to the chin and a crunching right to the jaw. KAIA'S LONG LEGS SUDDENLY ALL ENTANGLED AND DOWN SHE GOES! Kaia landing in a heap on the canvas. Alexandra trots to the neutral corner. Referee moves in. Kaia struggling to rise, but she can do little more than push herself up on one arm with a look of misery on her face.
"EIGHT!...NINE…TEN!...YER OUT!" cries the referee.
THE WINNER ALEXANDRA DADDARIO DEFEATS KAIA GERBER KO7!
After: "I warned her to watch her mouth, now she's got a set of split lips and her second loss," Alexandra tells the press after the fight. "Seriously, she's got a lot of talent, but she is not as good as she thinks she is. Maybe that's big lesson I taught her tonight."
Kaia waits until the next day to talk to the press: "Okay she won and I lost. Big whoop. I think I gave her some really rough rounds just not enough. Maybe I was too aggressive at times and that ended up costing me the fight. My trainers and I will go over the tape. I got plenty more fights in me and I expect to winning most of them once I've made some approvements. That's all for now, folks."
It was quite a fight. Young Kaia did show plenty of power, but so did Alexandra D. Alex proved to be able to come back from bad rounds just a little better than Kaia. That allowed her to gain the win in R7. No doubt a satisfying win for Alexandra as she trims a hot young rookie. A painful setback for Kaia, but we expect she'll be bouncing back soon enough. In the meantime can savor this hard-fought contest.