Post by Lookout! Boxing on Aug 1, 2020 16:45:22 GMT -6
AMANDA RIGHETTI
(37 y/o, 5 ft 8, W: 102, L: 30) vs
KAREN GILLAN
(32 y/o, 5 ft 10, W: 5, L: 6)
Results: Lookout!, Writing: Bonzo
Before:
Welter's always been a special place for redheads – but is newly signed Fates member Karen Gillan ready to follow in the paths of Bridget Regan and Cassidy Freeman and become Amanda Righetti's next nemesis in the battle of redheads? Gillan hasn't attracted much attention yet, although she's actually been active since 2011. She's had plenty of contact with big names at welter – and she's got losses at the hands of Regan, Law and Moore to prove it. Things finally started to change in 2019 – and she's now not only signed at a top quality stable (Fates), but also on a five-fight winning streak including competitive Paula Patton and former champion, Bridget Regan. Her explosive knockout of formerly dominating Bridget's brought her plenty of attention from Righetti, the girl whose own dominance was challenged, if not dismantled by Bridget Regan time and again in the past. Ominous signs?
"Well, you bet!", Karen smiles, slightly giggly and excited during her pre-fight interview. "Being signed at Fates has finally made me a household name at welter – girls will get to know and fear me now!"
Amanda Righetti's taken things a little slow across 2020 – she's stormed back from her title loss to beat Kelly Brook and Hilary Rhoda, but she's subsequently taken off two PPVs in a row, her longest break in years. Has Karen lured her back into action?
"Yeah – she's seduced me!", Amanda grins. "Watching her pound out Bridgy Regs was fascinating and spellbinding – I just loved it! Redheads make awesome fighters – and I think Karen's got a lil' mean streak! I enjoy her movie star swagger. She's got that conquer-the-world attitude – and those are always the most fun girls to take down in the ring. I won't be in the title picture for a little while, so I can just have some fun, you know? Pick out some hot girls and refine my fists, right?"
"I love how excited Amanda is about our fight", Karen bursts out. "But she's not a real redhead, folks – she ain't got the genes, just the visuals! That means there'll only be ONE redhead standing on her two feet at the end of our fight – and one trembly brunette layed out on her butt, haha. There's a new redhead in town, guys – and she's ready to take over welter!"
"Oh, bring it on, girl, bring it on!, Amanda smiles.
Both girls take a friendly, smiling hug, pat each other's back – that rare feeling of genuinely friendly competitiveness. Didn't the legendary rivalry of Regan n' Righetti start exactly like this?
"I'm not here to make friends," Karen adds. "She's all laughs now, but I'm here to shock n' awe her into sleep, guys!"
Fight night attire:
Karen's clad in military-green cargo shorts, and a purple top (looking like on Jumanji), brown boots, her red hair loose, smooth – Amanda's sporting tight cut-off jeans shorts, a red sports bra, white boots, her auburn hair loose, curly.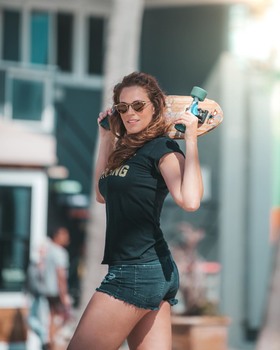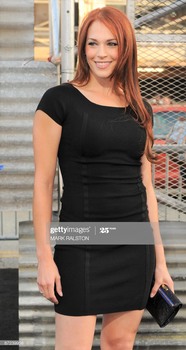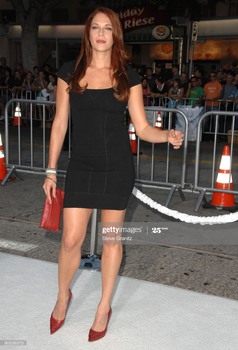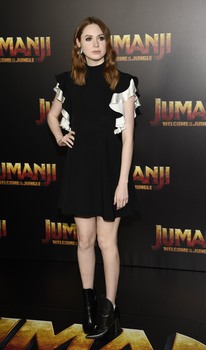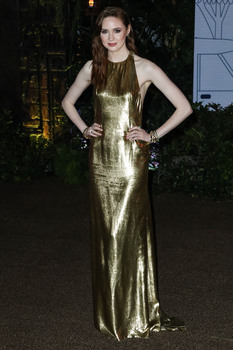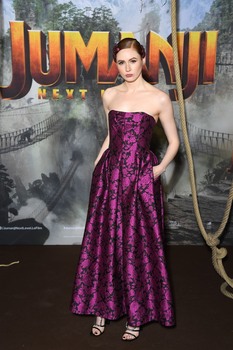 Fight:
R1:
Karen takes motivated hops into the action, showing a lanky, gangly style – she's constantly switching her arm positions, stepping parallely to Righetti, arms held akimbo, then suddenly bringing her weight down, and stepping into SOLID, bashing jabs thru the middle. Righetti sets up a calm, more compact stance, her arms/shoulders hunched inside all nice n' tight, bobbing her upper body, slowly tacking to left/right, left/right, trying to read Karen's motions, time her girl for thumping face jabs. Gillan's stance's pretty unorthodox, seemingly less athletic, but in possession of a booming, natural farm-bred power – her slow, long, prodding jabs slosh heavy n' hard against Righetti's gloves/skull/rack, as she's swinging her shots a little wildly more than she's actually punching them in clean, textbook fashion. Amanda fighting her way forward in small, mobile fashion: her elbows drawn in, upper body showing flexible bobs n' tacks, crouching low for some sneak attacks – but Karen won't shy away from hard, sloshing attacks! Righetti's face hidden behind her gloves, elbows clasped at tummy, taking delicate steps back, eyes peeking out alertly – Karen leans in, her eyes all wide and fascinated, mouth standing open...she draws a lanky combination across Righetti's stiff flanks, pitching these hooks right into her foe's tender tummy/flank meat, all that sloshin', swingin' power on display here. Righetti not hurt, but getting bashed at – she's forced to up her leg action, take faster hops, pivots, staying in her guard, avoiding Karen's tummy attacks.
Mid-round action: Righetti leggy, taking lateral hops, steps, pitching lil' hooks, jabs to Gillan's tummy, ribs, choo-choo, picking out shots with a low left hand, her righty firmly tucked at mouth/shoulder. Karen shifts along with her foe, staying unorthodox, gangly, more flat-footed than Amanda – she's stepping into her own hard, smooth jabs, occasionally bringing in right hands up top right over Amanda's left shoulder/jabs. A stunning right hand pitches past 'Manda's left arm, corks nice n' sweet to Righetti's mouth, twisting that pretty face, rocking those strong legs, thighs! Karen's being wide-eyed, gutsy – immediately wrapping up Amanda's arms, bull-driving her to ropes with plenty of swagger. Girls staggering, wrestling inside a ropeside clinch tussle – Gillan stuffs a mean lil' right hook upside Amanda's trunks, bringing a noticeable stagger into fellow redhead legs, as pretty eyes twist into hurt.
Third minute: Righetti trying to bring order into the action – mobile head, bendy upper bod, quick n' dartin', pokin' jabs – she's slippin' under Karen's jabs, spanking hard, determined left, rights in Gillan's ribcage/tits.
R2:
Righetti putting her legs into the action, stepping up the tempo, driving pressure on Karen early in the round: legs, jabs start dancin', curlin', and tappin' away. Gillan stepping into some shots, quickly regrouping on nasty early hits to her forehead/jaw – she turns-with, stepping away, dukes staying up, weight on her back foot, trying to parry shots, step around Amanda's dangerous left hand power. Righetti's so flexible, mobile, her legs swooshing across the canvas in lil' hops, jumps and steps, her pretty head taking to-n'-fro tacks to left/right, left/right, as her upper body's taking pendulum swings, steadily encroaching on her redhead foe. 'Manda's still takin' it a lil' easy on the power – short, peppy jabs switch n' twitch to Karen's guard, cramp her up a bit with cruel, slingin' shots to belly/boobs, then driving in solid, bashing right hands to Gillan's forehead/guard. Karen trying to stay competitive: unorthodox stances, hands-on-hips, weird step-outs, wild eyes, tempo/range changes, lil' surges – Brit challenger won't be timed, read by Righetti's textbook approaches.
Mid-round action: Karen's hopes rest on better, harder right hands: her weight's back, stance's thick-legged, heels dug in hard– sloshin' right hand shots to a fixed target. Righetti too bendy, quick for Karen's plans, but forced to stay alert, on guard – she's using that tappin', crumplin' lil' jab to Karen's heart/tits, shots that have frozen many a girl's lust for trade before. Gillan's hurt, grimazing, cramping up - she starts to shy away from any attempts at more solid, bashing two-way trade against sturdy Amanda's left hand. Gillan gets a lil' hectic, overhasty – Righetti's able to walk n' lean out of the chup-chup counters Karen's throwing when trapped to ropeside, corners. Karen swirls a hard left cross aimed for Righetti's jawline, gets shoved the hard right to her tits, then caught flush n' sweet to her own chin, as Amanda's driving righty uppercut nails her! That crahsing shots puts a loose totter into Karen's legs – Amanda smiles, walking her redhead foe to ropes. Righetti's brawny left hand stabilizing Karen's shoulder/tits, as right hands pour in to mouth/forehead, batter deep into ribs/trunkline.
Down the stretch: Karen using clinches, lil' spins, tosses to free off Amanda's close-up, grinding dominance – Big Rigs wiggles up closer, reaching around her opponent's ribs/hips, rubbing her head under Gillan's head, wrestling her against top rope, again and again.
R3:
Karen surprising Righetti with an agile, aggressive jab – putting it right into Amanda's face, pump, pump. Girls take circles, pivot early, step all bendy into their shots – Gillan's trying to put out a more regular, orthodox, competitive stance this time out. Karen's jab's a muscular, short-angle shot, kinking it up from her chest, snapping it to the redhead legend's pretty face. 'Manda's trying to read the shot, tack her head well out in time – but Karen's using aggressive snarls, quick lil' step-tos, and putting that shot RIGHT where she wants it, into the hurt zone! When Karen's actually scoring first via the short, jumpy little jab – she's able to cozy up, wrap up Big Rigs with a solid, muscular grip around those broad hips n' ribs, walk and take her foe to the ropes/corners with PLENTY of physical confidence, a little swagger clearly on display, as Righetti grunts, grimaces. Gillan relishing these scenes at the ropes, especially when she's playing big-girl, on top of Amanda – Big Rigs held, shoved awkwardly against the cables, as Karen's strappin', lickin', peltin' her. Girls occasionally lay into each other all beefy n' sturdy, mouths on shoulders, muscles straining, grinding to take back canvas ground – both girls taking opposite strokes to tender flanks/belly meat.
Mid-round action: Gillan's feeling her jabs, taking over tempo, ring management with surprising professionalism, and a healthy dose of confidence. Righetti using her strong legs, lil' side-steps, step-outs to ease the pressure, use more of the ring – she's just not managing Karen's knee-jerk of a tall, heavy, shelling, mouth-bashing jab well! Hard, heavy jab off her left shoulder's in control of tempo, rhythm – she's got Righetti peeking out behind her guard, blinking in response to shellack shots to mouth, tits, as Karen's hammering jabs slow Amanda's legs, freeze those famous hops n' steps. Karen's in control: jabs get her tempo, range advantages – wraps-ups at ropes, corners get her more control, drilling out the points as Righetti's frowning, grumping a bit to the ref, showing a rare, sullen grimace. Karen using her time on top at ropes well, effective: she rolls her left shoulder, bending down, rubbing it hard against Amanda's breast, shoulderbone, leaning her chin past Righetti's right shoudler, controlling her redhead via a nasty, gripping hold across redhead's proud tummy. Righetti scowling, squirming – she's rarely been seen so outfoxed, as she's just getting bumped n' slugged at the ropes herself!
Down the stretch: Righetti's back pressed against ropes, grumpy, frustrated, as Gillan's short, precise jab's licking her, while her own, massive jab's taken out a little, staying guarded up, taking pendulum swings agains the ropes, as Karen's strapping her for glory! Just a short, dangerous counter right there at the end: Amanda taking a dip via her left shoulder, finally cramping up Karen's tummy, as a short, heavy left hook puts the oomph back into Karen's mid-section. Righetti reaches her left arm down under Karen's right, then falling in body-to-body, making Gillan take weight – girls stagger, stumble out of ropes late, all wrapped up, strugglin', wrestlin' for leverage, control.
R4:
Early scenes: Righetti's heavy knock-knock jabs return, slobberknocking to Karen's mouth/teeth, splash hard to her neck/tits, go ooomph into her tummy/tits – Karen's knocked onto her heels, limping back to ropes after early brutality from Big Red! Action's all about jabs pre-empting the other girl, then walking in to do some real, hard damage – 'Manda sliding close, edging her left shoulder into Gillan's rack, nesting up tight n' hard inside taller woman's stance, pushin' her, buggin' her, hurtin' her. Karen's turn to grunt, protest – nasty shoves take her to cables, lean her tall frame out, as she's struggling against Righetti's body weight, that redhead ferocity. Righetti slowing things down for her thudding, swatting slo-mo beatdowns – girls' pretty heads rest on foe's shoulders, as heads bump n' knock against the opponent's skull, both arms, gloves holdin', wrigglin' for control.
Mid-round scenes: girls squared up at ropeside, corner locations – girls lay out forward, hands kept all low, upper bodies in slow, methodical pendulums, both swatting big, hard shots to each other's mid-section, guts, jugs...big bodies tremble, quiver from detonating body shots, as girls take turns, swat, swat. Amanda's physical ferocity's putting grimaces to Karen's pretty, optimistic face, as Big Red's going jug, or jolting that delicate tummy, one jerk of a right uppercut at a time. A short lil' jab pitches to Gillan's mouth, as Righetti's leaning forward, and the right hand splashes off Karen's forehead/ear, rocking that girl off her stance, tumbling off.
Final minute – the action takes a closer, more brutal turn, as girls take rotate moments on top, slap it out, walk into thudding stop n' go slug-outs alongside the ropes.
R5:
Girls squaring off, as action gets harder, more dangerous, more gripping – and Karen's luring Righetti into heavy, whacking toe-to-trade, as big girls lean in, trade mighty, booming shots! Gillan showing heart, guts, her strong-legged stance on display – she's trying to fight big, stay on top at mid-ring, command the ring against Amanda's presence, her legendary stamina. Karen's stance loose, confident, stepping out to the sides, really stepping into stiff, dangerous jab/right hand combinations, rolling her shots off Amanda's left and right shoulders, stepping into her via jabs to the tits, kissing right hands off Righetti's forehead/ear. 'Manda wearing frowns, slowing down, respecting Karen's competitive hunger – Righetti's now spending time on her toes, tiptoeing around via her left jab, doubling up the shots, still taking the jabs to Gillan's tits, tummy. A long, mighty stoop gets Big Red's right hand into Karen's pale gut – sudden rise-up pitches the lefty uppercut to Karen's ear/hairline, sending a nasty swivel to Gillan's head, as eyes go into a split-second blank of haze, before those powerful legs, knees right the ship!
Mid-round: Righetti trusting her powerful, pumping jab weapon, getting those short, snapped shots to Karen's face, busting up her lips, turning those pretty cheeks all puffy n' pink. Series of hard, determined jabs keep Gillan busy, loosen her up for stiff, kissing right hands to jawline/ears. Karen adjusts, her natural, lanky power taking Amanda's oomphy shots pretty well, as her sturdy hips ship the power shots, keeping strong on her feet – and Gillan's trading back all right! Karen answering shot for shot, setting up her hips, hopping well, mobile – girls just trade right hands for some blistering, dangerous fun! Amanda's a lil' shocked at Karen's competitive ferocity, as Brit redhead takes a hard, swinging shot to Righetti's left ear, sends shockwaves down sturdy redhead frame!
Righetti's eyes roll back, go blank, blink fast – now she's gobsmacked, hurt! Amanda stepping back, hands low, vulnerable – and Karen's stalking her, smelling blood! Gillan using a wide-arced, massive, swinging hook – shot pitchin', twitchin' to Righetti's right ear, buzzing those thick thighs like a butterfly! Righetti's legs spasm, as her lips part, eyes dimming – she's reeeling to ropes, her sturdy frame all loose and a-totter, doubling over, as Karen's short, mean right hand's taking over her gut! Gillan getting big on the ropes: left hands keep pushin', shovin' at Rigs, as redhead's back leaning against cables, raising arms in alarm, as elbows tremble.
Final minute – Karen's mopping her up! Righetti passive, slow, showing lil' reels, totters, peeking out behind her guard, hands raised, trying to ride things out butt-on-ropes. Strong jabs to the tits freeze Amanda up, as long, sloping right hands splash for redhead jaw/forehead/ears! Down the stretch, Righetti's finally firming her defense a bit – she's leaning back out to ropes, ducking, rolling shots, hopping along the apron, securing Gillan for tight, messy breaks.
R6:
Girls pitching their best shots wild, fiercely: Karen bobbin', weavin', shiftin' her way inside early, trying to take her jabs/hooks to Amanda's mouth/rack – Righetti pre-empting, punishing her via short, cruel rat-a-tat quick-jabs to Gillan's jaw/tits herself! Karen's shunted backward onto her heels, a little off-kilter, trying to backpedal: Righetti pouring in, DETONATING the right hand with a splash off Karen's forehead/left temple! Gillan's caught hard n' flush: her head swivels, as her strong legs just stomp n' stutter on the spot, her upper body snapping down in wild trembles, making her way to corner/ropes in badly staggered form. Karen's forcing wrap-ups, clinches, as big girls stagger alongside the perimeter, grimly twisting, struggling for ref's breaks, as Amanda's slowly bulling back on top.
Around the minute mark, Righetti's step n' poke jab work's got Karen in obvious retreats, staring on into stiff harm going to her face. That shufflin', shifting jab pumping to Karen's face as the big girls step around, lean in, get all toe-to-toe – but Gillan's falling off the pace, betraying herself with grimaced looks, little winces and moans. Karen feeling those shots to her ribs/tummy/tits – she's trying to roll the shots, answer back wide, arcing right hands past Amanda's outstretched, pumping left arm, but she ain't getting them in there! Amanda's reading her, shifting her legs/hips, rolling her head/shoulders – she's getting her own hooks back hard to Karen's sternum/chops, freezing her girl up, muscling her up into compliance, her strong arms gripping around Karen's ribs/hips, brawning her girl to ropes to work her over in solid, dominant fashion.
Late second minute action: Gillan in hasty, confused backpedals, covering up peek-a-boo, looking hurt, lost. Amanda's jab's getting into her heart and tits, via plenty of oomph – palm-down hooks (left, right) splash to Karen's chops, choppin' away at her relentlessly. Karen giving up ground, breaking up her stance, no longer finding counters: Righetti's stepping into her with hooks-to-belly, pushin' at her elbows, cuffin' her paunch, shruggin' short shots to her jaw/cheeks. Gillan's still ropebound throughout the final minute, trying to roll shots, lean n' duck out of the leather, wrap up Righetti for long, messy clinches around her neck/arms. Down the stretch: Karen's trying to catch Big Rigs via hort, shrugging shots off the ropes, but she's prepped, rolling, sliding these shots, taking her time, stepping back into Karen via fierce body jabs, brawing back on top, as Gillan's sliding alongside ropes, shivering, leaning away.
R7:
Gillan's still alert, aggressive, trying – but getting jabbed to the ropes in relentless fashion! Righetti's taking the opening pitches, landing her righty uppercuts to Karen's mouth/cheeks in early, blasting trade past each other's left arms, as Gillan's raging right hand goes out splashin', missin'! Karen's caught hard to her cheek/jawline, putting a tremble into her strong buttocks, sending her out sprawlin', baby-steppin', back-pedallin'. First minute: Righetti setting up sieges, staying busy, methodical, hard – her tap-tap jabs sprawl Karen out, dippin' side-to-side slugs into Gillan's ribs/tits/flanks slump her onto ropes/turnbuckles, stoop her forward in hurt, mouth-breathing, whining. Karen's being tuff, hard-nosed, trying to ride it out, pitch back lil' slugs to Amanda's tits/ribs herself, thump her way out via short-contact right hands up top, showing an off-ropes look, refusing to clinch. Righetti's alert, taking dips to left/right, left/ right, her head swooshing left/right, left/right, using short, slugging blusts to Karen's raised guard, slowly punching that guard loose and rickety, then trying to swat big, hard right hands upside Gillan's cheeks/ears/temples.
Mid-round scenes: Karen's putting her last reserves on display, upping tempo, showing her legs. Short, thumping right hands try to catch Rigs thru the middle, as redhead's just hopin' to hurtle the righty home – 'Manda's able to lean n' step out, cooly dozing the fire via a short jab, forearm-brace to Karen's rack, then stepping the mean ole' lefty hook upside Karen's right ear, leaving her gaspin', starin'. And Karen's rocked! Stout, proud Brit stepping away, legs buzzing, knees trembling – more sieges, more hurt!
Early third minute: Karen's loose, stumbling on her feet a bit, trying to stay leggy, walk away from Righetti's cruel tap-tap jabs to her chest/mouth. Gillan stepping away, misjudging range, as Amanda's leaning forward, corking the right hand upside Karen's left cheek! Baby-steps, Karen – she's hurt! Lil' spasms, trembles, as Karen's bod's trying to fight it out, her right foot jerking off the canvas, thigh trembling hard. A short, hard jab steps into Karen's tit, jolts her upright against the ropes, as Righetti's driving in the right hand, chup! Savage, blasting shot taking all of Karen's skull, hitting just behind her left ear – and Gillan's going limp! Karen takes a step forward, as her right leg/knee suddenly slumps down, sends her sprawling down onto her belly with a hard thud! Karen's groaning, lifting her head off the canvas, looking disoriented, hurt, fumbling around with her gloves as legs/arms don' t respondm the count just passing her by: that's it for her in this battle of redheads – KO7 Amanda Righetti!
After:
Righetti's nonchalant, complimentary about Karen's performance tonight: "I have no doubts she's going to have a pretty great career at welter! I just couldn't let her win the battle of redheads, though, right?"