Post by Lookout! Boxing on May 30, 2020 2:20:46 GMT -6
Lucy Hale versus Elizabeth Henstridge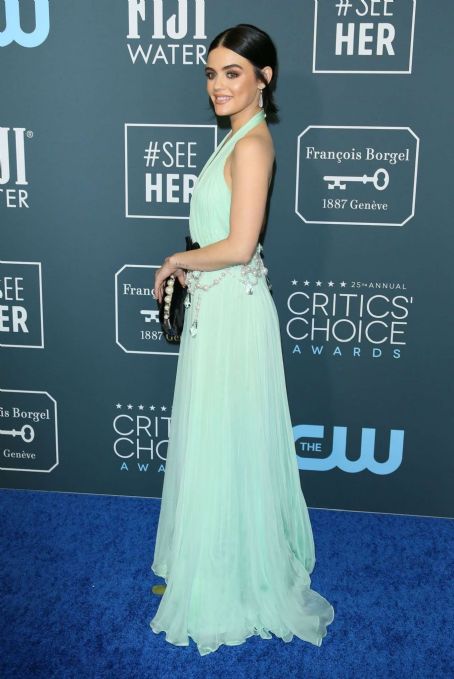 Vs
(Written by Girls Friday/Results by Lookout!)(Girls Friday vs Pretty Little Punchers)Intro:
Two flyweights making a charge into the top ten, Elizabeth Henstridge and Lucy Hale look to use the other as a firm stepping stone on the way to a title shot.
Elizabeth is 32 years old; she stands 5'4, holding a record of 27 wins, all coming by way of knockout, with 16 defeats.
Lucy is 30 years old; she stands 5'2, holding a record of 34 wins, 33 coming by way of knockout, with 35 defeats, she is a former FCBA flyweight champion.
These two have fought once before in 2018, Lucy came out on top by knocking out Elizabeth, since the year started though it has been Liz who has had the better record going unbeaten in two fights, Lucy winning one in three, that was against former flyweight champion Megan Fox only last month.
The fighters were interviewed by Alicia Atout before the fight in the interview area, first up in front of the big FCBA badge on the wall was Lucy with a big smile on her face.
"I am buzzing after last month beating Megan, I'll admit I was getting worried when I couldn't buy a win, beating one of the greatest flyweights kinda lifts your spirits" Lucy laughs along with Alicia.
Asked by her views on Elizabeth, Lucy replies "she is a good person and a fighter, problem is and I think always will be she hasn't the instincts to be up at the elite level, she is just too nice to take opportunities when they present themselves, unless she knocks people clean out, which come on!" Lucy taps her chin with her knuckles as she grins.
Next up Elizabeth has the chance to speak her mind, she hugs Alicia tight before turning to the camera, looking her usual bubbly self as she has a big smile adorning her face.
"It hasn't been a bad year so far has it? I feel so much more confident after that terrible year I had last year, Ming-Na (Wen) has helped me so much in that" Elizabeth says as she looks more relaxed then she has in months.
She is questioned about her history with Lucy and how much more motivated she is to win this, Liz answers "I won't lie that is on my mind, Lucy caught me good and well I owe her a good hook or two" winking before she leaves to go get ready.
Fighting time; Lucy is out first with Nia Peeples, she pumps her right fist into the air as she jogs down the aisle, her fans chanting her name.
She is wearing a blue sports bra with white trim, matching trunks and shoes, white gloves with blue thumbs, while her hair is tied back into a ponytail.
Getting into the ring with Nia beside her, Lucy jogs to her corner, where she is in fight mode now as she works Rachel's hands like pads, looking relaxed as she nods to Nia that she fancies this fight.
Now out comes Elizabeth with Ming-Na beside her, she blows kisses to the crowd as her fans are cheering for her, Ming-Na rubbing her shoulders to keep her loose.
She is wearing a grey sports bra, shorts and shoes, her surname is written across the waistband in black letters, she has black gloves, while her hair is tied into a ponytail.
Stepping into the ring, Elizabeth heads to her corner with Ming-Na telling her to get revenge tonight for two years ago, Liz nodding as she stretches.
Both women come to the ring center, while their isn't any real animosity between them, they lock eyes in an intense stare as they momentum is key for them right now.
Touching gloves up respectfully, they turn back to their corners, the referee sees both are ready and signals for the bell to start 10 rounds of flyweight action.
Round 1:
At the start of the fight both have their left sticking out, up on their toes moving side to side, they feel each other out as plenty of respect on show.
Maybe a little too much from Liz as Lucy deflects a jab, stepping in with two cross punches to the jaw of the Brit, making Henstridge back off to the outside of the ring.
Lucy moving up a gear as she keeps Elizabeth on the back foot, swinging in hooks to the body of the Agents of Shield star, wanting to wear Liz out right from the off.
A shove from Henstridge opens up a gap where she can work, bashing back Hale to range with a jab/straight, with Elizabeth looking to keep the action on the outside.
Heading into the final minute, they let their hands go more as they try to finish strong, Lucy showing off her skills, dodging a straight before countering with an uppercut.
Lucy knocking back Liz to the ropes just as the bell rings, a strong start from the former champion certainly has the Foxfire corner looking all smiles.
Round 2:
Doubling up her jab as she comes out her corner, Elizabeth wanting to keep things at range, moving around the outside of the ring, Lucy bobbing and weaving as she looks to get inside the reach of the taller fighter.
Both fighters landing some crisp shots to the others face, moving around their opponent at the center of the ring, Lucy able to get in closer to work the body of Henstridge.
Getting nudged back, Lucy gets clipped with a right across her jaw, she gets knocked back by a follow up double jab to her mouth.
Elizabeth starting to put her punches together, knocking back Lucy to the outside of the ring, landing the cleaner punches as she steps back out the way of Hale's punches, drilling hers into the cheeks of the American.
In the final moments of the round, Lucy manages to get away from the ropes to get inside to work, a fiery exchange of fists finishes off the round as the bell rings.
The Girls Friday corner crew happier with that round, though they know how dangerous Lucy is, Ming-Na telling her fighter to not give Lucy a moment to think.
Round 3:
Liz comes out trying to be more aggressive now, drilling her punches into the cheek of Lucy, taking the center of the ring after a heated exchange that sees her land a double jab/straight to the face of Lucy.
Who ducks under a right cross when Elizabeth tries to press her advantage at the time, instead two uppercuts to the body of the English lass has her retreating back.
Lucy back on the offensive herself, landing several hard overhand punches as she dips down to make herself a harder target to hit.
Past the half way point of the round, Lucy is starting to drive back Elizabeth, her inside fighting skills look superior to Henstridge's, landing some uppercuts to knock back Liz.
Who holds onto Lucy when her back is pressed onto turnbuckles in a corner, the referee is needed to pull them apart, Elizabeth getting out the corner into space.
Where she is able to keep Lucy at bay in the final moments of the round, at the bell they separate with a cold look to each other, while Elizabeth is showing more fire, Lucy won that round clearly.
Round 4:
Lucy looks confident enough to be more aggressive herself, they slug it out on the inside, again Lucy shows herself to be better in this close range.
Hence why Elizabeth uses her left forearm to open a gap up, landing a straight into the nose of Lucy, causing a thin trickle of blood runs from a nostril of Hale.
Who finds herself behind her gloves when she eats another two punches on that nose, Lucy finding herself being pressed to the outside of the ring, Elizabeth acting like Queen of the castle at the center of the ring.
Lucy is able to land some nice body shots, she is mostly getting kept on the outside though, that nose giving her problems as Henstridge has a bullseye to go for.
The round comes to a close with Elizabeth looking a little less tense as she returns to her corner, Ming-Na nodding at her but still being stern with her friend, not wanting her to make a mistake.
Across the ring Lucy getting her nose patched up, the bleeding has stopped as Nia tells her to be more careful when she goes on the attack, Lucy replying she knows that.
Round 5:
Keeping her jab aimed at the nose of Lucy, Elizabeth is looking to take that ring center again, having a little success but Lucy showing that she won't be kept back so easily.
Lucy stepping in to land two hooks under the ribs of Liz, who groans out as she finds herself driven back into a corner, again Henstridge smartly clinches up as she stops Hale building momentum up.
Pried apart and back to the center of the ring, Lucy tries to step in with a straight, Elizabeth sidesteps to the left and hammers in a right hook, opening the American up to a left/right straight into her face.
Back to the ropes goes Lucy when another double jab/straight combo knocks her head back, blood running from her nose again as the Girls Friday corner are yelling for Liz to break her down.
In the final thirty seconds Lucy managers to duck a right cross, coming off the ropes with an overhand left/right combo to turn the head of Elizabeth side to side.
Trading with their heads grinding in those final seconds, the round comes to an end, Lucy pounding her gloves together to release some frustration at being pushed around.
While Elizabeth shakes her own arms to keep loose, Ming-Na telling her to keep the pressure on Lucy, building her confidence by pointing out she is hurting Lucy.
Round 6:
Sticking to her tactics, Elizabeth wanting to push back Lucy with jabs and straight, Lucy ducking down to throw in body shots as they look to push the other fighter back.
They trade stiff shots as they plant their feet more, Lucy slips a straight to land an uppercut to the body of Liz, then uses her left forearm to open up room to land a right hook under the ribs of the Brit.
Who looks to be hurting as Lucy bashes Elizabeth back to the ropes, bashing away at the ribs of Elizabeth who needs to clinch up, making the referee need to break them apart.
They resume fighting at the center of the ring, Lucy feinting with a jab up top before landing a pinpoint straight to the liver, LIZ CRIES OUT AS HER GLOVES HOLD HER STOMACH, AN OVERHAND RIGHT TURNS HER AROUND AND DOWN TO HER FRONT GOES ELIZABETH!
The Girls Friday crew have their heads in their hands, 1...2...3.. Lucy smiling as she looks at her corner team, 4...5... While Elizabeth can be heard groaning as she is still face down, 6...7.. Holding her body, 8...9...10 Henstridge is counted out!
Winner Lucy Hale KO Round 6After:
Another strong win for Lucy, she is looking to build momentum and if you needed a reminder how good she is, here was the show of that as she flexes her right arm.
Heading back to her corner, Lucy is welcomed back with a big smile from Nia, who hugs her fighter as both know how important putting wins together does.
That's compared to Elizabeth, who is helped up by her coach Ming-Na, Elizabeth needing the stool brought over to her, with Elizabeth wincing as she rubs her body.
Eva uses ice packs on the body to numb the pain, Liz thanks her as Ming-Na looks disappointed that her fighter couldn't get the job done, after building momentum it has been stopped dead tonight.
When both women are ready, they come to the center of the ring, Elizabeth nods as Lucy get her hand raised in victory, she offers a hand shake that Lucy takes in a sign of good sportsmanship.
Again though as Liz leaves the ring, the questions about does she have that killer instinct at this level to be an elite fighter, she seems struck at that gatekeeper level.
Something Ming-Na is desperate to help her friend to break out of, talking to Elizabeth about what she needs to do mentally when she gets into the ring, leave the respect at the door and go for the throat.
Lucy inside the ring mounts each corners bottom rope, blowing kisses to her fans, Nia applauding her as the Pretty Little Punchers want to be back on top of the flyweights, Lucy very well might be the one to do it.
For now she leaves the ring and pumps her right fist as she jogs up the aisle, she'll be watching the flyweight title fight later tonight with her stablemate Danielle Campbell and the champion Olivia Holt, does she root for her stablemate or is selfish and maybe hopes Danielle loses so she might get the next shot?