Post by Lookout! Boxing on May 30, 2020 2:17:51 GMT -6
Hayden Panettiere versus Maisie Williams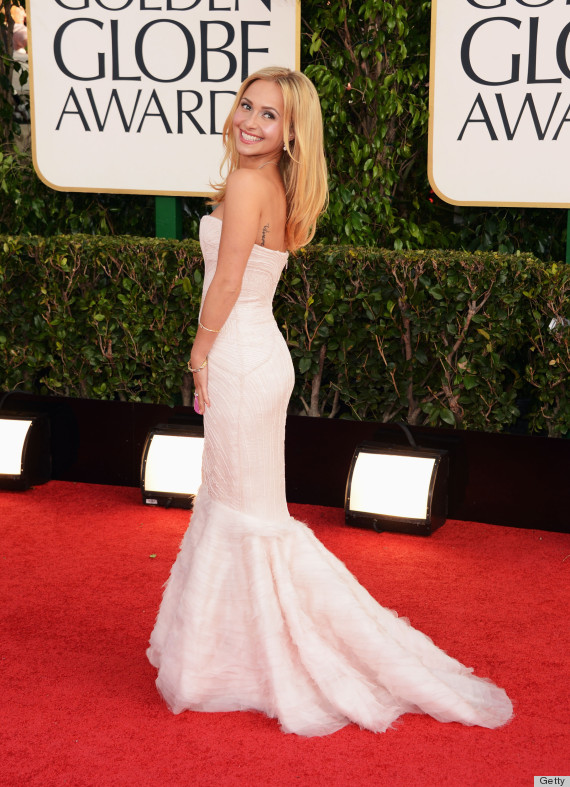 Vs
(Written by Girls Friday/Results by Lookout!)(Foxfire Boxing vs Girls Friday)Intro:
Former champion Hayden Panettiere takes up and comer Maisie Williams, can Hayden keep down the youngster or will Maisie take the biggest scalp of her career.
Hayden is 30 years old; she stands 5'1 ½, holding a record of 75 wins, 58 coming by way of knockout, 38 defeats with 1 draw, she is a former three time FCBA flyweight champion, she is a member of the Tractorpull Hall of Fame.
Maisie is 23 years old; she stands 5'1, holding a record of 17 wins, all coming by way of knockout, with 9 defeats.
Heading into this fight Hayden of course is the favourite to win, though Maisie has had a good run up the rankings, hoping this will be her big break against a legendary fighter.
Before the fight they were interviewed at their gyms, FCBA Network reporter Alicia Atout heading in the Foxfire to see Hayden sparring with Sarah Carter, after they finish up Hayden sits on the apron to talk to Atout.
"Hope you enjoyed the show of two hall of famers going at it?" Hayden winking at Alicia as they shake hands, Alicia lifting herself to sit next to Hayden on the apron.
When asked about Maisie, Hayden says "the kid can box, I won't pretend she is some bum that got lucky to have an acting career and boxing one, she has earned everything she has so far" being respectful of the youngster.
She adds though "but I am an entire different tier of fighter, beating a Lucy Hale or a (Michelle) Keegan means nothing, I'm the yard stick that beats back those not ready for the big time, she is going to need a new level I don't think she has to beat me" showing off her confidence.
Alicia then heads into the Girls Friday locker room to find Maisie is stretching to cool down after a hard session, she wipes herself down with a towel before speaking to the interviewer.
"Hey Alicia, I've thrown myself into training for this fight, I am so excited to be back in the ring with someone of the level of Hayden, I've worked my backside off to get here and I am going to grab this with both hands" says Maisie as she takes a sip of water out her bottle.
Putting the towel over on her right shoulder, Maisie continues "I hope Hayden takes me lightly to be honest, will be fun knocking her out and seeing her look up at me" grinning as she taps Alicia on her shoulder as she heads past to go shower.
Fight night; Hayden comes out first with Rachel Nichols beside her, the Hall of Famer looking focused as she jogs down the aisle, her fans standing to cheer her on.
She is wearing a red sports bra, with matching trunks and shoes, white gloves, while her blonde hair is tied back into a ponytail.
Getting inside the ring, Hayden mounts the bottom ropes in her corner, raising her arms in the air as her name is being chanted, hoping back to go through her warm up.
Out through the curtain comes Maisie now with Ming-Na Wen, she has a smile on her beautiful face as she jogs down to the ring, looking confident she can make this step up in class.
She is wearing a violet sports bra, matching trunks with a white waistband, violet shoes, violet gloves with white thumbs, her brunette hair is also in a ponytail.
Stepping through the ropes into her corner, Maisie shows off her hand speed with a punching drill, then stretches as Ming-Na tells her to grab this chance with both hands.
The fighters stepped up to the center of the ring, going nose to nose as they show no fear for each other, coaches rubbing their fighters shoulders to keep them loose.
Banging their gloves into their opponents, they turn on their heels to return to their corners, the bell rings when they are ready to start 10 rounds of flyweight action.
Round 1:
Coming out their corners up on their toes, they dance around at the center of the ring, darting inside land jabs and straights before moving back to the outside.
The first minute is pretty evenly fought as they are boxing on the move, neither throwing any bombs yet as they mostly land punches to arms and gloves, showing good upper body movement to not be hit clean.
A missed jab by Maisie earns her a right to her cheek, followed by a left cross to the opposite cheek as Hayden sidesteps, when Maisie takes a step back, Panettiere goes on the front foot.
Bashing back Williams with a double jab square into her face, Hayden has the younger fighter near the ropes, where she can show off her power as she stops her opponent being able to dodge more.
Both throwing hard shots as Hayden steps in close to Maisie, two uppercuts force Maisie behind her gloves in the final seconds of the round.
The round comes to a close with Maisie shaking her head looking annoyed at herself, Ming-Na telling her to shake it off, one round down with Hayden coming out the gates strong.
Round 2:
Again they come out up on their toes trading while on the move, looking for gaps in each others defences, most of their clean hits is on their opponent's abs.
Slipping a straight from Hayden, Maisie lands a counter overhead left to the jaw of the blonde, knocking back the veteran when she follows with an uppercut.
Starting to get her rhythm going, Maisie is dodging punches now to drill in her own to Hayden's face and abs, making Panettiere groan out with each clean hit.
With a minute to go Maisie gets caught with a left cross to her cheek, a straight follows to knock her back a step, Hayden looking to get the Game of Thrones star back near the ropes.
Maisie ducks a right cross to land two rights under the ribs of Hayden, moving away from the ropes as the blonde gives chase across the ring, both landing stiff jabs as they box around the center of the ring.
At the bell Maisie looks a lot more happier about this round, Ming-Na gives her a rye grin as if to say "what did I tell you?" Both chatting what needs to improve to give her a chance to win.
Round 3:
Trading more punches in volume as they see fully warmed up to the task, Maisie nearly bumps her head into the mouth of Hayden as she hammers in two hooks to the body.
Next time Maisie tries to dart inside, she gets clipped to the chin with a left cross, a right knocks back the head of the Brit, Hayden beginnings to press back Williams.
They let their hands go in tight, heads grinding as Panettiere has Williams near the ropes, bodies getting pounded with both groaning out.
Pushing apart from each other, Maisie manages to catch her opponent with a double jab to the mouth, she misses with a right cross as Hayden leans out the way, then counters with an uppercut to knock back the brunette.
Heading into the final minute, Hayden lands a jab/right hook to the jaw of Maisie, opening her up to another two punches to drive her towards a corner, where Maisie tries to fight her way out of it.
The round ends with Hayden flexing her right arm in front of Maisie, Williams just shakes her head as Panettiere looks like she is trying to get into her head.
Returning to their corners, both get washed down as their coaches give them advice, Maisie shaking her arms to keep herself loose as her eyes stare hard at Hayden.
Round 4:
It is Maisie getting out the corner quicker, doubling up her jab as she moves side to side, Hayden looking to cut off the ring so she can land her power punches.
Dipping under a straight from Maisie, Hayden lands an uppercut to the body, a left hook turning the head of the brunette, sweat flies off as Williams is being knocked back.
Leaning out the way of a left hook, Maisie counters with a right to the ear of Panettiere, she lands a jab to the nose of the blonde to make her cry out.
Getting back on the offence, Maisie drills jabs into the mouth of Hayden as she shows off her impressive footwork, keeping Hayden to the outside while moving side around the veteran.
Finally moments of the round, Hayden slams a left into the abs of Maisie after she parries a jab, she moves inside which leads to a heated exchange, sweat flies off both women as they mark up cheeks with cross punches.
The round comes to a close with both nudging apart, they stare daggers before turning back to their corners, tightly fought action making the coaches tell their fighters to find an extra gear if they are to win this fight.
Round 5:
Nearly bumping heads as they come at each other with straight shots, Hayden quick to switch up targets to the ribs of Maisie, making her groan out as she looks to bully her.
Nudging back Hayden, Maisie manages to get back on her bike, trading jabs as they look for a big shot, Maisie feints with a jab to duck down to land a right to the body.
To the center of the ring they return after moving around near the ropes, Hayden deflects a right to open up Maisie to a right hook to the temple, making Maisie groan as she winces.
Past the half way mark, Hayden looks to be hurting Maisie now as she lands cleaner hooks to rock the youngster, that temple shot seems to have knocked the equilibrium of Williams for a rye.
Missing with a straight, Maisie eats an uppercut that has her legs shaking, HAYDEN STEPS INSIDE WITH AN OVERHAND RIGHT THAT KNOCKS MAISIE ONTO HER BACK!
Shaking her fist over at the Girls Friday corner, Hayden looks confident that she has her woman done for, 1...2...3.. Gumshield hanging our her mouth as her eyes are glossy, 4...5....6... Maisie has barely moved as Ming-Na is yelling for her to get up, 7...8...9...10 Maisie is counted out!
Winner Hayden Panettiere KO Round 5After:
Hayden showing Maisie how far away she is from that elite bracket, while the fight was competitive, it is Hayden grinning at the fallen woman, standing proudly.
Heading to her corner, Hayden gets a hug from Rachel, both saying it was a nice workout, with Hayden already talking about bigger things as her gloves are taken off.
While Maisie has to be helped to sit up, she looks dejected staring down at the canvas, she punches the canvas in a rage once she is fully aware what happened.
Ming-Na helps Maisie to her feet, trying to console the youngster, with Maisie not looking too happy right now to listen to how she shouldn't about this loss right now.
Getting drinks and washed down, afterwards then head to the center of the ring for the final result to be announced, Hayden getting her hand raised to a loud cheer.
Shaking her head as she looks like she wants to scream, Maisie gives Hayden a quick fist bump for respect, but quickly steps out the ring as she looks like she doesn't want to talk to anyone.
Shrugging her shoulders in reply, Hayden doesn't seem to give one thought to Maisie, just focusing on celebrating as she poses at the center of the ring with hands on her hips.
She thanks Rachel as ever for supporting her, they old friends hit before they step out the ring together, the legend still in the picture for title shots in future if she keeps dominating the up and coming fighters, what's next for her?