Post by Lookout! Boxing on May 30, 2020 1:27:39 GMT -6
Olivia Holt versus
Danielle Campbell (Flyweight Title)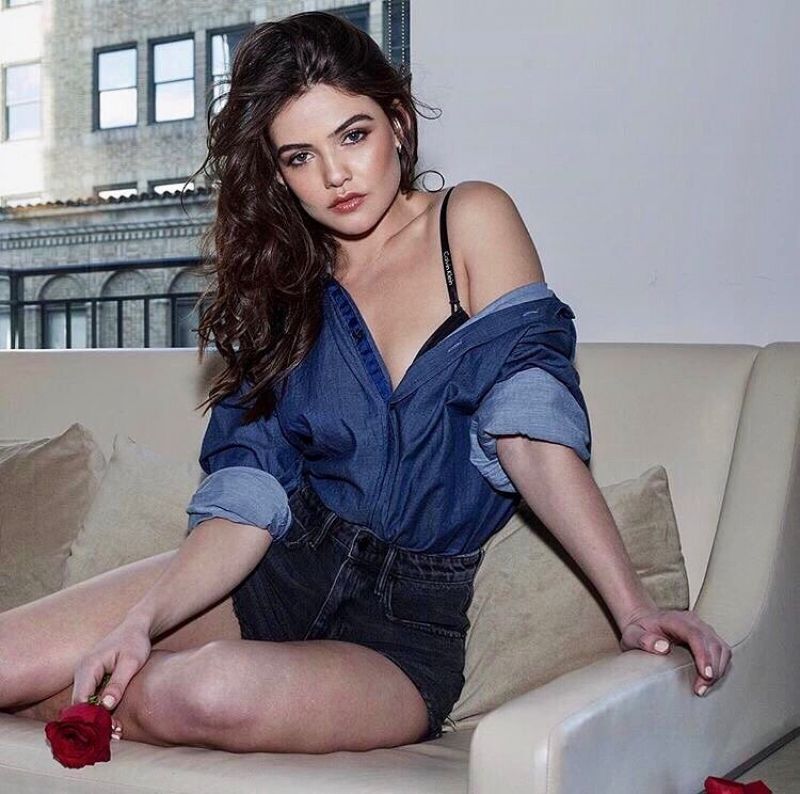 Before: (By Archer) "I was a little surprised Holt made me this offer," Danielle said warily, "our 2018 fight ended up a stable brawl."
"I'll never forgive her for retiring Sarah," Olivia said simply. "Now I have the chance to dangle my precious title belt in front of you and then snatch it away. You'll go back to your locker room all beaten up and knowing you're still a loser when you fight me!"
"You arrogant blonde twit!" DC growled clenching her fists.
"Don't all me a 'twit'—you 'twit'!" Olivia snapped back, her fists clenching.
Danielle let out a snarl and leaped at Olivia. The two were in shorts and tee shirts. (Red shorts, white tee for Olivia, Danielle was in a DC Comics logo tee shirt and black shorts). Down they went in a crash and rolled around kicking and punching. FCBA Security rushed out and pulled the two angry young women apart as the watching crowd thoroughly enjoyed the spectacle.
Of course, this created extra excitement among the fans on social media as clips of the catfight went viral. Come fight night Danielle marched to the ring in a black bikini with gold gloves and boots (black laces). Olivia was in a sky blue bikini with dark blue gloves and boots (sky blue laces). Both ladies have their hair in battle braids. Tense ring instructions, but only a few instances of hip bumping and hot glares that referee sternly brings under control. Finally, they reach their corners and the bell rings….
R1: Olivia quick off the blocks - attacking Danielle's waist with both dukes batting off the jab. Campbell in the pocket, hands up, elbows in - torso sturdy as Holt bangs away above the hips, digs up belly meat. Olivia supple: she'll slap a left around Dani's guard, tugging the hands down, leaning in to jam a tight right to jaw, then tie up to smother the receipt. Holt rotating right around the jab into Campbell's guard - blonde just dictating, setting a brisk pace for a dominant first.
R2: Danielle joins the party. Ringing body shots both ways - girls nice and compact, moving their hips through hooks, sweeping rights in behind elbows. Olivia crisp with her combinations, snapping mitts off meat with a ratatat delivery - Campbell heavier handed, laying in her shots, trying to ease forward and shoulder Holt back. Down the stretch, girls exchange clapping hooks: Dani stands firm; Olivia staggers back on her heels, wide eyed to lose a close round.
R3: Olivia outworks, outfights, outboxes Danielle in the center of the ring. Terrific output - Holt spitting jabs then batting right/left to the waist, coming off the body with jarring hooks. "Livy stepping to either side, exposing Danielle's lazy feet a bit, tidying up that rack with pulsing combinations. Campbell dukes at temples, following, flustered as she's beaten to punches - she's soaking up a good shot, chin stout as she routinely walks through banging three punch bursts to her head, but she's getting worked over.
R4: Olivia jabbing to the chest, turns over a sneaky-hard hook to mouth—there go Danielle's legs. Campbell stumbling away, face stretched in pain—she covers up on the ropes, bending forward as Holt steps-to. Another bad minute for Dani, shipping bashing shellack up and down both flanks, across her back as she dips and ducks to keep chin safe. Campbell gambling, pops out of the crouch to score a crisp counter-hook to chin and HOLT'S STUNNED! Olivia stepping in fence post holes, HER turn to shake off hurt, Danielle slugging off the ropes with sweeping rights to the ear. Left uppercuts in tight as she maneuvers Holt's back to the ropes. Olivia dukes at temples as she slouches forward, Dani taking all she wants of blonde's rugged ribcage with thumping lefts and rights to the bell. Campbell feeling it—chests up and forces eye contact: Holt sullen, hurt, but defiant—she's not cracking just yet.
R5: Olivia grimly determined, Danielle frowning, setting her feet wide - both girls hurting and know it's only getting worse from here on. Holt compact, chin tucked, darting in with her feet as double jabs pulse, tidy right hand chasers, mop up hooks - her punching: brisk, tic-tac-toe patterns. Campbell more ponderous, setting down well - right at her temple, heavy jab attempting to beat 'Livy to punches, spoil blonde's aim. Danielle leaning in with murderous right hands, Holt taking the hit upstairs to victimizing the exposed ribcage with hooks at every opportunity. Smashing midring stalemate sees both fighters stagger off at the bell, resistance broken down both ways
R6: Sharp clocking rights on the jaw, ripping hooks to the ribs have Danielle floundering early - she reaches for a clinch, Olivia sidesteps and sends her spilling face first to the ropes. Holt on the pounce: digging her way into Campbell's body with chugging rights and lefts, face glowing as she savours the moment - relentless body work paving the way for a chin-checking as poor Dani leans forward and takes. Campbell swaying on the spot, bends right to haul a desperation left onto Holt's ear, bends left to clap home a swinging right and OLIVIA'S SWEPT TO HER BACKSIDE AT THE ROPES! Lariat punching from Dani doesn't land flush, but enough to put Holt off balance, Champ up quick, bouncing on the spot for her 8, anxious to get the knockdown back. HAMMER AND TONGS! Campbell using her jab smart, forcing Holt to walk through it, then leaning in with interceptor short right hands to chin. Blonde caught again and again in a short period of time - she's put wobbly butt, staggering sideways at the bell as Danielle bellows in triumph with the night's first real breakthrough!
R7: Danielle presses to close this thing out, Olivia can't get leggy, but she leans in and swaps shots tit for tat all round long - great crowd pleasing two-way. Heads in close, hands loose, stacked tummy and chest inside - girls just taking turns swiping and swatting each other, shouldering each other around in bruising give and take. Fighters mouth-on-shoulder, occasionally coming off pain-wracked tummies to clip chins uppercuts or cuff hooks to the ears- but they're basically laying in and digging underneath. Non-stop, workmanlike stuff bell to bell – but Campbell's still the boss, stepping Holt back, landing the extra punches as fighters slog on past the bell. Chests heaving, bodies thoroughly pinked in the corner.
R8: Olivia hurts Danielle, stepping into a crunching left hook that has the crowd groaning. Follow-up lefts and rights bludgeon Campbell about head and shoulders as she's stumbling to her right: she hits ropes in a fog, stoops forward behind her mitts. Holt flat footed, trudges into Dani, digs up into brunette ribs via a series of pumping right uppercuts. Olivia bodies up to stabilize herself and her opponent, then digs at Campbell's belly: blonde's shoulders rotating, plugging in short-cropped punches. Both fighters ragdolling against the ropes after the bell, eyes closed, Holt's head on Danielle's shoulder, have to be peeled apart to send them back to their corners. Both running on fumes, but Campbell just has to stay on her feet to take the title.
R9: Exhausted battlers hanging onto each other, just shrugging and swatting in a phonebooth - women shouldering each other around, slapping away shortened up strokes: might as well be a pillow fight for all the damage they're doing. Olivia finally shoulders Danielle off, shrugging in a little left uppercut. Campbell slumps forward, pressing on Holt, but not punching, fists below her belt SHE'S HURT! 'Livy coming alive, swats the belly, then jerks home that short left uppercut again. Danielle backs away in stupor, blinking in confusion: Holt leans in and KISSES A GOODNIGHT RIGHT! Olivia leans in with everything on that overhand, to fling her head VIOLENTLY back. Dani toppling backward and crashes to her back: legs out straight; elbows on canvas near her hips, IT'S OVER! Grinding KO9 for the winner and STILL Flyweight Champion, Olivia Holt!
After: Olivia clutching her left side even as her right is being raised, Danielle really did a number to the body. Campbell's talked about the AMD title, and with the escalating hatred between these two, another title fight could well be in the future!