Post by Lookout! Boxing on Dec 28, 2019 2:37:47 GMT -6
AMANDA RIGHETTI
(Welterweight Champion) (36 y/o, 5 ft 8, W: 98, L: 28) vs
BO KRSMANOVIC
(27 y/o, 5 ft 11, W: 14, L: 14)
Results: Lookout!, Writing: Bonzo
Before:
"Big Bo" Krsmanovic's become a staple right on the edge of the welterweight elite. After a disastrous 2018 where she went 1-6 against the best of competition, she's focussed on her BBU activity throughout 2019, and the decision's surely served her well. She battered through a contenders tourney, took away the title from Joan Smalls and has remained undefeated in the BBU all year long (8-0). Spotlight's in the FCBA been a little rarer, but she beat up-and-coming Behati Prinsloo in January and doubled up on Ana Beatrix Barros. She couldn't beat Kate Upton, though, and just a month ago fell short in a third attempt to unseat Hannah Ferguson's firm grip as the Vixen's welter top dog. What's making her confident she can beat Amanda Righetti in a rematch from April 2018?
"I can't get it into details, but my secret plan involves these very long, strong legs, a massive right hand and, uh-oh, a vulnerable chin. Can you solve the riddle, guys?", pretty Bo smiles.
Amanda Righetti's meanwhile now just two more victories shy of her hundredth victory in the FCBA, just two years after making the Hall of Fame. In case you've lost track of her streak, it's currently at 23 wins and ten defenses. Has Amanda followed Bo's BBU smackdowns?
"Sure I did. I mean, there are purists who don't care for it, but the wreckage Bo's layed across BBU girls has definitely caught my interest. It feels like she's on the verge of a FCBA breakthrough – I need to be at hundred percent tonight to deny her to accomplish that breakthrough against me. I don't want to spoil Bo's riddle – I mean, my legs might not be as long as hers but let's see whether Bo's still in a mood to create riddles after the fight. I think she might just be a little too, ahem, dizzy."
Fight night attire:
Righetti's clad in a red flower-print tankini top, cut-off black trunks, dark black boots and black gloves, her red hair in a wide ponytail – her challenger Bo's sporting an unambiguous gold-coloured bikini as she's looking to lay her hands on Amanda's title belts, a decorative black "Big Bo" printed in sequins across her butt, plus silver-white gloves and boots, her black hair loose, flowing.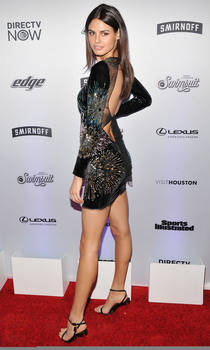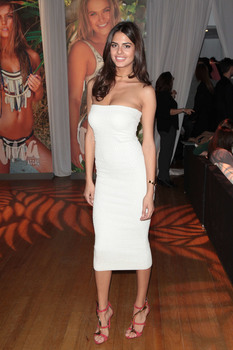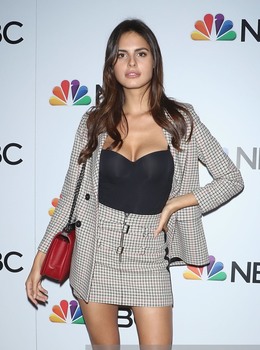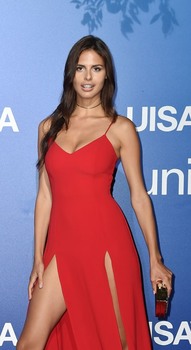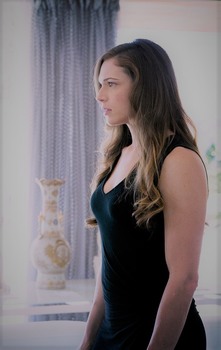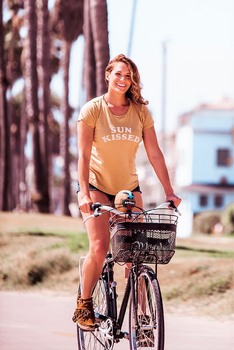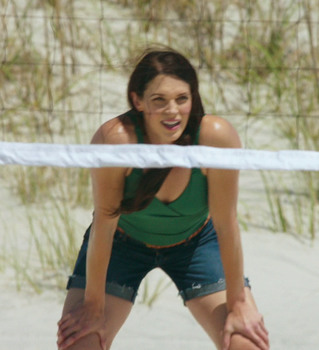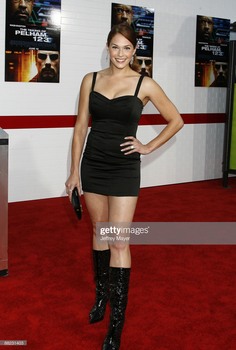 Fight:
R1:
Lanky, wide-reaching steps around Righetti's flanks as Bo's bringing that tall supermodel's loping stride to the ring: there's the slingin' jabs from Krsmanovic's hips...punches sting up rat-a-tat as Bo whizzes those rising jabs when stepping into Amanda's range! Slingin' bull-whip jabs pitch to Amanda's head (upside temple, past cheeks, to mouth or guard) as redhead negotiates range, staying guarded, bobbing parallely to Bo's rangy steps – the champ's head's on alert as Bo's crackin', cracklin' jab, hook work's got Rigs spooked, her head zipping up/down, left/right from Bo's slingshot left. Late first minute, hard step-to from Bo: RIGHT HAND! Lefty blitz's got Amanda back-pedalling, not finding her balance: Bo's knuckles paw/push at Amanda's chest as brunette's stepping right, bending hard and aggressive into a confident, CRACKLIN' right hand to side of head! Righetti's hit! Not weight-of-shot, but dynamics and slapping power catch Bigs hard, clean: big redhead's sputtering away, eyes flickering in confusion! Krsmanovic in a stalker's pursuit from there as Righetti's back stabilizes against ropes: fast bobs, torso tacking left/right, up/down in energetic bounces – bendy lil' waist hook's got Righetti cramping up, tying up trembly around Bo's lanky arms.
Mid-round scenes: Bo's legs spread wide as weight's shifting between feet – slingin' leg and hip-work's generating tempo, power behind her shots...wide right hands sweep to Amanda's guard/head! Tight configuration as Righetti adjusts to Bo's swinging attacks: ripping punches club to Amanda's skull/shoulders/neck – by mid-round, 'Manda's jam-jab rips back! Amanda all tight, covered up: hard, STIFF poke from guard clouts Bo to mouth/face as strong, poking lefts start to find her! Spanking jab-to-mouth, Righetti, late in the second minute's got Bo blinkin', back-pedalling, frowning: snarling toe-to-toe position sees 'Manda rip a short, drumming roundhouse right to Bo's ribs that has Bo all oomph'ing, punched out of breath! Later: Bo's no longer as dynamic as body shots slow her down – she's leaning forward face-in-gloves as Righetti tucks in more left/right hooks behind Bo's elbows. Righetti's hunched low, ducking from Bo's stiff, straight counter jabs – as girls step parallel to ropes, Amanda's bulling on top, clubbin' and swattin' thick leather to Bo's tender flanks as long legs slump ropeward! Bo's eyes blink, legs tremble: Righetti's all smiles as late rush erases Bo's early blitz – girls take a rare draw in the opening round on all cards.
R2:
Righetti ups the aggression, trying to drive Krsmanovic ropeward: tight stance, fast bobs on the spot, sudden left / right curls – battering-ram jabs maul to Bo's tits/ribs, palms paw at Bo, turn her around for sweeping right hands to neck/guard, slowly bulling pretty black-haired supermodel backward. Early rope scenes: Righetti's head low at height of Bo's chest as hands rip, scuffing up Bo's flanks/neck/head until Bo can secure a long-limbed clinch around Amanda's brawny shoulders. Adjustments: long, wide-legged stance as Bo's pivoting, side-stepping Righetti's charges, initiating exchanges again via the slingshot jab from hips, finding Righetti's face. Supple, limber torso movements: fast dips, slips n' turns walk Bo beneath Amanda's charging jabs, swinging right hands, tying up hard and clingy around Righetti's tummy/hips.
Mid-round: Righetti a-sluggin' as Bo's starting to be elusive, loping away and around while stepping back into Amanda's path via slingshot jabs and short brush-the-dust hooks – Bo's legs, tempo control mid-ring canvas as Righetti bobs, feints, shut out a little. Slugging jab-jab, Righetti, bending forward– supple upperbody slip, Bo: a willowy left hook SLAPS 'Manda's mouth/jawline, pinching face into pain! Bendy side-steps around Amanda's thick jabs, overhand right hands: chippin' lil' jabs/hooks cork to sides of Amanda's head as Bo comes up inside, brushing her pretty face up as the champ's walking into harm! Bo's jab's got Righetti frustrated: she's bending forward, bobbin', weavin' into range from earmuff guard – Bo's lanky range management, maintaining distances, stroking hard, slappin' punches across Righetti's flanks/ribs during side-steps. Down the stretch: Bo's slowly driven into a corner as Righetti closes range, stubbing short jabs in staccato: Amanda commits to overhand right – Bo dips torso-right just-in-time, brushing the lanky left hook to Amanda's startled face from bended back! Chiseling lil' punch's got Righetti sputtered – Bo wraps her up in clinch, turning her around, hips all slippy and strong as Amanda grimly grabs around Bo's upperbody – girls tumble into turnbuckle for ref's break at bell!
R3:
Styles clash as girls square off for mid-ring control and command: Bo's lanky steps, smooth pivots, fast tempo – she's always hopping parallely to Righetti, sweeping in and out via slapping jabs, spearing right hands, staying bendy, supple in her upper-body, hips. Amanda on alert, switching to tight stance (head low, guard up, elbows in, weight on back right foot) – after Bo's whirlwind rat-a-tat blitz (swooshing hooks, parallel crosses, slap jabs) Righetti's starting to get her timing right! Head-bobs subtle, just on time: crisp little jabs ring to Bo's noggin', short straight right hands land crisp to her mouth / temple and bendy sidearm lefts get into Bo's paunch. Bo a-chargin' with those sweeping, long-limbed lefts/rights – she walks into harm as her temple takes an overhand lefty, her mouth pinches back from a sly jab! Krsmanovic duly drops her output, giving up that mid-ring canvas to Amanda: hips shuffle back-and-forth as flow of stiff, steady jabs pepper Bo's guard/head, keeps her guns holstered. Action moves alongside the apron, Bo's back towards ropes as Amanda dictates, steering Bo backward via fast jabwork, ripping body hooks. Legs slump, slow down as Bo's pivots, side-steps still walk her into corners: Righetti's keeping that lefty pumping, not committing into full siege, but patiently bangs out the points. Jabs fix, steer Bo into position: brisk body combinations spank across her flanks/ribs as Bo's torso trembles, strong buttocks ringing from shots.
Down the stretch: Bo's stepping away in counter-clockwise pivots from Amanda's stiff, pitching jabs – left hand feint, right hand shot from Bo's laps just as Amanda steps-to! Rail-straight punch strokes most of Righetti's jawline, sputters her to starboard – next long, sweeping overhand right pitches to Amanda's jaw again as redhead stumbles out, unbalanced...she's stumbling into the ref's embrace just after bell, all befuddled. A sly smile unfurls on Bo's pretty face on her way to corner – late sock to jaw not enough to steal Amanda's round, but a bit of her thunder.
R4:
RIGHETTI GOES DOWN! Girls blast out toe-to-toe at bell, slamming away one-two: pounding connect flat to temple loosens Righetti's legs, baby-stepping her out back, hands low in dazed wonder – Bo's eyes go wide, shifting weight to left foot, stepping in pursuit and brushing a short, pastin' hook across Righetti's teeth! Hard, dynamic impact sweeps Amanda off her feet, tumbles her to back in dazed spiral! Chest pound, Bo, as Big Rigs hits the floor, groggily lifting her upper back off the canvas near ropes, legs trembling – crowd ROARS as the champ's vulnerable! A groaning 'Manda rolls over her left hipbone, first resting on strong forearms, finally rising thru grunts, little trembles – she's hurt woozy, but up at 8! Ref taking long looks into Amanda's eyes as redhead hops near ropes, slaps mitts together, nodding affirmatively: he's sending the girls back into fray! Mop-up time: lanky, smooth steps from Bo as she's sweeping arms left/right into limber, whacking strokes across Amanda's gut, ribs, then leaning into overhand right hands for Righetti's guard/head to repeat! Shots club either side of Righetti's earmuffed head as strong legs bend thru, hold: sneak uppercut splits Amanda's mitts as face pops from gloves, eyes pinched in pain – Bo's lanky power's got Amanda's lips parting in shock, eyes closed as her head rests down on Bo's right shoulder during clinch.
Final minute: girls exchange tasty jabs as Amanda's strong legs recover – Righetti's being physical, tug-pullin' Bo's head towards her via the sneaky, grabby left hand, cuddling up and stuffing right hands to Bo's paunch/ribs. Ref's break: explosive jab off Big Bo's left shoulder, punch spanking nicely off Amanda's mitts – shift to right foot, Bo, and a limber, bashing left hand hook SLAPS to Righetti's mouthpiece, uncorking it. Amanda's butt hits ropes, head all hunched, legs baby-stepping on the spot, dukes at temple: Bo a-bobbin', dipping fast side to side as she's licking hard strokes beneath Amanda's elbows – there's full torso/hips behind Bo's punches! Bell: Bo rising tall, blowing hot in Amanda's face as redhead staggers from ropes in hunched frame, blocked big-girl by Bo's tasty six-foot frame.
R5:
Bo's trying to extend her control, commanding range / distance, check and dominate redhead champ via stiff, leggy jab poke from mid-ring, keeping a steady chip on Amanda. Righetti's legs prove her stamina, but she's not really mobile, fast – Bo's able to time a bobbin', weavin' Amanda on her way in! The chiselling jab's chippin' away at her, sprucin' up Righetti's face, tap-tapping her into compliance as HARD socks to guard/neck/shoulder steer redhead out of stance, re-position her for socking blasts into ribs/flanks. That long left hand, outstretched and a-pumpin': Bo's maintaining her distance, dicating things rangy thru smooth, ropeside pivots around Amanda's flanks. Mid-round scenes: girls hop, step parallely – right cross, Righetti...nice lil' slip/duck inside from Bo's placing a nasty right hand sock to Amanda's mouth/nose that's got her head twitching back on impact, though strong legs hold redhead up. Righetti's got her dukes up, mitts placed at eyes/temple, trying to weave her way forward: Big Bo's faster, swooshing rat-a-tat across Amanda's frame, slingin' and batttin' down shots – Bo's got hand speed!
Krsmanovic's focus on speed, rhythm instead of weight-of-shot: cumulative fog of slappin' jabs, steering lil' hook's got Rigs in trouble. Bob n' weave, Amanda: slide-back, Bo – when Amanda's upper bod leans too far forward, Bo's there inside via the long, rangy side hooks to rib/tummy meat. Righetti's brawny guard's looking safe from KO shots, but she's being controlled: slap, slap...tap, tap – Bo's fists slapping and swatting to Amanda's frame, really peppering guard/head and belly/ribs via nice, slinging variety of punches! Rigs bodies up late, grabbing meaty around Bo's lanky hips/chest, stumbling her to ropes, making her take weight. Krsmanovic's being patient for ref's breaks, but she's a little scowling after ref's letting Amanda do this three, four times throughout final minute – long, loping steps, Bo...slip-duck, Amanda, healthy grip around Bo's torso as girls stumble near apron. Physicality's starting to bog down Bo as brawny Amanda's working her over butt-on-rope, securing arms in the clinch: late at bell, a STRAPPIN' stroke across her tummy's got Bo sighing out loud, eyes pinched in pain – she's feeling Rigs despite good shutout round!
R6:
Girls fight for tummy hurt, tummy control: fast counter steps/hops across each other's frames, leading via the jab to tits/ribs, opening up right hands slanted into tummy, hoping to lure the foe forward and suck more righties into tender flanks. Activity, longer reach favour Bo's work, as she's stepping long and wide around Amanda's left, pitching back hooks, punches a-whirlin' – but it's Righetti's punches that trigger hurt! Left cross pumps to shoulder, steers Bo back: mean, quivering right cross thuds atop Bo's bikini-line, putting cramps to pretty brunette as shot to pit-of-tummy freezes Bo up! Amanda ducks, slips, taps the lefty cross to Bo's (right) ear – Krsmanovic's turning, right arm clasping to protect side of face, gets clouted hard to ear/temple AGAIN! Head thuds leave Bo stunned: she's stooping forward off her guard, only slowly, feebly trying to roll out. Righetti being physical, going a little rag-doll as Bo's vulnerable: left/right body cross combo pelting the Krsmanovic torso...wide, swinging punches! Righetti being small, punching big from tight stance: wham-bam clouts to either side of Bo's skull as long brunette's a-freezin', tenderly stepping on the spot, pedalling slowly to ropes as Righetti romps-with, clubbing and clubbing shots to temples/ears.
Mid-round: Bo's in stumbles as Righetti's show of force slowly levels off, but Bo's still standing – she's finally using those long arms to grab at Amanda, pull down arms/shoulders, bringing those six-foot limbs to use...Righetti's clearly struggling to hold back against Krsmanovic's large, lanky frame when Big Bo bogs down, makes her take height and weight! Ref's break: stiff jab, Bo, triggers Rigs to go forward – and she's force-feeding Amanda the intercept right to mouth! Some wobbly-butt steps on the spot, Amanda: she's stunned at Bo's fierce resistance here! Final minute: double, triple jabs off Amanda's left shoulder, pump-pump – jabs stab Bo to face/tummy, peppy rights keep Bo's left holstered, slide-backs walk Bo into hurtlin' lil' slants to ribs/tits. And right down the stretch, Big Rig's got Big Bo where she wants her: butt on rope, face buried in gloves, sighing sadly from rippin' shots to tits/ribs – 'Manda swishing left/right, dipping side-to-side, rising into murderous punches as fists crackle and crack against Bo's frame/flanks/mid-section! Crowd ROARS onto its feet, but there's grit in Bo's legs – she's all trembly and quivering, but rising to her impressive six-foot frame at bell, throwing wild, defiant looks to smaller Amanda's face as girls stay for eye contact, ref jostling inside a little concerned. "Not feelin' your punches, girl!", Bo blurts out gruffly.
R7:
Big Rigs to Big Bo: stiff, flat-footed jabs POUND Krsmanovic onto heels – short, sucking combo (left jab: shoulderblade, right cross: mouth) gets thru in early exchange, sends Bo out a-reelin', teeter-tottering for balance! Snarl, Righetti as left hand sneaks up behind Bo's head, pulling her unsuspecting foe forward into a tap-tap right cross to cheek/ear – a palms-down left hand shoves her girl off balance, as righty gets STUFFED into stomach. Eyelashes go a-flutter as Bo's jogging out hurt, hands outstretched to block, pull down arms: Righetti patient in stalk, staying rangy but aggressive – duck/slip prepares a left to Bo's armpit, right-slip/lunge preps a right to jaw/neck. Groggy clinch around 'Manda's shoulders as redhead still grinds her way forward, wriggling arm free, POUNDING a flat shot to Bo's quivering tummy meat as girls stumble, directed ropeside by Righetti's force/will. Physical action taking over: girls fight close, letting hands paw out for tummies while corking up short, explosive righty uppercuts – lots of flat, side-arm drubs/clubs with delayed reactions, messy stuff as girls tumble, step around for ref's breaks! Righetti bulling atop Bo's rack at ropes, dipping into body shots inside the grasp – lil' palm-shoves to shoulder send Krsmanovic staggering out, steered back for more thump beneath Bo's elbows...big brunette slides out, peek-a-boo dukes at temple as eyes betray hurt.
Mid-round all about Bo tying up when she can: long arms fleshy around Amanda's hips – the occasional side-arm right to Righetti's tummy, overhand crosses looking for 'Manda's head! Righetti's seen enough, steps back from Bo's lanky embrace, jolting a jab/left cross duo forward: and Bo's head KICKS back! Icy staredown, Righetti as Krsmanovic jogs out back, torso swaying, lips parting in shock: Amanda's left slingin' casually from hips, hoisted into Bo's guard tik-tok, tik-tok! Bo wants a clinch: clobbering right-to-head pounds her arm loose, butt hitting rope! Oh, Bo's sitting rickety, hunching, leaning away from shots: dip-slip, Righetti – thick righty goin' HUP-HUP above Bo's left hip! Face in gloves: Righetti rises, pumps the short overhand left to Bo's temple as mitts split – pasting shot's got Bo's head flip-flopping! Drub right back to hips/rib's got Bo in moans – she's spilling down all hurt, loose! Amanda steps back hard-eyed, smacking mitts together in lil' sign of conquest, not looking back at her foe: Bo's on her hands and knees, hugging her gut, forearms trembling – lanky vixen can't beat the count! A nod, a quick chest pound: Amanda Righetti takes the KO7 and she's STILL the welterweight champion as 2020 looms!
After:
Bo's stabilizing – lanky beauty rising after the count's finished, gets a long, friendly hug from the champ as fight lust recedes, professional respect returns on display. Amanda Righetti ends 2019 the way she entered it: on top of the welterweight division. A year after wresting the title from Kate Upton's hands, it's been a year of triumph and records for the redhead fighter: her winning streak of 24's been unparalled, and tonight's triumph extends her title defenses to 11. During her post-fight interview, Amanda only has nice words to say about her opponent: "Huge congrats to Bo – she's improved so much since our last fight, and she fully deserved this title shot. I don't mind if she's kicking some more BBU butt – just couldn't let her get away with it on FCBA territory, though!"
What are Amanda's plans for the new year? "Well, I'm off to a busy start! Kendall Jenner's been so vocal about not accepting my pound-for-pound top dog status – and you know I always like to kick some lightweight butt once in a while – so it's time I let my fists shut her up for good. I'm just itching to get my hands on that lanky, pretty bod!"