Post by Lookout! Boxing on Nov 29, 2019 22:54:23 GMT -6
SHAY MITCHELL VS LILI REINHARTResults: Lookout Writing: ArcherShay: 32 YO, 5'7 ½ (1.71 m), 27-27-0, 25 KO since 2011, Pretty Little Punchers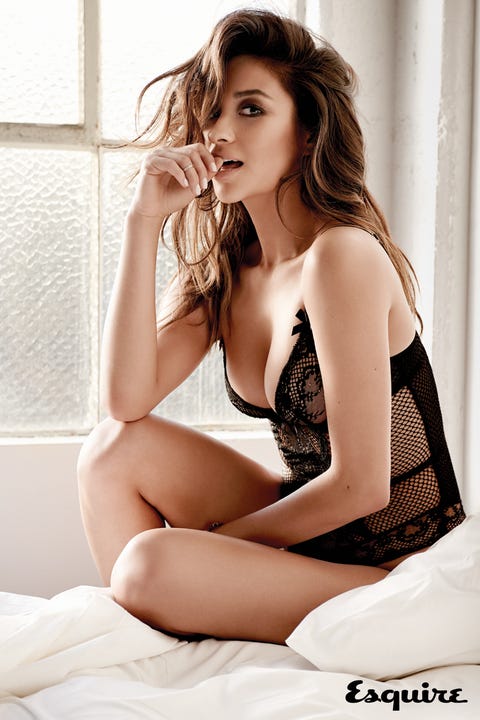 Lili: 23 YO, 5'6 (1.68 m), 11-1-0, 11 KO since 2018, Front Street Gym
Before: Lily venturing outside the friendly confines of the Asylum Arena to take on PLP's Shay Mitchell. The blonde newcomer is in good humor at the pre-fight press gathering.
"I love boxing in the Asylum, the crowds are friendly and always want to do my best. So far I've been very successful. I should point out that did knockout the Punchers Melissa Benoist in my second fight and that was at PPV. I am eager to move up the FCBA ladder and face off against Shay. This is going to be challenge, but I like challenges and I sure I can come back with another win."
Shay shows some veteran cool in the face of the young blonde's exuberance: "I remember that fight with Melissa. Yes, Lili did in, but I have to wonder if boxing at the Asylum has made her complacent. She may say she likes challenges, but I think I am more like a 'reality check' to show her she needs a lot more non-Asylum experience if she expects to succeed in the Bantam Division."
'Thank you for your concern, but I think you are in for the 'reality check' when it comes to me," Lili retorts a bit snappishly.
"I guess we will find out," Shay says, sounding unconvinced.
At the PPV, Shay strolls to the ring and removes her robe to reveal a faux-lingerie black one piece with black boots and gloves (silver laces). Her hair is pulled back in a battle braid. Lili comes to the ring and removes her robe to reveal a shimmer green one piece with plunging neckline. She wears gold gloves and boots (green laces). Her hair is in a ponytail. Ring instructions are covered. Gloves are tapped. Fighters go their corners. The bell rings.
R1: Lili very aggressive in the early going. She crowds up on Shay and pumps hooks into her belly. Shay looks to be struggling as she tries to keep her arms free enough to punch back. Referee finally intervenes when they get too locked up. Lili goes right back at Shay, but this time she works the brunette's chin and puts quivers down Shay's gams. Shay jabs back, but Lili adjusts her position and digs into Shay breasts and ribs, then drops to pound belly. Shay backs up, covering her withdrawal with her jab as Lili keeps backing her up with fresh shots head and body. Round comes to close as the bell and Lili Reinhart to wins the round wide. Lili looking quite pleased with herself as she returns to her corner. Shay not at all happy about the opening round as she goes to her stool.
R2: Shay out with determination this round and she starts with a crushing right to the jaw, then a left to the chin. Lili goes all rubbery legged as Shay surges forward and pumps more punches into the dazed blonde's face. Lili hastily covering her face with her gloves and now Shay turns to Lili's unguarded torso to pound away with more determination. Lili tipping forward as she is driven back into the ropes. Lili still covering her face as Shay lashes away at breasts, ribs and belly sheets of leather. Finally, Lili starts to repeatedly clinch Shay and break up the momentum of the attack. Lili then tries to make a break for it as she slides along the ropes, but Shay able to keep her hemmed in to the bell. Lili breathing hard and dripping sweat as she makes her way to her corner. Now Shay Mitchell is the one with the smile as she knows the judges will award her this round wide.
R3: Shay again out quickly at the bell and heading right for Lili. Lili seems ready for her and they start trading punches the moment they are within range. Shay pressing forward again behind her body punching, but Lili is digging in and Shay is getting it right back to her own body. The two are going at it toe to toe with elbows moving in and out like pistons as the gloves slam into wet, straining bodies. Lili and Shay do slowly circle as they punch, hoping to find an opening while keeping up the punching pressure. Things stay even until Lili steps back suddenly to cause Shay to lurch forward off balance. Lili then brings two quick right-hand strikes to Shay's jaw and then a left uppercut as Shay's guard weakens. Shay sent stumbling back and Lili adds some body shots. Shay manages to rally and use her jab to stall Lili down to the bell. It's a close round, but the judges declare it was Lili Reinhart who edged out the win.
R4: Lili comes bouncing out of her corner looking very eager to get back at it with Shay. Shay moves with more deliberation as Lili comes at her. Lili is trying to get in close and resume the pressure punching on Shay's body. Shay does a quick stutter-step move to draw Lili's attention to the left, but then Shay's right flashes out and under Lili's unsuspecting chin. KA-POW! Lili gets lifted off her feet and then goes crashing to the canvas! Lili sitting there, leaning on her right arm and looking around with a blank expression on her face. Shay smiling happily as she heads for the neutral corner. Referee moves in and starts to count. Lili comes out of her stupor quickly and then steadies herself to rise and beat the count at "EIGHT!" Referee checks Lili over and then waves Shay back in. Shay wastes no time in launching an effort to finish Lili off, but the blonde proves stubborn. She retreats, but uses her jab to answer Shay punches and slow the brunette down. Shay obliged to try to circle Lili in search of openings, but is matched by Lili every step of the way. Lili seems recovered at the bell, but Shay got that knockdown and it helps her win this round wide.
R5: Shay comes out and launches a barrage of punches aimed at Lili's head. Lili ducking and evading all the incoming, then comes back with counters to Shay's chin and jaw. Now Shay ducks and circles. Lily comes at her with a wave of punches that slam Shay to the body. Shay drops back, but circles around Lili, who keeps up with her and then plunges in again. Shay striking at the head, heaving her overhand punches passed Lili's gloves, but getting her chin and jaw struck by Lili's counters. Two fall back, recover quickly and then plunge back in. Now we see a return of the toe to toe body punching and Shay is trying to set her feet to get more power into her blows. Lili pushed back slowly, being tipped forward by the heavy hooking in her abs, but still resisting. Then Shay goes to the chin with an unexpected right and Lili falls back quickly. Shay following up to the body. Lili makes a stand with her a jab and they are both punching with determination at the bell. Another close, hard-fought round and this time Shay Mitchell comes away the narrow winner.
R6: Both fighters now quickly away from their corners at the bell and both then aim their opening salvoes at the head. Shay goes for Lili's jaw but Lili twists her body and the blow glances off her shoulder. Lili then lands her right on Shay's jaw with head-swiveling force. Shay now spins away and Lili scrambles after her. Lili swinging in front of a hurt and bleary-eyed Shay and swings for the brunette's chin with the ol' one-two left/right combo. Classic combo works again as Shay's legs buckle and she plunges to her knees at the feet Lili Reinhart. Lili looks down in some surprise and then scoots off to the neutral corner. Referee moves in. Shay now on all fours, panting hard and trying to pull herself together as the count rises. She then takes a deep breath and rises to her feet. She beats the count at "NINE!" Referee closely checks Shay who can be heard insisting she can go on. Referee finally waves Lili in and the fight resumes. However, it does not resume for long, Lily pounds Shay back into the ropes with a barrage of hooks to the belly. Shay hits the strands and tries to escape by sliding along them behind the cover of a weak jab. Lili ruthlessly brushes Shay's gloves away and starts banging her head from left to right and right to left. Shay getting pounded to a pulp as ringsiders scream for the referee to do something! AND THE REF DOES JUMP IN! Official cradles Shay to safety and Lili wearily raises both arms in victory as the crowd roars.
THE WINNER LILI REINHART DEFEATS SHAY MITCHELL KO6!
After: "I hope this puts to rest the idea that I can't win outside of the Asylum Arena," says Lili Reinhart. "I beat the stuffings out of Shay Mitchell and I'm ready to do it to any other bantam who isn't afraid to take me on! This is a major stepping stone upward for me and 2020 is going to see me rising to the top of the Bantams. Just who watch and see me do it!"
Understandably, it is the next day before Shay Mitchell has any comment on the fight as she tells Archer News reporter Skip Tracey: "I really thought I was wearing her down, but she had a lot more fight left in her than I was expecting. Once she rang my bell with that knockdown in the 6th, I just couldn't pull myself together and she did a number on me before the ref jumped in. Hard feelings? No, why should I, this is boxing, you're supposed to punch your girl until she can't get up or the ref stops it. I just wish it would have been me doing it to her. So no grudges with me. I just don't like losing to anyone."
Skip later asks Lili Reinhart about PLP's Troian Bellisario. Lili just smiles: "Of course, she's an option, but we'll see what The Wiz and I come up with for future opponents, Troi's nto the only bantam out there I'd like to beat."
Fight was definitely a big step forward for Front Street's Lili Reinhart. She took on a veteran bantam in Shay Mitchell, took a lot of punishment (including a R4 knockdown), but came back to batter Mitchell into a stoppage. Future looks bright for the young bantam in the coming new year. Meanwhile, a painful loss for Shay Mitchell as she looks to be finishing the year a career low 1-7-0. However she did look competitive out there against the younger Lili so she and her fans can hope that 2020 will be a turnaround year for her.