Post by Lookout! Boxing on Oct 26, 2019 0:50:05 GMT -6
KATRINA LAW
(34 y/o, 5 ft 8, W: 16, L: 17) vs
MISSY PEREGRYM
(37 y/o, 5 ft 7, W: 55, L: 31)
Results: Lookout!, Writing: Bonzo
Before:
Missy Peregrym's a proper bantam legend, but she's arguably no longer the dominant fighter of the past. Missy hasn't been in a title fight since 2016 – and she's also lost important battles against newcomers like Anlella Sagra and Kendall Jenner. Missy's always been a fighter crossing divisions: she moved to lightweight after dominating the bantam division – her series of legendary wins over Evangeline Lilly remains an obvious career peak. At lightweight, Missy's never been quite as rigorously dominant, but she's still a two-time champion there. Missy's always been renowned for her incredible athleticim, and that's why it's no surprise she's now venturing into catchweight territory for a marquee FBI vs Hawaii 5-0 battle against welter Katrina Law. Law herself has been on a downward spiral at Bonzo's Gym – Kat's now on a pretty frightening five-fight losing streak. Setbacks have included a loss to Behati Prinsloo in her only 2019 fight. The word among the pundits doesn't predict a rosy future for K-Law at Bonzo's where she's been overshadowed by rising supermodel Camille Kostek. Could a solid win over strong, toned Missy reverse her fortunes? These two girls have fought once before as Katrina scored an upset over Missy back in 2012.
"Well, fighting Missy's always a physical challenge. She's always been, like, the performance standard in boxing for athleticism and great physical shape. You just don't get any fitter than Missy! But now that we're both in our thirties, I think this fight will be a little different from last time out. I think there's going to be less legs, less jabs, and more hard-hittin'. And when it comes to hard-hittin', well, I trust my welter power each and every time, haha!"
"Kat's like the forgotten stepchild at Bonzo's", Missy announces a little provocatively. "I mean, it's easy to forget just how much of a goddamn good fighter this chick actually is. Kat's always been about welter power and lightweight hands – that combo's still as dangerous as ever. But make no mistake: I haven't lost a step, either – I'm still the girl who will set the tempo and rhythm. Have to watch out for Kat's right hands – but when we fight on my terms, this fight's all mine. Let's do it!"
Fight night attire:
Missy's in cut-off jeans shorts, a short blue jeans top, black boots, hair loose – Katrina's clad in dark-blue bikini bottoms, a sparkly white bra, hair in a braid.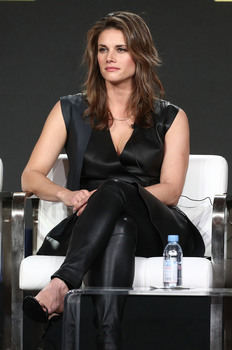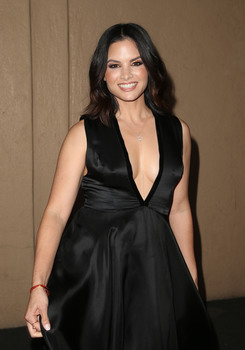 Fight:
R1:
Action's based on jabs: Missy's scoring well, dictating things in leggy fashion via her precise, hard-pokin', athletic lefty – she's setting up a steady pursuit on sturdy Katrina, driving overhead rights, sluggin' left/right body crosses off her jab, making Law give up ground. Kat's not timing the Peregrym jab very well: she sets up a broad-shouldered defense, occasionally absorbing shots to flanks/biceps at ropes, then easing the pressure via dangerous straights, short hooks to Missy's cheeks/ear. After ref's breaks: Missy's timing Kat, scoring via plenty of thump to mouth, neck – it's her round, based on tempo, legginess, activity.
R2:
Leggy pursuit, based on Missy's rolling jabs – lefties get her inside, short right hands pound away to Kat's flanks/rack...it's a muscular look for Peregrym. Around a minute in: Kat's leaning inside for tummy shots, nicely dragging these shots all the way to gut, all bendy torso, mobile legs. Sturdy, athletic Missy absorbs those body thumps pretty well, but it's slowing her down, turning action a little more toe-to-toe! Kat's quick hands doing damage: girls trade shots in fiery exchanges – slanting hooks to Missy's rack/biceps have her hitting ropes for the first time. Down the stretch: Kat's besieging Missy at ropes, driving body hooks to tummy, clouting brunette's ears/cheek either side.
R3:
Missy's leggy jabs allow her a first mover's advantage: tempo, precision force Kat from mid-ring territory, see her side-stepping, rolling shots. Kat's forward motions get pre-empted by Missy's greedy poke: early hits to chin/neck slow Law down, have her circling out. First minute: Kat's combos return! Law's quick hands so dangerous – even on the defensive, she's able to explode into pounding left cross/right uppercut combinations, really slugging it out to Missy's face. Series of shots just like that: lefty cross grazes Missy's jaw, righty uppercut slants to rack, folds her forward, stops the leggy momentum. Law's being big and bad from there, exhibiting welter confidence: sieges at ropes see plenty of body hooks, clouts to cheeks/temple – Missy folds off ropes, dominated by Kat inside clinches as Bonzo brunette stays on top, grinds ahead.
R4:
Action's about jabs: Missy's timing it better, upping the tempo – and Kat's pretty much giving up canvas. When Law's shut out, timed or pre-empted by that steady, ready Peregrym poke, she's showing more of a crossed-armed stance, bobbing on the spot, head/torso rolling away from Missy's attacks, staying passive, waiting her turn. Leggy side-steps to the left, Missy, have Law turning, giving up her flanks for greedy, thumping body hooks as Peregrym circles out. Tempo, steady poke won't allow Kat's quick, powerful hands to roll n' roar – she's covering up, body trembling under drub-drub hooks to tummy/gut.
R5:
Missy's leggy jab: tempo's upped again as double, triple shots knock Kat's head back, fold her torso forward, force her into baby-steps. Sudden toe-to-toe, late first minute: Peregym's jab, Kat's righty uppercut – Law's righty hits home hard as Missy's left sails away! Shimmying hips, queasy n' bendy legs: Missy's side-stepping, circling out as head's all woozy – Kat's in pursuit, returning for that deep, slanting hook to Missy's gut/breadbasket, trying to wick away that sturdy athleticism. Missy's dangerous off ropes: short, stubby jabs have Kat on alert as head swooshes left, right to avoid shock counters. Late third minute, girls go toe-to-toe again: Missy's leaning down, putting a long, bendy hook to Kat's rack, hup-hup – short, swirling righty hook from Kat's lap pretty much eats her jawline in sudden counter reaction! Head's going all to-and-fro, loose and spasm-y as legs wobble, stomp for stability: delayed reaction puts Missy on her butt! Grins, snarls from Kat after wham-bam knockout: she pounds mitts against chest as Missy scrambles, shaking her head in disbelief. Sturdy stamina rises Missy to beat the count: she's trying to side-step away from Kat's explosive, driving one-two combos, making it to the bell.
R6:
Kat's snarling, going for the stoppage: tik-tok jabs roll thru to Missy's jawline, knocking her head back, baby-stepping those strong, athletic legs. Ropeside: Kat's dipping her torso, tucking in a driving right hand above Missy's right hipbone – oomph's sitting brunette's butt atop a cable...Missy's in groans, her torso trembling. Sturdy stamina as action moves on: Missy's absorbing the body sock, tightening her guard up top – she's setting up a tight, earmuff stance, establishing a better defensive front. Clubbing shots pound away at Missy's flanks, biceps, but she's pretty stabilized right now. Second minute: Kat's atop Missy at ropes, wicking short, pounding hooks to Missy's breadbasket as Kat's broad, sturdy's back's dipping across Peregrym's hunched front left/right. Missy leans head past rope, yanks out a lefty cross: shot clubs to Kat's right cheek/mouth, sputters her steps as her eyes roll back in shot! Thumping righty, Peregrym: hard straight shot drives to Kat's rack/heart, bunching her up hurt and vulnerable! Kat's face's in gloves, torso bending at the middle as she retreats, legs now queasy, eyes betraying hurt – tik-tok jab snaps back Kat's mittts as a huge, long driving righty uppercut corks to brunette jawline! Kat's in fold-up: her head's snapping down, legs bend – she's in collapse! Pirouetting swirl sits Kat on her butt, propping up on forearms, eyeslashes batting in confusion! Ref wedges Missy away, counting Kat out: rickety rise has Law beating the count, stabilizing with her right arm across the cables!
A patient, well-contructed destruction across the third minute: Kat's in baby-steps, showing earmuff/peek-a-boo stances, pivoting out hurt, legging away – Missy's stepping into her shots, driving jabs to split Kat's mitts, batter her senseless, helpless via spearing right hands to strong tummy, rack, breadbasket. Late in the third: a wide, detonatating slug-out right haymaker to the left shoulder sits Kat against the ropes…a short straight lefty rolls to chin, drapes her back helpless against ropes! The ref steps in fast, cradles Kat to safety as Missy Peregrym storms away the TKO6 victrix!
After:
Missy triumphs! Athletic brunette lightweight beats Kat's welterweight power with a stunning comeback after a fifth-round knockdown, shocks Kat and finishes her for a TKO! "Well, my jab didn't always work as planned, but I just felt strong when we got goin' in the sixth, and when that counter hit, I knew I was back!", Missy smirks during her post-fight interview. "Beating a welter – wow, all these lightweight girls need to look out, because I'm hungry for more now!"