Post by Lookout! Boxing on Oct 26, 2019 0:25:30 GMT -6
AMANDA RIGHETTI
(Welterweight Champion) (36 y/o, 5 ft 8, W: 95, L: 28) vs
JENNIFER LAWRENCE
(29 y/o, 5 ft 7, W: 31, L: 23)
Results: Lookout!, Writing: Bonzo
Before:
Amanda Righetti's ninth title defense will see a rematch of 2017's battle with Chimera welter flagship fighter Jennifer Lawrence. Jen's never held a title and she lost her last attempt at the fists of Kate Upton back in November 2018. Lawrence is a well-regarded fighter among welter pundits – and she's certainly scored convincing victories over solid competition. Her main problem in recent years has often been consistency: she stopped Brooklyn Decker's run in early 2019 only to fall to Tahnee Atkinson a month later. Losses to lightweights (DiDonato) and bantams (Thorne) have raised doubts about Jennifer's big girl credentials, but she's earned a title shot based on strong results against Karlie Kloss and Charlotte McKinney. Back in 2017, Lawrence was coached by Charlize Theron to prepare for Righetti. She couldn't quite get her legs to dance Righetti into defeat back then, but does the plan still stand?
"Absolutely. We're definitely taking a stamina angle here", Jennifer explains pre-fight. "I mean, Righetti's been dominating, but she's also taking enormous damage along the way. She's busy every month, not gettin' younger, absorbing plenty of knockdowns. We're definitely planning to see some lead in Amanda's legs once we reach seven, eight, nine rounds. This fight's all about making Righetti move, get a good groove on those big-girl legs – and bringing in my right hand power once there's any sign of slack. Righetti's never been invincible – and after twenty wins, someone's just GOTTA do the job. Here, me, I'll sign up!"
Righetti's enjoying a record run: nobody's ever defended the welter title more often than she has, and a ninth defense would equal Kristanna Loken's 2003/2004 record at the long-defunct middleweight division. How dangerous is J-Law?
"Extremely dangerous", she admits in earnest. "I can see why Jenn's presenting herself as a Charlize prototype – it's just a good look against me, based on my history against Char. I'm at the gym every day so that Jenn's stamina angle won't work out, but, yeah, she's a little younger, and that's why I want to stop her as early as I can. Didn't she lose to a bantam chick recently? I mean, I might be on to something there!"
Fight night attire:
Girls sporting athletic wear: challenger Lawrence's clad in milky-white, black-laced boots, a tight white string plus white bikini top, her blonde hair flowing curly and loose – champ Amanda's wearing red boots, super-tight black sports pants, a black leather bra, her red hair loose.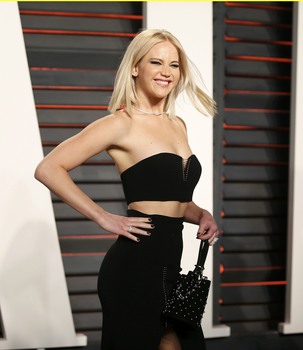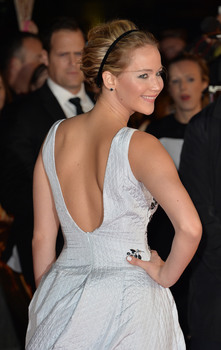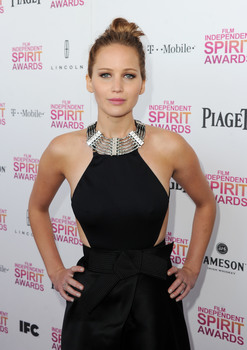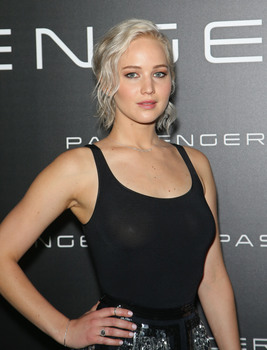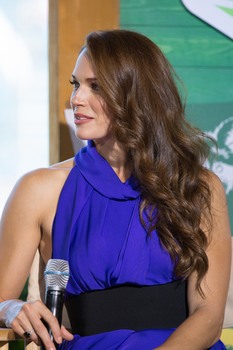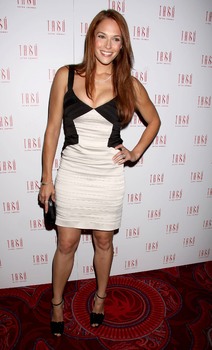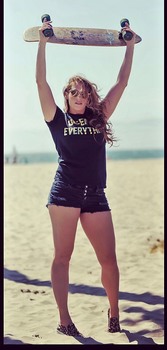 Fight:
R1:
Girls strike out, form opposing stances – Lawrence's forming a wide, broad-legged stance, chin tucked in, right hand across chest, left hand dangling to shoot at hip...Righetti's in a closer stance, pointing a left shoulder at Jenn, right hand at chin, left jabs pinging from thigh height. Girls circle, encroach, test: Jenn's powering ahead from her broad stance, kick-stomping into hard, flashy attacks, buttering Amanda's front via tik-tok jabs, swinging for wide, head-hunting uppercuts – Righetti's sliding to back-left, plopping a slingin' jab to Jenny's tummy on her way back...J-Law immediately leans forward on shot, SWIPES back the double shot to Amanda's breadbasket hard, chug chug! Girls circle out, pivot to regroup: Amanda's dragging her left foot across the canvas, trying to pin-point her jabs to Jenn's skull, time her for cute counters – Lawrence steps-with in her pursuit, feints a short jab, the POUNCES, jump-stepping into a detonating left uppercut. Rigs moves her head back, still gets CLIPPED clean, hard to jaw: she's sputtering out of her stance, legs reeling, tottering onto her heels! Wide-eyed look of preying fascination in J-Law's face – she's stalking Big Rigs! Righetti stabilizes, switching from ropes to ropes, just trying to keep back shy off cables: Jenn's moving in tall, her right hand held high, palms-out, her lefty WHIPPING hooks! Amanda's in big-girl defense, broad shoulders hunching, absorbing shots, sliding out: mean, bull-whipping hooks rippin' across Amanda's ribs/tummy/flanks – Righetti's sponging 'em up, body trembling when Jen's CLUBBING left/right either side of the champ's head. Leggy stalk-out, Jenny on Amanda, all round long: springy, mobile stance – pinging jabs keep her in range...hard, striking right uppercuts have her sliding out, leaning away. Shut-out, Lawrence!
R2:
Early battleground: ring control – Amanda grinding herself back into the fight, stepping to Lawrence via heavy, slumping jabs/crosses deep into Jenn's breadbasket/ribs. Fast tik-tok jabs to skull drive Jenn ropeside – thudding combo (left to tits, right to tummy) SITS Lawrence against the cables, has her gaspin', twistin' mouth in pain. Righetti squares up, leans into Jenn big-girl: hands pull/yank down Jennifer's wrists – a clubbing (righty) ram shot pounds J-Law's breasts, drapes her against ropes, leaves her breathless, a-starin'! Payback: Lawrences's butt atop middle rope, sitting awkwardly, trying to drape a left arm around Amanda's shoulder – Righetti pushes/leans inside, clubbing to (left) side of Jenn's head, chop, chop. Jennifer embraches the bullying body work: she's bumping back pate-to-pate, leans a heavy left shoulder into Righetti's lower jawline, frees up some room – a mean, little hook from Jenn's lap shrugs Righetti's lower jawline, totters her steps! Jennifer's struggling to stabilize steps, sliding alongside ropes, staying in earmuff – Amanda's stalking, pointing steady jabwork against Lawrence's forearms/biceps, staying atop in grinding, hard-fought fight scenes. Muscular work based off Amanda's heavy, steady jab: drilling lefty pinning Jenn ropeside – driving, gasping uppercuts PUMP into Jenn's upper ribs, lower flanks, just atop her trunk-line. Jenn's awake, alert: she's bodying back, twisting torso into left/right pendulum, easing pressure from body shots, hooking back from tricky angles.
Down the stretch: girls pivot out, then circle back fast, lean into hacking punches – Amanda's jab pins J-Law's mouth while Jenn's thudding righty uppercut CHOPS to redhead ear/cheek! Bell: girls stumble away as ref's wriggling inside.
R3:
Girls circle clockwise, dukes at mouth, elbows tucked in, step both into pitchin', drivin' jabs: Righetti lands to Jenn's raised, blocking mitts – Amanda hop-steps right from Lawrence's answer poke, taps a smooth, bruising (right) hook below blonde's left elbow from arched back.
Tempo surge from blonde challenger: she's stepping more into her jabs, suddenly putting a spank on a startled Righetti's face – stiff, aggressive jabs TAP to Amanda's mouth, nose, flip her head back, back-pedalling her. Overhead righty counter, Amanda – Jenn's leaning inside the arc, rolling to the right, stuffing a hard comeback hook to Righetti's rack, oomph. Girls positioned shoulder-to-shoulder, torsos workin', rollin', bullin': short, tight (left) uppercut rolls to redhead mouth, putting her in gurgling shock! Righetti heaves back a thick double (right) body hook, stuffing 'em hup-hup atop Lawrence's left hipbone, wincing, tensing up blonde's belly-meat. Jenn a-gruntin' and a-grimacin', but pretty much BULLS her way forward: girls twitch back n' forth, chomping for jawline via tight, short-arc uppercuts – J-Law's just being greedier, numbing redhead's upper bod via a thick, spanking shot detonating to Amanda's chest, tensing her up, pulling elbows together to defend her rack. Amanda widens her leggy stance, hooking across Lawrence's front, but giving up canvas ground to a hungry Jenn – step-to, Lawrence, quick hip-thrust, torso dippin' low for better leverage...a grunting hook belts atop Righetti's trunk-line, licks her legs into paralysis, stuffs her butt atop cables!
Down the stretch: Amanda's hands loosely placed at temples, body folding forward off ropes – Jenn's snarling, staying tight, small n' compact as drummin' hooks drub-drub Righetti's waistline and flanks, her face a grimace. "Tummy fun!", Jenn pronounces into a startled Amanda's face after bell.
R4:
Lawrence storms canvas aggressively, sweeping into tik-tok jabs – Righetti's crouching, rising into a COUNTER HOOK ON JENN'S TEETH! Crashing connect puts a stagger in Jenn's legs, corks her a quarter to the right, hopping out of harm's way – 'Manda steps in her pursuit, legs wide apart, dips her right shoulder, shovels a righty deep into pit of Jenn's tummy! J-Law's torso goes into spasm, twitching – shots folds her forward, and she's sliding backward to lean butt against ropes...she's vulnerable! Righetti: left shoulder dips, hips pop right – long, mean shovel (straight) right pumps to Jen's tummy atop her trunks again! Shout of pain, a sob, Jennifer Lawrence – she's sliding parallel to ropes, upper body folding, right across her tummy, left at eyes. Amanda's eyes harden, hop-hopping paralle to Jenn's path, tapping the lefty jab to Lawrence's gut (slingin' it), tapping the lefty jab to her guard (wham). Stout righty, Jenn! Blonde's chopping the counter off-ropes, rising into a ramming right hand – Righetti's lefty sails past Jenn's neck as blonde's righty connects, slugs 'Manda's teeth! Shrugging shot slumps Righetti into a fold – girls stagger into a clinch, mindlessly grinding their bodies forward, arms wrestling down wrists for control.
Ref's break: Righetti's bobbing, driving a steady, stubby jab poke to Jenn's neck/tits, hounding her to ropes again! Girls lean into punches – 'Manda splits mitts via slick righty uppercut, picks up Jenn's face drowsy! Lawrence forms earmuff, hands around temples: Righetti steps-to, CLUBBING hard shots to either side of Jenn's ear/skull – Jenn's pasted, stumbling away from the grasp! Lawrence's out of balance...she's baby-stepping, trying to grab around Amanda's hips for leverage – Righetti drapes her arm around Jenn's neck, pressing her head down...ref's break! Down the stretch, as girls circle back close: Amanda plants weight on right foot, smites a right deep forward into tummy...follow-up lefty hook clubs to blonde's ear...rising left uppercut picks up Jenn's face sleepy at bell!
R5:
Girls step out in leftward pivots, reach out into limber, swinging jabs/straights, stooping shots to lower body/tummy – girls measuring, timing each other to land the big right hand! Jenn scorin', stayin' aggressive: right shoulder dips, right hand drives into Amanda's gut, bunches her up hurt – smack!, the lefty cross taps Righetti's ear/right temple, tilts her torso into a slope! 'Manda's hands rise as she sets up peek-a-boo, leaving tummy vulnerable: Lawrence's paralleling her steps, sneaks a delayed, jamming lefty uppercut to Righetti's teeth, chop! Jen sets hips right, bringing oomph n' leverage into shots: tap-tap left times Righetti, tapping her mitts against redhead skull – sudden hop/twist attacks swirls a Lawrence right hand deep into Amanda's rack/upper belly, folds redhead forward, rag-dolls her butt against ropes! Baby-steps, buttocks shimmying as Amanda's trying to slide out, legs broadly apart – hard righty pounds back to tummy but Righetti gets an arm around Jenn's neck/shoulder, securing a clinch, ref's break.
Mid-round: girls twist back n' forth, landing thumping one-two combos hard to chest/breadbasket – buttocks grind as torsos struggle to hold weight/ground. Girls land opposing right hands jammin' to jawline, sending heads a-sputter: now JENN'S IN RETREAT, her knees a little bendy, legs wobbly-butt! Lawrence skippin' back on heels: stingy check jabs pester Righetti's pursuit – Amanda leans in, absorbs a sneaky jab to mouth, pulls a spinning righty that crashes to Jenn's (left) ear! Struggle for top position at ropes: now Jen's bulling back on top! Left arm rides down across Amanda's lower back, as hips push back for leverage, room – heavy, detonating rights pound into Righetti's tummy, slug her onto toes, lean her against cables...redhead eyes close, mouth pinched into a grimace!
Just down the stretch, girls step in n' out, twist into punches: a hard, determined lefty uppercut graze-pounds Righetti's forehead/temple– shot corks her torso left, stumbles her back to cables! Peek-a-boo stance, elbows clasped: Jenn's scrubbing the Righetti rack via short, tapping straight-lefts, punching that torso all loose n' rickety – a short, clean right hand sputters to 'Manda's mouth – she's all eyelashes a-flutter and in a swoon at bell!
R6:
Contrasts: Righetti's steps a little heavy-footed, pulling down Jennifer's arms/wrists into sturdy ropeside clinches, take blonde legs/tempo out of the action – Lawrence's fighting from strong mid-ring angles, spearing that hup-hup jab/straight into Amanda's tummy/flanks, hoping to out-work redhead in the trenches as she's paralleling her course alongside ropes, keeping her strong position atop Righetti. Jenn grinds in, bodying up: healthy push n' shove, hips shuffle back, a THICK righty plowing into Amanda's flank/trunk-line – Righetti's head rests down on Lawrence's right shoulder...she's groaning, grimacing, writhing back. Ref shoves girls' chests apart to break: Amanda's sliding into back-pedals, throwing wide jabs (up top), swatting (low) long body hooks to blonde's flank/tummy meat. Attack, Lawrence: she's leaping off a feint, lands a slammin' right hand to 'Manda's jaw as Righetti's jab lefty sails past blonde neck – head snapping, legs jello! Groans, grimaces, Righetti: she's setting up her left shoulder to blonde, torso rolling shots, draping arms around Jenn's mobile head, pulling her into meaty, sweaty clinchwork at ropeside.
Break: Righetti's in defense, hands up/palms in, elbows touching atop tummy, hop-stepping left/right – short, snappy left uppercut GRINDS into redhead tummy, folds her forward...lefty jabs taps redhead cheek, righty cross tosses to left jawline, chup! Left to gut, right to gut drawing moans from redhead champ: she's getting (wo)manhandled! Hasty strides, Amanda, early second minute, jabs not touching Jenn's head – fast step-to, Lawrence...left's a feint, a short right cross BRUSHES Righetti's mouth, SCOOPS HER FEET OFF THE CANVAS! Dramatic delayed effect sees Righetti not finding her feet as she's stumblin', tumblin', crashin' – she sits down on butt hard! Amanda's stunned, a little glassy-eyed, torso tilting from left to right as she's locating the ref – Jen's bellowing down but Righetti beats the count! Grim, hard-eyed determination, a hand on the cables to stabilize, sheepish hops at ropes – she's good to go! Torrid tik-tok jabs stalk Amanda's head/guard when action resumes: she's forming earmuff at ropes, absorbing sock to flanks/ribs, pulling Lawrence into long, meaty clinches. Jenn's wide eyed: she's searching for quit in the champ's eyes after nasty, greedy body shots land to Amanda's tummy/flanks, frustrated by Righetti's breaks/clinches.
Girls square up a little heated at bell, going toe-to-toe: hunger, fire's noticeable in blonde challenger – redhead champ's more tired, but grimly hardening to hold Jenn's stare as foreheads touch, just before ref's wriggling inside.
R7:
Righetti finds her jab! Jen's aggressive, bobbing close, feinting left/right, hands loose, ripping into redhead flanks, crouching low for leverage – hard, tik-tok jabwork catches her to mouth, jawline thumpin'...spank's a nasty surprise for blonde momentum! Early toe-to-toe: 'Manda finds Lawrence's head, timing, locating her – blonde's head's rocks back on impact, missing her body hooks as a result. Step close, Righetti: one-two sock catches Jenn thru raised mitts, snaps blonde's left foot off canvas – she steps down uneasy, outta balance. Forward momentum, Rigs: right at cheek/eye, lefty pumping stick – she's walking Lawrence down, left shoulder rolling into staccato jabs...hard shots thump to blonde's tits, sprucing up cheekbones!
Mid-round: Righetti snarls, leap-crouching into a low, slingin' shot to Jenn's tummy thats sags blonde's torso ropeward – she's forming earmuff, hands at temples. Amanda's now shifting weight/position non-stop: there's the dip-left for that stoopin' lefty body cross to blonde's waist, leaning low inside Lawrence's chipping haymaker...there's the dip-right for the mighty righty uppercut below Jenn's armpit/soft flank...there's the dip-left, rising into a shruggin' uppercut pasting across Jenn's mouth/teeth! Jen's leaning off ropes, swinging into a hook – Righetti weaves inside the shot, times a short, straight recoil right to blonde's mouth, draping proud blonde butt back agains the cables! Short body left atop Jenn's hipbone has blonde squirming, torso bending at the waist – no!, a wide, swinging right haymaker from JENNIFER'S LAP almost rips Righetti's head! Redhead leans out juuuuust in time, circling into a hasty side/back-pedal – and Jen's grimly deserting the cables, trying to locate Righetti's chest via long, thumping jabs, trying to get her legs to hop n' bob after long body siege. Righetti's legs slide outta range, using clockwise back-pivots – when she steps out, she's smothering Jennifer's greedy body lefts, falling into powerful clinches, bull-driving a tired blonde back against cables for ref's breaks.
Low-key third minute: girls trying to locate jabs to body, circling slow – Righetti's employing strong, bullish clinches for control, setting hips and driving her blonde into retreats for more breaks.
R8:
Girls battle for control in early scenes, lean into punches toe-to-toe: hard jab to gut, right hand to Jenn's cheek/ear drives her into back-pedal, folds her out of her stance. Blonde slides back, setting up a pocket defense at cables: plenty of oomph's in her off-rope smacks/slaps, that lithe torso turning and twisting into crosses, counter hooks – she's forcing Righetti into head-bobs, lil' tacks to left/right...Jenn's wandering to turnbuckle, still checked/driven by Amanda's jab stick. Hard, stomping jab, Lawrence, to Righetti's rack – she's faltered, rocked...Amanda answers to Jenn's biceps, reaches in, wrestling down Jenn's arms for a clubbing shot in between breasts! Soft moan of protest, Jenn – girls fall/lay in, mouths on shoulders, hands shoving at opposing hips for leverage and more punching room, meaty legs/thighs thrusting forward to move the other girl back. Righetti lays a beefy forearm across Jennifer's rack, clubs short (left, right) uppercuts to top of blonde's biceps (left, right) – grinding body contact drives Lawrence back against cables, now under steady siege!
Fast hops alongside ropes, Lawrence to break free: legs set broadly apart, weight on both feet...a monster uppercut from waist SAILS PAST Amanda's neck atop her shoulder – 'Manda does a supple hip/torso dip, buries a lickin' right hand in Jenn's gut instead, uh-oh! Blonde's face: pinched, eyelashes flutter – girls stay parallel to ropes. Righetti paw-paws a jab to blonde's guard, thumps a body cross to flank – shot turns Jenn's back to right, butt propped onto cables. Amanda's shoulders a-grindin': left arm pulls apart Jenn's wrists, right hand clubs to tummy! Righetti twists her butt, takes a step back: she dips low again, looking for low body hooks – short lefty hook thumps to liver region, longer righty hook's a follow-up also to liver! Oh, no: groaning sob of distress, shout of pain, Jennifer, as legs sag away from under her – she folds onto her belly! Righetti stumbles away, arms heavy from body attacks – Jenn's writhing on the canvas, trying to drape arms around lower ropes, wincing in hurt as her torso's paralyzed. Count's at ten: Jennifer rolls onto her back, covering her eyes with her right arm as long sobs shake her body. Gruesome welter title fight ALL about body shots: Amanda Righetti takes the brutal liver shot KO8 to stay welterweight champion!
After:
And she does it again! Tonight's welterweight title fight was a physical, grinding war – so many scenes at ropes, so many body shots, so many sieges...a minute into round 8, Amanda Righetti finds the fight-winning hook combo to defend her title for the ninth time, extending her winning streak to a record 21! Where was the elegant, leggy fun promised before the fight? "Well, I don't know", Amanda smirks during her post-fight interview. "But Jenn wanted to make this about body stamina, and, well, I was ready for you, girl!