Post by Lookout! Boxing on Sept 29, 2019 2:27:51 GMT -6
ASHLEY BENSON VS KATHERINE MCNAMARA

Results: Lookout Writing: Archer

Ashley: 29 YO, 5'4 (1.62 m), 20-27-0, 20 KO since 2011, Pretty Little Punchers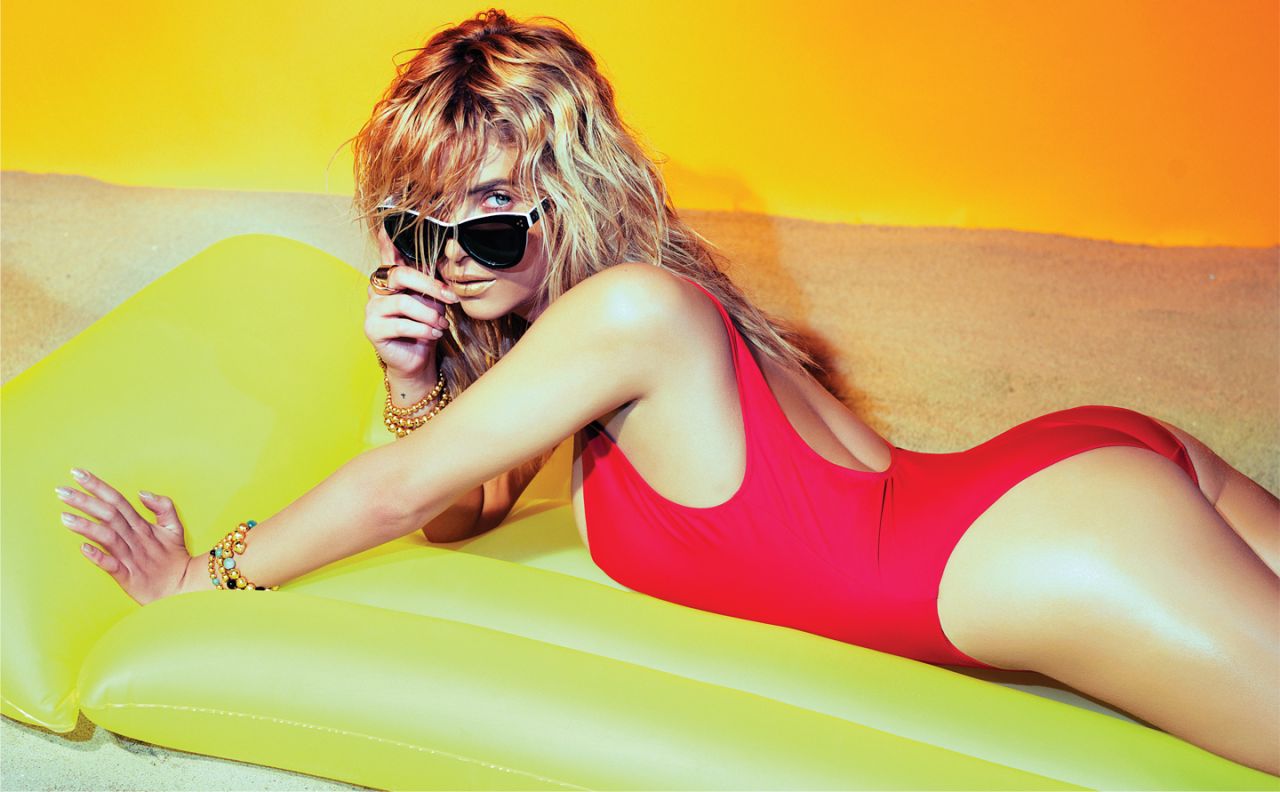 Katherine: 24 YO, 5'4 (1.62 m), 2-2-0, 2 KO since Fates Boxing
Before: "I admit my first two years weren't so hot," Katherine McNamara concedes. "I lost my first two fights, I didn't have management. Then, this year, I finally got good enough to turn things around, I beat Sofia Carson. Fates Boxing signed me up. I beat Emma Stone. It feels really good. I know Ashley will be a challenge. She may not have the best record around, but got years more experience than me. I really need to show I can beat experienced fighters like her."
Ashley Benson sighs loudly: "They never seem to run out starlets around here. Most of them are lucky to be one-and-done, well, maybe two or three, but they are still done and nobody remembers their names. I have worked hard over the years. This will be my 48th fight. I didn't win them all, but I won a lot of them. I have been here this long because I don't let slumps discourage me. Sure I lost 3 fights this year, but I did beat Elizabeth Henstridge. My record will look even better when I've added 'Red Kat' over there to my win column."
Katherine strokes her red hair and smiles: "'Red Kat'? I like the sound of it I'll see if it sticks, but I will settle for a win."
When the two approach each other in the ring, Ashley's in one her favorite red outfits, a bright red one piece with white gloves and boots (red laces). Her blonde hair is in simple ponytail.
Katherine is in a dark blue one piece with matching boots and gloves (light blue laces). Her red hair has been pulled back in a messy ponytail.
The ring instructions go smoothly. Gloves are tapped and the fighters go to their corners. The bell rings…
R1: Katherine is quick out of her corner and immediately starts chipping away at Ashley with quick shots to the head and body. The two are circling around each other as they punch. Ashley seems a little slower as she tries to aim her shots. Katherine firing away rapidly, though she is not always landing her punches with a maximum power. Ashley starts moving forward and ups her punch rate as she works Kat to the body. Then Katherine does land a solid right to the jaw that sends Ashley spinning to one side. Katherine quick on the follow-up, now punching hard to the head and she's got Ash all defensive and covered up. Katherine hooks hard to the body and also stuffing leather against Ashley's ribs. Ashley struggling to try to get out of range, but Kat is dogged in pursuit. Ashley steering herself away from the ropes while trying to hold Katherine off with the jab. Kat pressing Ash hard to the bell. Judges give the round to Katherine wide.
R2: Ashley shows much more aggression as the new round begins. She is faster out of her corner and pounds Katherine hard to the abs. Katherine swatted hard to the cheekbones and then the chin. Blonde drives redhead back as Kat is looking disorganized under pressure. Ashley now coolly working Katherine towards the ropes. Kat tries to clinch to break up Benzo momentum, but Ashley uses the close contact to thump the redhead in the belly before ref breaks them apart. Katherine getting hunched forward, she does counter with hooks to Ashley's midsection, but blonde circles and strikes with head shots. Katherine finding the ring cut off and being steadily driven back. She continues to try to clinch Ashley off, but Ash keeps coming. Bell ends a long, bruising round for Katherine and Ashley wins it wide.
R3: Katherine opens the new round with a rush at Ashley in a bold move to regain her momentum. Ash smacked hard in the mouth and nose (little trickle of crimson soon appears). Katherine trying for the jaw, but Ashley strikes back with fast hooks into Kat's belly. Kat tries to keep coming, but the pounding of her belly forces her to drop back gasping for air. Ashley now counterattacks to Kat's aching belly and she folds forward. Then the blonde veteran brings uppercuts rising into Kat's face. Kat stumbles back and Ashley lashes out with a crushing right to the jaw. DOWN GOES "RED KAT". Katherine sent spinning into the canvas, hits on her side and rolls over onto her back her face a mixture of haze and pain. Ashley heads for the neutral corner. Referee moves in to count as Kat makes it to all fours. The count is rising as Katherine struggles to her feet. Referee checks her over and then waves Ashley back in. Ash goes right at Katherine to try to finish her off, but Kat has gone to a tight defense and accepts being lashed with leather to the flanks and midsection. Bell ends the round. Katherine looking very unsteady getting back to her corner. Ashley marching to hers. Ashley Benson wins round by a wide margin with a knockdown.
R4: "I got her," Ashley assures trainer Nia Peeples. Nia says: "Don't waste time. Finish her before she can recover."
Meanwhile Katherine being told: "You got to get back in this fight. Hit her and keep hitting her. Take this fight back!" Katherine nods at the words.
Bell rings and out the fighters come. Ashley decides to fight in close and she presses Katherine hard. Kat fighting back with the jab. Ashley trying to break her to the belly, but Kat now fighting back with hooks into Benzo belly. Kat showing real determination after two difficult rounds, but Ashley shows determination as well. Stalemate rages on until Ashley suddenly steps back and rings quick rights and lefts into Kat's head. Katherine stumbling back, but keeps her gloves up to prevent a Ashley breakthrough. Ashley hammering away to the body, but Katherine fighting back with the jab and staying clear of the ropes. Intense toe to toe action down to the bell. Katherine breathing hard and dripping sweat, but so is Ashley as they head for their corners.
R5: Ashley Benson again seems determined to crush Katherine McNamara's defenses and end the fight. Ashley again comes in tight and strikes hard at Kat's abs. Katherine now fighting back with her own belly busting hooks. Again they are toe to toe and bringing elbows in and out as short rights and lefts are smacked into already bruised midsections, Then Katherine goes higher, bringing her hooks into the underside of Ashley's breasts. Ash not liking this counters with straight shots into Kat's chest. Katherine now starts to circle and Ashley moves with her. Then Kat ducks down and manages to drive an uppercut into Ashley's chin. Ash recoils on shaking legs and Kat follows with attack to the belly. Ashley is doubled up and Kat ow bouncing punches off the sides of her head. Ashley trying to jab Kat back, but Katherine keeps ringing Ashley;s bell with those head shots until the ring bell sounds. Ashley looks very shaken as she stumbles back to her corner. Katherine can't help looking pleased. It was a hard-fought round, but Katherine able to edge Ashley out and win it.
R6: PLP corner crew struggles to get Ashley ready. Nia Peeples looking concerned as Ashley sits slumped on her stool. Ashley does start to revive, but the break ends and she is obliged to come out to face Katherine. Katherine has been pounding her gloves together during the break and looking eager to get going. When the bell ring, she bounds to her feet and heads out to meet Ashley.
Kat circles around Ashley and pummels her with quick shots to head and body. Ashley is sluggish in her response and slow getting her counters out. She has her gloves up around her head and looks like she's just going all-defense this round. Kat quickly ups the pressure, she moves in and drives her hooks hard into Ashley's midsection. Ashley struggles to keep from being bent over by these deep shots to her ravaged belly and the trembling can be seen in her thighs. Katherine presses forward with the body attack, she's driving Ashley towards the ropes and a desperate Ash reaches out to clinch. Kat skips to one side to dodge the clinch and then hurls in a thunderbolt right to the jaw. Ashley shudders AND CRASHES TO ALL FOURS! Kat heads for neutral corner as referee starts to count. Ashley gasping for air, trying to pull herself together and finally does stagger upright at "NINE!" Referee looks at Ashley doubtfully, but the blonde can be loudly insisting:
"I can go on! Don't you dare stop this!"
Referee waves Katherine back in and the redhead goes at Ashley with another furious attack to the body. Ashley struggles to escape the onslaught, but is forced into the ropes. Ashley tries to slide along the ropes in an effort to escape, but then Kat gets an uppercut into the blonde's chin. Ashley starts to sag and Kat slams rights and lefts to the head. Ashley's head is being swiveled around alarmingly as ringsiders scream for a stoppage. AND THE REF JUMPS IN! The official cradles Ashley to safety as Katherine steps back with a big grin on her face.
THEWINNER KATHERINE MCNAMARA DEFEATS ASHLEY BENSON TKO6!
After: "'RED KAT WINS BY TKO', now that's a headline I would love to see," a very happy Katherine McNamara tells the press in the aftermath of her dramatic win. "She got me down, but I survived and I beat her into a stoppage. Wow! I can't wait for my next fight! I am rolling now!"
It's later that Ashley Benson talks briefly with the press: "I know I had that girl, but I let her get away. This kind of loss hurts more than the punches. No, no, I'll be all right in a few days, but right now I am not happy. 'Red Kat's good, but she shouldn't have been able to beat me. Excuse me, it's time for me to go."
Ashley Benson's distress at the loss is understandable, but Katherine McNamara showed she can take a beating and come back to win. This should greatly encourage her Fates Boxing management as they seek to groom her career. They seem to have built a good foundation, but fans will be watching to see where she goes from here. Meanwhile, Ashley and her PLP management will be regrouping. Ash has been through tough times before and gotten through them. Her stable and her fans hope that will soon be the case once again.