Post by Lookout! Boxing on Aug 31, 2019 0:12:25 GMT -6
Katherine McNamara vs. Emma Stone



Emma Stone: 30 years old, 5'6," 7-16 since 2012 with 5 KO, Empire Boxing



Katherine McNamara: 23 years old, 5'4," 1-2 with 1 KO since 2017, Fates Boxing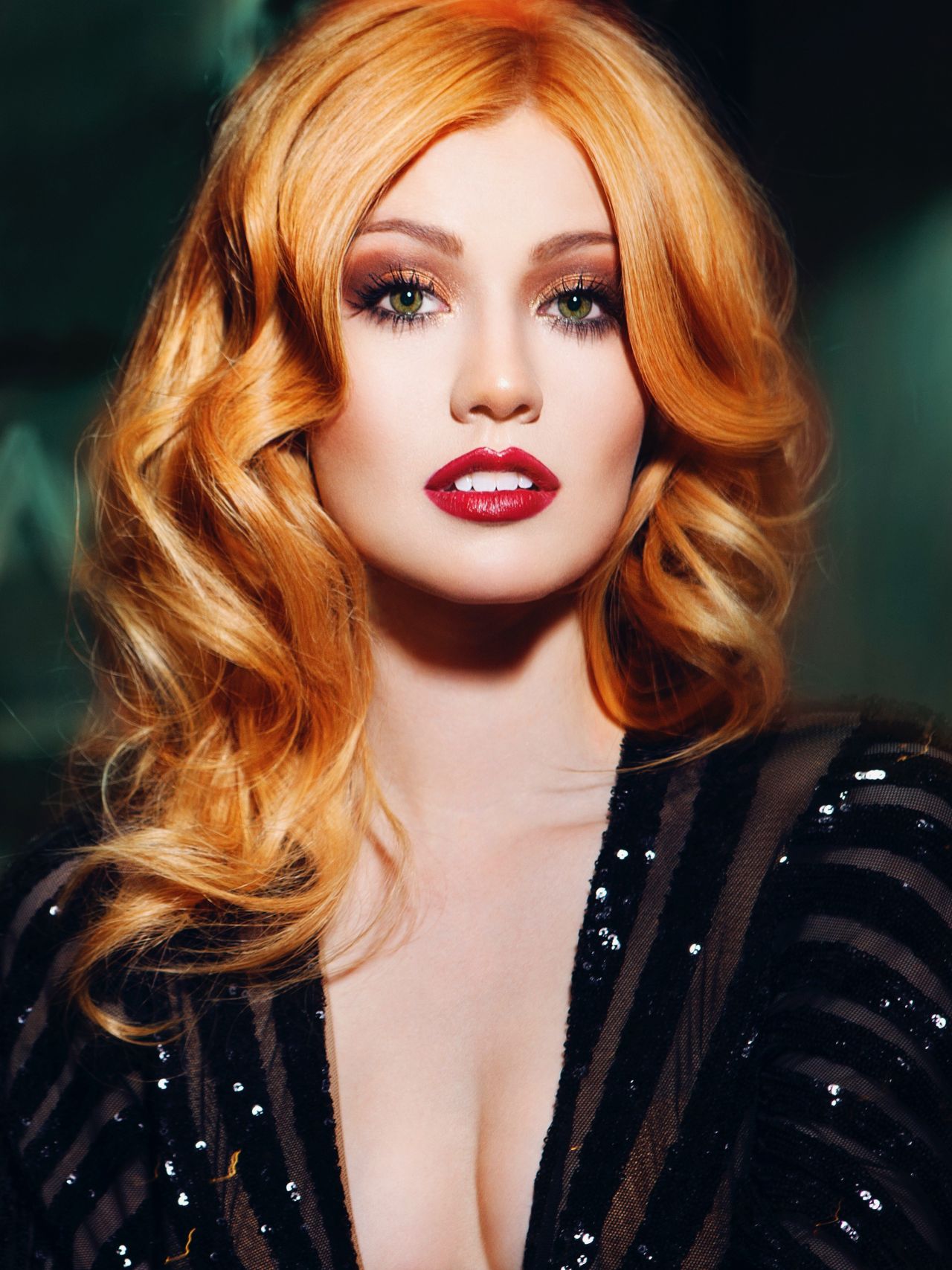 Before:
This may not be the flyweight match that will be attracting all of the viewers due to two top contenders, but rather may be a preview of a fighter's future ability. Katherine McNamara looks to follow up on her win as a free agent in last month's PPV and prove that she is a legit contender. Fates Boxing signed McNamara after her win last month, and despite being around for less than a year, Fates has already made a somewhat impressive resume and roster. At bantamweight, both Elizabeth Olsen and Brie Larson are top fighters and may be looking at a title opportunity soon, maybe even having to go through each other in order to do so. At lightweight, the dynamic duo of Emily DiDonato and Taylor Swift has basically put the division on notice that Fates came to play. Swift is the current lightweight champ and won her first title mere months after joining her new stable while Emily has only dropped a single match in her last 12 and is challenging fellow Sports Illustrated model Kate Upton for the JMDD title later tonight. At welterweight, Behati Prinsloo has shown her capabilities by winning several matches against top opponents, even getting a title match but came up just a bit short, and Ana Beatriz Barros is looking to continue her rookie year winning record. Needless to say, expectations for McNamara within the stable are substantial, especially since she dances with Emma Watson at the VIX-Fates Stable War in October, but only Katherine can prove whether or not the past year has been skillful coaching and keen scouting from Fates or if it's just luck.
Emma stone, on the other hand, has struggled to find herself traction in the FCBA, and is fighting her first match in a year. Whether or not the actress has any ring rust is something she will find out against the young upstart.
On fight night, Emma has donned a red and white striped bikini with white gloves, her hair up in a ponytail for the match. She is opposed by Katherine, who is wearing a floral bikini and green gloves. McNamara has her hair up in a ponytail as well, and these two redheads are ready for action as the bell rings and the match begins.
Round 1:
Stone out quickly and leverages her extra reach to jab at McNamara's head. Katherine keeps her guard up and occasionally jabs back, but she seems wary of getting suckered in by Emma. The older actress keeps up her jabs, but she falls into a predictable pattern and Katherine makes her know it by dodging a right jab from stone and connecting with one of her own. Stone counters, but the younger actress doesn't back down and the two fighters start trading blows in the center of the ring. Neither woman appears to be landing too many clean blows as they continue to do so for a while, showing off their fitness at least, even if they both need a lot of work in the ring. Stone gains the upper hand during the exchange, but when she starts trying to go body, McNamara pulls away, forcing Emma to chase her, which the Empire fighter does warily. Emma works her jab again and lands a solid left to McNamara's chest, but Katherine calmly punches her back and the round ends in the favor of Emma Stone, but only slightly so.
Round 2:
It's either young blood excited to prove herself to her new manager or Fates telling her to go for it because Katherine flies out of the corner and starts dipping to get in close to Stone. Move in, two quick punches to body, move out. Move in, two more quick punches to different places, move out. Emma isn't reacting in time and takes body shots early on, but she catches on to McNamara and straightens her out with a left, forcing the actress from Missouri to change her tactics. The two redheads are now circling each other, and Emma goes back to her jab, landing two solid rights on McNamara, but the Fates fighter comes right back and delivers a cross that knocks Stone towards the ropes and Katherine gets her into the ropes and opens up with a salvo that targets Emma's body. McNamara unloads but starts leaving too much time between strikes and Stone pumps two shots into Katherine's body and escapes from the ropes. The two women then circle until the bell and Katherine goes back to her corner wearing a huge smile as she takes the second, wide.
Round 3:
The younger redhead keeps up her energy from the previous round and starts by getting close to Emma Stone, trying to return to her body, but the veteran fighter smartly lines up a left that gets Katherine in the chin. McNamara tries to keep after Stone's body, but Emma lines up a right that gets Katherine in the mouth and now the Fates fighter has to back off. Stone starts taking it Katherine, going to the younger actress' body, getting leather into McNamara's belly and breasts, driving the breath out of Katherine. McNamara tries to resist but eventually realizes that she needs to clinch, which she does with some difficulty. The referee separates the two women and Emma goes back at it, but Katherine starts getting her jab working to keep Stone far enough away that she can't continually punish her body. Stone and McNamara kicking up sand as they go around the ring until the bell. Stone goes ahead by winning the round on points, wide.
Round 4:
The message from Fates in the corner was apparently to keep up the energy because Katherine shoots out of the corner again and meets Emma in the middle of the ring where they both go back to exchanging a flurry of blows to the body. McNamara keeps up the pressure and slips a left uppercut to Stone's chin, interrupting Emma's rhythm and opening her up to a right to the midriff that punches the air out of Stone's lungs and nearly doubles her over. Katherine keeps up the pressure by rattling off a quick one-two that gets Emma back upright for more punches. Stone lunges out at McNamara but she misses and Katherine buries a right into Emma's body that drives her into the ropes. Stone quick on the clinch to stop McNamara from using her body as a punching bag. After the referee separates the two redheaded actresses, Stone kicks up dirt as she runs away from Katherine. The round goes to McNamara on points, and she appears to be settling in.
Round 5:
Katherine is faster out of her corner than Emma as the previous round must have taken a toll. McNamara feints with a left and Stone badly exposes herself to the oncoming right which gets Stone's jaw and whips her head across her body. Stone is staggered and on comes McNamara, driving lefts and rights to every available space of legal flesh that she can find. Stone tries to wall up, but Katherine rails on her guard and breaks it open and lands a straight to Stone's nose. Emma flings out a desperation right and McNamara buries a left hook to Stone and down goes Emma in a heap on the sand! McNamara shrieks with joy as she retreats to the corner and the ref is already counting. Two. Three. Four. Stone groans on the sand. Five. Six. Emma looks up. Seven. Eight. Stone's head falls back down! Nine. Ten. Your winner by KO5, Katherine McNamara!
After:
Katherine ecstatic as she turns to Fates and lets out a joyful "YES!" as the ref raises her arm. McNamara all smiles as she walks around the ring a bit before going over to check in on Stone. The two exchange some words as Emma is now on her back and they touch gloves before McNamara walks out of the ring.
"Hopefully, this is only the beginning," Katherine tells the press. "I'm really thankful that I could get the win in my first match with Fates, it means a lot to me. As for Emma, I just wish she could win more, as she is a nice person. Unfortunately, being nice does not translate to winning in the FCBA."
Stone is more reticent in her post-fight, "I think I had some good rounds. But she just really got me in the fourth and fifth. She has a lot of energy – we'll see where it takes her. I wish Katherine the best in her future fights, and hopefully I can get back to fighting more frequently. Then we can have a rematch and I can kick that girl's butt."