Post by Lookout! Boxing on Aug 30, 2019 23:44:00 GMT -6
CLAIRE HOLT VS SHAY MITCHELL
Results: Lookout Writing: Archer
Claire: 31 YO, 5'6 ½ (1.69 m), 23-17-0., 17 KO since 2012, Odds & Ends Fight Studio
Shay: 32 YO, 5'7 ½ (1.71 m), 26-25-0, 24 KO since 2011, Pretty Little Punchers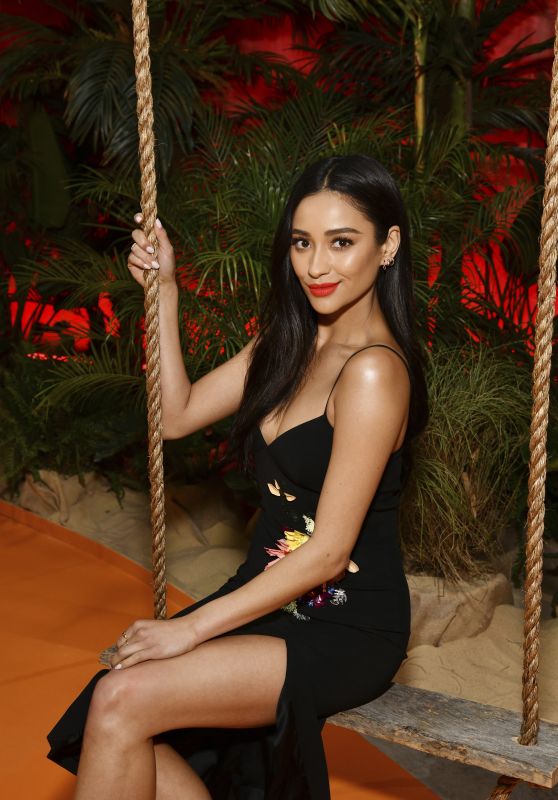 Before: "As you know," Claire Holt said, "my management and I have been considering my moving up to Lightweight. So I see this fight as my last chance to even the score with Shay. She's got a 3-2 lead on me so far and I want to head for Lightweight having at least tied her up. Besides, I love a beach fight, it was my favorite style back in Australia, and beating Shay on the sand would make it special."
"I hate to spoil your moment, Claire, but I have considered moving to Lightweight myself, so this may not be the end of it," Shay advised her blonde rival.
"Fine, I can beat you at Lightweight too, but I still want my time at bantam to end with being .500 against you." Claire retorted.
"You always were willing to settle for mediocrity," Shay sniped.
"This coming from a fighter who is 0- 4 this year," Claire reminded the scowling Shay.
"I won't be after this fight," Shay promised.
"No, you'll be 5-0," Claire snarked.
Shay looked like she dearly wanted to come over and slap Claire Holt in the face, but kept her temper. Instead, she got up and snapped:
"See you on the beach," Shay said coldly and stalked off the stage.
"Typical. The woman had no manners at all," Claire said disapprovingly. "Thank you good people for attending this press meeting. I look forward to speaking with you following my upcoming thrashing of Shay Mitchell. I am sure it will be a very memorable beatdown."
The beach is crowded with eager fans as Shay and Claire and their support team are escorted to the ring that has been sit up in the sand. Shay is in a silver bikini trimmed in black with silver gloves and black laces. Her dark hair is pulled back in a tight battle braid. She is accompanied by trainer Nia Peeples and PLP spokesperson Autumn Reeser. Claire Holt enters the ring in a green trimmed in gold bikini with green gloves and gold laces. Her bobbed blonde hair is loose, but wetted down. She is accompanied by trainer Kelly Carlson and O & E sparring partner Ava Sambora. The two fighters waste no time squabbling during the ring instructions. These formalities go quickly and the fighters go to their corners to jog in place tensely as they await the bell. It rings…
R1: Claire and Shay move smoothly across the stand. Claire striking first to the head which gets Shay ducking, Then Claire strikes to the body with slashing rights and lefts to the ribs and breasts. Shay is stung by these blows, she fall back and then swings around seeking to strike back. Claire not giving Shay no chance to set up as she attacks in volleys of punches to head and body. Shay managing to the block a lot of the incoming, but they are smothering her efforts to counter-punch. Shay trying to move around and draw Claire off balance. Shay finally able to get in some shots at Claire's head, but then gets driven back by sharp jabs to her chin. Claire cool and snappy with her punches as the round winds down. Shay looking frustrated as Claire has had no trouble winning the round wide.
R2: Shay Mitchell goes hard at Claire Holt as the second round begins. She rams a straight right into her face, catching the blonde between the eyes and sending her recoiling back. Shay swift to follow up with solid smacks to the jaw from her right and lefts. Then she stuffs solid hooks into Claire's midsection. Claire looks flustered at the sudden reversal of fortune and can't see, to get her defensives organized. Shay is happy to take advantage of Claire's confusion to drive in crunching punches to her face. In short order Shay is able to reduce Claire's face to a bloody and swollen mess. Claire in rapid retreat with her gloves up around her face while Shay pursues and now strikes at her to the body. Shay turns nasty late with rights and lefts to the breasts to add to Claire's miseries as the round winds down. Claire is grim sight as she returns to her corner. Shay has come back to win R2 wide.
R3: The O & E corner crew clean up Claire's battered face during break and she tries to shake off the effects of the beat down Shay back in in the last round. Shay comes bounding off her corner and plainly is looking to resume the punishing attack. Claire moving with caution, she has her gloves and tries to anticipate Shay's moves. This quickly gets the blonde in more trouble as Shay is able to use feints and quick moves to draw hasty reactions from Claire. Claire is getting popped regularly to the head and jaw. Claire obliged to just protect her head and let Shay pounded her body from breasts to belly and back again. This reduces Claire to a hunched up, tight defense target who is only to push out enough jabs keep from being sweep on the score cards. Nightmare round finally ends for Claire, but she is still standing and make it back to her corner with reasonably steady walk.
R4: "You want to win this fight?" Kelly Carlson heard to tell Claire. "Start acting like it! She is crushing you and you are letting her do it! Start crushing her first!" Claire seems to get a fresh jolt of determination from these stern words. Action resumes with Claire moving boldly out of her corner and clouting Shay Mitchell with a ringing right to the jaw at their first clash. Shay is sent careening sideways into the ropes. Claire fairly snarling as she falls upon the dazed brunette as she tries to push away from the strands. Claire slamming punch after punch into Shay's body as she tries to keep the brunette pinned. Shay clinching to force a break and then tries to slide around Claire. Claire working to keep Shay against the ropes, They slide along the strands and Claire now able to get some vengeful blows into Shay's face. Shay finally just shoves Claire away and gets to center ring. (This draws an admonishment from the referee, but Shay just gives her a curt nod in reply). Claire sets up on Shay at center ring. Shay looking sluggish especially when she keeps getting her bell rung by Claire's bouncing shots off her head. Shay is protect her face from serious damage, but Claire now going to the body for more work especially Shay's bra cups. Shay juggs pounded and then it's down for some hooks to the belly as the round ends. Claire Holt able to smile again as she comes back to win the R4.
R5: Shay comes out swinging hard as the new round begins, but Claire is swinging back just as hard. Banging shots to the head early and then the two start working their way in close with pounding punches to the breasts, ribcage and belly. Claire falls back after a series of strikes into her stomach, but then she knocks Shay back on her heels with punches lifted up to the underside of Shay's breasts. Shay tries to come back and she and Claire fire in a fresh wave of belly busting leather. Shay falls back again, gasping for air and Claire then fires an overhand right to the forehead that puts a stagger in Shay's step. Shay comes back in with jabs to the breasts, but is stalled by Claire's answering melon masher jabs. Claire slowly pushing back a stubbornly resisting Shay time runs out on the round.. Claire wins a close round, but it was not easy.
R6: Both corners have to work hard on their fighters after that last round and they do a remarkable job in getting them out promptly at the bell. Shay and Claire circle each other and then take turns darting in to sling in a few punches and then retreat. This probing does not last long as they move in together and stay there to punch this out at close range. Same sort of body punishing, grinding action as they are both digging their feet into the stand for leverage. The punching is even at first, but then Shay drops back unexpectedly to draw Claire forward and rams a nasty right hook into the blonde's right eye. Claire shudders and falls back as fast as she can, but Shay now driving more punches into Claire's face. Claire covering up and Shay then goes to the juggs to drive Claire back into the ropes. Claire now huddled on the ropes as Shay works over her whole torso with slashing rights and lefts then following up with hard digging hooks. Claire just enduring, taking a seat on the ropes and waiting desperately for the bell to ring. It finally does. Shay wipes her forearm across her sweating brow and heads for her corner. Claire peeling herself off the ropes, steadies herself for a moment and then heads for her own corner. Shay Mitchell wins the round wide.
R7: The O & E corner works hard once again during the break and Claire Holt is back out, badly bruised and swollen about the face and aching to the body, but full of fight. Shay quickly discovers this as she gets hooked hard in the belly before she can get off her first punch. Then as Shay lurches forward, all doubled up, she gets blasted with ol' one-two right/left to the chin. Shay goes stumbling back. Claire pounces forward and swats rights and lefts to Shay's jaw. Shay comes to a shuddering halt, covering uo to protect her head, while Claire circles around her pounding away at whatever openings she can find. Shay struggles to get her jab going to push Claire back, but Claire brushing it aside and then she drives Shay towards the ropes. Shay tries to fight her off, but a hook to the belly slams her back-first into the strands. Shay covering up and huddling as she is worked over by a frenzied Claire. Claire not stopping at bell, referee has to shove Claire away. Claire snaps out of her battle trance and stomps off to her corner. Now it's Shay Mitchell peeling herself off the ropes and making her way to her corner. Wide win this round for Claire Holt.
R8: Now it is the PLP corner working hard to Shay Mitchell to get her out for the next round. Shay trying to pull herself together in the brief time she has. Bell rings and Shay goes charging at Claire. Claire just waits until Shay gets within range leaps forward with quick uppercut to the chin. Shay caught in mid-charge, she keeps moving forward as Claire jumps to one side and DOWN GOES SHAY MITCHELL. Big belly flop onto the sand leaves Shay looking up in bewilderment as referee moves to stand over her. Shay looks angry and pounds the sand in frustration. Then she pushes herself up and breaks the count at "EIGHT!" Referee looks Shay over and asks if she is ready to resume.
"Yes, I am!" Shay says with an angry intensity. "I am more than ready to pay her back!"
Claire can hear what Shay is saying: "Yeah? Come over and try it!"
Shay glares at the grinning blonde, but makes no such rash move. Claire gives a smirk and comes at Shay. They start dueling at mid-distance this time, circling and then stepping in to punch. This goes on for the full second minute. Claire then pushes in, she goes to the belly, but then Shay lashes back with a right hard into the jaw. Claire hit hard and goes spinning away. Shay leaps in front of her and drives a flurry of punches into Claire's face. Claire pawing at Shay in a weak attempt to stop the attack. Claire being driven back and then Shay unloads a right/left uppercut combo to the chin. Claire's head snaps back and her arms fall to her side. Shay winding up for a finishing shot, but CLAIRE SUDDENLY TOPPLES ONTO HER SIDE! Claire Holt is stretched on left side, cheek resting against the sand and moaning softly. Shay trots to the neutral corner and referee counts. Claire starts moving, but she can't seem to be able to do more than roll over on her back and try unsuccessfully to sit up. She can then only lie back and cover her face with her gloves as she hears:
"NINE!...TEN!..YOU'RE OUT!"
THE WINNER: SHAY MITCHELL DEFEATS CLAIRE HOLT KO7!
After: Shay eagerly goes to Nia Peeples to have her gloves removed while Autumn Reeser throws her robe around Shay's shoulders. Then, Shay waits impatiently for Claire to be helped to her feet and escorted back to her corner for a check. As soon as Shay deduces that Claire is fit, she hurries across the sand to pull Claire to her feet.
"I want to give you something to remember me by!" Shay leers into Claire's unhappy face. Claire doesn't reply, but Shay then puts Claire;s right arm in a hammerlock and drags her around the ring.
"I hope you do come up to Lightweight—I'll make you pay for this!" Claire cries angrily.
"I will just have to think about that.," Shay says as they complete the circuit. She gives Claire a push into the arms of a stony-faced Kelly Carlson. "Thanks for the memories at Bantam!"
Claire tries to lunge at Shay, but Kelly holds her back and hustles her out of the ring. Shay then struts back to her side of the ring for her exit as she waves and smiles t her fans in the crowd.
Quite an exciting fight with plenty of changes in momentum. Claire Holt seemed on the verge of victory when Shay went down in the 7th, but Shay got back up and was able to put Claire on the sand to win it. Great win for Shay Mitchell who breaks a four fight losing streak. Painful loss for Claire Holt who now has to regroup and get ready to possibly compete in the Lightweight Division. She will definitely need an initial win to put this setback behind her, while Shay Mitchell works on further narrowing her 1-4 record in 2019.