Post by Lookout! Boxing on Aug 30, 2019 23:41:59 GMT -6
KIRA KOSARIN
(21 y/o, 5 ft 6, W: 18, L: 8) vs
EVANGELINE LILLY
(40 y/o, 5 ft 5, W: 58, L: 30)
Before:
Evangeline Lilly's already one of the most legendary bantamweights in FCBA history and throughout the last year, she's now staged one of the most remarkable post-stable change comebacks of all time, too. After she was let go by Bonzo's Gym after almost fifteen years and multiple titles at the stable, nobody doubted that Lilly was still a world class bantam but when she uttered that the public hadn't seen the last of her, people probably underestimated the determination and discipline Evangeline would put on display. She signed a lucrative deal at Lookout! Boxing and placed a clear emphasis on reaching Hall Of Fame eligibility at a time when pundits thought that door had already closed for her. At Lookout, Lilly's now on an incredible thirteen-fight winning streak, an all-time career best, and sits as a solid No. 1 contender for the title, only hampered by the fact that a stablemate's (Demi Lovato) currently holding that honour.
More importantly, she's battered young bantam sensation Kira Kosarin, her successor at Bonzo's Gym while almost twenty years her junior, into a devastating defeat in March 2018, a loss that sent shockwaves throughout the hearts and minds of Bonzo grandees. So what does proud Evangeline have to prove to cocky, confident Kira NOW?
"Well, a lot!," Evangeline smirks during her pre-fight interview. "Kira's still the most interesting young fighter at bantam. I'm not sure she's learned the proper lessons from my knockout, though. Still a little brazen. A little too cocksure. Challenging Kendall, and all that, right? I mean, totally love that in a fighter! But mostly I just love putting a beating on those kinda girls! I still hold no grudges against her, but she's the kinda girl that just gets me into a wild compete mode. I wanna reach the Hall of Fame, I wanna win my seventh title, of course, but mostly, I just want the world to know, that even at 40, Evangeline Lilly's still the most athletic bantam around. I'm going to school Kira Kosarin. Again and again, if I have to."
Kira Kosarin's had a subdued 2019 so far – title hopes after strong showings against Scodelario and Bellisario have been dashed via an ulta-ambitious challenge (and loss) to lightweight Kendall Jenner, and an ugly upset loss to Priyanka Chopra. Compared with their 2018 fight, Kira's still full of respect for Lilly's time at Bonzo's Gym. She now feels much more laid back about the fight, though:
"That was a nasty fight. I had the weight of the world on my shoulders. Fighting the legendary Evangeline Lilly when everybody at Bonzo wanted to see me prove my mettle – I just couldn't be at the top of my game. This fight feels a lot less special the second time around. Lilly's still a legend, but I've learned so much, too. The change of generations at bantam happens here and now, folks. Just watch me!"
Fight night attire:
Kira's clad in a dark black mono-kini, hair in a tight bun, white boots – Evangeline's wearing short trunks, a red bikini top, hair in a braid.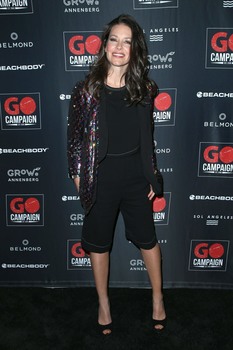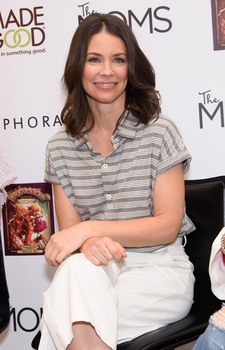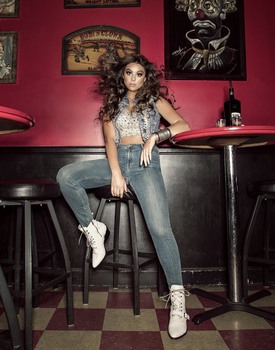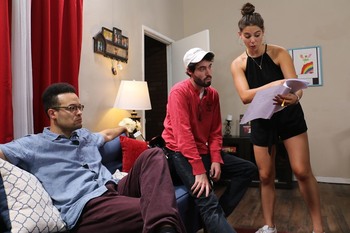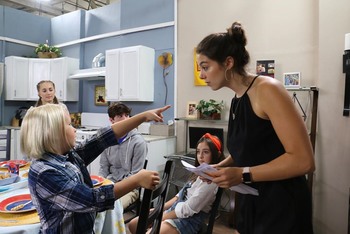 Fight:
R1:
Girls meet, firing away: there's Lilly's famed athletic stance, those hard, mobile jabs, the manic bob n' weave style, her dipping torso, those stubby, swooshing punches, legs constantly cutting left/right to confuse her foe, make her punch air. Kosarin's no carbon copy of her stablemate's style, but there's some trademarks: the same brazen, destructive, offensive jabs (jolting off a muscular left shoulder), the wide-legged stances, fast n' mobile hops – all just a little wilder, more swingin', a less orthodox rhythm against Lilly's calm, clean, athletic tempo-pivots. Girls plant and pitch early: Kira lands the left uppercut! Foes planted side-to-side: Lilly's left calmly pumping, her right hand ready – Kira feints the massive swinging right, walks Lilly into lefty on back-foot, thump! Evangeline's blasted, negotiates into back-pedal, as her athletic lefts keep stubbing to Kira's face, tap-tap – wild dip n' duck from Kosarin leans her inside, sees her tucking a moist hook to Lilly's proud ribs. Grunts of pain from Lilly, face twisted – cruel smile from brunette American youngster!
Rope time for proud Canadian: she sets up a sturdy left shoulder to Kira, switching positions, sporting a rugged off-rope hook that still creates plenty of danger for hungry Kira. Kosarin's planted thick and strong, eyes flashing wild with punch lust as she stalks, roams-with Lilly, dominating mid-ring ground as Lilly's back usually just a little shy off ropes. Mid-round scene: Kira's pitching her power – series of hard, rugged uppercuts nips at Lilly's mouth/cheeks, a heavy right hand blasts down into Vangie's ribcage as strong brunette stoops forward from shots, blasted to the bod and head.
More resistance from Lilly during last minute: whirlwind punches, a fury of jabs, constantly bobbing, dipping – not all hits on target, but plenty of thump hitting Kira's neck/tits/mouth as brunette buckles up, swings back, stays in the zone. Tempo just too much for Kira: hard left to mouth, hard right to tits sends her a-sputtering, spending her first time at ropes – but a CRISP no-fear right hand from Kira's waist takes Lilly's mouth, torquing a bobbin', unexpectin' Lilly's legs into rubber. Stamina, hard defense from Evangeline down the stretch: she's always a-bobbin', landing stubby athletic jabs to her stalker, but Kira's got better ring position, landing that stepped-in, rugged hook to Lilly's ribcage again and again, clearly trying to go for Lilly's core strength/stamina.
"Feelin' it, Vangie?", Kira whisper-asks into Lilly's ear at break – just a hard, steely glance from Evangeline, no response.
R2:
Lilly ups the tempo, intensity – she's a whirlwind of crouches, bobs, dips, as punches sweep, swoosh past Kira's prepared defenses. Kosarin's well-planted on those thick legs, hoping to swat Lilly via power/weight-of-shot, paralleling Vangie's courses, trying to ram in punches on a mobile, bendy Lilly from wide, strong stance. Attack: short, clipped jabs keep Kira's guns holstered, drive her backwards hands-up – sudden shoot-up from Lilly's crouch, whizzing a sweet, fast lefty, righty combo on Kira's startled jawline, cleaning up on her young foe! Kira's wobbly-butt, rushing to backpedal. Kira's trying to find her legs, stay rangy, bendy, but she's no match for Lilly's legendary footwork: sharp pivots, crisp punch explosions (short jabs, hard hooks), alert headbobs get Lilly into control! Kira's made for brawling, but attemping to bicycle away from Vangie throughout mid-round scenes: explosive tempo catches her to jaw/mouth – angry, swinging counter hooks/crosses miss Vangie's fast, scooting head.
Short moment of power, Lilly on Kira at turnbuckle: a non-stop whirl of punches traps Kosarin ropeside, palms out, arms up, leaning away – Lilly's a crouching, wonder of mobility, her legendary chassis dipping elegantly side to side for strappin', athletic work on Kira's proud, toned waist. Kira's eyes betraying shock, wonder at the pasting: short right hook corks to jaw, loosens those limbs – she's a swooning beauty! Short, explosive right BOMBS Kira's temple, folds her into a hazy clinch – Lilly's patient, wriggling arms free, looking for ref to break quickly as Kira's hanging on, her arms pulling down on Vangie's neck/shoulders for leverage.
Down the stretch: sleek, leggy control, Evangeline Lilly – she's stalking a defensive, covering Kira at ropeside positions, driving that jab/hook combo to pretty young brunette's face again and again! Bell: lower and upper lip split, firy eyes dimmed, strain of hair loosening sweaty – and there's just a TINGE of a smile on Lilly's icy facade as she looks her youngster foe over, watches Kira stagger to corner.
R3:
Short, stubby jabs shell Kira, drive her ropesides in early attacks – fast tempo, rhythmic pump overtakes brunette youngster's outtake, sets up a classic non-stop action Lilly siege at ropes/turnbuckle as punches rain down across Kira's pocket/torso. Proud Kira's open-mouthed, her lips parting in exhaustion: she's pressing her back against ropes, slippin' and rollin' away at the waist from Evangeline's hard-ass right hands to her flankline/tits, those spearing right hand uppercuts toward her skull. Hard, chuggin' rhythm against Kira's tummy, flanks: young brunette slowly easing pressure throughout late first minute, getting all clingy and clinchy around Vangie's arms/hips as girls tumble-step from ropes to ropes. Scowling looks from Lilly to ref: break!
Heavy exchange at mid-round: girls lean into hard jabs, right crosses, hitting almost simultaneously – hard thumps to mouths send both fighter gals stutter-stepping out of range! Leggy pivots, rangy hops, feeling out jabs, late second minute: Lilly's easing pressure, tempo, luring her brunette to ropeside. Long, aggressive jab, Kira, crouching for a big right to ribs: Vangie's slipping the shot, rolling her torso, landing a cute right hand counter uppercut beneath Kosarin's chin, RINGIN' IT! Kira's all rickety, stumbling left, right, all out of balance – sudden leg-slump scoots her onto butt! Brunette slowly regaining her senses, elbows hard on canvas, watching for ref, as eyes slowly focus: she meets Lilly's steely-eyed glance from ropes! Kira takes her 7, a hectic, startled beauty, fading away on legs at ref's sign: hard, peppering jabs to breasts, Evangeline Lilly, eliciting groans, grimaces from hurt Kira! A heavy-loaded right upside her temple from Vangie's crouch-and-rise tumbles Kira against ropes: she's crossing arms, bobbing sheepishly to roll punches, numbed by Lilly's exquisite power!
Bell: Kira's covering up, shelled to waist, as toned flanks/breasts get worked over by a heartless pro.
R4:
Lilly smells the vulnerability on Kira's frazzled face, keeps spitting out hard, heartless jabs, her athletic torso dipping and rolling into beautiful, torquing shots (body hooks, body crosses) against Kosarin's strong frame. Kira rallies, finds her stamina back to hold ground, butt-on-ropes: sound, alert defenses, fast head-bobs, little torso-rolls – and Kira's chopping back an overhead counter left missing past Vangie's ducking skull narrowly, eats the short right uppercut from Lilly inside instead! Next scene at ropes: Lilly bobbin', workin' out of her crouch, clubbing shots across Kira's frame – short righty splits mitts, clubs to temple, a straight left pancakes tits. More physicality from Lilly: non-stop jabs numb her brunette foe, sag her back ropesides, then she's torquing her hips to step into hard, withering shots to Kira's belly/ribs, bunching up her young brunette into hurt, bent over stance. Vangie squares up: she's reaching under young Kira's arms, hoists her against ropes, holds her in position for short, driving right to tits that has Kosarin squirmin', gaspin' in pain.
Mid-round: Kira's a disheveled beauty, jogging away from Lilly's power – the proud youngster's covering up, hopping hectically, trying to pull Evangeline's arms/shoulders down into meaty, bogging clinches. Down the stretch: tik-tok jabs punch Kira's gloves to skull, right hand blasts to left ear, sends her sputtering out of stance again – oh, she's a rickety beauty, strong legs all jelly and rubbery, eyes in shock! No doubt: that's an ass-kicking from the Evangeline Lilly school as Kira just can't catch a break thru 4!
R5:
Kira's banged up, rallying her fighter's heart – lips split, cheek cut, she's trying to bog down Lilly in series of clinging, brawny clinches, take Vangie's legs out the game, wear her out, recover her own buzz. Half a minute down, Lilly frees her arms, takes a half step back, loading up on a hard, detonating (left) cross towards a bobbing Kira's face, narrowly missing her young foe. Counter –a short, lunging jab to temple gets Vangie on her heels, on alert: Kira stays in the pocket...plops a left uppercut to tits, rams a right uppercut near Lilly's liver! Sudden gasp, her face twisting into pain, Evangeline: she's stooping forward, crossing arms, bobbing away sluggishly: stroking right hand, Kira – hard, thumping shot to back/side punches Vangie off balance, totters her rightside.
Vicious mid-round moments as girls battle for control, momentum: Evangeline's staying bendy, mobile, carving in a beautiful, wide palms-down left hand to Kira's upper hip – two hard straights batter Lilly's jugs in response, thud, thud, as Kira chops 'em back, followed by girls detonating simultaneous hooks past opposing chin-lines! Plenty of damage: tap-tap jabs as Vangie slides back, trying to lure Kira into that open space, SUCKS a mighty right hand overhead, whirring atop Kosarin's hairline. Kira's bobbing the shot, tapping a left to Lilly's ribs, and again, thump!
Less bounce in Lilly's legs as round winds down – girls slowing, circling like vultures to stroke hard body shots to ribs, tits like maniacs, eyes hardening into genuine hate. Vangie's jabs hard, precise as she renegotiates to ropes, trying to counter Kira's increasing aggression – solid bumps on jawline, cheek! Girls pull guns: hard jab, Lilly, right cross shy off Kira's ear as brunette drags head just away – answers a wide, swinging righty corks to Lilly's temple. A loose totter, Evangeline Lilly – she's a hurt beauty, looking disoriented inside a brawny, wriggling clinch for a few moments. Lots of defensive bobs, turns down the stretch: Kira's jabs start getting into Vangie's ribs, beating thru that crossed-arm stance to tits/tummy. Fire, fun gone from Lilly's flashing eyes – she's hurt at the bell, holding ropes for support before way to corner as Kira's brightening, slowly coming back from the brink after solid, stabilizing round for young brunette.
R6:
Lilly relentless: she's upping her jabs, bobbing like a maniac, those athletic legs cutting off the ring for Kira, hunting for her girl via drifting straights, hard crosses. Early mayhem as punches flow: jabs, crosses whizzing by Kira's panicked face as young brunette struggles to hold ground, sliding back towards ropes to hold balance, re-organize. Half-step back, Kira: short left uppercut, off left foot – thud! Evangeline's caught on the bobbing prowl, fed a hard, tidy shot to her lower jawline. Groggy sways, Evangeline, but she refinds her balance, stalking Kira to ropes, pitching chup-chup jabs to brunette's jugline. Hard, straight (left) counter from ropes, Kosarin – slick no-look shot from Kira's waist, good thumping impact on Lilly's face, pitching the veteran legend into a spasmy, loose-limbed totter! Tight, compact stance, elbows close: Kira's turning Vangie's flanks, pivoting to veteran's right, feeding steady jabs to Lilly's shoulders/skull.
Mid-round: Lilly's looking to stabilize, getting some bounce into her hops, using canvas better – short, rhythmic jabs start a-pounding again, but oh no, Vangie eats the slick jab/right hook combo from Kira! Not a punch that could have caught Lilly in round one: her bob's too aggressive, creating a slight unbalance, the jab's thrown too early – and that right hook picks up Lilly's face all drowsy, as her eyes shut in pain! Wide eyes, Kira, a nasty snarl: chup-chup jabs to Vangie's hard tummy bunch her girl up, force retreats to ropes, peek-a-boo defenses.
Early third minute: tight stance, Evangeline, that athletic torso rolling, dipping shots against ropes, clipping Kira tidy, straight counters to tits, but not easing the siege pressure. A chopping right to paunch has Vangie gaspin', upper bod stooping forward: a detonating left uppercut sucks across Lilly's forehead – Kira's suddenly pasting her girl! Sudden drama: Lilly's hands remain up, covering her face, but she's getting fed: jab to temple, jab to jaw, left hook to jaw, right hook to jaw! Lilly's gobbling these shots, suddenly freezes, topples: eyes roll back, legs give – she's sprawling onto her tummy! Screams of triumph from Kira as ref wrestles in, shoves her off: slumber time, Evangeline Lilly – lips parted, eyes dimmed, one hand trapped beneath her bod...it's a no go! Youth triumphs as Kira Kosarin takes the dramatic upset revenge KO6!
After:
Evangeline's in shock – legendary queen of athletic boxing's slowly wakening, rolled from tummy onto back, eyes blinking fast, her famed six-pack tummy visibly spanked, face bruised, eyes dimming as the realization of a dramatic knockout loss at brazen Kira's hands slowly sinks in. Kira's doing sexy little dance moves, opposite corner, a little too exuberant for ringside Bonzo bigwigs who order her to console, check on former stablemate Lilly. Post-fight interview: "I don't mind giving up four rounds to her," Kira explains. "All part of our plan. We knew what would happen when my counters started pounding out the fight from those fourty-year old legs, man", she claims with a smile. Close-up replays of Kira's spanked face, round four, prove some of the boasts a lie, but at the end of the day, Kira's got her revenge victory, solidifying her standing at her own stable. "It's tough," Evangeline says during her interview. "I mean, I was schooling the girl, really getting into her head. Should have pounded her out. Next time!"