Post by Lookout! Boxing on Jul 27, 2019 0:14:16 GMT -6
Kaya Scodelario versus Priyanka Chopra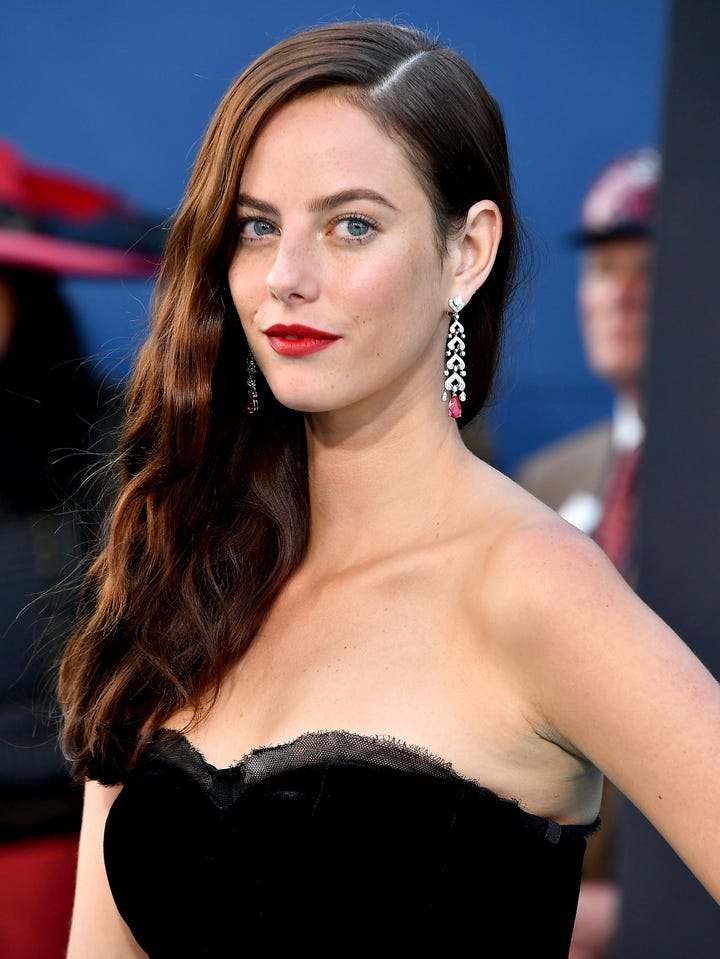 Vs
(Written by Girls Friday/Results by Lookout!)(Girls Friday vs Hawkeye International Sports Consortium)
Intro:
Two of the cream of the bantamweight division fight it out now, Kaya Scodelario and Priyanka Chopra step into the ring to prove dominance over the other.
Kaya is 27 years old; she stands 5'6, holding a record of 33 wins, all coming by way of knockout, with 8 defeats, she is a former FCBA bantamweight champion.
Priyanka is 37 years old; she stands 5'6 ½, holding a record of 11 wins, all coming by way of knockout, with 8 defeats.
In the build up both women were interviewed by Lucy Liu on the FCBA Network, with Kaya sitting on the hot seat first.
After being asked how she feels after having a month off, Kaya chuckles before she answers "it is the first time in a while I was able to lay on a beach, just take a breath from training, I feel energized now"
Then the subject turns to her opponent, Kaya gets serious as she says "Priyanka has certainly improved a lot in a short space of time, I have had my eyes on her for a while"
Smirking she continues "let's be frank though, I have the physical attributes to win this, I have the experience over her and I am just a better fighter, I am not worried one bit by her"
Priyanka now sits on the hot seat, she is smiling as she shakes the hand of Lucy before they start the interview properly.
She is asked by Lucy about the defeat to Demi Lovato for the FCBA bantamweight title, how is she feeling now?
Priyanka replies "look you have to understand that my journey to the FCBA really begun with playing Mary Kom, I loved the training and being in the ring, even if that was mostly just acting"
She takes a drink of water before continuing "Hawkeye saw something in me and I have worked hard to try to justify that, I was so close to achieving that, instead I sit here without the title, so I am angry with myself because I couldn't repay him"
Asked about Kaya; the Bollywood star tells Lucy "see that's the funny thing, I get to release my anger on her, bully her around that ring before I finish her off when I want, she might think she is the best, she'll find out how wrong that is soon"
Fight night; Kaya comes out with Taryn Terrell and Eva Carneiro beside her, she thuds her gloves together before she jogs down to the ring.
She is wearing a red sports bra, red and black chequered trunks, black gloves and shoes, her hair is up in a ponytail.
Climbing into the ring; Kaya jogs over to her corner, warming up with Taryn telling her to get out the holiday mode and batter Chopra.
Who comes out now with Mila Kunis, Priyanka is smiling as she jogs down to the ring, eyes on the ring as she looks relaxed.
She is wearing a white sports bra with a black stripe down the side, matching trunks and shoes, black gloves, while her hair is up in a ponytail too.
Getting into the ring Priyanka raises her right fist in the air before bowing to each side of the ring, then heads to her corner so she can warm up.
The referee waves the fighters together, eyes locked together as they show they are not afraid of the other.
They touch gloves without any incident as they look keen just to get back to their corners to start 10 rounds of bantamweight action.
Round 1:
At the bell both women come out looking respectful of the other, throwing probing punches to test the others defences as they circle near the center of the ring, eyes locked in an intense stare.
Its Priyanka who tries to be the aggressor, stepping in close to land two hooks to the body, making Kaya hiss out as she steps back.
Coming forwards to land a right cross; Priyanka just misses and takes a jab/straight combo onto her right cheek as Kaya moves to the side.
The footwork of Kaya allows her to start taking control of the round, dodging more punches then she takes, while countering to land shots to the side of Chopra's face.
A jab/right cross combo lands across the face of the Bollywood star just before the bell, with Kaya smirking at her before returning to their corners, Priyanka staring hard across the ring at her opponent.
Round 2:
Now they have a taste of each others skills, Priyanka knows she has to be more aggressive, stepping around the ring with Kaya, both are landing stiff single punches.
Cutting off the ring; Priyanka pushes in close to force a heated exchange, they rub heads while they throw short sharp shots into the others bodies and jugs.
With Priyanka surprising her opponent by using her left to nudge back Kaya, then landing an uppercut to straighten up the former champion.
Who finds herself being pressed along the ropes, keeping her guard tight, Kaya can't throw much back as she is being swamped under punches from Priyanka.
Needing to pull Priyanka into a clinch; Kaya seems to be whispering insults into her opponent's ear, with Chopra throwing them back readily, till they are dragged apart.
The final moments of the round sees them go toe to toe, grunting with effort as they really let their hands go till the bell rings, where they separate after a quick stare down, things getting intense between the two.
Round 3:
Again it's Chopra looking to pressure Kaya from the start, both fighters landing hard shots as they come out, Kaya not as mobile as she seems to be wanting to push back her rival, leading to a fiery exchange of punches.
Priyanka using her left forearm across the chest of Kaya to nudge her back, then lands a right across her face as Taryn in the Girls Friday corner looks annoyed at her fighter.
Especially as she sees her backed up near the ropes again, Kaya showing fight but she can't throw with her full power near the ropes.
Leading to her being pinned back behind her gloves again, Priyanka switches to the body when she can't get through to the face of her opponent.
With Kaya shoving Priyanka to the face, so she can get off the ropes, with space to work in Kaya starts to get her punches going.
But it is too late to do much this round, Priyanka looks much happier now as she returns to her corner, Mila wiping her face down while praising her.
Round 4:
During the break Kaya got a telling off by her corner, it seems to have focused her as she is throwing more double and triple jabs, while she is up on her toes more.
Making it harder for Chopra to close the gap to where she wants it, with a little bit of frustration showing when she throws a wild right that finds air.
The cheeks of Priyanka look to be reddening up, Kaya showing some cheekiness to tap her chin after her opponent misses again.
She might regret that though as Priyanka slips a jab to land an uppercut to the body, followed by an overhand left to turn Kaya's face.
Getting pushed back again; that bravado is gone from Scodelario as she focuses on her defence against a furious Chopra.
The round ends with Priyanka telling Kaya "you won't make a fool out of me you cow" with the referee standing between them when Kaya looks to question her about that with her fists.
Both return to their corners knowing they are in for a rough ride before this is over, coaches cleaning them up as they stare at each other.
Round 5:
Fighting at the center of the ring again; Kaya is moving side to side to annoy Priyanka, switching her targets more to make her rival guess where she is going for.
Being patient though leads to Priyanka seeing an opening, she throws an overhand right that catches Kaya on the cheek, then she starts throwing piston like punches into the belly of her younger foe.
Kaya pulls Priyanka into a clinch; the fighters struggle against each other as they again trade insults, the referee pulls their sweat soaked bodies apart.
They are fighting more evenly now, with Kaya looking good when she can create space to move in, Priyanka finding ways of cutting off the ring though is landing some crisp combos to show off her impressive skills.
Late in the round; Kaya misses with a left cross, taking a counter right across her face, Priyanka presses her into a corner with her fans urging her to knock out the Brit.
The round ends though with Priyanka raising her fists as she returns to her corner, maybe feeling she is getting the better of Kaya, though Mila tells her it has to be close.
Round 6:
Coming out exchanging jabs; Kaya is sticking to her moving around Priyanka, who doesn't look too worried as she goes to move to the inside.
A missed right though as Kaya steps back opens up Priyanka to a counter uppercut, her head snaps back and Kaya's eyes light up as she bashes her opponent back across the ring.
Priyanka's trying to fight back as her head is being knocked around, ANOTHER UPPERCUT SENDS CHOPRA TO HER BACK, EYES BLINKING HARD!
Kaya nods over to her corner as she heads to a neutral corner, 1...2...3....4.. Priyanka tries to grab the ropes, 5...6.. Her hand misses and she lands face down, 7...8.... She looks out to the crowd blinking to clear her head, 9....10 that's it for Chopra!
Winner Kaya Scodelario KO Round 6After:
Another big name on Kaya's list of beaten opponents, she raises her hands in the air as she stares at Priyanka.
Who is being helped up by Mila; Priyanka shakes her head as she gets told off Mila "she was lucky babe" as they return to their corner.
Across the ring Kaya smiles at Taryn as she returns to her corner, Eva hugs her tight as Taryn takes off her gloves, both praising their fighter.
With both getting cleaned up; they head to the center of the ring, where Kaya gets her hand raised to a cheer from her fans, Priyanka stares at her angrily.
Leading to Kaya squaring up to her asking if Priyanka wants more, coaching teams needing to pull them apart as it is clear these two are not done with each other.
Priyanka leaves the ring with Mila beside her, telling Mila "I am going to come back stronger, I will become a champion" getting a pat on her back.
While Kaya raises her fists as she poses at the center of the ring, Taryn and Eva standing behind her, Kaya waving at her waist as she says "I am the best here"
They leave the ring together, all smiles as they head to the back, discussing how they can celebrate tonight.