Post by Lookout! Boxing on May 31, 2019 21:54:57 GMT -6
KIRA KOSARIN (21 y/o, 5 ft 6, W: 18, L: 8) vs TROIAN BELLISARIO (33 y/o, 5 ft 7, W: 29, L: 21)
Before:
Kosarin at a crossroads? Young Kira's been one of the sensations at bantamweight boxing since she's debuted back in December 2016, but as of May 2019 some doubters have actually crept to the fore. 2018 has seen her come up short in two title shots against former stablemate Evangeline Lilly and Nina Dobrev – so high have Kosarin's ambitions become that a rematch loss to Priyanka Chopra last month was interpreted as a major upset: surely it was one in Kira's eyes. Some of young Kira's best fight moments have come at the expense of the Pretty Little Punchers, and that trademark snark n' swagger's back on display when Kira walks the press through what she thinks her upcoming Bellisario match-up's going to be about:
"It's no secret that I'm looking to expand my badass winning streak over the pretty little punchers, right? I literally FEAST on these girls", Kira says, her eyes widening in fascination. "That's just what it is. They're huffy n' puffy each and every time, but when I'm done with 'em, they're all meek and obedient. I'll breeze past them like a whirlwind this time around, too", she announces, a wide grin on her face.
– "Oh, Kira's just a little tyrant. A wannabe bully. But she's been exposed!", a classy Troian explains in response pre-fight. Bellisario has lost some big fights in 2018 (to Kosarin herself, title challenger Chopra and Nigri), but a win over Margot Robbie has brought her back on track. She's still a solid top ten fighter and a victory over Kira could very well line her up for a title shot in the near future. "There's a lot to like in Kira's fight game, but she's just not that good", Troian smiles. "And the ass-whuppin' that she's gotten from intelligent, experienced fighters like Priyanka, Evangeline and Claire kinda speaks for itself. We're slowly taking Kira out of that Nickelodeon bubble where every chick's a twig and five inches smaller than her. It's a crash course in real life. And real life Kira's just a ho-hum starlet with a good gym behind her."
Fight night attire:
Girls sporting fan-pleasing attire this time round: Kira's entering the ring in a tight, transparent pink nightie, undressing to showcase a pink bra with baby-blue bottoms, white gloves, her hair in ponytail – Troian's in a flowery-print light blue bikini with dark blue bottoms, black gloves, her hair in a tight bun.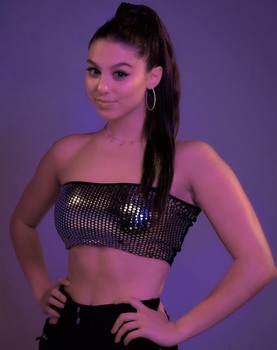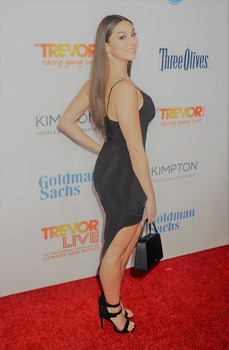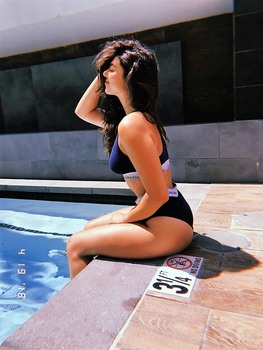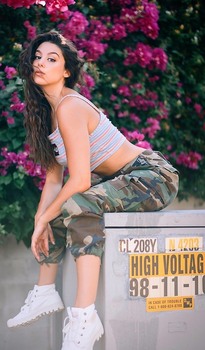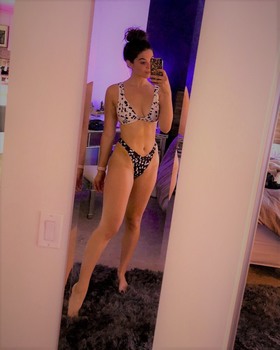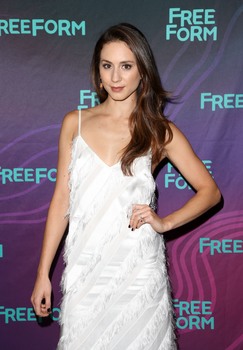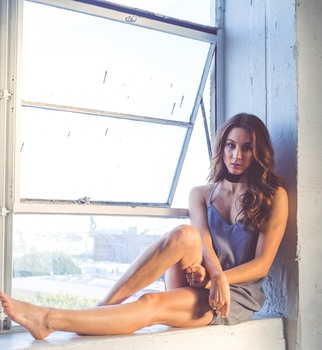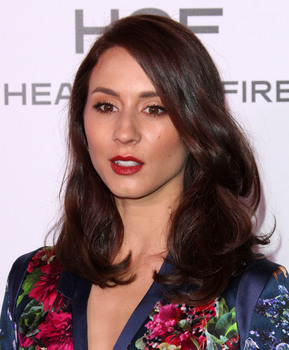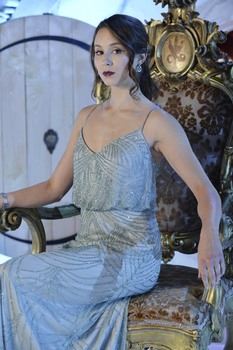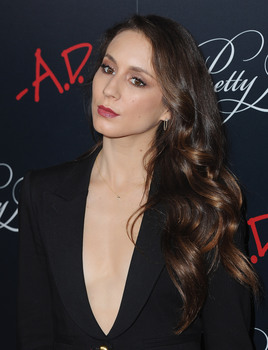 Fight:
R1:
Girls start swapping frisky jabs, short hooks – fast rhythms take over, as girls step/hop in and out of range, laying a tempo of fast, breezy punches to respective guards, more activity than weight-of-shot this time. Kira, Troian getting used to power, tempo, as they're feeling out punches, opponent alertness: Bellisario in that wide, classy stance, pik-pakking the jab to Kira's eyes, mouth from wide-arched positions, rolling short, heavier crosses against a pouncing Kira's face when she's stepping-in – that precise counter-aggressive jab's holding Kira off throughout early work. Middle mark: Kosarin a-charges for real – nice, boomin' jab to pit of Troian's stomach stoops pretty brunette forward, ducks head from counter jabs...rock-solid left/right uppy combo splits Bellisario's mitts...Kira creams off via the short, bruising right-hook-to-face. Now Troian's wobbly-butt! Kira: eyes wide, mouth slightly open, a picture of confident aggression, works from here – Troian's just having trouble absorbing that long, boomin' jab that Kira's directing into her face, stepping into the shot. Bellisario's forced into leggy step-outs, cover-ups.
Whirlwind attacks late, down the stretch: Troian standing, exchanging back – girls just swap short, peppy hooks/crosses from wide stances, directing punches to tummies, tits...but Bellisario steps away from the exchange soon, legs all a-sputtering, not answering Kira's weight-of-shot well. Before bell: Kira positioned off Troian at ropes...short-jab to Troi's temple, step-back, long-right into tummy. Groans, moans from Troian: classy brunette an early victim of Kira's heavy bantam fire!
R2:
Kira trusting tempo, power to stay ahead: step-step gets her close, and she's chipping fast, rhythmic jabs, sharp hooks to Troian's face, forcing brunette into peek-a-boo defenses. Kosarin swinging lusty: jab to mouth, follow-up right kissing off Bellisario's jawline – Troian's startled, punched onto heels and into a stagger early again! Kira settles into her stance – ducking inside the tracjectory of Bellisario's thudding off-ropes uppercuts, she left-hooks to Troi's tummy/flank, chip-chops the right hook to Bellisario's rackline, then walks Troi into the tidy, mean left uppercut when Bellisario leans off-ropes to counter righty! Woozy, hurt head-shake from Troi...left step, right step in short moment of confusion, almost gets chopped a lusty, swinging right haymaker when Kosarin scoops back in.
Second minute: Bellisario legs up, creating range, trying to establish her own tempo, dukes at temple. Kira punishes her off the dart-in/dart-out jab, just keeps a-hookin' Troi's toned tummy, flanks – short step-right, Kosarin, sees her feint the right, then stitch another left hook across Bellisario's rack. Girls step around a little more cautiously as round progresses: Bellisario switching weight, using legs, just a little shy to walk into Kira's thunder again. Late whirlwind attacks: Kira hops close, stock-piling punches...left right, left right frenzy has Troi covering up, punched onto heels by sudden burst of aggression.
Bell: Kira's a chirpy, breezy beauty, grinning provocatively into Troian's face – classy brunette just walks right past her to corner, determined and steely-eyed.
R3:
Girls step back into the fray: Kira puts the right hand across her face, starts pawin' the left aggressively, jolting it to Troi's tits as girls both circle left– Bellisarion reacts, walks out of Kosarin's jab with a nice shoulder-roll, makes Kira EAT a sturdy, slam-bang right high on young brunette's hairline! Kira covers up, palms protecting face: Troian hooks left off her right foot, pushing it against right of Kira's head – short, drifting right-to-tits with plenty of oomph kilters Kira off her stance, has her back-pedalling with wide eyes, hectic hops. Kira regroups outside, bobs back in via crossed-arms stance – she reacts late to a long Bellisario hook, eats it to mouth! Strong Kira stumbling around in confusion as Troi snarls, wraps up her younger brunette, drubs a series of short hooks across Kosarin's waistline as Kira stoops off the ropes: nice showcase scenes for classy Bellisario's lanky power.
Girls pedal back to mid-ring, second minute: Kira's beaten to a jab by Troi's right slap-hook across the mouth, steps left, CHOMPS up the double-jab-to-mouth. Kira's getting pasted! Kosarin trying to side-step in hurt confusion: mitts-at-mouth, Troi's drilling right catches her to temple, thump...short, battering left-to-tits kilters her into a stoop...wide, sidearm right pancakes her boobs...violent pik-pak left hook socks between her eyes – Kira's swept onto her butt! Hook-to-eyes unhinges strong, young brunette, picks her up hard n' tidy and swoops her onto glutes...her elbows slither on the canvas as Kira's trying to prop up, her eyes flashing in confusion, nasty shock. Classy brunette just a-yelling at her foe: "Stay down, bit-ch!" Long, serious count for proud Kira: she takes a shabby 8, ashen-faced, legs shot, trying to focus eyes on ref as he checks her out. Third minute a mop-up for Troi: she dominates Kira from distant angles, chipping easy, breezy hooks across Kira's tummy, tits, shooting rights against brunette guard. Hard sidearm rights into rack have Kira blubbering, moaning in protest – she's walking Troian into clinches, pulling her head down.
Bell: "Outclassed!", Troi whispers into Kira's ear as girls wiggle, struggle inside clinch – Kosarin's irritated, trying to grab Troian around the waist, wrestle her into ropes. Ref stoops inside, separates girls, issuing a stern warning to banged-up young brunette. Troi? Grinning ear to ear.
R4:
Troian's a-chargin', putting a stiff jab to Kira's mouth, neckline – Kosarin's flat-footed, negotiating range/legs, still struggling to head-bob, trying to scare Troi off via hard, thumping left hands into Bellisario's chest, but she's definitely walking back from her foe. Bellisario pulls a long, spearing jab over Kira's stay-off-me right, splitts those mitts, brushes a sweet jab-to-mouth / short-right-to-tits combo! Troi fast, alert, spits a series of short jabs to Kira's mouth from the crouch – Kira's rocked into her guard, stooping forward, swinging out impact of shots. Mid-round mark: Kira's in earmuff, fighting on the apron – Troi lays a siege! Bellisario setting the rhythm via those jabs, crosses...Kira's stalked to ropes, rolling shots, brawny back leaning against cables. Troian punishes her from wide stance, slamming away at whatever meat's available from Kira: it's good, thick shellack applied to strong brunette waistline /biceps. Slow motion replay shots: Kira's head grimacing after classy brunette slams nasty chop-chop body crosses against proud Kosarin's rack, has Kira clasping her elbows together even tighter, torso shuddering. Down the stretch: Bellisario's using those loping pivots to neatly steer her girl around the ring via the jab, one-two combinations, mixing it up via rangy hookwork to Kira's mouth – Troi's got Kira outfoxed, outboxed, hurt.
After bell – girls still laying inside a clinch head-to-head, as Troi's got a comment again: "Meek as a lamb, Kira!", plants a little kiss on her cheek. STERN warning, ref-to-Troi this time.
R5:
Short mid-ring exchanges just past the bell: Kira drums a jab to Troian's rack, skids the righty just past brunette hairline/temple as Bellisario leans inside, slithers the lefty cross on Kosarin's mouth! Kira's head pingin' and whirrin' back from the shot – grin and snarl, Troian...crouchin' low, she's starting to locate, find Kira's jawline via neat, explosive left uppercuts. Kira: covering up as her head's picked up, picked up again, face stooping into gloves. Second minute, Kira walking, stepping away – hard, get-off-me straight-left misses Troian's torso...Troi comes up big, looming inside the arc again, landing a stiff, violent haymaker near Kosarin's left ear. Kira's head's all a-ringin'...she's huuuuuurrtt! Strong legs saving brunette youngster as she tilts up torso near ropes, forming strong earmuff guard, propping up back n' butt against cables – Troi sets up position on top, staying alert, her bendy, lanky hooks rocking Kosarin's strong midriff, staying shy off Kira's grabby clinching attempts.
Third minute: Troian being rude, rowdy – short, peppy jabs have Kira's guard all flimsy, as long, MEAN right hands ABUSE Kira's pretty face. Ringing righty blast swells Kira's right eye, continued jabs-to-mouth have her lips all puffy n' swollen! Kosarin shows heart: jab locates Troi's rack, big right hand triggered, but it's whizzing past a duckin' Troi's hairline. Stiff, hard punches off Kira's left shoulder, a-pumpin' uppercuts – Troi stepping left, right, dippin' and bendin' that lithe torso, chops a right to strong Kosarin biceps/shoulder in blunt fashion. Kira backs off! Classy mop-up, Troi as round winds down: long jabs keep Kira out, rangy hooks blast to her rack/gut/mouth.
Girls clinch, step back-and-forth – Kira grimly reverses position as girls separate just before the bell. Slammin' right hand, Kira – Troian sees it, needs to lean head over top rope, hooks back lefty, stepping just a little out of kilter, missing shot. Short, brushin' right HOOK-TO-JAW from Kira! Troi's eyes go blank in shock, eyelashes fluttering dramatically – her torso sloshes left, lands her on back parallel to ropes, all limber and wobbly. Kira's eyes widen – she's taking deep breaths, POUNDS her chest as ref holds her off. Troi beats the count, but she's SO rickety, her legs wobbling tenderly! Kira Kosarin: eye swollen, lips puffy, FIRED UP – she's just stolen a classy, dominant Bellisario round as her foe's on the verge of a knockout!
Inside corner during break: Troi's not entirely responsive, eyelashing batting, throwing shimmering, confused looks around.
R6:
Girls have already taken some serious damage tonight – off the bell, it's Kira taking charge, though, explosive after last round's comeback knockdown. Kira's still a little flat-footed, slowed down...she starts workin' behind a power-based jab, dominating mid-ring territory, steering Troi left/right/back via her power. Bellisario: a sharp cut past her split upper lip, her hands/elbows placed defensively – she's rolling shots, ducking away, legs rattled by last round's shot. Mid-round: Troian bobbin', arms crossed, pedalling to apron with wide steps, a-crouchin' – hopin' to walk Kira into a come-get-it lefty uppercut. Kira: confidence's back, eyes wide, fiery – she's tidy stepping out of Troi's hooks/uppercuts, her spearing jabs to head/shoulders hurting Troi.
Late second minute: Troi finds her legs, sliding away from Kira's pounce, a-crouchin' and pivotin' – she's able to provoke Kira's jabs/lefty hooks to miss, times her righty counter shots, scoring again! Step-in, Troi, and a short right to jaw freezes Kira's legs as mouth opens in shock, eyes blinking. Mayhem: Troi paws the left into Kira's tummy, just wanting to hurt her girl – Kira stoops, explodes into a vengeful righty haymaker! Nasty flank shot: Troi crying out, hugs gut and steps out, hands low – Kosarin lunges, misses her righty, scores the lefty to Bellisario's jaw. Troi's rocked, forming earmuff at ropes, under heavy siege. Down the stretch: Kira explosive off the jab, pastin' lefts, rights sit Troi into ropes, hands at temple, body rocking to-and-fro from shots.
Bell: girls tilt up face-to-face, making eye contact, as looks of hate, punchlust flash up – ref steps in between beauties. PLP corner talk: "Come on, Troi, you've shocked this girl tonight. Shock her again!".
R7:
Kira charges, hoppin', steppin' inside – aggressive, stubby jabs pound Troian's guard, rock her. Troi gutsy, under pressure: trades back uppercuts, hooks from the crouch, a-blastin'. Wild, scrumptious trade – punches whooshin' and whizzin' as girls lean torso/shoulders into shots, duck heads out of harm's way. Bellisario beats Kira to a hook: fish-hook bloodies Kosarin's nose – Kira stumbles on the spot, zings back a left haymaker, grubs a hook to jugs, stooping Bellisario into a hunch. Risk: girls trade uppercuts, hooks – Kira's right hand drifts to Troi's mouth, beating Bellisario to a similar punch….oh, Troi's all jelly-legged, staggering ropeside, she's SO huuuuurrt! Troian forming woozy, overwhelmed stance at ropes, eyes blinking rapidly: Kira bobbin', workin' from a crouch – a left pumps to rack, right digging tummy/rigs. Troi's stutter-legs, broken out of her stance, wandering alongside ropes: wide-arc overhead right to temple unhinges Bellisario's composure – she's hopping out fast, crossed arms placed rickety across belly/rack.
Opposite turnbuckle: short pounding jam of jabs SITS Troi into cables violently, trying to put hands at temple. Kira so violent, furious: uppercut salvo knocks Troian into a STUPOR as lefts n' rights just keep a-knockin' both side of head, loosening up guard/head – Troi just hunchin' more and more, overwhelmed by the pasting. Short lefty uppercut detonates huge inside Troian rack, gorgeous righty blast between mitts picks her up all drowsy-faced. Troi's done: pretty brunette's eyes roll blank, torso splashes off ropes, sprawling her to the canvas HARD. During count: the PLP beauty picks her head off canvas, muscles straining to push up off her chest, but she's all punched out, helpless. Kira jumps back with a scream, pounding fists into crowd – bantam blast-out ends via KO7 Kira Kosarin!
After:
The Pretty Little Punchers just can't catch a break against their arrogant nemesis Kira: poor Troian ends the night on the canvas in face-down fashion again as Kosarin triumphs, brags about it. Hard-nosed knockout in first minute of seventh round surely veils the amount of punishment proud Kira took during the fight, of course, but no cuts or bloody nose can spoil the fun for triumphant youngster tonight: "Troi made it hard for me, of course, but once we traded right hands, there was just no doubt who would spend the night on the canvas. There's no girl at bantam who can slug me out in that kinda fight, hell yeah." Bellisario's losing a good top ten shot at a title challenge – Kosarin jumps back on track, denying a feared rival to bypass her after the Chopra disappointment.