Post by Lookout! Boxing on Mar 30, 2019 9:41:55 GMT -6
MARY ELIZABETH WINSTEAD VS ALESSANDRA AMBROSIO
FCBA LIGHTWEIGHT TITLE/ Body Saddle Bout

Results: Lookout Writing: Archer
Mary: 34 YO.5'8 (1.73 m), 52-42-0, 46 KO since 2007, Foxfire Boxing
Alessandra: 37 YO, 5'9 ½ (1.77 m), FCBA: 23-7-0, 23 KO since 2016 Girls Friday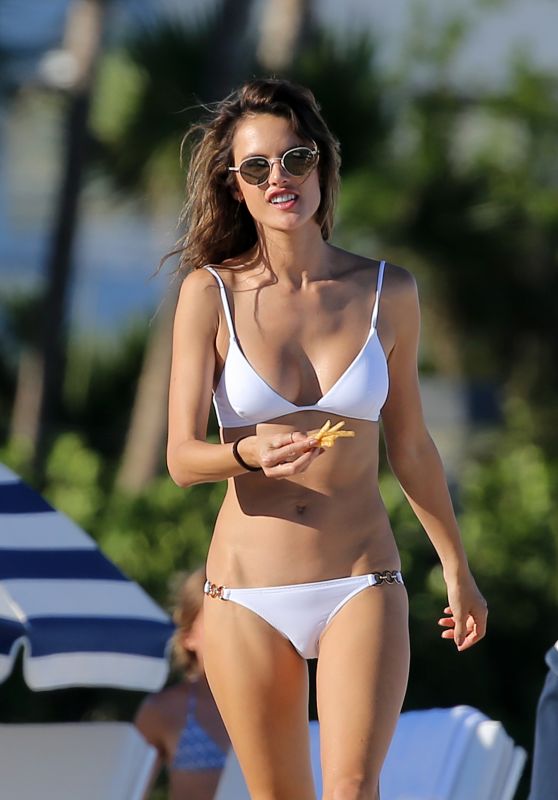 Before: "I have to admit that the uniqueness of this fight has me really excited," says Mary E. almost licking her lips in anticipation, "not only do I get to fight a Lightweight Champion from another fed, but she's willing to risk my riding her with my trusty Body Saddle—after I did to her just last year. I may have to start changing my opinion of those tall, skinny models. Hmm—no, what fun would that be? I still can't stand them and beating up another one and riding her into the canvas will be a joy. I know your title isn't on the line here, Ali, but I do like to think I'll be able to at least think of myself as the Undisputed Lightweight Champion of the World—maybe even the Universe!"
Alessandra gives a sniff of disdain: "I fear that Mary is growing delusional again. She is not going to beat me. I was humiliated once by her and I vowed I would pay her back. I ride her on my Body Saddle until she is as tame as pony in a park. Ever-after they will call her 'Weakling Winnie'. I am proud Brazilian I will take home as many title belts as I can. 'Alessandra the Great' they will call me after this victory!"
"You haven't beaten me yet 'Tall and Skinny' and your supermodel sisters are going to be disappointed again, I love it when that happens," Mary said with assurance.
"Not half as much as I will love finally bringing you down, Mary Winstead. You are hated by every model I know—we want you defeated and humiliated and I am proud I can be the one to do it," Alessandra says hotly.
Mary merely smiles wickedly: "All the better to humiliate you when you fail to beat me. I can't wait to get you under my saddle."
"And I cannot wait to see the look on your arrogant face when I strap my saddle on YOU!" retorts Alessandra
"That is not going to happen!" Mary says flatly.
Now it was Alessandra's turn to smile wickedly: "Prepare to meet your doom, Mary Elizabeth Winstead. Justice is finally coming for you!"
"The only thing coming is the men in white coats to take you away after I crush you, ride you around the ring and leave you a shivering wreck in the ring," Mary says with venom.
"You are evil to talk to me like that!" Alessandra hisses.
"You started it!" Mary snaps.
Mary and Alessandra moved away from their separate podiums and started towards each other. The watching crowd of reporters, photographers and fans surged forward to get a closer look. They were not disappointed. Alessandra struck first with a slap across Mary's face. Mary responded with a slap to Alessandra's face. The two stood glaring at each other. They were both wearing light mini-dresses that showed off their legs. Sunny yellow for Mary. Red for Alessandra. An instant later Alessandra grabbed Mary by the shoulders and ripped her dress off in an impressive single strike. Left standing in pale yellow undies, Mary was quick to rend Alessandra's red mini-dress from her body leaving pink undies. This triggered shrieks from both women who slammed together in a furious exchange of hair-pulling, knees to crotch and belly and general mayhem. Down they went in a crash, legs now entwined as their arms flailed away at each other.
Suddenly, FCBA Security burst from the wings and these beefy gentlemen dragged the enraged ladies apart. They were carried out via separate wings of the stage, but they fought furiously to get back at one another.
Naturally this was a social media sensation as there was nothing like a grudge match to excite a good many fans. By fight the arena was filled with excited partisans anxious to see who would emerge with the victory. The challenger was first to the ring. Alessandra Ambrosio proudly strutted down the aisle trainer Taryn Terrell and stablemate Sara Sampaio who carried Alesandra's personal Body Saddle. Alessandra doffed her robe after entering the ring. She was wearing a white bikini. She had white boots and gloves with green laces. Her hair was pulled back in a battle braid.
Then to the ring came the defending FCBA Lightweight Champion Mary Elizabeth Winstead proudly walked to the ring with the Lightweight Title Belt hung over her shoulder. She is accompanied by Foxfire Lightweight trainer Rachel Nichols and stablemate Sophie Turner who carried Mary's Body Saddle. Upon entering the ring, Mary hands the title belt to an FCBA Officlal and then removed her robe, she was in her favorite blue-gray bikini with black boots and gloves (gray laces). Her bobbed hair was loose but wetted down.
The two fighters glared at each other during the ring instructions, but wasted no time in disruptive behavior. They were just eager to get at one another for real and, soon enough, they were back in their corners. The bell rang. The crowd rose to its collective feet with a roar and it was on!...
R1: Mary made straight for Alessandra and hammered the Brazilian's abs with driving hooks that doubled the lanky model up with a gurgle of pain. Alessandra tried to back away, but Mary clouted her hard to the cheekbones and then lifted her chin with a quick right uppercut. Alessandra long legs were shuddering as she is continued to retreat. Mary stormed forward, now going for the jaw, but Alessandra fired back with some desperation jabs that smacked hard into the champion's face. Mary's attack now stalled as she sought to regroup. Alessandra was still moving away and trying to regroup herself. Mary very quickly went back at the model, but this time she circled around her, trying to keep Alessandra confused as Mary kept on the pressure with steady punching to the body. Alessandra took a lot of leather, but she seemed able to keep up with Mary and was jabbing again at the bell. Still, Mary Winstead won the round wide and seemed satisfied to have gotten things off to a good start.
R2: Out they came for the second stanza, but this time Alessandra seemed ready for another storming advance by Mary. The champion was greeted by solid shots to the eyes, mouth and nose. Mary recoiled and Alessandra threw more shots that smacked Mary hard to the jaw. Mary covered up and Alessandra now went to the belly with raking rights and lefts across the abs. Then Alessandra hooked deep and doubled Mary up with a groan. Alessandra now banged shots off the sides of the champ's head. Mary finally just ducked off to the right and slipped passed the on-coming Alessandra. Alessandra went in pursuit and caught up with Mary at mid-ring. Mary seemed to have recovered from the earlier beating and was now showing some good counters to the body. Alessandra was showing some good footwork, constantly moving and popping in shots that rattled Mary to the head. Mary struggled to push Alessandra backl, but the Brazilian kept up the pressure to the bell. Now it was Alessandra Ambrosio showing satisfaction as she won this round wide.
R3: Mary and Alessandra fairly flew out of their corners, each seemed each to grab control of the round as they clashed at mid-ring. At first they plunged in close and struck hard at each other to the body. Alessandra showing special attention to crushing Mary's 34B bra cups and Mary quickly went at Alessandra's 32B bra cups in vengeful response. The bra busting raged on for a long crowd-pleasing minute , but then Mary dropped back and went at Alessandra from the side, pounding her side ribs. Alessandra swung around and clipped Mary on the chin which seemed to stun her. Then Alessandra pounded Winstead's belly, but Mary gritted her teeth and drove an uppercut into Alessandra's chin. Now the Brazilian was knocked back on her heels. Mary went after Alessandra to the belly. Alessandra responded in kind and the two of them were now toe-to-toe and firing shot after shot into quivering torsos. The bell rang, but they kept on punching until the referee trust himself between them. Then they backed off with glassy looks in their eyes and both slowly groped their way back to their stools. It was a hard foight round and the judges ruled it a DRAW!
R4: The Foxfire and Girls Friday corner crews worked hard to get their fighters ready for the next round. The bell rang and both Mary and Alessandra were a bit slow coming forward. However Alessandra fired in a long-range shot to the side the head that knocked Mary to one side. Alessandra quickly moved in closer behind another barrage of body punches, but sh also mixed in surprise shots to the chin and jaw. These head shots seemed to make Mary more defensive and though she was pushing out counters, they were surpassed by Alessandra's rising punch rate. Mary was hunched up under the constant punching and Alessandra was working midsection, breasts and even the flanks as Mary suffered under a comprehensive body lashing attack. Mary hung in. trying to jab, but taking a lot more than she was giving. The round ended with Alessandra winning the round wide and Mary looking like her whole body was feeling it.
R5: More intense corner work during the break. Mary was slower coming out, but she was ready as the aggressive. Alessandra came at her punching hard. Mary fired quick shots that drove hard into Alessandra's face and then as the model ground to a halt, went to the belly with a lightning series of hooks. Alessandra was now in retreat and the predatory Mary was following her, bobbing up and down, looking to draw Alessandra off balance. Suddenly, Alessandra went for a MEW feint and the champion drove crushing right into the point of Alessandra's. Alessandra's legs suddenly shot out from under her as she went crashing down on her back! The crowd roared as Mary lifted her arms in victory all the way to the neutral corner. However Alessandra was pushing herself up on her left elbow even as the referee was starting his count. Alessandra shook her head and calmly waited for the count to reach "SIX!" and then she started up, becoming erect at "EIGHT!" to beat the count. Mary scowled in disappoint as her supporters loudly groaned, but Alessandra's supporters cheered wildly. Mary came charging in, trying to get Alessandra down, but the Brazilian was now in a tight defense and she withstood all Mary's follow-up efforts. However the round ended with MEW getting the round wide on the judges' cards and chalking up the first knockdown of the bout.
R6: Mary Winstead seems determined to crush Alessandra Ambrosio as the new round begins. She is across the ring and going for the jaw with her opening shots. Alessandra turns a shoulder to block the incoming and then finds Mary's chin with a counter-right hook. Mary thrown back on her heels by the blow, Alessandra swivels Mary's head with rights and lefts until MEW can get her gloves up around her head. Alessandra then pounds those breasts, belly and ribcage with fierce rights and lefts. Mary struggling to stabilize herself, but has to keep falling back while splattering Alessandra with ineffective jabs. Alessandra trying to crowd Mary into the ropes. Mary making a stand to avert this, but then Alessandra slips a right uppercut in behind Mary's gloves and connects with her chin. DOWN GOES MARY! Chin shot threw Mary against the ropes, her legs give way and she slides down the strands to end up in a sitting position with a stunned look on her face. Alessandra glares down at Mary and then trots to neutral corner. Referee moves into count. Mary struggles to rise, using the ropes to help pull herself up, breaking the count just as the official cries: "NINE!" Now it's Alessandra's fans who groan loudly and Mary's fans who cheer her narrow escape from defeat. Alessandra herself just shrugs and heads back at Mary. Mary understandably very defensive in the remaining moments of the round as Alessandra tries unsuccessfully to get in the finishing punch. Still, Alessandra has come back with a knockdown of her own and wins the round wide.
R7: Foxfire corner crew seems to be a lot busier this round patching up the battered champ, but their efforts are rewarded. Mary comes out reasonably quick and she's firing solid shot at Alessandra in the opening minute of the stanza. Alessandra struck hard to the jaw and cheekbones. She tries to counter with the jab but takes a swiping right across the mouth that cuts her lower lip. Alessandra now retreats behind her jab, but Mary advances with crisp left and right hooks into the belly. Alessandra trying to put distance between herself and the champ., but Mary is staying hard on her keeping up the body pressure. Alessandra's bra cups get worked over in addition to the pounding of her abs. Alessandra looking bottled up though she does throw out enough jabs to make Mary work at evading them. Mary now in a steady punching rhythm as she just keeps lashing away at Alessandra to the bell. MEW wins the round wide.
R8: Mary moving out smoothly and with confidence as Alessandra moves out of her corner looking wary. However, as they comes into range, Alessandra boldly leaps forward and smites Mary with a crashing right to the jaw. Mary spun around and left staring blankly at Alessandra who unleashes a torrent of leather on her, Large numbers of the crowd seem dumbfounded at the sudden reversal of fortune for the Champion., Alessandra's punches rip into Mary's face reducing it to a bloody wreck before Mary can throw up her gloves to protect herself. Alessandra now launching thundering hooks and straight shots into Mary's body. Mary is thrown back into the ropes and before she can cover up, she is pounded hard. Mary huddling under the ceaseless storm of leather, hangs in there by taking a seat on the ropes and just trying to survive. Crowd is now cheering Alessandra on sensing that the challenger is near victory, but she can't get the champ down. Round ends and Mary sags limply against the strands before pulling herself off and trudging back to her corner. Alessandra already heading for her stool with a determined look on her face. She had won the round in a shutout, but clearly she wanted this fight over.
R9: The Foxfire corner crew working frenziedly to clean the damage done to Mary by Alessandra. Mary can be heard telling trainer Rachel Nichols: "She got lucky with the first punch. She won't get lucky this round. I'll come back. I always do!" Rachel nods and says: "You got to hurt her and take the fight out of her. You think you can do that?" "Sure thing," Mary says confidently.
Across the ring Alessandra Ambrosio is telling trainer Taryn Terrell: "She is tough as ever, but she's not as tough as she thinks she is. I can feel her breaking down. I just got to keep on the pressure until it happens." Taryn nods: "Sounds good, but she's always dangerous when she looks like she's going down,. Watch out." Alessandra nods then catches sight of Sara Sampaio who smilingly holds up Alessandra's body saddle. "That's right! Have it ready!" Alessandra calls out with a big smile.
Soon after the bell rings and out come the fighters. Mary making a charge at Alessandra, striking first to the belly, but then tries to batter her way between the Brazilian's mitts to strike at her head. Alessandra moving her head as Mary's right whistles passed her ear then drives her own right hard into Mary's bruised and swollen forehead. Blow snaps Mary's head back. Alessandra smashes a right uppercut into Mary's chin. Mary stumbling backwards on quivering legs. Alessandra stuffing rights and lefts into Mary's belly. Mary doubling up, but still stubbornly standing, pawing out a defiant jab. Alessandra brushing the jab aside and driving Mary back further and further with shots to the jaw and chin. Mary lurching forward as though to clinch, but she gets another right hook in the gut. Mary's knees suddenly buckling. Alesandra looking muscular pounds Mary's head with rights and lefts, then steps aside as Mary swoons forward, arms at her sides as she crashes into the canvas. Alessandra steps over the huddled wreckage of Mary Elizabeth Winstead on her way to the neutral corner. Wait a minute! Referee is counting but Mary's got her head up. She's trying to push herself back to her feet, Crowd is going wild. Alessandra's eyes are wide and disbelieving as Mary moving upward with agonizing slowness. Then, suddenly, Mary trembles and drops to all fours and topples onto her side. There will be no comeback this time…
"EIGHT!"…"NINE!"..."TEN!"….YOU'RE OUT!"
THE WINNER AND NEW FCBA LIGHTWEIGHT CHAMPION ALESSANDRA AMBROSIO DEFEATS MARY ELIZABETH WINSTEAD KO9!
After: Taryn Terrell and Sara Sampaio climb into the ring to congratulate Alessandra Ambrosio who is crying in happiness. Why not? She now holds the Lightweight Title in two federations and amazing achievement.
Meanwhile, a wrecked Mary Elizabeth Winstead has been assisted to her stool where she is worked on by the Foxfire crew. "Almost had her! Almost had her!" Mary mutters. "Now that blasted model has my belt!"
Indeed Alessandra Ambrosio is now being presented with the FCBA Lightweight Title Belt. She holds up the belt and shows it off to the cheering crowd. Then she signals to Sara Sampaio to bring the Body Saddle and she heads for the Foxfire corner.
Mary sees Alessandra coming, she is still badly smashed up from the battle, but she gets to ger feet and walks forward.
"Okay, 'Tall and Skinny', lets see what kind of rider you are," Mary says boldly.
"A good one," Alessandra says curtly and has Mary bend over. Sara moves in with the Body Saddle and then she and Alessandra deftly fasten the straps and with the title belt over her shoulder, Alessandra climbs aboard the defeated champion.
"Get going!" Alessandra orders and gives Mary an encouraging spank on the rump.
Mary lets out a grunt and then sets out at a gallop around the ring. The crowd just loves the sight and photos are taken by the hundreds as Mary moves along with Alessandra firmly astride her holding up the title belt. Mary gets through the first circuit of the ring promptly, but she starts to slow down on the second pass and finally just as she finishes the round trip, she folds to her knees and lies there groaning.
Alessandra hops off and poses for yet another photo: this one showing the champion with one foot on Mary's head while raising the title belt. Then she and Sara remove the Body Saddle so Rachel, now joined by Sophia Turner can help Mary to her feet and out of the ring.
"I beat the Toughest Lightweight in the FCBA," Alessandra later tells press. "All over the world supermodels are cheering the defeat of our greatest rival. I know this feeling of joy can't last forever, but I while enjoy every minute of it while I can!"
MEW says: "I lost and she got the prize. I didn't think she could do it, but she did. If she beat me she must be good, but no one should think I won't be back for another shot at her—one of these days. Right now I could use some rest and some ice packs. Thanks everybody. Goiod night."
What a great night for the FCBA Lightweight Divisions. Knockdown, dragp0out title fight as Mary Elizabeth Winstead got a beating from Alessandra Ambrosio he just couldn't come back from. Alessandra and her Girls Friday management has every right to feel proud what the hard-fighting model has accomplished. Holding titles in two feds may be a technical footnote in the record books, but it is something fans won't soon forget. The future looks intriguing for the new champion and for the fallen champion as well. Their next fights should be most interesting and the fans are eagerly looking forward to see what happens next for these two outstanding fighters.