Post by Lookout! Boxing on Mar 30, 2019 9:38:27 GMT -6
AMANDA RIGHETTI
(Welterweight Champion) (35 y/o, 5 ft 8, W: 89, L: 28) vs
HILARY RHODA
(31 y/o, 5 ft 11, W: 23, L: 8)
Results: Lookout!, Writing: Bonzo
Before:
After storming to her first title against Kate Upton in 2017, Hilary Rhoda surprisingly struggled for most of 2018 – as she was getting upset among others by Bo Krsmanovic, Brooklyn Decker and Jennifer Lawrence, she's only racked up a 7-5 record throughout the year. She's now spent almost one and a half years out of the title picture, but she's definitely BACK now! A string of four strong wins over fighters like the legendary Cassidy Freeman, a long-time struggling Gemma Atkinson and a cold-hearted pound-out of young Bonzo rookie Camille Kostek have turned Rhoda, one of the tallest women in the FCBA, back into the limelight, and catapulted her into a consolidated No. 1 contender position.
Now it's only Amanda Righetti standing between her and a second division title. Righetti's finally put her supermodel woes behind her, and it's a difficult task to name a phase when she's been more dominant than she's been at the moment. Nemeses Kate Upton and Hannah Ferguson have been stopped, and at 35, Righetti's on a career-best winning streak of 13 victories in a row. The upcoming rematch of their first December 2017 bout will be intriguing for many reasons – Righetti's win back then arguably started Rhoda's little slump and ended Righetti's downhill against the models. What will the fight tell us about the power structure at welter now?
Interview:
Hilary's being candid during her pre-fight interview, all confident and pretty smiles as she's striding towards the podium, tossing her long brown hair off her shoulder, stretching out those mile-long legs of hers as she sits down, a lean, wiry body the result of many hard months in the gym:
"There's just something extra sweet about the thought of being the one to stop Amanda now. Kate, Hannah and Karlie were the first to make Amanda feel her age in the ring, and I fell short of that. Now she's battered back on top against them. Imagine the irony when I'm the one stopping the Amanda Righetti machine now? Lovin' the thought already, to be honest. I've waited SO long for this moment on the big stage. I'm not getting stopped this close to the home stretch, no, I am not. I've got a six-feet jab," she says, flexing out that long, toned arm with a smile. "And it's going to make life MISERABLE for Big Rigs in the ring every damn second, and I'm goint to make sure that every little driblet of what she plans to do in the ring is DENIED by me. I totally respect Amanda for her hall of fame career and her comeback, but enough's enough. It's time for the Hilary Rhoda show."
Amanda's no less motivated about her second title defense:
"She's belligerent, wow! No doubt, I've got loads of respect for a fighter who's dug herself out of a slump like she did. She's spent last year on the sidelines, and she's this close to the title now that she can almost touch it. Well, I've got some bad news for you, Hilary. You're just getting close to it this time! That long, wiry, giant bod of her's a challenge, sure, but I got a special grinding treatment planned for her. The one that they don't prepare you for in the Sports Illustrated body-sculpting gym, but what ten years of being the best welterweight will do. After that treatment, relaxing out on the canvas will be a relief for her sore body, trust me. And she'll be stretched out, all those six feet and a trillion inches of her. Second best. At the champion's feet."
Fight night attire:
Black and white outfits: challenger Hilary's wearing silvery-white bikini bottoms, a white sports bra, all-silvery boots, her hair in two tight, brunette braids down either shoulder – Righetti's in a pitch-black bikini, cut-off tight black trunks, her auburn hair loose, flowing.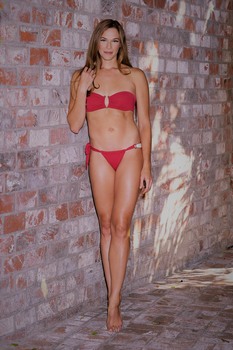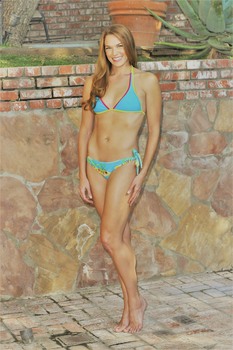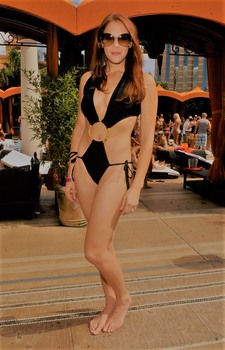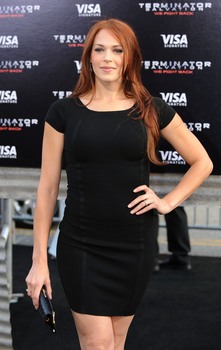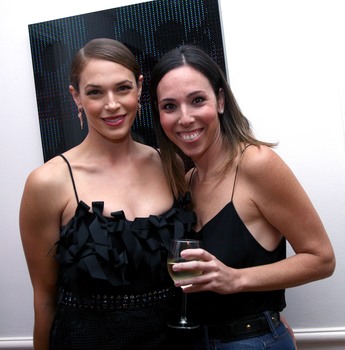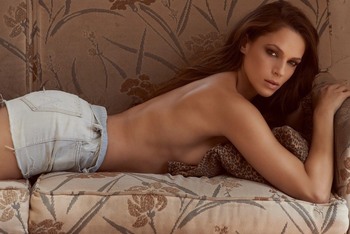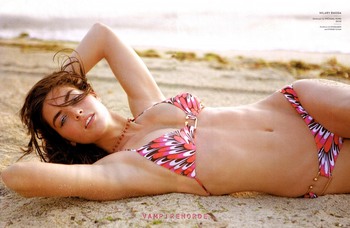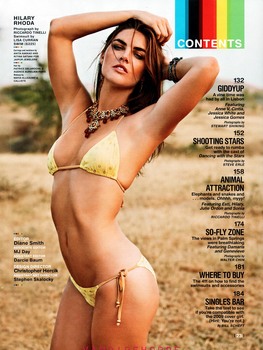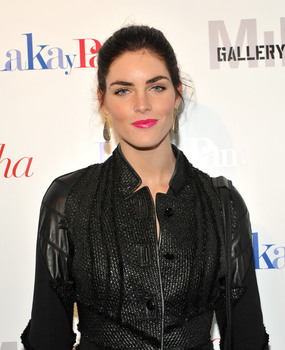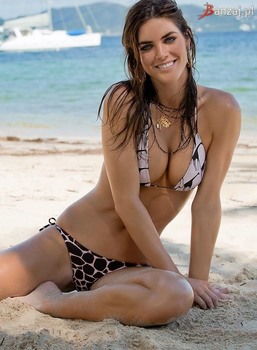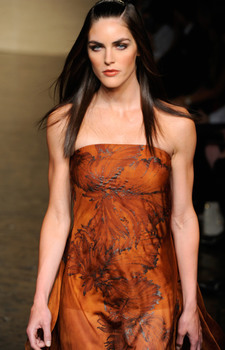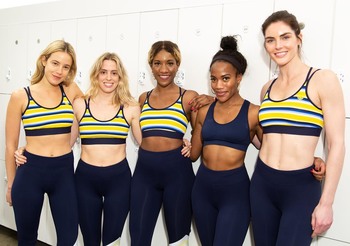 Fight:
R1:
Girls pivot to open, hands loosely placed: hopping close, Righetti STUNS Hilary, knocking the jab past mitts to her eyes as Rhoda's back-pedalling hastily, snaps a cruel flank hook upside her bikini bottom, jolting the big brunette off her stance, sending her a-reeling. Amanda assaults: upper body shuttling on hips, feet mobile, legs scampering, she's exploding from a tight, compact stance into feisty, blazing shots, lunging at Hilary's jaw with blasting left and right hands, high risk, high rhythm, high intensity...whizzin', whirrin' poke soaring, roaring past Hil's skull in early seconds! Another nasty jab corks brunette's mouth – head knocking back, Hil's looking startled, overwhelmed, closing her guard to block, hitting ropes way too early for her liking – being tall and aloof, she was hoping to extend on a long jab early.
Later first minute: Hilary blocking most punches on her guard, still sent lurching into reverse gear from Amanda's weight-of-shot, scrambling to get those legs mobile, as Manda stalks, stoops and lunges, hammering her. Minute and a half in: Rhoda stays covered up, now making her steps loooooong – six-foot beauty just sweeping so much of canvas with a couple of sideway/backward strides, finally creates good, comfortable distance from redhead champ almost immediately. An extended, long lefty jab off Rhoda's left shoulder feeds some majestic poke, causes alarm for Righetti – redhead's forced to step back from the punches, pivot out, regroup, her mitts tucked at mouth. Second minute: Amanda slackens the pace, staying back, dragging her feet across the canvas, changing the range game again – Hilary duly attacks, leans into a wide jab, reaching for redhead champ...she misjudges, meets Righetti's short, stiff jab combos stroking her mouth, making her legs sputter!
Down the stretch: thick right hand, Hilary, lunging out – Righetti rolls it via the left shoulder, shoves a beautiful counter right back to Rhoda's jaw! Big brunette JARRED from crunching shot to chin: she's stumbling to her right, her right arm grabbing at top rope for support, leaving her left flank vulnerable to body punishment. Amanda setting hips, goes to town – palm-down rights into Hil's lower back, bashing rights into side of Rhoda's head. Brunette challenger sags into the ropes, gloves clutched at skull, back a-slumping dangerously, grimacing in pain.
Bell: MONSTER round for Righetti – redhead marching back to corner, adrenaline pumping as a puzzled Hilary slumps onto her stool, a nasty cut over her right eye as her team gets to emergency work.
R2:
Rangy six-foot strides, legs gorgeously side-stepping – Hilary's working her height advantage against a compact, shuffling Righetti shelling platform one-twos in her pursuit. Spear-arm jab pumping from Rhoda's left shoulder: so long, lean and mean, catching 'Manda tuff from thumping angles, mid-range. Magnificient, long poke spooking Rigs big-time – she's kept on the outside, mitts at mouth, stabilizing weight on either leg, shuttling, trying not to walk into Hil's paths. Quick hops, long stridges denying Righetti's fast sneak attacks this round, making set-up MUCH more comfy for long, tall Hilary. Rhoda's jab: sturdy, rugged, ROCKING Amanda's world.
Beauts from late first minute: brunette extends left arm, scrunching double jabs – thick medicine balls hitting Righetti like on hard, wet clay. Twin shots thudding boobs – audible gasps from redhead champ, whole bod trembling from impact, stance breaking apart. Amanda rotates torso on hips, walking back delicately – Hilary smart, dominant, using palms/heels of hands to shove Amanda's shoulders away, steering a big girl who's not used to that sort of treatment around the ring in muscular fashion. Righetti duly retreats, footwork saving her – roaming to the right, she's stooping to lay short, dropping hooks inside Rhoda's gut/flanks, hurriedly strutting out of range again. Gist of it: Hilary's jab a pure power punch – 'Manda's moving her head well, but when the spank gets through, it's a devastating shot...highlight reel will show the champ's head hammered backward several times, solid farmgirl-strong thuds into ribs/rack beating her breathless...stiff-arm, palms-and-elbows out shoves moving Righetti where Rhoda wants her.
Trainer just a-gushing with pride for Hilary post-bell inside her corner – brunette challenger used her height, reach and power in textbook fashion this round. Solemn apprehension in the champion's corner – Amanda's breathing hard, looking concerned.
R3:
Rhoda steps in big, shelling platform jabs from a strong mid-ring position, the taller woman steering the champ around the ring at her will – Amanda hoppin', creepin' away, mitts mostly at mouth, eyes always alert, pawing her right hand, but she's not finding her range early. Minute mark: proud redhead hits apron, fighting with back to ropes from there...Hilary stepping-with, paralleling her alongside the ropes, driving in jabs towards Amanda's rack/biceps, leaning in to spank her stiff, glorious right hands. Righetti: stunned from shots to guard/face, but not numbed – she's defending herself, torquing hooks to side of Hil's head, dipping her left shoulder to rise into thuddin' left uppercuts to brunette neck/temple. Some crowd-pleasing toe-to-toe blasts at apron locations – women bumpin' shoulders, stroking short, succinct punches to jawline/bod inside. Rhoda being heavy, big – thuddin' arms bear down on 'Manda's broad shoulders, pushing the smaller champ off, denying attempts to linger and trade inside, clinch.
Second minute: Righetti's able to close range, tying up, hoping to walk Hilary to ropes – squirming bodies fight for control inside clinches, girls literally grunting with effort, strongly wrigglin'/shovin' under each other's arms. Amanda bodying Hilary to ropes...Hilary reverses...Amanda's squirming back on top…ref busy wedging inside strong girls to separate when power's cancelled each other out. Rhoda rangy, leggy throughout the minute, preferring distance to Amanda's inside power – she's striding around Amanda's one-twos, continuing to lean inside via the hard, flashing jabs. Rhoda the heavier-handed lass right here: a booming left hand/hard right combo to eyebrows/breasts has Righetti gurgling, stumbling around in confusion. Rhoda snarls as Amanda's butt stoops onto ropes, swaying: right hand blast to Righetti's guard, left hand blast upside her head...loosens redhead skull! 'Manda staggers off ropes in earmuff from devastating shots – Hilary bends that torso, then drives a long palms-down right hand into Righetti's tummy, guh-uh.
Hilary pastes away to glory – Righetti's alert, keeping her hands up, but slowly punched into an open-mouthed stupor: clubbing headshot upside Amanda's skull...short, ripping uppercut sneaks to redhead rack...stiff-arm shoving the champ back into ropes. Amanda finally wilts under the bombardment and slowly SINKS onto her haunches! Six-foot brunette challenger looms big on top, pounding her chest at knocked down beauty– Amanda's stooping over, elbows on the canvas, her strong body trembling, sweaty hair falling over her shoulders. Rhoda: so high on adrenaline, batting mitts, hopping away in giddy triumph as ref wedges in between girls.
Righetti's willpower beats the count, pulling herself up at the ropes!
Long, final minute for the champ: her butt's in ropes, hands in tight earmuff at either side of skull, upper bod stooping off cables, floating under shots, walking to her right along apron, turnbuckles, riding it out on legs – Hilary's dishing out a gorgeous, strappin' beating across 'Manda's proud flanks/biceps, shots clubbing at Amanda's guard to get the champ out of there! Right until bell: Amanda's eyes stay alert, hands still busy, legs functioning – icy staredown, Hilary to Amanda...what a show of force!
R4:
Rhoda implementing mid-ring control, on top again via the jab – she's smartly stepping left around Amanda in circles, popping those jabs against Righetti's prepared defenses, moving well for big, tall girl...she's screening via the jabs, hoping to extend into lean, mean right crosses/uppercuts. Amanda's conditioning, stamina pretty sound 'n solid for last round's beatdown – she's mobile, turning from shots, blocking poke on arms/guard, plonking back short, snappy hooks beneath Hil's elbows when she's up close and punching. That whacking jab from Hilary: thudding shots establish her control, landing her brisk, body-churning jolts to Righetti's opposing pecs/shoulders, giving a master body grinder a stiff dose of her own medicine. Amanda's legs still a wonder – leggy stamina allows her to recover from those power shots, loping back in her stance to create space, holding form and pace this round, but she's on the move steadily.
Mid-round mark: some scenes at the ropes, but no beat-down...Amanda willing to clinch, as girls struggle, tumble alongside strands, exchanging top positions, ref nestling inside to break, break, break. Rhoda usually getting back on top on separation: extended jabs, pushing her girl off, then walking Rigs into ropes in a clinch until 'Manda reverses or ref breaks them up. Challenger's solid, racking up her points for third straight heat from the champ!
Just down the stretch: a long jab trying to reign in a remote Amanda, bouncing off her guard, Hilary a-lungin' into a wide left hook – Righetti reads it, steps-with, ducks the poke, THUDS a short jab to tits that falters Hil off her stance mid-step, then SNEAKS in a right hand brush across the jaw! Rhoda turned a wobbly-butt big girl late and sudden – Righetti moving her left shoulder into Hilary's chest in aggressive fashion, steering her girl right back with authority...smacking torso shots upside brunette's flanks have a wobbly Rhoda back-pedalling, forming peek-a-boo, takin' body shots just before the bell.
Corner: Righetti bruised, but upbeat – she's facing a huge deficit on the cards, finally rang Hilary's bell, though.
R5:
It ain't broke, and Hilary's not trying to fix it – she's still stepping into a long, dynamic jab, using her heels/palms to shoulders to shunt Righetti back outside, trying to pin 'Manda ready for thorough right-hand blasts! Amanda still struggling with Hilary's six-feet heft, clearly not liking to get shoved around one bit: five rounds in, she's starting to deal with it a little better, moves her head well enough, circling to her left with fast steps, usually getting out of Rhoda's pinning pressure pretty well. Steady poke's still got Big Rigs covered up, in respect of Hil's distance power – she's constantly negotiating ranges, using ropes for just a bit, tacking off to left and right.
Minute mark: Righetti shifting back and forth from punches, jabs not pinning her down...signs of impatience from the challenger force a dedicated right hand whack...Amanda dipping her torso, the fulminant haymaker crashing past her near the apron! Righetti rises, leans into a right uppercut beneath the chin...short, shovin' stroke puts a snap to Hilary's skull, eyes going clickety-clack! 'Manda stepping away, regrouping, hopping on the spot...blasts Rhoda the double jab when she turns, follows...thick, rhythmic poke neatly catching Hilary tuff upside eyes/temple, splitting her mitts...finally, there's Righetti's signature punch! Hil covers back up, wincing, her eyes a little torpid – Amanda SCOOTS up close fast, wrapping up her big brunette tummy to tummy, rushin', shovin' and pinnin' her ropeside. Short, throbbin' punches from Righetti, suddenly very busy, determined, fighting atop Hilary at ropes for the first time in a while – her head below the brunette's chin, she's smothering her deep into cables, swiping rotating body hooks into Hil's either flank to loud groans, protests from her challenger – she's pinned!
Squirming stuff happening, arms getting shoved out of the way – just neatly down the stretch, a relentless Righetti, still on top at ropes, shunts her left shoulder into Rhoda's rack, eases weight on right foot, and TUCKS the sneaky little uppercut upward to Hilary's chin. Rhoda's body noticeably relaxes back against the ropes from shot, her knees slumping, eyes shutting momentarily...but we're at the bell! Ref wedges inside girls fast, stabilizing a rapidly blinking, rickety Hilary in his arms, freeing her from Righetti's grasp and directing her to corner – she's stunned and out on her feet! Amanda giving the ref a stern look, but he ain't stopping the fight: Righetti duly marches back to corner, eyes hardening – Rhoda's totter steadying after a few steps, but she's slumping hard onto her stool, breathing hard, her expression blank.
R6:
Righetti stepping in, pounces at momentum – she's dipping low, awing Hilary's ribcage, breadbasket with swift, brushing attacks, then hop-steps out to left/right. Early exchanges show Rhoda reacting, following a tad late – she's standing, absorbing body shots, trusting a peek-a-boo guard. Jab no longer dashing out in majestic fashion off Hilary's left shoulder, walking – her stance's more rigid, stiff, her hips planted...she's bending or lunging that lean torso into shots, offering more time for Rigs to anticipate/react, leaving plenty of vulnerable flank/meat to Amanda's counter hooks, short thrifty straights. Hilary still looking to dictate, fighting tall from mid-ring – 'Manda weaving just outta range, arms more loosely placed, often weaving inside under Hilary's statuesque, rolling jab...she's brushing short, thumping lefty hooks to upper torso, or looking to graze supermodel chin via stiff, recoiling rights flying beneath Hil's left that have the brunette loping back with wide steps, spooked.
Mid-round: Amanda's pressure on Rhoda inside clinches, no longer fading away after shots...she's reaching around Hilary's upper ribs, levering the six-foot beauty ropeside, a thick, jerky jab pinning Rhoda there for gruesome shots to paunch/flanks/boobs, her head under Rhoda's chin. Hilary recovering a bit throughout latter half of round: palms wham on Righetti's shoulders, shovin', shiftin' redhead around, her long arms around Amanda's neck slow things down until ref breaks...beef, power get Rhoda respect again.
Last minute: Hilary still not as bouncy, springy as before – from a wide/long stance, her hammering jabs work Righetti's pecs, shoulder blades, shutting out some of those fast, weavin' attacks, keeping Rigs in range. Stand-and-deliver exchanges a result of brutal energy drain – both girls dipping side-to-side late, swapping wide, robust lefts, rights heavy upside skulls, chins. No inches easily surrendered – a blasting right upside Righetti's temple slumps her butt into ropes...just down the stretch, Hil's squirming atop Amanda, BASHING right hands at the champ's ear as Amanda cowers her head, trying to protect head with tightly clutched glove, riding it out.
R7:
Girls so determined, slugging for crucial momentum two thirds into a hard-fought title match – Righetti's jabs edge her way forward, forming a steady, pounding poke at Hilary's head, chest, body...tasty, rhythmic work wins Amanda the battle for range, space. Rhoda not the fast-legged, majestic ringmaster from her drawing board, early rounds – power, attrition morphs action into grindfest, one yard of canvas at a time. Righetti slowly more effective both outside – penetrating via wide-stance jabs – and inside – rubbing Hil's shoulders, pulling her wrists down to short-shrug her sneaky uppercuts. Rhoda's dangerous, that long, lean torso still whipping back and forth on athletic core/hips, hunting for Amanda's head via reeling hooks, lunging haymakers – she's slowly giving ground against 'Manda's stepping jabs despite all efforts.
Mid-round: girls trading hard, but Righetti sucks a right hand over Rhoda's left shoulder, jamming to left ear, baby-stepping her brunette challenger into stagger. Amanda follows, stalks: walk-down jabs keep up pressure on brunette beauty, as girls circle clockwise. Double jabs split Hil's mitts – right hook to liver, left uppercut to right ear POUNDS challenger into ropes, sits her in strands, where she forms left shoulder to Rigs, groaning.
Down the stretch: jabs still pin Rhoda down, fixing her, punishing her – a passive Hil's flanks/biceps pummeled as Amanda leans into wide, shattering body blasts. Bell: Rhoda a slumping beauty, relaxing against ropes when ref's nudging girls apart, supporting weight with both arms on top cable, just swaying there.
R8:
Seven rounds of grinding, exhausting weltweight boxing – and a tuff, proud Hilary Rhoda's finally walking away from Amanda's pivoting, encircling jabs….she's forced to give up steady ground, one clockwise pivot at a time. Flat-footed aspect, peek-a-boo guard, elbows inside, flanked by desperate hops, lock-steps away – Hil's feeling the heat now! Righetti in her leggy, bendy pursuit, right hand carefully positioned, doing damage via the left – a walking barrage thudding on Rhoda's forearms/biceps, devastating little hooks cuffing brunette ribs/liver, slinging right hands knocking mitts back against her skull. Hilary trying to counter-punch: nose-diving jabs off her tall stance, sluggin' right hands from different angles – a nimble upper bod, bobbing hips, rolling shoulders from Righetti neutralize most threats.
Set-piece combats always leading to ropes/turnbuckles in relentless fashion – sweaty torsos rub against each other slick, Amanda sets her hips, digs her feet in, STACKS Hilary up. A lean Hil looking spent, frazzled – she spends long minutes propped up on cables/turnbuckles, mouth opening in shouts of blubbering protest, her arms, body trembling from brutal strokes. Long six-footer Rhoda a slumpin', cowerin' beauty, strong legs absorbing punch shocks – 'Manda tucks her left arm behind Hilary's right biceps, securing her...leans back and jams right hands into strong breadbasket, proud jugs. A liberal ref's letting Righetti work pretty freely, breaking girls apart late – even when he does, action steadily returns to ropes soon as Rhoda's majestic legs are shut down, sees her punched into a stupor!
Early third minute, ropes: Rhoda's butt propped up rickety, head slumping, eyes woozy – Righetti's bumping and working all the time, moving left/right across Hilary's frame, rotating a barrage of uppercuts against her challenger's skull/breadbasket. Righetti finds the space between Hil's mitts, cleans up on jaw with a short, shrugging right hand – shot has Rhoda's legs finally giving way! Sluggish plunge in front of turnbuckle – Hilary gently sinks onto her haunches beneath Amanda's still-pounding fists! Righetti takes a hard breath, steps away, hands on hips – Rhoda's sitting in a slump against the ropes, head sagging towards her chest, lips parted, not reacting, beaten into an open-eyed stupor! Count just passes her by, sees redhead triumph in a grueling battle: that's a KO8 – and she's STILL welterweight champion of the world – Amanda Righetti!
After:
Hilary's slowly jolting awake from her slump against the ropes - she's heartbroken in defeat. What a fight: no doubt about this being one of Hilary Rhoda's most professional, devastatingly good performances of her career, but that second title is STILL not placed into her hands. Hug between the fighters post-fight is courteous, if a little short, frosty - there's respect, but mostly a mutual recognition of threat, present and future. "Wow, I had to dig DEEP today," Amanda announces. "I'm really thrilled that I had an answer to Hilary's power tonight. I just want to keep fighting the best fighters in the division. And kick their butts."