Post by Lookout! Boxing on Feb 22, 2019 23:38:00 GMT -6
Taylor Hill vs. Behati Prinsloo

Taylor Hill – 5'10.5", 22 years old, 9-2 since 2017, 9 KO - Front Street Gym

Behati Prinsloo – 5'10.5", 30 years old, 6-6 since 2016, 4 KO - Fates Boxing


(Words: Fates / Results: Lookout!)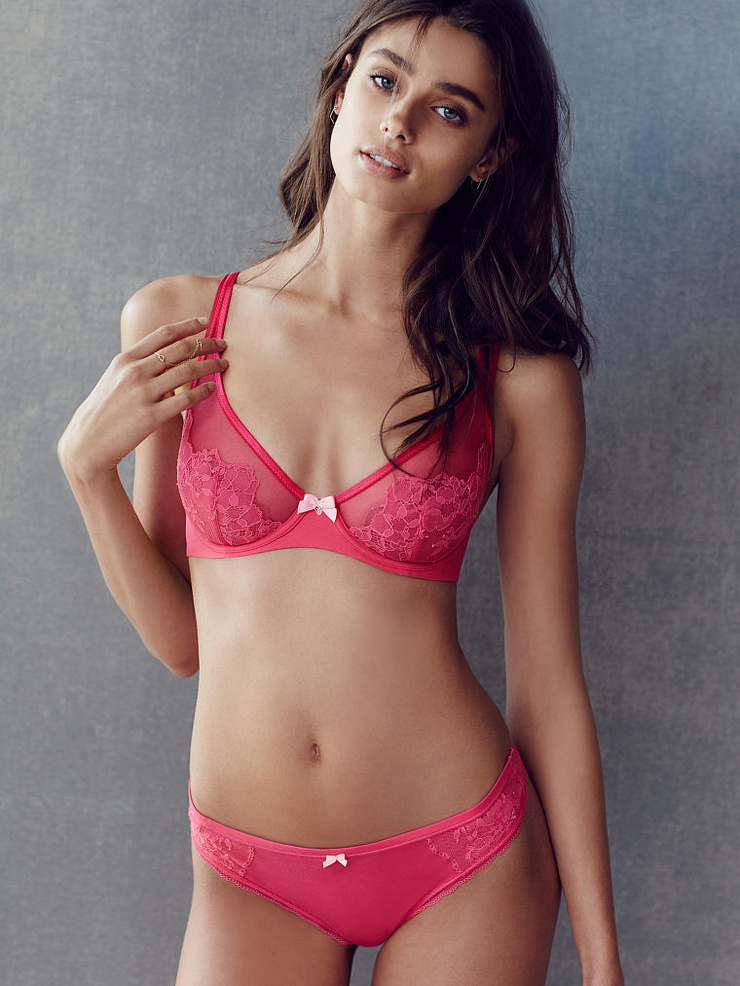 If the two models didn't need any more reasons to win beyond simply being competitors, the two represent the old and the new guard for Victoria's Secret, either trying to preserve or take the reigns of their time at the famed company.
"Behati has had her time," Hill tells the press. "It's my turn now. I opened up this past year's show, and I don't care if she wants to give up her position. I'm taking it from her and sending her back below .500."
Prinsloo equally as fiery in her pre-fight conference, "I respect Taylor, I really do. But I know that I'm not done yet, and she may usurp my place one day, but I'm not letting her do it today."
Taylor donning a green sports bra and matching trunks with green gloves for the event, hair up in a bun. Behati wears a bright pink sports bra and short shorts with white gloves, hair up in a ponytail.
Round 1:
Behati and Taylor both come out somewhat timidly for all their talk, circling each other and only throwing the occasional jab for the first half minute. Hill jabs with her right and Prinsloo easily deflects it, but gets caught by a nasty left from the younger model before the American follows up with a right to the belly. Prinsloo yielding ground as she gets her guard up, and Hill lays into her fellow model's body, getting Prinsloo into the ropes far earlier than anyone expected. Behati somehow manages to escape and land a pair of solid hooks to Taylor's face, getting some breathing room between the two models. The two women begin circling again, and Prinsloo does a good job of staying out of range of Taylor's jabs until the final thirty seconds when Taylor feints with her right and connects with the subsequent left hook to Behati's jaw. The Namibian model staggers backwards as Taylor puts on the hurt, hoping to end this one early. The bell rings as Taylor gets Behati into the ropes, and Hill wins the round on points, wide.
Round 2:
Taylor wastes no time in going after Behati, catching her opponent off-guard, and immediately starts pounding away at Behati's body. Prinsloo's gasps are audible as Hill pummels her belly, driving the air out of her lungs as she tries to keep her guard up and protect her head. Hill works Prinsloo into the ropes, and starts trying to punish her body. Behati throws out a few wild hooks as Taylor works on her body, and while most of them miss, she connects with one that forces Hill back, allowing her to get out of the ropes. Prinsloo feints with her right and Taylor bites only to get a shot with Prinsloo's left, but Taylor miraculously recovers and slams a jab right to Behati's nose and lips, getting the Namibian model on her heels! Prinsloo covers up as Taylor again goes back to the body and corrals Prinsloo into the ropes only for Behati to quickly clinch, desperately trying to hold on for the remaining half-minute of the round. The ref breaks the two women up, and Taylor pursues Behati for the remainder of the round. Taylor takes the second round on points, wide.
Round 3:
Behati clearly affected by the previous two rounds, coming out of the gate slowly and trying to play cat and mouse with Taylor, avoiding contact if possible. Prinsloo keeps Hill at jab range for the first minute, which draws a sly smile on Fates' face. Suddenly, Behati dashes forwards and smacks Taylor twice to the body before retreating, but Hill moves in and retaliates with two solid shots of her own before backing off, not wanting Prinsloo to return the favor. The two models begin to circle each other, and this time it is Taylor to initiate with a left hook that crashes into Behati's guard, but catches the Namibian with a right to the jaw. Hill follows up, but Prinsloo connects with a jab right to Taylor's chin, stymieing her advance. Both models start launching punches at each other, turning this round into a slugfest as the bell dings. Hill and Prinsloo fight to a draw in the third.
Round 4:
Prinsloo comes out with a grim look on her face, knowing that she is yet to pick up a round after having only held Taylor back the previous one. Behati the first one to jab though, trying to get Hill into a corner. Taylor feints with her right, and Behati sends a jab that finds Taylor's exposed chest, drawing a grimace from the younger model. Prinsloo wastes no time in plugging leather into Taylor's gut as the American gets her guard up, pounding her into the ropes and continuing to punish Hill's body. Taylor quick to clinch and the ref has to break the two women apart. Hill immediately tries to turn the momentum by punching Prinsloo in the chest, but Behati takes the blow and connects with an uppercut that staggers Taylor! Hill on the retreat again as Prinsloo fires off jabs to try and keep Hill contained, but Taylor escapes Prinsloo's reach until the final half minute when Behati keeps on tagging Hill. A smile crosses Prinsloo's face as the bell signals the end of the round, and Behati takes it via shutout.
Round 5:
Hill now the one who comes out of her corner a bit slowly as Prinsloo bounces out of hers. Behati firing off punches to start the round, and Taylor is forced onto her back foot, trying to avoid getting pushed into the ropes again. Prinsloo just carefully pursuing the American, diving in and out before Hill can punish her. Behati starts feinting hard in the second minute, and Taylor falls for a right only to get rocked by a left, nearly knocking Hill down if she didn't manage to catch herself on the ropes. But Prinsloo is on her in an instant, pounding her body, drawing a groan out of the younger model with each fist she plows into Hill's midriff because Taylor clinches as the third minute begins. The ref separates the two models, and Taylor immediately launches another punch at Behati, but she misses and Prinsloo crashes a devastating right hook into Taylor's jaw! Hill's legs wobble and Prinsloo throws an uppercut before Taylor gets her guard up, rocking Taylor back again. Hill tries to get her guard up, but Prinsloo finds Hill's solar plexus and hammers home a left, forcing Taylor to break her guard only to get clocked by a massive right hook! Taylor Hill stumbles, then falls down, a knockdown for Prinsloo. The ref starts his count as Hill stirs on the ground. Four. Five. Taylor picks her chin off the canvas. Six. Seven. Taylor has her arms underneath her. Eight. Hill crashes back to the canvas. Nine. Ten. Your winner by KO5, Behati Prinsloo!
After:
Behati lets out a cry of joy, avoiding losing three fights straight and pulling back to an even 0.500 record. Prinsloo gets her gloves taken off before going over to Hill, and the two women embrace before Behati heads out.
"She will be around for a long time," Behati tells the press. "She really punished me those first two rounds, and I'm thankful that I could hold Taylor in the third and turn it around in the fourth. That being said, I'm still around and I am not a pushover, just like I told her, so it'll take more than that to get rid of me."
"Behati is a good fighter. I could have beaten her tonight, but that's not the way it happened." Taylor says in her post-match interview, "Regardless, I'll be back because I am the future of VS, whether Behati likes to admit it or not."