Post by Lookout! Boxing on Dec 28, 2018 23:05:50 GMT -6
Sophia Bush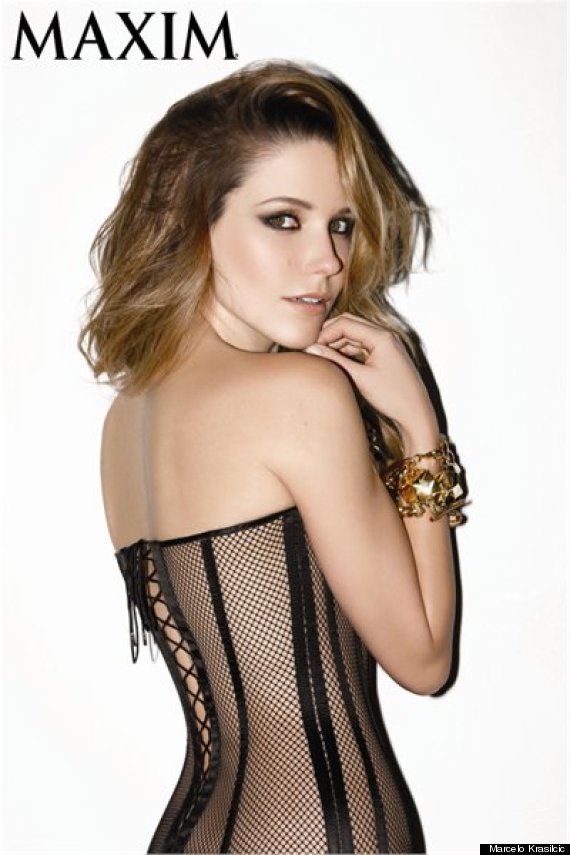 versus Hayley Orrantia
(Words: O & E / Results: Lookout!)
Before: "I can't wait to ruin Sophia's party," a confident Hayley chirps in prefight, "She's a butt-kicking waiting to happen—you watch. I'll be all over her—smothering her beating her up—it's gonna be great!"
"I'm going one fight, one opponent at a time, There's no rush—me and my guys want to do this right. She's the one who's worried about being left behind. But if she thinks of me as a stepping-stone, she's going to be sadly mistaken!"
Hayley in her purple bandeau, Sophia in her all-white ensemble. White gloves and battle-ponies all-round.
R1: Nothing fancy, mouth on shoulder slugging midring at a brisk pace. Edge goes to Hayley she's nudging and sidestepping around Sophia while keeping in contact, opening up angles for extra punches inside. Orrantia more varied with her attack, curling in uppercuts from outside Bush's shoulders, hooks upstairs and down, and a jamming right hand to the ear over protective left shoulder. Sophia just moving her hands, clubbing torso with determined bursts - gets herself outsmarted and therefore outworked this round.
R2: More crowd pleasing back and forth Hayley getting after Sophia with a purpose this round. Exchanges usually punctuated with a stuffing right or left to the lower belly on Bush Sophia's breaking down as the round progresses, not punching back with as much abandon. Hayley placing shots into Sophia's belly, but also scrubbing away with bashing combinations to jugs and jaw, Texan busier AND harder this round.
R3: Spirited trade, dictated by Sophia's more educated left, but stubbornly contested by a determined Hayley. Orrantia coming forward, paying the price as her guard is routinely split up the middle by Bush's drilling jab. Sophia turning into a stinging right cross and mopping up hooks in Hayley's ribcage - pretty 2s and 3s as she pivots left around the hook. Orrantia weaving her way into range and getting off in rapid bursts, elbows in tight as she twists her torso and hips, bashing away at Bush's torso to avoid the sutout.
R4: Haley's starting to time Sophia's jab, turning her head with jolting short right hands, backing her up. Orrantia imposing her will this round, coming forward, sustaining the offence better as she puts punches together - patiently whittling away on Bush's proud torso. Midway through, Hayley steps in and carries a short right to Sophia's chin, knocks her back onto her heels, Texan steps-with, puts another tidy right on target, steps and gets it again - Bush spills ropeside. ORRANTIA GOES JUG! Hayley romps to the bra, hup-hup-hupping 'em home, rising lefts and rights as Sophia slumps woozy in the strands. Bush getting it together enough to clinch, but Orrantia's getting underneath her, shoving her off and piling ontop of her with nonstop aggression - plugging, plowing lefts and rights pour on past the bell as Sophia's legs threaten to give way.
R5: Hayley roaring to the attack, stepping in those bludgeoning right hands, stepping-with as Sophia falls back – pure aggressive pressure. Bush hustled to the ropes and mauled, she's covering up, bending forward, suffering as Orrantia digs in behind the elbows, or pumps up underneath to work the overhanging ledge of jug. Sophia spins out, Hayley tracks her down, California girl restores order with her jab - steering Orrantia, easing the pressure somewhat as Texan can't take a straight line anymore. Bush pounding away the stick, slowing Hayley up, dropping a right hand that puts her wobbly butt. Sophia coming forward now, leaning close to carry a left hook thick to Orrantia's midsection, using the left shoulder and clipping her Texan a left uppercut as she clatters backward. Shoe on the other foot - now it's Hayley staggering in retreat, covering up, trying to shake off the hurt, Sophia stepping-with and sapping her opponent with wicking body blows, tough shoulder-bumps and chopping right hands in behind the ear around the guard. Brutal back&forth continues: both girls lumping up nicely through 5 bruising heats.
R6: Clever feint as fighters close, hesitation overhand rights clouting Haley behind left ear, Sophia pounces, spilling Orrantia to ropes early. Cue the body attack: Bush in close - bumping her head into Haley's raised guard; using extended left elbow to push and prop. Bush scrapes a left uppercut against Haley's guard to brush her upright against ropes, then issues a stamping, straight-punching, palm-down barrage of lefts and rights to Orrantia's midsection! Steady pummelling beat overwhelms Haley, she crumples to a seat - knees up at her chest as ref pulls Sophia away. Orrantia blubbering, trying and trying to push up off her buns with her back to the ropes, but it's no-go. KO6 come-from-behind for Sophia Bush!
After: Hayley hammered out toe-to-toe, breaks down into stunned blubbering as she's helped to her stool: Bush climbing her corner ropes and screaming in jubilation after a heroic effort. Each fighter consistently gnawed on by an energetic opponent tonight who refused to give the other any breathing room. "She's solid," Sophia pants, "but I put a lot on her early—I felt I was stronger than her once I'd put my hands on her for a few rounds." Orrantia crestfallen—tough development fight a good learning experience in the long run, but for right now—Hayley's hurting.