Post by Lookout! Boxing on Mar 3, 2018 0:34:32 GMT -6
Alessandra Ambrosio versus Bar Refaeli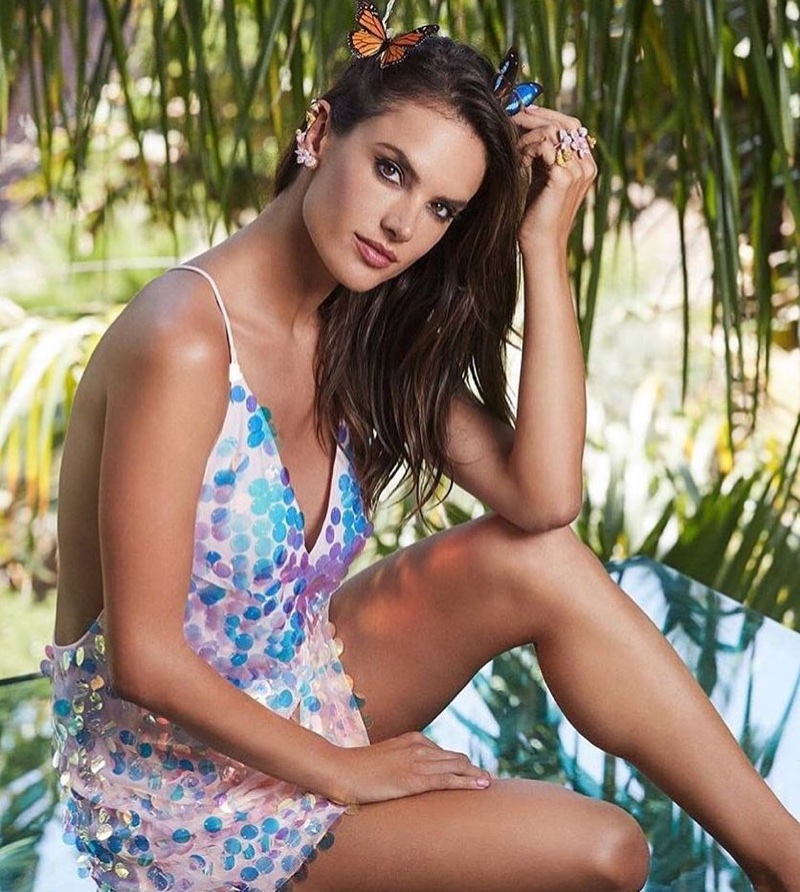 Vs
(Written by Girls Friday/Results by Lookout!)(Girls Friday vs Free Agent)Intro:
A battle of models hits the PPV now as Alessandra Ambrosio meets Bar
Refaeli in the ring for the first time ever.
Alessandra is 36 years old, stands 5'9 1/2, she holds a record of 21
wins, all by knockout and 4 defeats, she is currently the BBU
lightweight champion.
Bar is 32 years old, stands 5'8 1/2, she holds a record of 14 wins, 12
by knockout, 18 defeats and 3 draws, she is a former Queen of the ice
hotel.
Both fighters were interviewed before the fight separately, with
Alessandra saying "Bar is a good fighter from what I've seen, but I
see she has issues with my best friend Adriana (Lima) that means me
and her has some talking to do in that ring"
She continues "that's a message to everyone who messes with me and
Adriana, you don't f*** with one of us unless you accept that the
other is coming to kick your ass" a more serious tone then usually
tells how much Adriana means to her as a friend.
Bar also has strong feelings for Lima "I am hunting for that bytch
Adriana, going through Alessandra should send the message I'm after"
On her opponent she says "Alessandra is as big a bytch as Adriana,
knocking her out will be lots of fun and I intent to enjoy every
moment of pain I give her"
Fight night; out comes Alessandra with Taryn Terrell and Eva Carneiro,
she gives her usual samba dance at the top of the ramp, before jogging
to the ring ready to do battle.
Her attire tonight is a yellow sports bra, matching trunks with green
trim, with green shoes and gloves, her brunette hair is braided.
Stepping into the ring; she waves to her fans and jogs to her corner,
her expression changing as she gets serious, staring up the aisle for
her opponent as she wants to get this started soon.
Bar comes out now with her coach by her side; she points at the ring
and shouts "I'm going to enjoy f***ing her up!" Before heading down to
the ring.
Her attire is a lime green sports bra, matching trunks, shoes and
gloves, while her blonde hair is in a ponytail.
Climbing into the ring; the girls scowl across at each other, with Bar
putting her glove across her neck to tell Alessandra in her way that
she's going down.
Both are brought to the ring centre with the fighters bumping
foreheads, trying to shove each other back, with the referee shoving
them apart and steps between them.
After he finishes off the instructions; he asks for a touch of gloves,
the girls almost laugh if not for the hate they feel for each other.
Just turning their backs and heading to their corners, ready for the
start of 10 rounds of lightweight action.
Round 1:
Both fighters come flying out there corners to meet at the ring
centre, fists flying as defence goes out the window for the early part
of the round.
The action is mostly scruffy in fighting; heads nearly keep bumping as
they land to the other body and up top with punches to the others
cheeks.
Till Alessandra bumps Bar back with her left shoulder and smacks her
across her face with a right hook, putting Bar on the defensive as
Ambrosio goes on the attack with body shots and her down.
Alessandra keeps the pressure on Bar; who can only try to fight from
behind her guard as her opponent slams her punches up top to force her
back.
Till Bar manages to slip under a straight and bangs two body shots in
and one left cross up top to knock Alessandra back a step.
Back at it go the fighters, slugging it out in close range as the
models throw punches into the others face, letting their tempers get
the better of them.
Till they clash bodies and clinch up; grappling onto the ropes as they
trade insults, the referee breaks them apart and gives both a warning.
Seconds left in the round; once more they go toe to toe as they knock
each other around the center of the ring till the bells rings to end
the round.
Both give the other a nasty look before they head to their corners to
be cleaned up; Alessandra looking slightly the happier of the two, but
the fighters want to get back at each other.
Round 2:
Back in tight they go at the start of the round; working each others
bodies as they try to shove each other back with their foreheads
touching.
Bar shoves Alessandra back and smacks her on her nose with her
straight punch, before throwing two more punches to the face of her
opponent to knock her back.
The girls trade single punches to the others face, Bar again shows
good footwork and head movement to keep Alessandra to the outside.
Bar slipping under a right hook to bang away to the body with three
shots, with Alessandra missing with a left cross as the Israeli model
bounces back on her toes.
Alessandra looks annoyed as she stalks Bar back; who out boxes her
with her movement giving the Brazilian issues.
Till Alessandra is able to throw a feint left to make Bar react, then
the real lunging right hook smacks her rival across her face to knock
her onto her heels.
The Girls Friday fighter finishes the round off strongly by backing up
her up behind her guard with a barrage of punches, the bell rings with
Alessandra just about holding back as her eyes stare hatefully at Bar.
Both fighters heading to their corners, on their stools they lock eyes
across the ring as their coaches clean them up, with both girls
knowing that they've taken a round, now it's about pulling away from
each other.
Round 3:
This time they don't rush across the ring; Alessandra and Bar both
trading stiff straight punches over the others guard as they circle
early on.
Bar again slips under a right and comes up with an overhand right and
a left cross to shove Alessandra back a step.
With the Brazilian shoved back behind her guard, Bar starting to herd
her back around the ring with her punches snapping off the gloves and
forearms of her rival.
Before she turns to the body with two punches to the sides, leaving
herself open up top though, leading to her getting caught with a right
cross.
Bar keeps trying to keep on the move but Alessandra keeps in tight;
the fighters trading hard punches on the inside, sweat flying into the
air as they slug it out.
Alessandra shoves Bar back with her forearm across her jugs and lands
a right across her lips, with Bar stepping back to try and open up
space.
The brunette lands a double jab to Refaeli's lips and lands a right
across the top of her head to knock her head to the side.
Alessandra finishing the round stronger as she pounds Bar behind her
guard onto the ropes, the bell ringing with Alessandra raising her
fists into the air and strutting back to her corner.
Bar understandably is upset after starting the round quicker, but as
her coach points out "you let your guard down" as she nods in reply.
Round 4:
Bar keeps her guard tighter this time; firing out from behind her
guard as she moves more on her toes as the fighters trade single
punches.
Alessandra getting caught out again as is swinging at the head of Bar;
finding air though at the moment as her opponent fights off the back
foot.
The younger fighter able to score some hard shots to the nose of
Alessandra to back her up, with a right cross just missing as
Alessandra leans back out the way.
Another missed left by Bar leaves her open, Alessandra steps in to
land an uppercut that rocks the Isreali back two steps.
Bar needing to cover up as she is put under an onslaught from
Alessandra, the punches start to get through to rock Refaeli back onto
the ropes.
Alessandra banging away at the sides of Bar to open her up, Bar tries
to fire back; but Refaeli gets caught with a left hook and a follow up
right that slumps her onto the ropes.
The referee watching closely as Bar covers up and is being pounded
back, the bell rings with Alessandra looking confident understandably
as Bar shakes her head to clear it.
Bar slumping onto her stool; her coach cleaning her and trying to get
her ready for the next round; with Alessandra banging her gloves
together across the round as an ominous drum beat.
Round 5:
Out come both fighters; Bar much more defensive as she jabs away at
Alessandra and moves back, while the Latin stunner hunts her down.
ALESSANDRA FEINTS WITH A JAB AND AS BAR MOVES, THE REAL STRAIGHT TO
HER ABS AND A LEFT UNDER HER RIBS OPEN HER UP ENOUGH FOR A RIGHT HOOK
ON THE CHIN OF BAR TO PUT DOWN TO HER SIDE!
The referee begins his count as Alessandra marches to a neutral corner
1....2....3....4... Bar stirring as she spits her gumshield out and
slowly turns to get on all fours 5....6....7... As she pushes up sit
on her heels, she wobbles slightly 8....9....10 and ends up being
counted out!
Winner Alessandra Ambrosio KO Round 5After:
Alessandra adds another name to her list of knockout victims tonight,
the more important thing for her that she has shut up Bar after all
the trouble her and her best friend Adriana Lima have had from her.
Marching over to Bar; she screams into her face "you are not in mine
or Adriana's league! It's why you are always going to be a failure!"
Tossing her gloves off the chest of Bar in another sign of disrespect
before strutting to her corner with her arms in the air.
Bar has to be helped up by her coach as her face turns beetroot red
with embarrassment; she tries to break out of his grip to go for her
enemy but she wobbles and her coach pulls her away to her corner.
After Bar gets helped to fully wake up; she is helped out the ring as
she can be heard saying "what a lucky c***! I outclassed her and she
caught me with a fluke!" As Bar makes her excuses.
While Alessandra glares at Bar as she goes, with Taryn smiling and
telling her "I love when your angry, makes my job easier" with
Alessandra turning to her as if waking up from a daydream and smiles
in reply.
Waving to her fans as she does a lap of honour; Alessandra looking
relieved to have taken down Bar, now she will be thinking about her
next BBU title defence next month.