Post by Lookout! Boxing on Mar 3, 2018 0:17:26 GMT -6
AMANDA RIGHETTI (34 y/o, 5 ft 8, W: 75, L: 27) vs KATE BOCK (25 y/o, 5 ft 11, W: 2, L: 1)
(Results: Lookout!, Words: Bonzo)


Before: Kate Bock's a beautiful blonde Canadian supermodel, known for her Sports Illustrated pictorials…with similarly physical peers like Hannah Ferguson, Tahnee Atkinson and Hilary Rhoda taking the welter division by storm across 2017, surely she must be hoping to emulate their success, but is there room for another model being the "next big thing" at welter? Bock has only fought three times, losing to now-title-fight-experienced Bo Krsmanovic in her debut, before rolling along to win the "New Blood" welter tourney against Strijd and Baldwin in 2017. The anticipated break-through failed to materialize in its aftermath, though…so many supermodels, so many blonde goddesses, and Kate couldn't book any PPV spots despite her tournament success. That might change after tonight's PPV debut for her against one of the division's legends. Righetti has hand-picked Bock in preparation for her quest to return to the welterweight throne, currently occupied by Hannah Ferguson. "It's no secret I've struggled against these tall model types of her brand, but the times of these girls shocking Amanda Righetti are over, once and for all. I know what to expect. They're all sloshing their right hands, dancing with their legs, but back their butts into the ropes, and they'll be shocked by my intense power. Kate's no Hannah, but apparently these girls have to be taken to the woodshed early, to put them in their place." – Bock forcing the full Sports Illustrated supermodel confidence on Righetti pre-fight…with Big Rigs losing to Kloss and Ferguson in respective debut match-ups, what does Kate have to lose? "I'm liking my chances here, definitely. Kate and Hannah have made 'Manda look pretty ordinary: she's no longer the unconquerable Big Rigs I saw on TV back in the day…girls are faster, tougher, stronger these days. My righty can bring her into trouble for sure."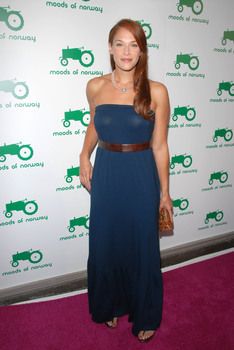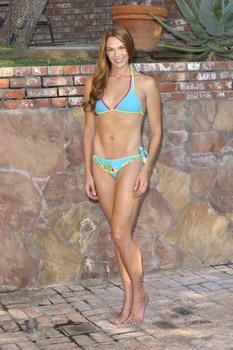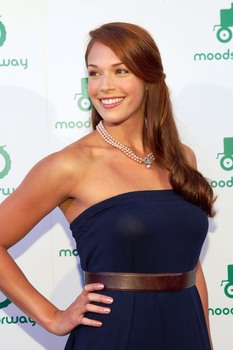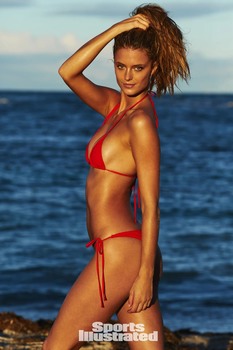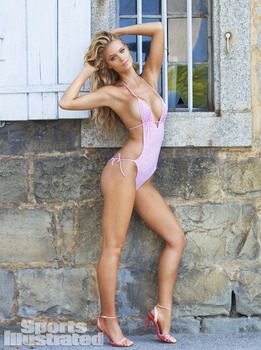 R1: Righetti double-jabs her way forward in jaw-clenching, up-tempo aggression, her lefts tapping to Kate's skull/guard in roaring rhythm as blonde negotiates, wreathes on the spot, turning/tacking out of Amanda's poke on mobile supermodel legs. Bock's nervous, rattled: she's unsure how to manage Righetti's powerful assault, preferring to slide away rangy, answer only via pretty ineffective wide-swinging slaps around 'Manda's arms when redhead steps close that cannot impede Big Rigs. Rigs chops short, bullying rights to the chin inside, bumping to blonde chest via shoulder, elbows tucked in tight, fast-bobbing in her pocket position, belting plenty of short, hard punches to vulnerable blonde tummy, ribs. Blonde's legs move fast, though, allowing her to ease some of the pressure across further course of first round…Kate takes punishment to her mid-section, guard, but her crossed-arm, right-to-cheek defense works pretty well, limiting Rigs to bash away for points, not dominate freely at this point…Bock's managing to respond via sloppy right hands late when she finds her range better, lunging frantically outta Rigs's tap-tap double jab to wallop 'em rights back overhead and via the side, slowly forcing respect from redhead as Amanda ducks, backtracks, regroups to march, more or less restricting her offense late to double-jabs, managing ring in circle motions, staying away from Bock's attempted counters.
R2: Kate's found her confidence to move forward now: she's a little faster, a little gutsier, employing a loping, wide-legged gait to use her height, reach advantages, walk 'Manda into a stubborn, annoying left jab. Righetti settles down into slower rhythm, head low, elbows tucked in, weight on left foot, both hands in earmuff guard at cheeks, trying to step with blonde in leggy circles, no longer matching Kate jab for jab, unhurt but reined in, unsure of blonde's actual firepower. Bock's jab's keeps Righetti busy, allowing her to pick up smaller girl from outside via a hovering right hand…Amanda's bobbing on the spot, now struggling a bit with Kate's textbook approach that's hurt 'Manda so effectively when facing other tall, long-armed phenoms. Bock satisfied with her mid-ring stance, being tall, feeding Rigs the pole jabs, the sloshing rights despite missing many shots – Righetti's turn to negotiate, bobbin', weavin', mostly trying to stay out of Kate's range, answering via short, hard hooks across blonde's arms, gut, chest…down the stretch, Righetti's too passive to erase Kate's lead on the cards as blonde takes a leggy second round, all chipper on her way to corner.
R3: Chop, chop, Righetti…girls meet mid-ring, with Amanda immediately shifting, lunging her body forward, a left cross hook clapping to Kate's mouth thru her mitts, a right uppercut smacking to left ear…and Kate's huuurrtt! Blonde's baby-stepping on the spot, wobbly-butt, her eyes shutting in pain for an instant, her torso instinctively tilting sleepily forward to clinch – Righetti skipping some steps off, then driving forward again to walk her off-balance blonde into more of those short, violent, drifting jabs to tits to stabilize her foe again. Bock keeps her guard intact, but she's not moving out of range properly, her legs stiffening. 'Manda leads Kate to turn-with her, prepping her timed lefts now, those hefty jabs rolling to blonde neck/biceps/tits unanswered, yet Rigs always reverts to her initial stance, her right arm clutched tight at chin, as she's chopping away via the left. Vintage Righetti beat-down siege across ropesides, with 'Manda always moving in, moving out fast, controlling taller blonde, keeping her trapped…brutish jabwork mostly to the body – lower torso, ribs – punches poor Kate into dizzy, swaying stances, pink spots all across that proud tummy…down the stretch, Kate's a TOTTERING ramshackle beauty, staggering to her corner as Righetti's jab does what it does best.
R4: Righetti's done her work to Kate's body…blonde still mouth breathing when she rises off stool in slack-limbed fashion. Bock's attempting to be competitive early, responding to 'Manda's brutal double jab via sloshing rights to Righetti's sides, flanks when girls close inside – Amanda doesn't wince, pans to the right, reasserting control via top-down jabs to Kate's tits in smothering fashion as she circles out faster than Kate can follow, souring blonde's counter mood. Late first minute: Righetti lunges in, taps that jab to Kate's forehead/temple, hooking a slant right uppercut to Bock's jawline, then gut-shots blonde's tummy via follow-up straight right deeeeepp into belly – Kate's body jolts up: she's sobbing in pain! Big Rigs steps-to her, pushing her girl off into ropes via crossed-arm, rams a curt right uppercut upside to Bock's left ear/temple that topples blonde torso semi-erect into her own turnbuckle – blonde corner screams at Kate to clinch, fight sloppy, but 'Manda tosses those jabs to the breadbasket, her rights walloping into Bock's flanks, denying her faltering foe the clinch. Kate stoops forward off ropes in serious pain, big eyes all staring into harm, palms at temple…Righetti shift weight to left, her short rights pounding into Kate's tits as blonde sags back helplessly into turnbuckle/ropes! Rigs alternates, her left jabs tappin' to skull, her huge, whipping rights pushin' into Bock's ribs/tits. Body damage too much for poor Kate…at one point, she simply COLLAPSES from Amanda's body-ruining barrage as her legs no longer support the weight, tumbling first to her knees, then pitching onto her side where she's hugging her ribs, moaning in pain, writhing back and forth…she's a devastating, ruined sight at this point, punched helpless by a pitiless KO4 Amanda Righetti!
After: Righetti shouts out "yes", raises her arms in triumph, pounds her fists into the air a couple times, eyes flaring wild, intense…just a small moment of knockout bliss until she's back to her cool, calm self as she takes congratulations from her corner – Kate's brazen pre-fight supermodel big-mouth obviously enough to waken Amanda's bar room brawl instincts as she pounds out blonde opponent via pure gut shot knockout power. "I won't overemphasize this win. Kate's got nothing on her model peers, stamina-wise, strength-wise. Still, it felt pretty good to pound her body into quit," Amanda smirks. What does Big Rigs think about Bonzo's Gym's latest roster addition, then, taken straight out of the pages of Sport Illustrated – Camille Kostek? "Oh, I love Camille. I was actually quite involved in the search for a supermodel to add to our stable, we looked at videos, you know, did some sparring with girls. Camille's raw, but strong as heck and very athletic for an SI girl. I don't see her as a threat to me, we get along great and we'll see what she can deliver in the ring."