Post by Lookout! Boxing on Dec 29, 2017 23:54:19 GMT -6
ALLISON HOLKER VS. CAITY LOTZ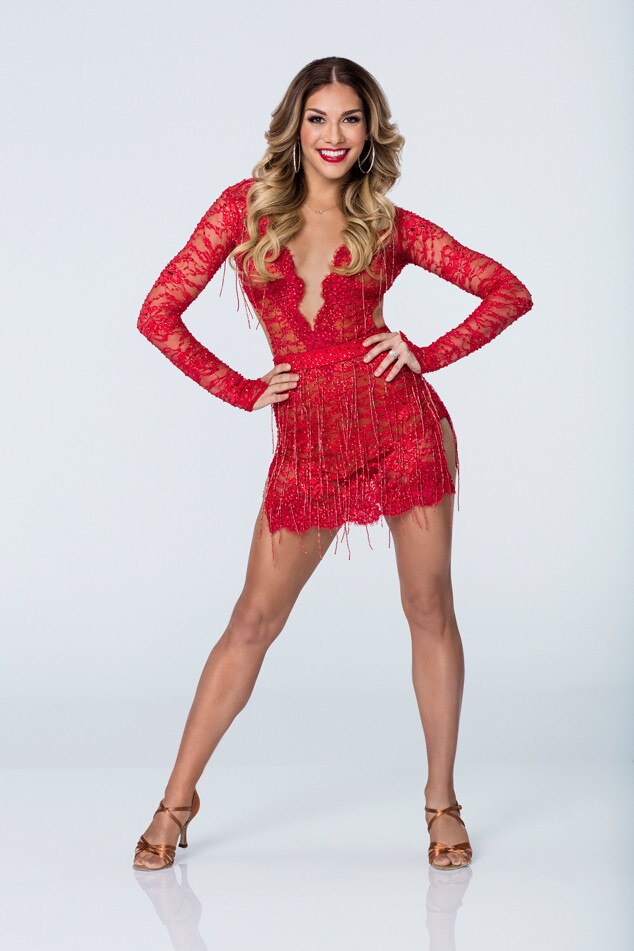 (Words: Holloway / Results: Lookout!)
BEFORE:
"Allison who?" says Caity as she's asked about her expectations for the match, right before it begins. "I'm one of the best fighters in the FCBA, if not the best one; and they're making me fight a new girl for my only match of the year? Please. I actually feel sorry for the b*tch, she'll have to face me for her first match. I'll try not to break her... too hard".
"Scared? Not really. I'm excited" comments Allison about the match. "I don't think they could've chosen a better girl for me to fight. Caity's in pretty decent shape and a pretty decent actress, so I think this match will be-"
"Decent? Do you even know what you're talking about?!" Lotz shouts as she interrupt her opponent. "I'm not only a better dancer than you, but also a much better boxer". Caity takes off her robe showing off her insane body wearing a green sports bra and matching shorts, with her muscular arms and toned abs on display. "Let's stop talking, get in the ring shorty".
"As you wish b*tch" is all Holker as she gets in the ring and takes off her robe and reveals her own fit body, with slightly more muscular arms and abs just as toned as her rival's. Lotz looks surprised as she watches her opponent enter the ring, but is still confident she will win, specially due to her height advantage, being around three inches taller than her. Allison, on the other side, isn't as confident; knowing Caity was a tough girl and that her height will not help much either, but is still willing to fight to the best of her abilities. Both girls have very similar physiques and are pretty much the same age.
This is Allison's debut fight.
ROUND 1:
Out come both girls, keeping their guards high as they start off, testing each other's defenses with some quick jabs, mostly finding just a glove in reply. Caity has never seen her opponent fight so she doesn't go all out on the first minute of the match, but after landing a few more punches than her shorter rival in their first exchange, determines she's not as good as she looked and lands a hard hook to her face, using her longer reach to get through her defense. The "Dancing with the Stars" contestant steps back, visibly hurt by the hook, to try and throw a couple of jabs onto Lotz's guard but just hits a glove and an arm. Caity then gets offensive again as she lands some strong punches to the dancer's body, forcing her to retreat. Despite the actress' not-so-sucessful career one can clearly see her experience is far vaster than her opponent's. Caity chases Allison across the ring as she trades hard shots with her, mostly landing on the shorter girl's side, until Holker finally does some work throwing a straight right hook that snaps the taller girl's head back, stunning her a little. The shorter girl tries to take advantage of this and launches a left hook to her foe's head but Lotz manages to dodge it and come back at her with a three jab combo, followed by a hook to the body, knocking the breath out of her. Allison comes close to her opponent trying to grapple with her, but is pushed away by a single powerful shot to the nose. Lotz loses no time as she throws herself at the shorter girl connecting a hook to her ribs and an uppercut to the chin. The actress then proceeds to dominate the rest of the round bullying the shorter girl with body shots. As they're separated by the referee, Caity whispers: "Better boxer, b*tch" and smirks as she walks towards her corner, knowing she just completely won the first round.
ROUND 2:
Allison's snarling, embarrassed by the outcome of her first round on the FCBA. She comes out fast trying to sneak past Caity's defense, landing a couple hooks to Lotz's toned abs, not causing much damage. Lotz laughs as she digs a left to her ribs and slings a left hook to her kidney. Holker's eyes get filled with terror as she ducks some of her rival's punches, fearing Caity will repeat what she just did last round, but not willing to let that happen, the shorter girl reaches towards her opponent and wrestler her for a few seconds, trying to turn this into a close-range match and push the taller girl against the ropes. Caity's surprised by the dancer's strength as she's outmuscled by her and sent all the way to the ropes, where she gets upercut by the shorter fighter. Lotz tries to fight her way out, hurling leather at her toned opponent's body. Holker does the exact same thing. After a minute the actress finally escapes with a powerful punch that slips through her foe's defenses and lands on her nose sending her back. After landing a few more shots on each other, the rounds ends pretty closely, Allison just barely winning it on points.
ROUND 3:
Caity and Allison get right back at into as the round starts, willing to break the tie in which they found themselves at the moment. Both girls are throwing shots mainly to each other's bodies, trying to prove superiority over the other, but Caity's the one with the first succesful punch of the round as she scores a right hook that stuns the shorter girl. Her larger range allows her to go past the dancer's defenses with quite ease, specially due to her lack of experience. Lotz lands serveral quick rights and lefts off Holker's head but is met by a sharp hook to the belly that freezes her for a second. As she catches her breath, the actress is upercut yet again by the shorter boxer, then her ribs get hammered away by the girl's strong fists. Lotz tries to regain momentum with a combo to Allison's kidneys but is stop and jabbed at by the dancer. Caity realizes she just has a minute left to win the round as she ducks underneath the onslaught Holker's throwing at her and lands a solid punch to her ribs, catching her by surprise and stunning her long enough for the "Legends of Tomorrow" star to regather herself and resume the fight again keeping her distance and abusing her height advantage. Ultimately, Lotz's not able to come back from Allison's first attack and loses the round.
ROUND 4
Caity's frustration is showing as she quickly leaves her corner and throws a few jabs at Holker, trying to out outpace her foe, but Allison's even faster than she thought. The dancer ducks some of her opponent's blows and lands some sharp punches on her body and arms. The actress shoves her off and gets a hard right hook home on her cheek, then a left hook to the nose and finally an uppercut to the chin. Allison staggers backwards, hurt by her foe's combo, but stays calm and covers up letting her gloves take some of the jabs Lotz then proceeds to throw at her. The dancer then retaliates with a pair of powerful upnches thrown to the taller girl's face, sending her back to her corner. Seeing she's finally hurt her opponent, Holker rushes towards her but eats a right cross to the mouth, then finds herself being tucked up with a five punch combo to the stomach, finally starting to break down those abs of her. The bell rang before she could do more damage, but she got the chance to speak to the shorter girl once again: "Better body, too" she whispered. Caity had won another round.
ROUND 5
Holker starts this round angry. As soon as the bell rings, she runs at her opponent and throws a dozen jabs trying to land some on the girl's face. But this is exactly what Lotz wanted, this is the reason she was provocking her. Holker's shorter range and Lotz's superior defense allow the actress to easily deflect the rageful girl's attack. She smirks as she blocks one of her punches and hits her in the chin having to deal with no defense. Allison wobbles for a moment and gets struck by Caity by a three punch combo to the ribs and belly. The dancer puts up her sloppy guard but Lotz passes right through it with a right and a left to the cheeks. The actress sees the opportunity to be more agressive and score a knockout, but looking at her beaten opponent decides to enjoy herself a little before. Lotz tears into Holker's guts with a two punch combo and rocks her with a vicious overhand that snaps her head back. Allison's muscular legs begin to shake and Caity takes notice. "Nice legs, Ali. What's your workout routine?" she jokes as she follows up her assault with a left hook that crashes into her nose and wobbles her back. Allison tries to put up some fight reaching out and finding the temple with a right hook, but gets uppercut on the jaw by the "Arrow" star. Holker is stunned and barely able to stay on her feet, she attempts to block some of the jabs she's thrown, but her weak guard is being completely destroyed by Lotz. The fight seems over but Holker tries her best to stay away from her foe and somehow survives the round. Lotz smiles and flexes her muscles shouting she'll knock Allison out on the next round.
ROUND 6
Allison's hurt but realizing the mistake she commited on the last round she starts slower. The dancer's decided on making a comeback this round. Both girls bounce out to the centre of the ring and it's Caity this time who begins the exchange throwing a few jabs to her foe's guts, which she manages to deflect. Holker's fitness is clearly displayed this round as she ducks most of her strong opponent's jabs and finally comes back at her with some of her won, landing a wild overhand and following it up with an uppercut to the temple that completely freezes the actress, stopping her on her tracks. Allison fires a massive amount of body shots quickly destroying her rival's body and torturing her abs with right and left hooks. Caity lands two blows but they just bounce off Holker's toned tummy. She then continues bullying her foe, eventually getting her against the ropes and completely pummeling her body. The dancer steps back for a moment and looks at the weaken girl and her now-shaky legs. "I'll text you my routine later, Cait. Looks like you need it" jokes Holker as she lands a right hook to the actress' temple almost knocking her out. Caity's resistance is impressive, somehow surviving two straight minutes of body shots and hooks to her head. Even Allison is surprised she couldn't even knock her down, but the fight isn't over yet.
ROUND 7
An early trade in hooks goes Allison's way, her opponent isn't still fully recovered from the last round. The dances moves in and unleashes both hands in an onslaught to Caity's torso. The actress tries to put up a fight and whacks her rival's ribs with a left punch, then follows it up with a right hook under which the shorter girl successfuly ducks, before scoring again against Caity's face. After a quick exchange that favors Holker, she's finally able to land a solid hook once again to the blonde's temple, forcing her to fall to her knees. The referee starts counting: "1... 2..." and Allison is excited, flexing her own muscles, mimicking and making fun of Caity, but the actress is not a girl one simply makes fun of. "3... 4... 5...". An astonished Holker observes her foe somehow rising just after the referee counted to 5, but loses no motivation as she moves in once again and throws right and left uppercuts, splitting Lotz's guard. "You should've stayed down, b*tch!" yells Holker. The blonde's struggling, trying to keep up with the athletic dancer, succesfully landing a punch just once every three or four, mostly hitting a glove or an arm. Holker is excited, recognising the look of defeat on her adversary. Both girls are breathing heavily, completely exhausted, but it's Caity who starts slowing down and it's her defense that gets completely destroyed by the dancer's punches. "Why don't you fall?" shouts Allison as she hammers away at Lotz's abs, blow after blow, slowly bringing her to her knees, but Caity's a tough girl, she's not going down that easy. Holker puts everything she has on a last uppercut which completely pulverizes the actress' defense and lands on her nose, sending her against the ropes. "You're not knocking me down again and you're definitely not knocking me out, b*tch!" yells Lotz as she puts up her fists. Allison accepts her challenge and throws herself at the blonde. "Fall already! Fall!" she shouts as she exchanges fists with Caity. After a few seconds though, the taller girl stops, she's in a bad condition. Holker continues slamming her fists into the firm body of her rival, tearing her apart, until the referee decides she's had enough. Allison lets the girl go as soon as the referee steps in, with a large grin on her face.
Official Result: Allison Holker beats Caity Lotz TKO7!
"I fucked up" says Caity. "I don't care what anyone says, I completely dominated the first 5 rounds, I could've knocked her out on the 5th round, but I didn't. That was my only mistake, but I could've definitely ended this match there".
"I won! I won my first match! And it's against an actual tough opponent, not some skinny easy-to-beat girl! I'm so glad I won and although she's an asshole, I have to admit Caity gave me a hell of a fight, and her body's almost as good as mine, almost. Hopefully I'll get more fights on the months to come and eventually become the best fighter on the FCBA!" says an excited Allison.