Post by Lookout! Boxing on Dec 29, 2017 22:56:14 GMT -6
The Victoria's Secret
War in Heaven Boxing Tournament: Grand Finals

Miranda Kerr vs Karlie Kloss
Miranda:
(34,
5'9, 10:2 FCBA, Downunder Boxing)
Karlie:
(25,
5'11, 10:2 FCBA, The Fighting Academy)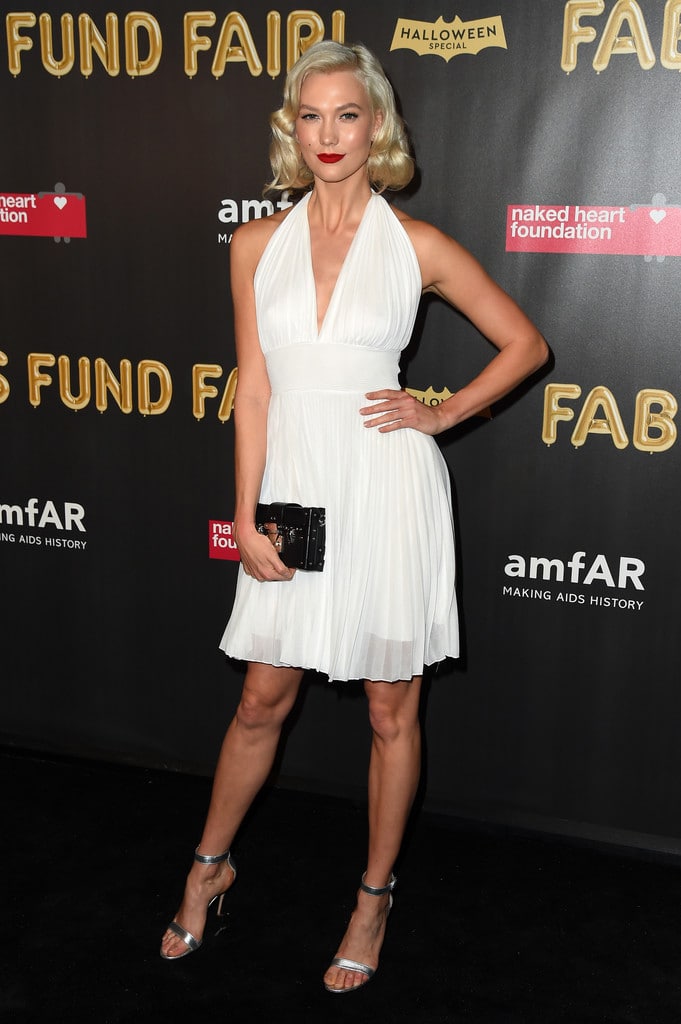 (Words:Caspian / Results: Lookout!)
BEFORE:
Though
the VS Fashion Show was officially over last November, it's a shame no one pays attention to the after-parties and of course, the catfights. What better time though for the claws to come out until AFTER having strut their stuff in front of millions of people in Shanghai?
We've come a long way from the inaugural opening of the tournament in August, and we're finally down to the last two Angels who will be battling for the coveted diamond-studded belt: picture a leather strap lined with sparkling white and pink jewels, the middle of which printed in bold letters: 'VICTORIA'S SECRET ARCHANGEL'. Valued at about $100,000 on it's own, it belongs to the lovely girl who wins tonight.
At this final stage, both Miranda Kerr and Karlie Kloss gone through hell to get here, having faced a gauntlet of tough and tougher opponents all determined to be in their shoes tonight. In particular, everyone thought that former champ Adriana Lima would have certainly made it to this stage, but the fact that Karlie Kloss is standing here instead is testament to her staying power.
Miranda Kerr of course no slouch either. Despite having trouble finding consistent work, EVERY opponent put in front of her has fallen. Tonight, decked in dark violet lingerie curves and long brown hair flowing freely, the Australian model has been turning heads in more ways than one, having made it all the way to the finals in this tournament after defeating Nina Agdal, Barbara Palvin and even the current BBU champ, Alessandra Ambrosio. There's a reason she's running for contention for BBU fighter of the year, folks.
"EVERYONE has underestimated me at EVERY turn," Miranda begins, eyes widening as she faces the room full of reporters. "Everyone has lost, and Kloss will be no exception. That belt is MINE…"
Karlie Kloss' music is next to blast over the speakers as the crowd breaks out in cheers for this familiar face. Kloss whipping the curtains away with a wild flourish, looking resplendent in her black cloth bra and panties. She blows an air kiss or two to the crowds on the way over, and later commenting to reporters with a haughty tone of voice:
"Miranda's journey here tonight included the likes of Agdal, Palvin, *RIBIERO* - f*cking nobodies! Me on the other hand? I defeated Adriana f*cking Lima, b*tches. Tonight is MY night and nobody's gonna stand in my way…" she drops the mic with a THUD that reverberates audibly throughout the auditorium, the final punctuation mark to her statement.
Later, you can feel the tension as both ladies size each other up in the middle of the ring, toned bodies all the more apparent in a modeling contest such as this. Miranda looking coolly into the eyes of her final obstacle, hands firmly on hips as she awaits the referee to complete his speech. Karlie glaring right back, bunching together orange gloves to further intimidate. Back in corners, the referee displays the dazzling title belt to the audience before signaling for the bell to begin ten rounds of boxing action!
ROUND 1:
Miranda's reply to Karlie's comments is a big fistful of leather to that offensive mouth of hers in the opening minute. Make no mistake - both girls having strode towards each other with purpose and steely resolve once the bell sounded, but Kerr deftly avoiding a big opening right hand from the strawberry blonde and instead lands a straight hand of her own right to the mouth, staggering Kloss right out the gate and making it difficult for her to rally for much of the remainder of the round. Kloss determined not to let
that one punch dictate the rest of the fight, but her aim and focus seems to be thrown off repeatedly with Kerr just weaving her upper torso in multiple directions, making her miss over and over. Kerr instead boxing with technical wonder, smacking fists into the mouth and cheek, and Kloss finally gives up the chase in the last minute, switching to defensive stance to make herself harder to hit as well. But it's too little too late, with Kerr taking the first round wide when the bell rings. Oh wells - Karlie proving
in her career that if anything, she handles herself better under stress. Hopefully we'll see a different side of her as the rounds progress.
ROUND 2:
If there's any ferocity under both ladies' facade, they're not showing their true colours just yet. Karlie learning from her foe this round, also choosing to hang back and fire off jabs from afar. Unfortunately for the audience, Kerr also sticking to her same routine, and the result is just not as much action for the first two minutes, with girls throwing more punches than they're landing. That's fine from a strategic point of view, of course, but it's NOT fine if Karlie's intending to win this based on points
alone. She seems to realise this fact in the third, lunges forward at Kerr with a jab-jab-hook combo out of nowhere and NEARLY takes her head off in the process. But the last big blow barely glances off Miranda's chin - it's enough to shock Kerr into turtling mode. Kloss licks her lips and barrels forward, managing a follow-up one-two gut-punch into vulnerable tummy before the bell rings and leaves both girls wanting more.
ROUND 3:
Karlie taking that last round by the closest of margins, but she already seems to be congratulating herself on that so-called 'win'. She's all smiles, again coming forward trying to dictate terms but barely aware that Miranda is far from a wounded animal at this stage. A flurry of jabs land on Kerr's guard, but before Kloss can fire off another hook high, her OWN head's swivelled to the side when Miranda beats her to the punch, quite literally, careening a fist in from the side. Shocked this time, Kloss suddenly looks lost in the woods - eats another uppercut up the middle of the tummy, before she manages to cling on to Kerr to stop the attacks. Thirty seconds and both of them are still locked arm in arm, digging punches into the sides of body and exchanging dull groans into ears, before the referee breaks them up, forces a reset at either side of the ring… and here they bloody well come, right back at each other! Kloss thinking she can surprise with a lunging superman punch but gets shut down YET AGAIN when the fist sails a tad too high, too far off target, giving Miranda space for more body punishment when Kloss' sails just right by her. Karlie too weak, gets herself shoved back to the ropes in the last few seconds, body worked on in saddening and maddening rout, leaving her breathless and almost broken at the bell. What a round for Kerr and she knows it! She's parading back her corner, giving her rump a little shimmy for the ravenous crowds!
ROUND 4:
Bad news for Karlie so far as she struggles to take the lead in this contest. By golly though she's intent on persevering, because here she comes rushing at Miranda right out of the gate, abandoning defences in favour of a pure offensive rush. Miranda caught off-guard for an instant, parrying a big blow aimed at her head but unable to stop follow through left that CRACKS into her tummy, then another and another land in quick succession, as Karlie goes for broke. Miranda grunting as her body folded in half from the invasive fists but manages to snag some return jabs into Karlie's chin for kicks... but they only seem to make her more enraged. Kloss keeping the fight close and tight, now working on breaking right open that pesky guard with rapid-fire alternate lefts and rights. It seems to be working, good gosh, slowly forcing Kerr's hands apart and her feet, backwards towards the ropes! But hang on a minute - Kerr fighting back! Starts countering each of Karlie's attacks on her forearms with a nasty shot across the cheek, pushing her head to either side. Kloss trying to shake the stars but the blows keep on landing. She needs to do something big or she's gonna be the one who's flat on her back anytime now… Another wild exchange from both girls and suddenly - BLAM - Karlie gets the break she was looking for with a lucky right upwards swing... SHOCKS right to Miranda's chin! Her head goes whipping back with that one - Miranda bounces back against the tight ropes and the rebound SENDS HER DOWN TO HER KNEES!
KNOOOOCKDOWWWN KARLIE!
Crowds
going WILD at the first knockdown of the evening... WILL IT BE THE LAST?
3… 4… Miranda panting hard on all fours, shaking head slightly from side to side. Karlie raising tired arms to audience, making her way slowly back to corner, victory smugly written all over face. 5…6… Kerr rising, using hands to assist with each trembling leg. She makes it up by 7 and the referee calls for the end of the round! A glorious comeback for Karlie Kloss, and with it the revival of her hopes to win this contest.
ROUND 5:
Kloss hungrily eyeing her prey as she makes ready to charge before the bell even rings. Kerr surviving the previous round and has her guard firmly in place like a rock on the beach anticipating a tsunami. The action unfurls as expected, with Karlie literally running at her opponent and stunning with a right cross straight down the middle, then continues battering away at Miranda's forearms as the Australian covers up her torso and uses her long legs to create some distance. A snag for sure in Karlie's plan as Miranda appears to be still alive and kicking, not giving much ground at all with each powerful punch into her guard. Second minute and Karlie is the one looking worse for wear, slowing down from the perilous chase and leaving her so-called 'victim' dancing circles around her. This is moment Miranda strikes like viper, testing the waters first with quick-fire jabs to the face, and when those get through with ease, starts swivelling Karlie's head with hooks up top, then banging away down on the body: thudding puh puh puh as she gives Karlie a taste of her own medicine. Kloss exhausted, barely registering the turn of events, especially when she allows an errant right hand to come screaming in from the side… it SWEEPS her off her feet on the spot as it BARRELS into her chest! Karlie's arms desperately grabbing onto something for purchase but not finding any, collapses down onto her bum in an embarrassing KNOCKDOWN all the same!
Kerr looking pleased with herself from across the room as Karlie gets back onto her knees through the count of 6, panting hard, strategically catching her breath before she has to endure the last minute. Still, a knockdown's a knockdown all the same, with Aussie's fans in attendance crying havoc from the rafters and cheering on their girl all the way to the championship. Karlie scowling in response, pushing herself back up by the count of 8 (just in case) and makes ready herself in corner as the referee waves to continue. Measure of how different these girls' temperaments are when Miranda DOESN'T go charging in despite her dominance prior. Instead, she keeps the pressure on Kloss, crowding her close with jabs and then taking measured pot shots: a clear right hand to the cheek here, a left hook to her side there, and an opportunistic punch to the jugs to remind Karlie who's really the one in charge. Bell rings and Miranda leaves her foe back where she found her: broken and bruised, hanging onto the ropes for dear life.
ROUND 6:
We head into the sixth and Miranda is clearly ahead, but Kloss hoping to fill that gap with pure anger. Despite the shellacking she received and the evidence of scotched skin all over her body, Karlie coming forward quickly, surprising even Miranda at this point, who was expecting easy pickings. Not so when the first invasive jabs come sailing into her vision, Miranda having to scramble for cover. The Australian unfortunately gets out of the way too late and eats a couple of right hands on her way out. Emboldened Kloss keeps on charging, however, and Kerr gets thumped to the body and chest before she manages to rally with a few choice blows into Karlie's sternum. The girls just stand a trade leather for a good minute, exchanging exclamations of pain as they simply go at it: Karlie with a hup hup hup to the tummy and Miranda with a whap whap whap to either side of her face. Not sure who's getting the brunt of this wild melee but it's telltale when both of them stumble away from each other at the same time, after eating a mutual nasty punch to the face, suddenly hesitant about going all in one more time. But hell if they do just that after a brief moment of hesitation, lunging at each other with arms drawn back, bodies colliding with a meaty SMACK as they squeal and resort to tugging on hair and bra straps. Chaos is the order all of a sudden in the ring and the referee has to separate both girls before they send each other tumbling down to canvas in a wild catfight. The round ends with a draw and from the effort it's taking to untangle both their hands from their hair, the girls know it as well, in last desperate attempt to gain the upper hand.
ROUND 7:
Bell rings and hell - both ladies go right back into the hair pulling! They make a beeline for each other and don't even bother putting up their guards, once again CRASHING into one another with hands stuck into faces and knees purposely or accidentally stuck into bodies and thighs with sharp squeals. Audience of course loving this wild action - girls taking turns tugging roughly on each other's hair, then slugging each other in the tummy with stiff, stuffing shots. The referee has had enough of this after a minute or so of back and forth action, with neither girl gaining a significant advantage, so he breaks it up. Girls however are still swinging wildly in attempt to hit each other, but only succeed in tagging the referee once or twice (to his great annoyance). Finally, he does manage to restore order, but just barely keeps them at arm's length. When he waves to continue, the girls ignore him and just CRASH right back into each other in a tangle of slaps and shouts. This time, however Miranda managing to get a handhold of the side of Karlie's panties, with vicious glee TUGS and TWISTS upwards, giving her an unpleasant, on-the-spot wedgie! Karlie howling with rage, panic as the fabric cuts into skin between her legs and throws her off-guard immediately - which is enough time for Miranda to exert her control: right hand wrapped around back of Karlie's neck, pulling her in close, then left fist packing up into trembling tummy over and over again. Bell rings and referee is the one who looks relieved, forces the girls apart and back to corners. Karlie noticeably stumbling on her way back to hers, grinding teeth in anger at the abuse received and massaging her thighs diligently.
ROUND 8:
If we're not wrong, this might be one of the longest fights for both ladies, and especially for Miranda Kerr, who enters untested waters with such a dangerous foe who's now even more pissed off. The Australian used to putting away her opponents much earlier and quicker, but Kloss' endurance and tenacity might prove a potent obstacle for the veteran Angel, like a stubborn cockroach that refuses to die. Kloss certainly doesn't think that way, seeing herself as more like a lioness throwing herself at another dangerous b*tch, disregarding her own personal safety for much of this match in an effort to gain an advantage. Here she comes again, using Kerr's hesitancy and lack of stamina to keep the pressure on her - no matter how many jabs Miranda lands on her face to deter her advance, Karlie's exhibiting a stubborn resolve to get in close and punish the body. I guess that's what happens when you have nothing left to lose? We all remember her comments right after failing to wrest the Welterweight title from Hannah Ferguson. Now, she seems determined not to let another title belt slip through her fingers. Gut-wrenching action as Miranda turtles up and tries to absorb the onslaught, but Karlie using every part of her body to dictate both their movement, shoving elbows into Miranda's chest and grinding her forehead into hers as she shoves her back foot by foot, all the way swiping down south at her abs and jugs. Miranda finding herself simply outmatched by sheer power and ability to withstand punishment, gets her butt pushed into the ropes in the final seconds, Karlie's leather getting shoved deep into her belly leaving her open-mouthed and gasping for oxygen, when the bell finally saves her from another knockdown. Both their bodies collapse into each other from the mutual exhaustion - Karlie's last run unfortunately not enough to put her opponent away. The girls are slowly peeled off each other and led back to corners, where they try to recuperate best they can.
ROUND 9:
Both ladies are slow off their stools and whatever rage present in Karlie Kloss has all but evaporated with the advent of fatigue. Model bodies, no matter how sturdy, stumbling forward and lacking any of that regular poise and gracefulness. Karlie first to take a swing at Miranda's face and unfortunately misses completely, body turning in a circle, punch-drunk and struggling to even keep her balance… and she hasn't even been hit yet! Kerr still has tiny presence of mind to step out of the way, digs a right hand into Kloss' tummy as she sails past, and then another snap uppercut to jaw sends her packing. Karlie grunting, back hits the ropes as she finally finds her footing, tries to shrug off the pain by charging right back at Miranda, who's waiting in the shallows. Another wild hook sails comfortably over her head and Miranda already pulling back her right arm in a rapid swing, SNAPS the head backwards. Kloss in danger, looks like she might be going down again if not for the fact that she's so near the ropes. Kerr keeps her upright with another PLOUGH of fist into her stomach, then has free reign to savage the body, sending punch after punch and contorting muscle like a punching bag. Karlie's turn to attempt the clinch, and rest of the round sees both girls exchanging positions along the ropes, with neither getting the dominance they enjoyed before. Bad round for Kloss though, unmistakably.
ROUND 10:
We're
at the limit of endurance, people! By our estimates Karlie needs to dominate this round if she's gonna stand a shot at winning this. Of course, that's only gonna happen over Miranda's dead body. The two girls come charging at one another in a final fit of adrenaline, clashing in the middle of the ring whilst punching and scrapping in a mess of hands, hair and limbs. Miranda finally seems eager to brawl with her foe - perhaps already content with the comfortable lead she has - but even she's slightly surprised to see a resurgent Kloss again stuffing fists into her body like she hasn't slowed down since the first round. Miranda now regretting her decision, loud grunts getting louder and louder as Karlie uses her own body to keep hers upright, right hand to the curve of her belly button craters in over and over, intent of breaking Kerr in half. Finish line in sight for the American model now if she can finally cross it, especially with Miranda apparently spent, bent over and vulnerable position right in front of her, only thing keeping her standing are her two arms wrapped around Karlie's waistline, the Aussie's eyes already fluttering open and close from the pain coursing through her body. Karlie actually smiles down at her, gloating for the first time in a long while.
"Looks like you've met your match, darling," she tries taunting in fake Aussie accent, before reaching her hands down the extent of Miranda's curved back, gingerly making sure she has two firm grips on her hapless victim's lingerie panties, before TUGGING HARD on the fabric, in wicked payback from her earlier treatment at the hands of the brunette.
Karlie enjoying every second of Miranda's sudden squeals and shrieks as she thrashes about in the wedgie hold. What Karlie didn't count on of course is Miranda suddenly SPRINGING back upwards at the violation of her undies and pain shooting through her womanhood. The sudden action knocks Kloss backwards as Miranda flails about with her arms. Kerr growling in both pain and rage, seizes the perfect chance for a rising uppercut deep into Karlie's gut, folding her over with a UHHGGHH, before a follow up HOOK to the cheek SPINS her about on her toes! Karlie seems to hover in suspension for a brief moment arms falling limp to either side, but then her eyes suddenly roll upwards and she crashes face first to the ground! It's f*cking over! She's not even stirring!
Official
Decision: Miranda Kerr defeats Karlie Kloss via KO10! Miranda Kerr wins the inaugural VS War in Heaven Boxing Tournament!
AFTER:
What a brilliant conclusion to this contest and arguably, this whole tournament itself! Kloss still not moving, arms splayed on top of her head. Miranda herself apparently not convinced she's made it clear that she's won - doesn't even pause to celebrate and instead, launches herself down at Kloss, her knees landing on the small of her back with a crash. She takes her time turning the hapless, groaning blonde over, with gloves still entangled in her hair. Kerr not doing any taunting, instead just content with swiping at Karlie's face left right left right, knocking her further and further into unconsciousness. Ring officials look poised to stop this madness when a mists of red start spraying forth from Karlie's mouth, her rubber guard long since expelled from between her lips. Finally finished with her, however, Miranda sits up, belly and chest pulsing as she finally notices the ref standing next to her, holding the coveted belt within arm's reach. She snatches it away hungrily, before draping it over her shoulder with pride.
And f*ck if the sight's even more spectacular to behold: Aussie goddess straddling the body of her conquered foe, specks of blood staining her equally-maroon coloured bra and panties (now torn and pulled out of shape in places, beyond repair from Karlie's wedgie, but showing off the war of attrition both girls just had to endure with patches of red and blue).
Our heartiest congratulations to Ms Kerr for a well-deserved victory. She now walks away with $500,000 in prize money, a lifelong contract with Victoria's Secret, and of course, bragging rights as the winner of the inaugural War in Heaven boxing tournament!
All hail the ARCHANGEL!