Post by Lookout! Boxing on Sept 17, 2017 19:55:48 GMT -6
MILENA GOVICH (40 y/o, 5 ft 9, W: 10, L: 12) vs JERI RYAn (49 y/o, 5 ft 7, W: 74, L: 62)
(Words: Bonzo / Results: Lookout!)
Before: Ryan – one of the most legendary fighters in the league's history and a multi-time champion until 2006 and a veritable KO artist – is nearing the age of 50, but she's been plenty active against much younger competition, from Upton to Strahovski, in recent years, although she's by now stacked up a six-fight losing streak, her last win already stemming from 2015. Govich – no stranger to career-threatening losing streaks – has struggled back from the brink of forced retirement to beat youngster Krsmanovic and former champ Bloodgood back-to-back, returning to a respectable #14 in BWO's recent rankings. Nominally, Milena enters the favourite, being younger and obviously emboldened by her last fights, but she knows Ryan's KO magic might still be there. "Huge respect for Jeri and her work at the Academy, sure, but this is my fight for the taking", Milena crows. "Jeri's not used to thick welter power, and that's what I'm carryin', rounds one to ten, if necessary. I just don't think that'll be necessary, though." – "forget about age for a bit, folks," Jeri smirks. "This fight will be decided in our minds. We know Milena's still a strong, fit woman, but she's always lacked that certain something, that winning gene. It's what's kept her from repeating what some of her stablemates have achieved. Obviously, she's scared shitless about losing to somebody almost ten years older than her, and it's the fear that will send her onto her back, with just a little help from my right hand."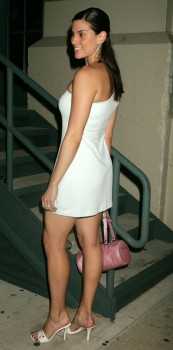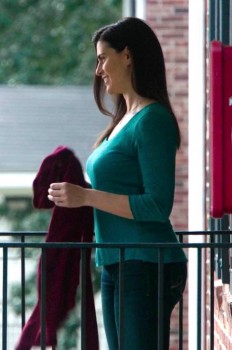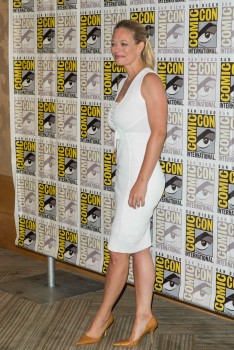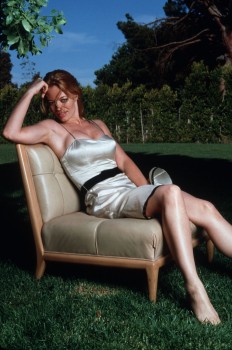 Fight: R1: Govich plays strong, tuff, unruffled via the athletic left hand, pumping the stick, driving back Jeri in circles. Ryan still feels out Milena's power, working a more subdued defense, but leaning forward in counter-directions to hook Govich across her chest/torso to good, fancy effect before hopping out. Milena the natural aggressor, but she's not cutting off the ring for Jeri, her left arm poking strong, but Ryan's unfazed, working around Govich's straight lefts with wide, nifty hooks to the ribs/flanks, managing MG jabs via head turns/guard/legs. Govich's aggression, drive-forward energy enough to take the first but she ain't putting fear into JR that way.
R2: Govich starts out stronger, asserting mid-ring zone as her own, assaulting the Ryan ribcage via top-down punches, jabs a-firing, marching on goal-driven now: she's looking to hurt her blonde's body…Jeri slippin' back on her toes a bit, luring Milena all the way forward. Ropes: Ryan tip-toin', hedging a brute Govich right, socking her own uppercut to MG's breadbasket, neatly picking up a startled brunette into her toes, doubling over got-cha. Govich gasps in pain…she's got to fall into a clinch…this is good Ryan territory, twisting/buckling her brunette around like an expert, pushin' the sturdy brunette around a bit, wiggling atop her while tearing the left hand dangerously behind Milena's head in the clinch, toying with the rules. Later: Govich's lost some of her juice via the body blow, stepping more tentatively, feeling the jab out in wider range…Ryan steps into Milena's rhythm, picking apart Govich's guard with coherent, hard-nosed lefties, setting right hands upstairs/downstairs Milena's bod. Milena wants to hurt Jer to the ribs/arms/flanks, following a game strategy to use up blonde to finish her when she's exhausted…problem is: Jer's not letting her there, making Milena pay dearly for any intrusions into the zone, those lefts punching Govich silly, scoring WAY too easy against hop, bop careless brunette. MG sullen down the stretch, now firmly soaked up by Jeri's effective holding/clinching, easing into Ryan's pace where Jer can dictate, rip hooks into tummy up close as Milena struggles to separate. Ryan: she's acting schoolteacher to Milena's little boxing kid here, although both of them are past forty.
R3: Milena bursting with energy after corner's lecture in the break, hoppin' close into range, rippin' her blonde rhythmic jabs to the guard, one, two early jabs neatly flowing through to Jeri's nose/mouth, putting her uncomfortably wobbly for the first time tonight. Ryan answers like a pro: baby-stepping in reverse, she's fading the pressure, then walking the exuberant brunette into piercing body hooks, sending shivers of pain down Milena's spine, walking her into frustrating holds/clinches…expert stuff, Jeri Ryan, catching Milena whenever she enters range or wants to get going, diffusing a punch-hungry brunette into useless meat processed by Jeri in the clinch. Down the stretch, Jeri starts slapping Milena's jugs, shruggin' those tidy uppercuts home, then collecting Govich again in the clinch.
R4: Govich finally finding an effective jab punch, levering her left to Jeri's mouth early as Ryan stays hands-low provocatively just a tad late, visibly ringing blonde's bell despite Ryan acting tuff in response. Govich smart to pounce now: she's decking the Ryan ribcage/tummy via lefts, spotting right hand opportunities, chopping 'em wolfishly to Jeri's temple/brow! Ryan flowing backward on heels now, but no longer just seeming to act…she's hurt! Milena snarls, finally grooving into her comfort zone, trapping Jeri butt-in-ropes (tight earmuff, eyes wide, looking positively affronted)…brunette in mid-range, picking up Jeri's face via slammin' lefts, ratting' rights to body/face as Ryan wilts, has to get punched upright into processing positions by Govich's tik-tok jabs. At bell, Ryan's trying to be all in Milena's face, taunting her, but her legs tell a different tale…she's taking dizzy steps into her corner…how many rounds like this can Ryan's 50-year-old chassis take?
R5: Ryan surprises pundits – and Govich – all expecting her early demise via Milena's body damage…she's denying hungry Milena the mop-up, slipping past Govich's left hands with nimble head turns like she's just turned eighteen, countering into knock-knock lefts cleaning up on Govich's skull instead. Milena's unable to change her strategy, always marchin' forward, trusting her jabs to sneak through and do damage at some future point...meanwhile, Ryan's luring her into top positions, ropes-to-ropes, turnbuckle-to-turnbuckle, as blonde's left knocks back brunette head in half-inches, slowly putting some glaze into Milena's icy eyes. Govich follows Ryan where she's supposed to: punch-work steadily slumps a strong brunette body forward…by the third minute, Jeri's recovered enough to embrace Milena, actually pullin', musclin' her around…Jeri Ryan stacks up a glassy-eyed Milena Govich at the ropes! Ryan's really sticking those mitts up Milena's tummy/tits, pushin' off, measurin', then crashing forward via the right hand. Ryan really masters Govich via the half-range jab, turning her around now, actually working from the turnbuckle as a staggering Milena still stalks her, when she should almost be being numbed into submission by now…down the stretch, Govich leans forward, hoping to catch Ryan via a straight left, Ryan tacks torso to the right/back, shruggin' a gorgeous short left uppercut to Milena's cheekbone, catching every little bit of brunette's face when gloves meet skull, unhinging the strong brunette entirely! Govich's body sloshes forward, her head butting into the turnbuckle in ugly fashion, bouncing off to land on her back, eyes rolling back, head lolling sideways, lips parting in KO'd swoon…this is SO over, KO5 Jeri Ryan!
After: Interviewed in the ring, Ryan's being nonchalant about her victory…remember, she knew how this would end: "I'm not shrieking around in triumph here, because this was a working woman's win. Milena was a perfect victim. Remember how Laetitia Casta used up one hard-bodied chick after another with her sneaky tactics? I can't believe I'm using La Tish as a reference here, but my point is this: Milena's strong, but strong don't win you fights, girl." Surprising viewers, Ryan used old-school tactics and smarts to take apart a younger foe stronger on paper. – Meanwhile, Govich's still getting ice packs held to her face on her stool, looking weary, used up and mystified, baffled by Jeri's performance and her own, easily her worst night in the ring since a disastrous loss to Gena Lee Nolin in 2015. Ringside, Nadia Bjorlin's ignoring any stable loyalty, telling everyone how short-sighted her own retirement was and how useless Govich is now: ouch.